Beauty skincare you can eat and drink? What to know and 10 brands to try
Skin and hair supplements are all the rage. Here are some of the latest edible beauty to chew on.
Skincare supplements and collagen drinks have been around for a while, but the edible beauty trend has only really taken off recently, with more and more brands jumping on the eat-your-skincare bandwagon, and consumers very ready to swallow the promises of glowing skin and lush locks brought on by imbibing supplements.
With the increasing obsession with wellness and health, and changes in lifestyle brought on by the pandemic, people are looking for new ways of helping their bodies (including their skin and hair) cope, and remain in optimum condition.
Interestingly, many of these beauty supplements are from skincare labels, rather than brands more traditionally known for vitamins.
Skincare and hair supplements, like health supplements, bring extra vitamins and minerals to the table, adding nutrients that may be missing from our diets. 
They compress into tiny pills and easy-to-consume sachets various foods and ingredients that may be difficult for us to regularly add to our meals, with the aim of contributing to better health and improved looks, from the inside out.

The modern urbanite is cottoning on to the reality that a multi-pronged and holistic approach will help in bringing forth that million-dollar glow – this includes great skincare products, a regimented diet, facials and treatments, and beauty products you can eat.

They compress into tiny pills and easy-to-consume sachets various foods and ingredients that may be difficult for us to regularly add to our meals.

Of course, as with anything you put on your face or into your body, caution is advised. Read the ingredient labels carefully, make sure the products are safe and approved by the health authorities, and consult a doctor if you have health conditions.
Here are some beauty supplements to consider if you plan to eat your way to great skin and hair.

1. IDS SKINCARE LYCO-WHITE ULTRA, S$128 FOR 30 TABLETS
What it's for: Brighter skin, UV protection and improved immunity.
Local cosmeceutical skincare brand IDS Skincare's new and improved Lyco-White Ultra supplements boast an amped-up formula and new ingredients to deliver fairer, brighter and more evenly-toned skin. 
The 1,500mg of white tomato extract in each tablet is equivalent to eating 187 medium-sized fresh tomatoes, and one pill a day promises to serve up better skin, UV protection and even improved immunity.

https://jyx.shop

2. MIRIQA PROFESSIONAL HAIR NUTRITION SUPPLEMENT, S$125 FOR 60 TABLETS

What it's for: Hair growth and hair loss reduction.
With a drug-free formula to bring the glory back to your crowning head of hair, this local brand uses botanicals and proteins such as saw palmetto berries, tocotrienol, tripeptide collagen and biotin to boost hair growth, increase hair thickness, improve hair strength and reduce hair loss with two capsules a day. The brand also has skincare supplements for better and brighter skin.

https://miriqa.com

3. 111SKIN CLARITY BEAUTY DOSE, S$235 FOR 90 CAPSULES
What it's for: Clear skin. 
With zinc to decrease the severity of acne and blemishes, and Vitamin C to help with the body's natural collagen synthesis, this beauty supplement is all about banishing problem skin. With the recognition that acne is often the result of internal imbalance, it works to detoxify and re-colonise the gut with digestive enzymes and probiotics for a smooth and clear mien.

www.metro.com.sg
4. ORBIS DEFENCERA, S$54 FOR A BOX OF 30 SACHETS

What it's for: Moisturised skin.
This edible skincare from Japanese brand Orbis is as delicious as it is hot-selling – the yuzu-flavoured powder (one sachet a day, no water needed) has ingredients that purport to send signals to the body to produce more ceramides, filling up gaps in between skin cells and forming a barrier to prevent moisture from escaping from the skin. 
The result is more moisturised skin for the whole body, including spots often neglected. Touted as Japan's first and only government-certified oral skincare verified for its safety and effectiveness, this has been popular with sufferers of skin problems such as eczema and extremely dry skin.
5. RE:ERTH PHYOTBRIGHT, S$105 FOR 90 CAPSULES

What it's for: Brighter skin.
This local skincare brand harnesses the power of its proprietary Japanese spring turmeric root extract and other high-quality active ingredients to bring forth fairer and brighter skin that is more resistant to UV exposure.
6. OLLY UNDENIABLE BEAUTY, S$30.90 FOR 50 GUMMIES

What it's for: Healthy skin and hair.
Delicious berry-flavoured gummies packed with selenium and zinc for cell detox and healthy hair growth, along with purifying antioxidants Vitamins A and E to support clear skin and lustrous hair. Just two gummies needed a day. 
Available at Watsons store, Lazada and Shopee. 
7. TRU NIAGEN BEAUTY, S$79.90 FOR 60 PILLS
What it's for: Healthy skin, hair and nails.
Contains Niagen, an active, patented ingredient, to increase NAD+ (nicotinamide adenine dinucleotide) levels in cells for optimal skin repair and rejuvenation. Also has hyaluronic acid and biotin for hydration, protection and improved skin health from within. 

8. RECHERCHE SKIN BRIGHTENING PLUS, S$98 FOR 50G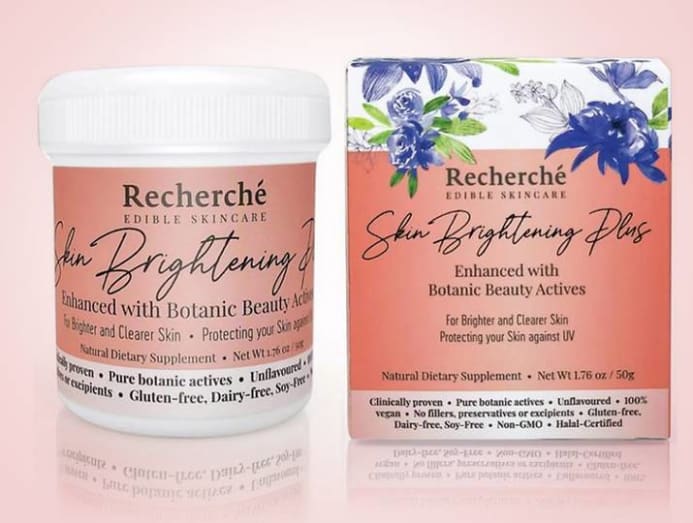 What it's for: Brighter skin, UV protection and improved immunity.
An all-rounder from local skincare brand Recherche, which promises more radiant skin and inhibits the production of melanin. It also purports to promote cardio health, while boosting the immune system, protecting skin cells against oxidative stress, and offering UV protection. Comes in a powder form for dissolving in liquid.
9. CERAMIRACLE FLOWERBERRY EYE ILLUMINATING SUPPLEMENT, S$84 FOR 30 CAPSULES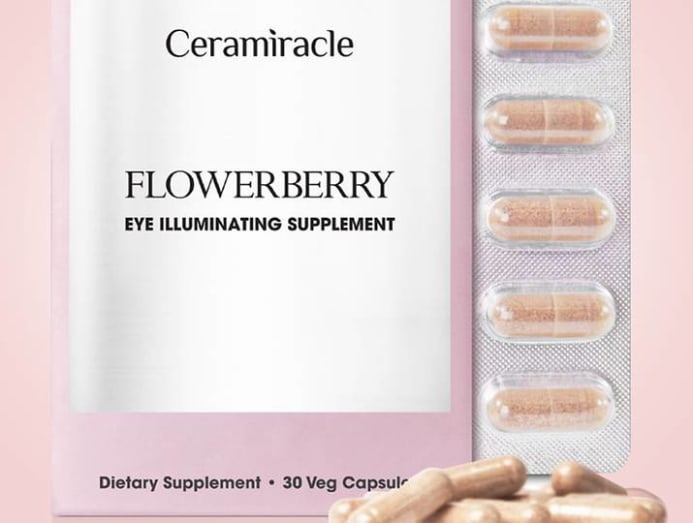 What it's for: Improved eye health and to get rid of dark eye circles.
A supplement just to breathe new life into tired eyes? Sounds good. This has a flowerberry complex and lutein for brighter eyes, help eyesight and stave off age-related eye diseases. Also filters out damaging blue light from devices and improves dark eye circles, puffiness and fine lines.
www.glovida.com

10. FANCL TENSE UP BEAUTY DRINK, S$58 FOR 10 BOTTLES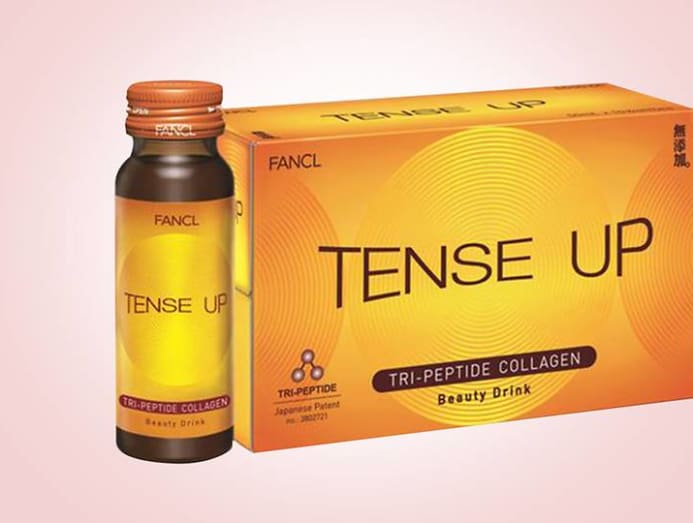 What it's for: Firmer, younger skin.
Before the market got ultra-competitive with beauty supplements, this was the OG drinkable beauty product. It contains tri-peptide collagen molecules that are supposedly small enough to pass through the digestive system and be absorbed into the skin, resulting in a collagen boost for firmer and younger skin.
From Fancl stores.