Shopping for shoes? Style cues from Zoe Tay, Rebecca Lim, Jeanette Aw and more
You'll need a nice new pair for when it's time to step out into the world once more. Time to take some cues from your favourite celebrities.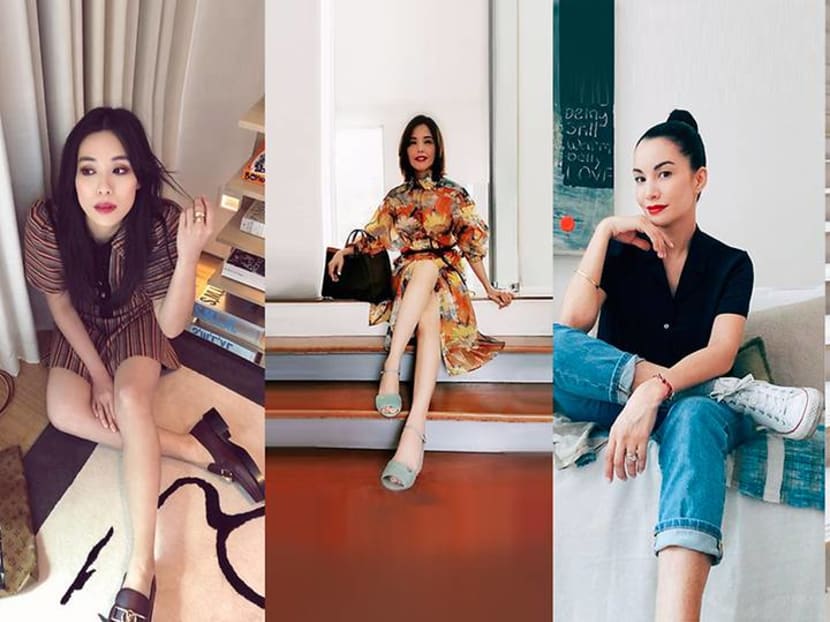 With many of us staying at home most of the time, footwear has been relegated to a bit of an afterthought. Well, except for sandals, which has had an increase of 54 per cent in sales in April on popular shopping site Net-A-Porter.
But on the whole, wearing shoes hasn't been quite high on anyone's list right now. And that spells bad news for our existing pairs. In this humidity, there's a high chance that leather shoes can go mouldy, PVC can start flaking and rubber soles may crack or even crumble.
So if your pre-circuit breaker favourites didn't make it, now might be the time to reconsider looking for new ones.
Not sure where to start again? Here are some celebrity inspos to help you put your best foot forward for when you finally step out into the world.
HI-TOPS
There are trainers and then there are hi-tops. That little extra in design not only provides much needed support for the ankles but at the same time, elongates the legs, which is why it is often paired with cropped pants. 
Model Nadya Hutagalung turned to a pair of canvas hi-tops to further elongate her statuesque proportions and ingeniously add street cred to her classic shirt and jeans combo.
BOOTS
Boots aren't just for trudging through harsh weather, they also make the perfect accompaniment to short hemlines as demonstrated by actress Sheila Sim.
You'll want to take note that the finish and colour can make a world of difference to the same boot style – in light coloured suede for example, boots tend to look laid back whereas in shiny black patent leather, they look sleek enough for a sexy soiree.
The height of the boot also matters. Thigh-highs aren't for everyone but there's no stopping you from faking the look of thigh-highs simply by slipping on thigh-high socks. Same but different.
LOAFERS
Loafers are the lazy girl's answer to formal shoes. Staple colours of black and brown are failsafe options that go with practically everything from work suits to weekend getups. 
Make like actress Rebecca Lim and add embellishment such as a recognisable monogram, some heritage cool horsebits or snappy chain links for an extra style kick. Heeled versions of the loafer are literally a godsend for the vertically challenged.  
SLIP-ONS
One up from kick-around slippers, actress Jesseca Liu loves her slip-ons because they say casual chic with a fashionable twist. One of the dressiest flat shoes, they have the power to jazz up anything from a cute sweater twinset to a jacket and pencil skirt look. And the best part is, they are kind to your back. What's not to love?
ESPADRILLES
What started as peasant footwear some 4,000 years ago has morphed into a veritable fashion force with hot shot designers such as Marc Jacobs, JW Andersen, Kenzo and even the late Karl Lagerfeld reinterpreting this staple French-Spanish shoe on repeat. Its cloth and jute combination is lightweight and therefore, perfect for the searing temperatures of summer.
Designers often auto-pilot to this traditional shoe whenever they needed to add a spring to their Spring/Summer runway collections. Some reinvented the shoe with flashes of eye popping colour. Others took it upon themselves to give this age-old shoe an overhaul with unusual materials like leather, suede and exotic skin. The experimental even added height to this classic masterpiece. 
This mint colour wedge version seen on actress Zoe Tay is a completely updated version of the vintage shoe.
BLOCK HEELS
Skinny stilettos are easy on the eyes but super hard on your backs. Block heels, on the other hand, are much easier to strut around in and equally intriguing.
For starts, you can score the same four inches of extra height as the stiletto yet the block heel offers a much steadier stride that is similar to a wedge or a platform. 
The chunky heel also means designers have more room to get creative. French shoe designer Pierre Hardy (who also designs for Hermes) fashioned a heel from stacking assorted circles and squares. Saint Laurent sent a shoe with its YSL initials where a heel should have been down the runway. Chanel trimmed the height of its heels with a neat line of pearls.
Actress Jeanette Aw got creative with her block heel. The facetted heel looked like it once belonged to a charming chandelier from an opt shop, lending a timeless vibe to her tres casual getup.