Butterflies, ladybirds and four-leaf clovers: What will you find in Pandora's Garden?
Pandora celebrates Spring with a collection of symbols that resonates with meaning and purpose | Brought to you by Pandora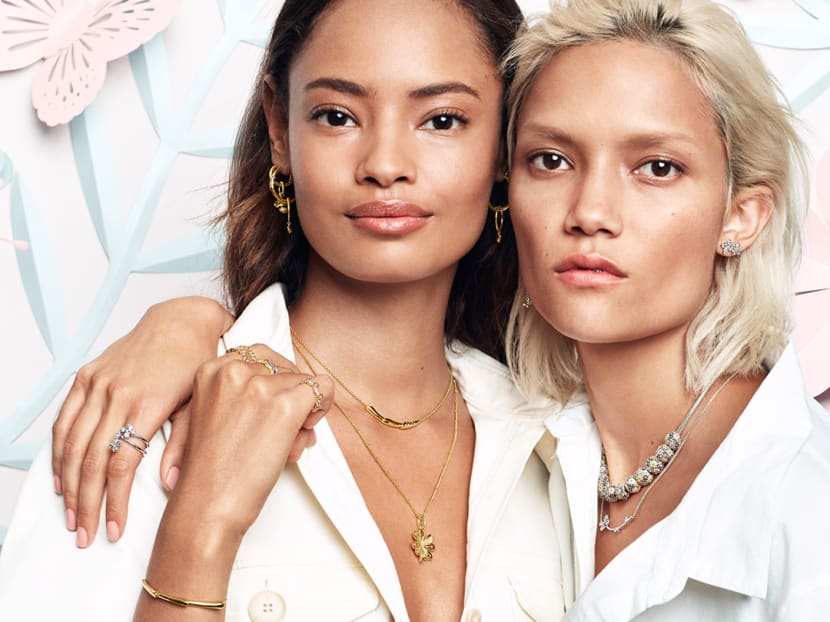 There's a crisp scent of eucalyptus that greets you, and your ears pick up the rustling of leaves. You step forward, and feel the soft mossy floor beneath your feet. The air is refreshing – a wash of soft blooms and disappearing dew – and as you turn the corner at a shrub, you witness the most magical spectacle: Pandora's Garden.
Spring is expressed three ways in the lush compound, and similarly, three paths lead off into the distance.
The first beckons with a shifting curtain of willow leaves, dancing in the breeze. The next is framed by twisting olive trunks, its canopy one of minty silver. And the final path disappears into tall, swaying delphiniums, flanking them with two soft rivers of blues.
It is your adventure – your garden experience. Which entrance are you most inspired by? And, which will you pick?
STYLE BLOSSOMS
Parting the draping willow branches, their wispy leaves gliding across your skin, you step through to be greeted by the fragrance of a hundred blooms. The rich display before you is a wild garden of roses, hibiscus and peonies – a gathering of the largest flowers. As you wind deeper among the shrubs, both the perfume and nodding blossoms naturally lift your spirit.
Flowers have such rich symbolism – it's no wonder they have a language of their own. Pandora picks out the four-petal design as the universal icon of joy. Its Style Blossoms collection consists of delicate ringlets of blossoms to be worn on your finger, or feminine charms finished in Pandora Shine or the new Pandora Rose, ready to decorate your wrists.
Reign over the floral kingdom with the Reflexions Queen Bee Clip charm. It's a bold icon of power, drenched in sunny gold, while adding a touch of glam with sparkling cubic zirconia on the body.
MAKE YOUR LUCK
Stepping under the olive canopy, it's a rolling landscape that awaits. Gentle mounds are covered by moss, and rocks jut out like little islands. A brook meanders in and outwards of the path, leading you eventually to a small grotto filled with clovers. As you bend down to pick one, you see that they are all four-leafed – an unusual phenomena. Even more surprising, just as you pick one, a dainty dot of red flies towards you and lands atop the leaf. You smile at the curious little ladybird and this fortuitous encounter.
It's not easy to spot one of these rare items, and that is why both the four-leafed clover and ladybird have become associated with good luck. Make Your Luck with Pandora, and create your own good luck charm with its newest Spring Collection. Discover dainty Sterling Silver clovers with movable leaves perched on slim rings, or have the above story unfold with the Pandora Rose ladybird on a sterling silver clover charm.
The Lucky Four-leaf Clover pendant is especially detailed, set with an aqua-green crystal for a dash of lively. Or wear them on your ears, with the Lucky Four-Leaf Clovers drop earrings, and may they bring you many compliments.
For that extra touch of glam, add the Pink Ladybird charm to your wrist. A gorgeous pink enamel sits on the Pandora Rose body, encrusted with black crystals and glittering cubic zirconia.
WINGS TO FLY
As you wander into the sea of delphiniums, swimming in the sky-blue blooms, they disperse to present a field of ranunculus flowers, rippling with the breeze. The colourful petals sway and bob, and you realise that some of the petals are actually butterflies! Right on cue, they take off into the air, and shimmer in a cloud of hues.
From an unassuming caterpillar, the butterfly is metamorphosis realised in one of nature's most splendid creations. The grace and artful flight of the winged creature is drawn by every imaginable pattern and colour one can dream of. Carry the butterfly with you and reclaim your Wings To Fly.
Expressed in their movement and wings, the Bedazzling Butterflies open ring is a swooping trail around your finger, glittering with the inset cubic zirconia. The Decorative Butterfly Pendant prefers to rest around your neck, its Pandora Shine and glittering body a pretty presence.
If you are into your blues, the Dazzling Blue Butterfly brooch is a scene-stealer. The wings of the butterfly profile become a night sky of stars, achieved with clear cubic zirconia and royal blue crystals. A little bit of Art Nouveau comes with the Blue Butterfly Wing charm. It looks like a mystical lagoon with its tie-dye-effect blue enamel, but is actually the lacy wings of the butterfly wrapping the spherical charm.
COME VISIT THE GARDEN
Your expression, your garden. Pandora's celebration of Spring is a collection of symbols that resonates with meaning and purpose – a statement and cheerful reminder for every day. Pick out your own special piece at any Pandora store or online at sg.pandora.net/en.