Worried about thinning hair? Here's how to get a pain-free voluminous boost
These hair extensions are as natural looking as they are easy to manage. And the best part is that they won't damage your hair.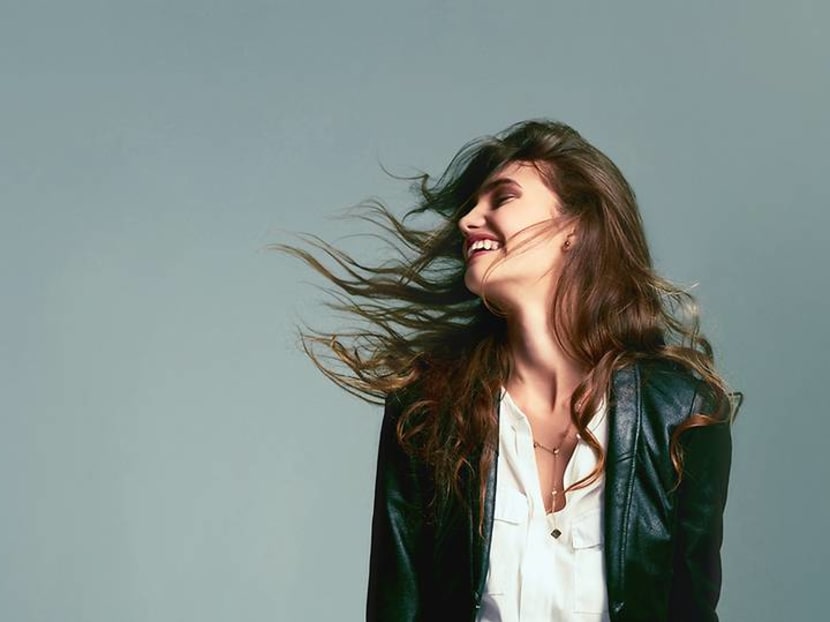 There used to be few effective solutions (short of a hair transplant) available to those with thin or thinning hair. With any luck, one might see some results after trying out a costly hair-regrowth treatment for a good few months. And those who sought instant cosmetic enhancements could rarely find one that concealed their lack of hair in a natural and convincing way.

Then, there are the newfangled methods for disguising thin hair that we remain doubtful of. Microblading for the scalp? Ouch. Scalp touch-up powder for filling in sparse spots? In our sweltering weather, you might risk a highly embarrassing makeup meltdown. Meanwhile, these do nothing to enhance the fullness of your hair – something that can only be achieved with hairpieces.

We aren't talking about the wigs and toupees of yore – these days, hairpieces no longer look as fake or are as uncomfortable to wear as before. If you've always dreamt of having a head of lush hair, or perhaps desire a hair length that you've never been able to achieve before, hair extensions might just be the way to go.

Most people with thin hair are understandably wary of getting hair extensions – won't they kill what little hair you have remaining? Well, not if you get the right type. 
The experts tell us which won't damage your hair and how plenty of women (and men) are enjoying the dramatic boost from getting them.

LET'S GET REAL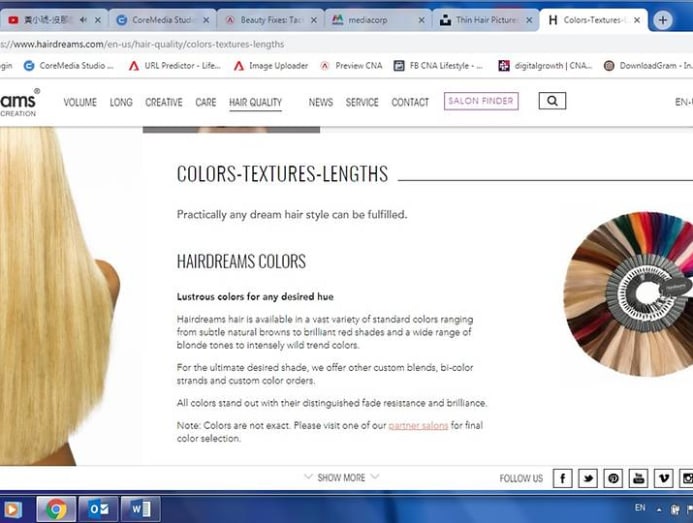 Yvonne Seah, salon manager at Hairdreams, a European company that specialises in hair-thickening techniques and technology, tells us that the most natural-looking hair extensions are made with real human hair.

They should also have passed through stringent quality control. "We only use top-quality, virgin hair sourced from ethical origins. The strands are hand-selected, checked for protein content via laser technology, and then further categorised based on their elasticity and shine," she said, sharing Hairdreams' quality standards as an example of how good hair extensions should be produced.

"They should also come in many different shades to match your own hair colour accurately. Each weft consists of many, many strands of hair, and they shouldn't all be of the exact same colour too – they should comprise a blend of various shades of the main colour so that the overall look is as natural as possible," Seah added.

ALL SYSTEMS GO
Jessica Timm, director of The Parlour, offers three types of real-hair extensions at her salon – a micro-bead system, in which extensions that come on tiny, almost invisible beads are attached by tightening the beads around your own hair; a bead-and-string system that creates a track in your own hair on which the extensions are then attached; and lastly, the Hairdreams system, in which the extensions are put on with an electronic tool that attaches them to your own hair via tiny crystal polymer bonds.

Each system has its own benefits and are used depending on how much time the client is willing to commit to maintenance, as well as the look they desire – whether it's length or fullness.

Some of these systems might help you save on the total number of extensions used (salons typically charge for extensions by the price per piece) but know that the cost will vary from individual to individual, since everyone's hair type and condition will be different. According to both Seah and Timm, the charges for hair extensions could run from hundreds to thousands of dollars.

EASY ON, EASY OFF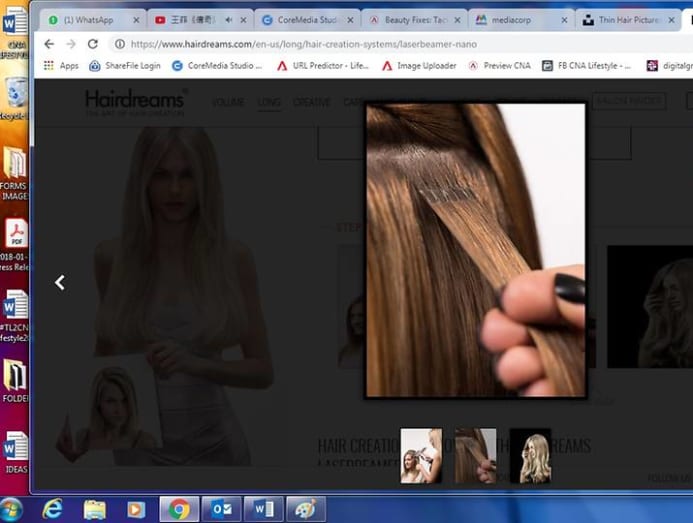 Hairdreams' hair-extension system stands out for several reasons. First, its fuss-free, speedy application process – using the company's unique Laserbeamer Nano tool, a full application requires just 45 minutes to an hour, compared to traditional hair extensions that can take up to three hours to complete.

Seah tells CNA Lifestyle that the bonds are made out of a "keratin-like" material that won't damage your own hair. They also boast a highly secure hold and lay flat on the hair surface, which means they are virtually undetectable, she said. More importantly, this bond keeps the extensions lightweight, placing minimal stress on the follicles of your own hair in comparison to other systems.

Removal, which takes around 45 minutes, is as easy as application. A liquid remover is simply sprayed on to loosen the bonds, leaving your own hair ends in its original state, with no traces of damage that traditional clamp-on hair extensions are bound to inflict.

MORE LOW-MAINTENANCE THAN YOU'D THINK
Quality real-hair extensions are much easier to upkeep and style than those that are artificial. "You shampoo and condition as per usual, except we ask that you don't put conditioner on the bonds. You can heat-style them, curl, iron… everything. An added benefit is that the style lasts longer as well," said Timm.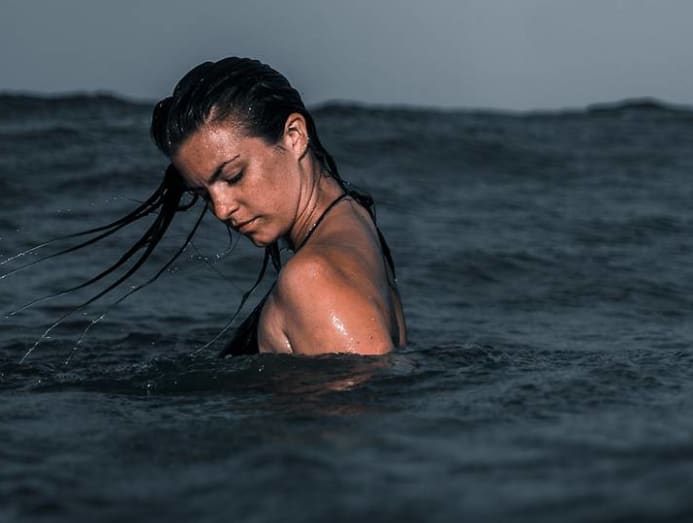 "You can even go swimming in Hairdreams' extensions," added Seah. For maintenance, a gentle brushing (avoiding the roots and bonds) daily will keep your extensions shipshape for longer. "If well taken care of, our extensions typically only require replacement in four to six months, which is double the longevity of traditional extensions," she said, 

SOME POINTS TO NOTE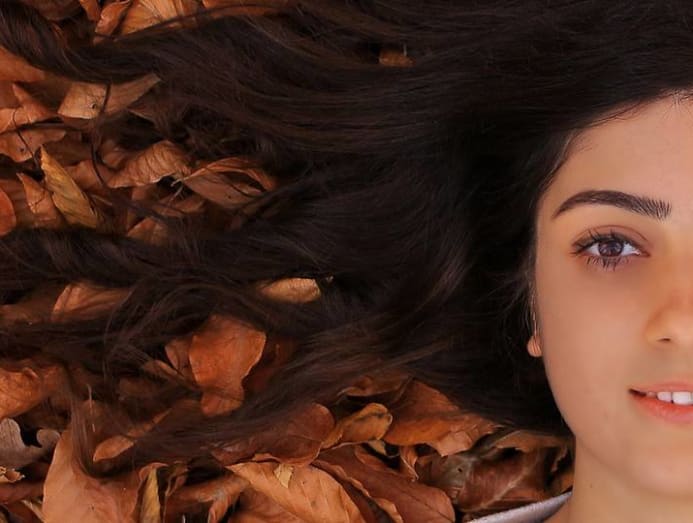 Don't these hair extensions sound like a dream come true? As with all good things, they do come with a couple of caveats. Firstly, while they can effectively disguise a thinning-hair problem, they cannot be used on bald spots (since there isn't any existing hair on which the extensions can be applied).

Secondly, you might want to think twice about getting them if you have a sensitive scalp.  Said Timm: "The extensions won't feel heavy but you do 'notice' them at first. If you care for them properly, they won't do any harm (to your hair or scalp) However, pulling, tugging, picking at them and not applying the after-care protocol could cause damage."

Finally, you should only get them if you are prepared to put in time and effort in caring for them. As much as these hair extensions are convenient and fuss-free, they are after all not part of your natural hair and do require a little bit of TLC.