No more barber, gentlemen? How to style your overgrown hair during circuit breaker
Unless you want to shave it all off completely, styling your mane might be your only option. Here are some DIY styles that might even tempt you to keep it long forever.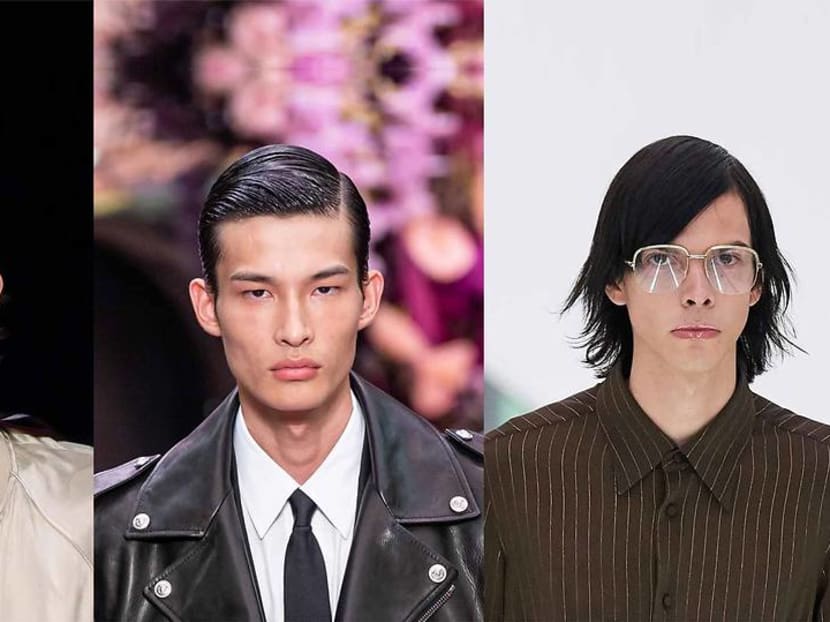 With the extension of the "circuit breaker" until June, a trip to the hairdresser or barber is officially a no-go for a really, really long time. Which might be a problem for men.
Unless you're adept with an electric shaver, live with an actual stylist, a barber yourself or willing to go DIY and simply shave everything off and get it over and done with, you'll have to suck it up and grow it out.
But instead of lamenting your fate, why not use that overgrown mane to your advantage and try new styles? CNA Lifestyle rounds up the most fashionable looks you can recreate in a snap.
But first, a couple of simple rules to keep in mind when styling your hair: You will need some basic tools such as a comb to untangle wet hair, a circular brush to create volume, and a hair dryer to blow dry your hair. And a mirror.
If it's too late to run out for supplies, you could also use fingers to style your hair. The only drawback about using fingers is the look tends to be a lot less precise than when using a brush or a comb; it could turn out to be a good hair day or not.
Keep handy some basic hair products like pomade or wax to achieve a wet look, clay for a matte look and mousse for a natural look. Go easy on hair styling products or you could end up looking like an oil slick. Less is more – use a pea-size amount if you have short to medium length hair. Men with thick hair may need a little more.  

Now you're all set for free play.
PRIVATE SCHOOL BOY
No, we're not referring to those shaved up-to-there Thai school boy cuts but the slightly overgrown style that boys from private boarding schools in the UK spot. Think Prince William when he was a teenager. Wear it natural for the best effect. Tip: A little hair serum to smooth flyaway hair can fake a well-maintained mane.
ROCKER DUDE
Hair long enough for it to start to fan out from the side? You'll want to borrow your girlfriend/sister/mother/wife's styling tong or wand to exaggerate the curl then hold the shape with styling serum or mousse. Use the excess serum or mousse left on your palms to arrange the fringe. We'll leave it up to you to pimp up the rocker vibes however you want to.
COOL CAT

Need to look really neat and slick? Remember how Gramps did his hair? His secret weapon was probably Brylcreem. You could do the same if you can get your hands on it. Alternatively, run some gel through your hair. Coat every single strand with the product for an ultra-chic, almost-gleaming finish. For a more modern take, try taking the side-part to the end of your brow for a bit more drama.
LONG SHAG
Take the mickey out of out-of-shape hair. Comb through and arrange hair as neatly as you possibly can, then comb through again with mousse to hold its shape. Show off your uneven strands by running wax or clay to the ends. Let the ends stick out, that's the look you're going for.
CURLY LOCKS
Don't know what to do with your wavy, overgrown mop? Turn your hair disaster into an enviable coif ala Aquaman actor Jason Momoa. Carefully divide hair into a centre-part then tuck hair behind your ears. Your curls will bounce naturally with each stride you take – this is one hairstyle where flyaways are strongly encouraged. It's so mesmerising to watch the hair fly that you'll probably have to stop yourself from catching your own reflection in the mirror.