How to instantly look younger: Hair tips from celebrity stylist David Gan
How short should you go? A bob or a fringe? What colour should you use? Gan and Evolve Salon's Edward Chong list down five things to remember if looking "forever 25" is your goal.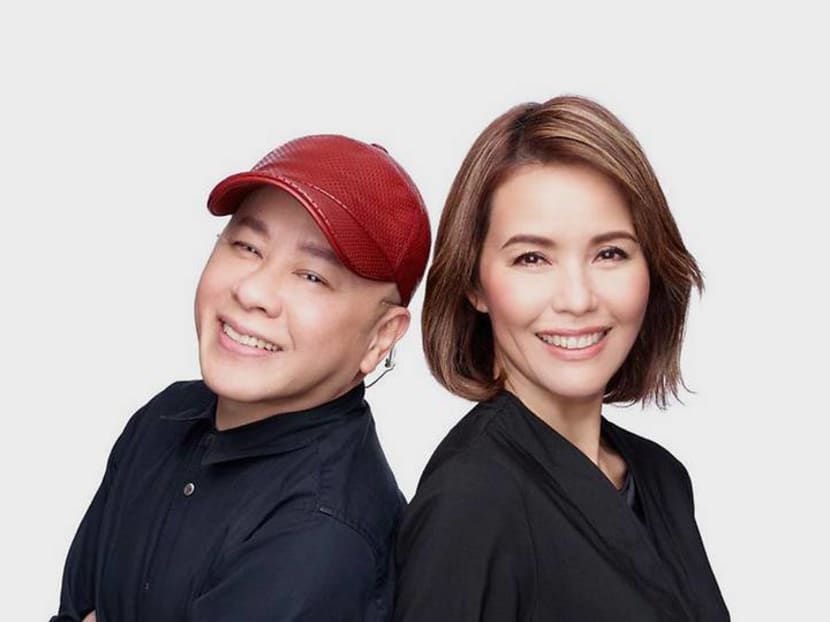 If you thought looking younger relies solely on revolutionary anti-ageing skincare that promises to erase crow's feet, smooth frown lines and magically lift skin, think again.
You might just need something as simple as a haircut.
Ask any hairstylist and he or she will have you know that treating those frazzled tresses can take all those years you've been trying to erase with creams and lotions faster than you can say "voila".
But hair is a curious thing. How much should you lob off? Will the new style suit your face shape and lifestyle? Will a new hair colour really flatter better? And because hair only grows approximately 1.25 cm a month, one wrong move will take ages to rectify.
Enter hairstylist to the stars David Gan and Evolve Salon director Edward Chong, who offer five fail-safe hair tips to look and feel younger for your next visit to the hairdresser.
WHEN SHOULD YOU CUT IT SHORT?
We've often been told that a short hairdo has the ability to take years off but not everyone wants to go short even if there is a pot of gold at the end of that rainbow.
According to Gan, before making the decision to go short, you should first check the volume of your hair. As a rule, "if one's hair is thick in volume, a long style will wear well regardless of age," he said. However, if hair tends to be the thin side, then it may be wise to wear it short so as not to draw emphasis to its lack of volume.   
Gan adds that a good hair cut can help hair look instantly fuller and as a result, younger. "Our facial contours change over time, therefore a good hair cut that carefully considers the wearer's shape of the head as well as facial contours will better frame the face."
THE BOB IS YOUR BEST BET
What is the one hairstyle that wears well across ages, you ask? That would be the evergreen bob. From 70-year-old Anna Wintour and 64-year-old Donatella Versace to 52-year-old Zoe Tay and 49-year-old Fann Wong to 38-year-old Fiona Xie, the bob has the uncanny ability to make a person look younger than she really is.  
"A bob, be it short or mid-length, is arguably the most versatile hairstyle," explained Chong. "It wears well on most face shapes and, more importantly, it gives the appearance of girlishness." The fact that it is easy to manage is another big plus.
WEARING A FRINGE HELPS

It is no coincidence that older women tend to wear a fringe – whether it's to cover the lines on the forehead, take attention away from a receding hairline or simply to frame the face in order for it to appear smaller. 
Gan confirmed that sporting a fringe does make a woman look younger. "While there are many different styles of bangs, one failsafe style is a narrow fringe as it frames and wears well on most face shapes. More importantly, it looks chic."
DARK OR LIGHT HAIR COLOUR?
Covering unsightly greys isn't the only reason why we spend hours at the hair salon. Picking the right colour can help one look instantly younger.
"Dark-coloured hair has the tendency to look healthier and therefore is able to fake that appearance of youthfulness," said Chong. "Warm brown, copper brown or ash brown typically go well with our Asian skin tone. Pick a shade that works with your skin tone for a more natural look."
But pastel-lovers shouldn't despair. Chong added that light-coloured hair isn't a no-fly zone. Owners of healthy hair (read: glossy and shiny) are suitable candidates for going light. "The only concern I have with such trendy colours is that wearers can run the risk of (it) looking washed out. But a slick of makeup should tackle the problem."
DON'T FORGET ACTUAL HAIR CARE

The last and possibly the most important step to achieving "younger-looking" hair is by actually taking care of it properly.
"Use a good shampoo and conditioner that are free of sulphate and paraben for daily maintenance," advised Chong. "For those with dry hair, I would recommend that you replace your conditioner with a hair mask or treatment instead. And make time for at-home repair treatments and/or salon treatments whenever possible to improve the condition of dry hair."
And because healthy hair begins with a healthy scalp, you'll be doing yourself a big favour by also taking care of the scalp. "Scalp treatments are as important as your hair treatments," he said.