How guys can deal with receding hairlines: The best hairstyles to stay handsome
Shaving it all off is, of course, an option. But you could also consider the "sidecomb", a buzz cut or even… a perm?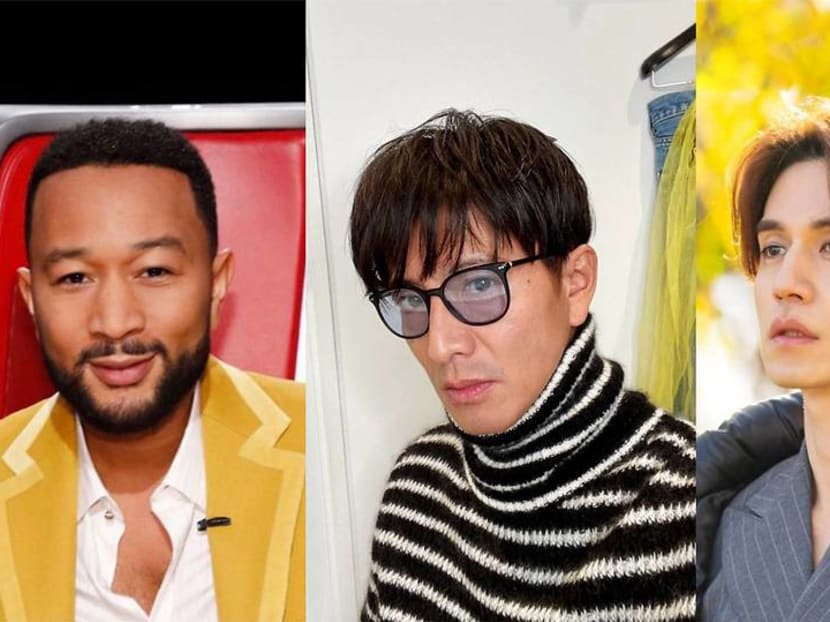 At some point in a gentleman's adult life, it happens. Running your fingers through your hair somehow doesn't feel the same as before, those luscious locks don't bounce back up like they used to, and you notice strands of hair between your fingers.
Or even in the sink.
Some amount of hair fall is normal (medical experts say an average person loses between 50 and 100 strands of hair a day) but with age and genes comes some extra challenges for men, especially by the time many reach their late 30s, according to Healthline.
And unless you're considering medication (to slow it down) or surgery (to restore that mane), a trip to the barber or salon is your best bet.
If you're starting to notice a considerable shift in your hairscape (we're looking at you, insane widow's peak), it's probably a good idea to start looking for a new haircut that will help you put your best face forward. 
Scroll on to find one that works for you from these celebrities' 'dos – some of whom have had to deal with entertainment sites claiming that they're not as follicly blessed as they used to be.

THE DANGLE
If and when your hairline starts to change and you aren't exactly ready to share this with anyone, you might want to resist the urge to backcomb. Instead, let your fringe hang down to cover up the changing hairscape. 
To hold the new look in place, use hair styling products like hair wax or spray so there's no chance for hair to shift even in the face of a strong gust of wind.
THE SIDECOMB
A receding hairline can happen to the best of us. But that's no reason to give up on grooming altogether. In fact, letting yourself go is possibly the worst thing you can do right now. Shapeless, skimpy hair is not a good look even on Brad Pitt. 
American-born actor Daniel Wu figured out how to cover any possible limitations – sidecomb. But never the overcomb, just so we're clear.
THE BUZZ CUT
Some men are just born with an unnaturally high hairline while others take some time to get there. To get around this hairy issue, try a buzzcut. The cut is so unintrusive, others won't even notice where the hairline is.
THE PERM
If you're facing more than usual hair fall, chances are the overall hair volume will no doubt suffer. To maintain the volume, you could add curls to your hairstyle. 
An ardent fan of the curls is 39-year-old Korean leading man Lee Dong Wook who maintains his ageless appearance with a digital perm. The glossy, bouncy locks are likely the reason why the chap never looks a day over 30. 
THE LONG AND SHORT OF IT
Divert attention from a receding hairline and give people something else to look at. Taiwanese Japanese actor Takeshi Kaneshiro balanced his higher hairline with long, wavy hair and exaggerated sideburns. You too can ace the tousled hair style just by running a dollop of hair mousse through hair to highlight the curls and tame flyaways.
THE SHOWHAND
Of course, if you're tired of troubleshooting your hair woes, there's always the last option: Take it all off and let your masculine confidence take care of the rest. Just remember to bring a cap if you're planning on spending time in the sun!