The 'Donald Trump of fashion': Why fans of Celine are so mad at Hedi Slimane's work
The brand that once spoke to women has fashion insiders crying bloody misogyny – now that Celine is the playground of a man who seems determined to tear everything down.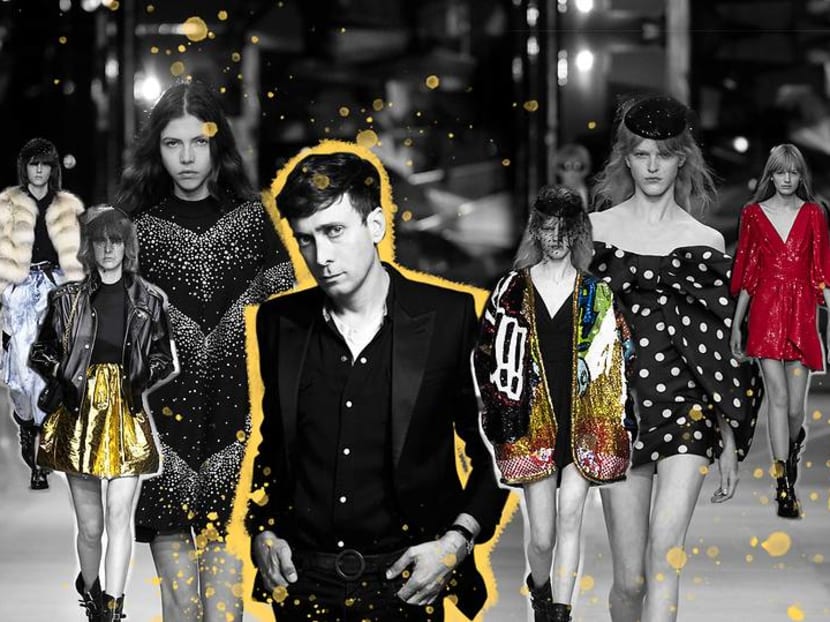 When LVMH announced in January this year that Hedi Slimane would succeed Phoebe Philo as creative director of Celine, there was immediate trepidation among the women who have loved Philo's sleek, stealth wealth collections for a decade.
But it wasn't enough preparation to brace fans for what the new artistic and image director showed at his inaugural collection in September – which, by the way, has been "renamed" Celine by ditching the accent (it wasn't the first time he had changed the name of his employer, having shortened Yves Saint Laurent (YSL) to Saint Laurent when he was at its helm).
But that's not all he ditched at Celine.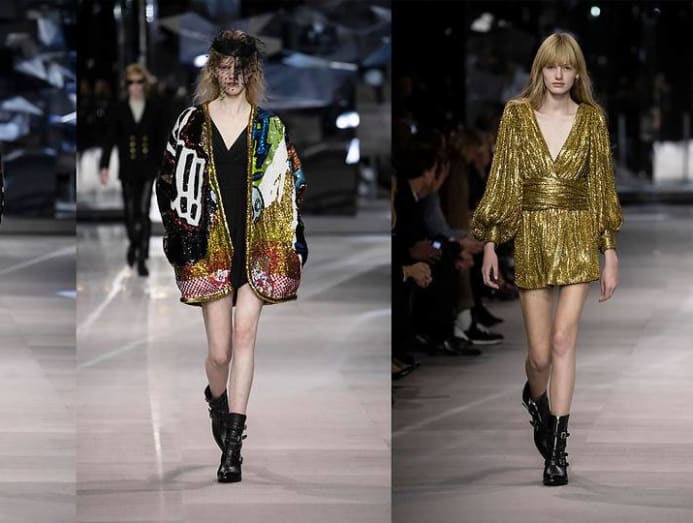 Slimane had sent down the runway a collection that looked, well, exactly like Saint Laurent's, which he left in 2016. Of course, he is not the only designer guilty of major aesthetic shake-ups. His YSL predecessor Tom Ford had done it in 1999, much to the displeasure of founder Yves Saint Laurent himself. But it was a move that succeeded in bringing YSL into the mainstream – and money into the bank for the brand.
While a predominantly black, rock-n-roll vision of a teenager isn't too far off the Saint Laurent mark, it was a different situation with Celine. For some, it is tantamount to sacrilege to replace Philo's entire aesthetic with a much younger, much showier, much less-subtle collection without keeping a single element of her work.
Slimane hasn't just scratched Philo's name off the wall – he's painted his portrait over it.
MISOGYNY AND THE 'DONALD TRUMP OF FASHION'
Over her 10 years at Céline (accent intact), Philo had built up an army of followers who identified with her sartorial philosophy that reflected the lifestyle, personality and even conflict that a woman regularly experiences in real life.
Her shapeless, crumpled dresses reflected the relaxed holidays she longed for. Her crisp, linen pants were sensible but maximally luxurious because working women want to feel and look good. Her bags were expandable – they could be tucked under the arm, and still hold a truckload of baby toys and a blanket. Her shoes? Why, she singlehandedly made white, rubber-soled slip-ons the must-wear/must-copy shoe. Céline fans felt understood and catered for.
Model Stella Tennant said this to The New York Times when Philo departed the label: "There's something a female designer does differently from a male designer… She knows how women want to dress."
But now, Philo is gone. And in her place is the man who first rocked the world (and restored Karl Lagerfeld's mojo) with very skinny suits for very young men.

The reaction to Slimane's Spring-Summer 2019 for Celine was visceral. Cries of misogyny rang out.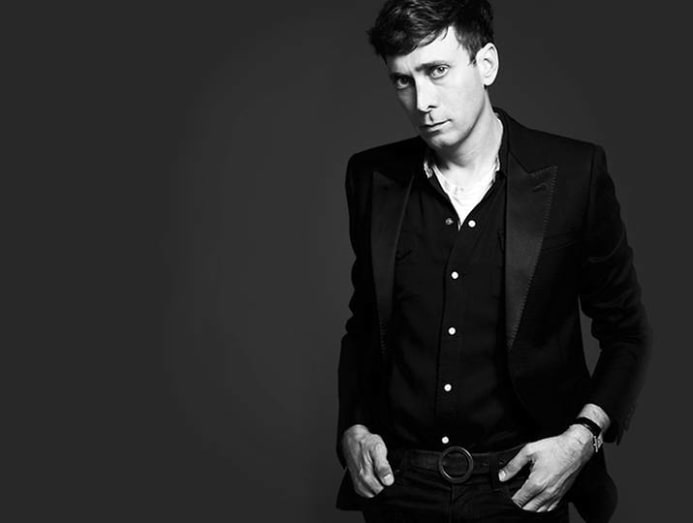 Robin Givhan of The Washington Post said, "Slimane doesn't seem particularly interested in addressing the mundane issues in a woman's life. His fashion is not here to solve your problems. Save your problems for your therapist. His designs are about his vision. They are not welcoming."
TIME magazine's Cady Lang was not happy: "I am taking a break from my outrage at the racist/sexist men of the Kavanaugh Hearing to indulge in some outrage over Hedi Slimane's entirely predictable, heinous Celine debut (Saint Laurent 2.0 on primarily emaciated white models). F*** power-hungry white men."
Hollywood Reporter simply asked, "Is Hedi Slimane the Donald Trump of fashion?"
Fans of Philo-era Céline took to social media to express their dismay at what they saw as a brutal male takeover of the most intelligent and relevant women's luxury brand there ever was.
Not only that, but in true Slimane fashion, stick-thin, barely legal, white models need only apply, it seemed. That he expects women to fit into his signature skinny pantsuit a la Le Smoking – now unisex! – is a statement in itself.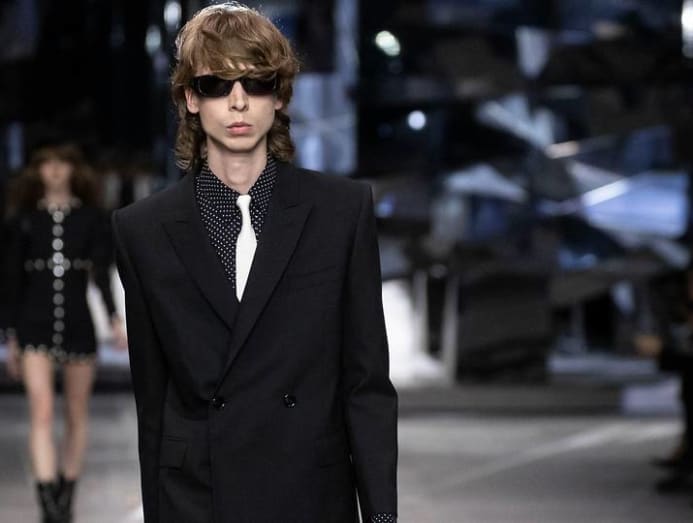 SAME SLIMANE, DIFFERENT DAY?
Singapore-born, New York-based fashion photographer Wah has been following Slimane's career, initially with enthusiasm when he first helmed Dior Homme, and with increasing horror at every turn since.
"After 2005, Hedi Slimane began to express his obsession with youth and it seems to me from that point, the models got thinner and thinner, and younger and younger," said Wah. When Slimane's aesthetic started to be heavily influenced by the rock music scene, which relied heavily on thrift store aesthetics, the innovation stopped, he noted. 
We don't enter a fashion house to imitate our predecessor, much less to take over the essence of their work, their codes and elements of language. The goal is not to go the opposite way of their work either. It would be a misinterpretation.
When Wah heard of Slimane's new appointment, his first reaction was "despair". 
"I was momentarily hopeful that he might surprise everyone – because it seemed ludicrous that he would repeat himself. But in the end, that was exactly what he did."
"The difference this time is that he is referencing himself at Saint Laurent. He was exploring something new with womenswear when he started there. Now, at Celine, it seems as if he doesn't really have much more to say that he didn't say then."
Slimane's self-concocted hype could have also brought on the disappointment, said XY, a luxury fashion insider in Singapore, who declined to be named for this story. Slimane had re-booted the brand's Instagram, re-designed the logo, and teased followers with monochrome images from his Celine campaigns.   
"After creating so much hype before his collection showed, he can't fault anyone for having high expectations of his inaugural show for Celine," said XY. "But the collection was a disappointment to me. His womenswear is the same as what he brought to Saint Laurent; his menswear is a re-enactment of Saint Laurent hybridised with Dior Homme."
Given the palpable despair, it was inevitable that someone would start a social media account as a tribute to Philo.
I can't imagine the formula succeeding... Especially without the heft of a historic brand like Yves Saint Laurent behind it all.

Canadian fashion lover Gabrielle Bouchinha launched her Instagram account @oldceline on Sep 2. In a month and a half, it has attracted 97,000 followers, including highly influential personalities like Virgil Abloh, creative director of Louis Vuitton Men; lauded street fashion photographer Tommy Ton; and Man Repeller founder Leandra Medine.
The account features photos from the #oldceline community of their favourite Philo-era looks and items.
It's a lovely sentiment. But after all is said and done, Philo's not coming back. Slimane is here to stay (at least for now), so what will happen next?
ALL ABOUT THE MONEY?
The rumour was that Philo was unwilling to expand the Céline brand to include a men's line, haute couture and perfume. "With that in mind, it becomes clear that as Slimane was available, they now had the opportunity to compete with the success Slimane himself built at Saint Laurent for Kering," said Wah.
XY agreed: "From a business point of view, Slimane could possibly turn Celine into another Saint Laurent, which he had built into a juggernaut with double-digit, year-on-year growth. Saint Laurent is now the second biggest brand under the Kering luxury portfolio, accounting for 14 per cent of its sales."
What could fight the giant Saint Laurent better than another Saint Laurent, especially now that the "real thing" has resurfaced, albeit with another brand name slapped on that must-have bag?
And if it is merely some sort of gambit to swing the luxury consumer's dollar from Saint Laurent to Celine, with zero regard for what the brand is intrinsically about, it leaves one to wonder: How long can this go on?
"I can't imagine the formula succeeding," said Wah. "The word is that while his tenure at Saint Laurent was generationally new enough to perform well, six years on, Slimane's look might not have the same impact in the stores, especially without the heft of a historic brand like Yves Saint Laurent behind it all.
"Celine's significance comes only from the newly erased work of Philo, which Slimane is ignoring and restarting with an empty slate. So, the question then is, will his vision stand on its own merit without the backing of a storied brand?"
He should have his own brand already. It may allow him to take things to the next level without having to be concerned about an existing history.

Before his show on Sep 28, Slimane gave a rare interview to Le Figaro, in which he foreshadowed and defended the change he was about to bring.
"We don't enter a fashion house to imitate our predecessor, much less to take over the essence of their work, their codes and elements of language. The goal is not to go the opposite way of their work either. It would be a misinterpretation."
"Respect means preserving the integrity of each individual, recognising the things that belong to another person with honesty and discernment. It also means starting a new chapter. We arrive then with our own stories, our own culture, a personal semantic that is different from the ones of houses in which we create. We have to be ourselves, without any stance, against all odds."
Slimane could take his own suggestion by being himself. Surely the time is ripe for Slimane to go the way of Tom Ford and launch his eponymous line, one that's all his, and not an unholy possession of an existing brand. 
"What I'd like to see is Slimane doing his own brand, instead of imposing the same aesthetic upon whichever brand he helms," said XY. "I would also really like to see him return to photography."
Wah agreed: "He should have his own brand already. It may allow him to take things to the next level without having to be concerned about an existing history."
Perhaps if Slimane does succeed in spinning Celine into a Saint Laurent – and the Generation Zers aren't sick of him in six months – he might just have enough bargaining power to get his bosses to let him start his own thing.
Until then, we'll just have to content ourselves with gazing at @oldceline.