Hermes brings rare treasures from its archives to Singapore, including its very first scarf
Hermes Heritage – In Motion will take you through the ages, providing a glimpse into its journey from harness-maker and saddler into the present-day.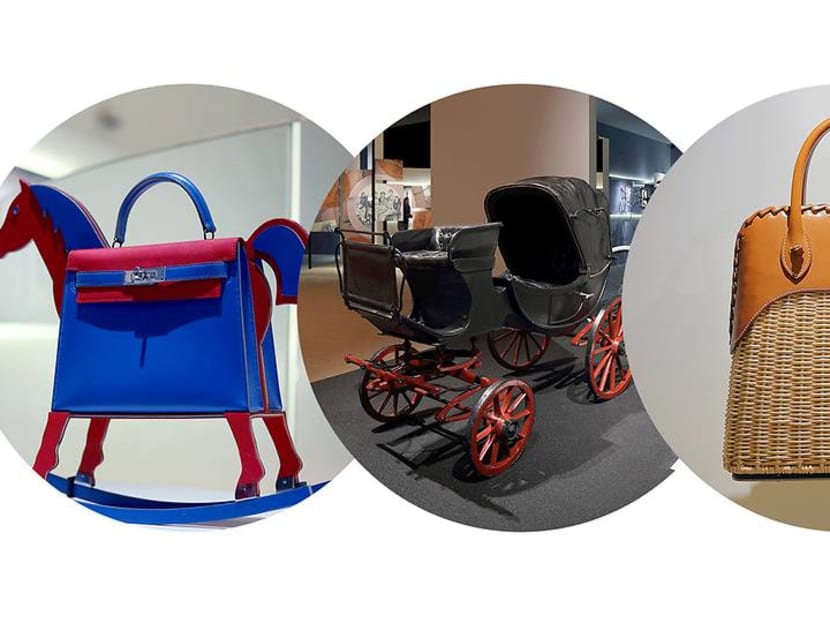 Hermes is a brand rooted in its perambulatory history, having been established in 1837 when forms of transportation were becoming increasingly developed.
The theme of travel is one that has been held close to the French label's heart. In fact, the very first scarf designed by Hermes in 1937 depicts a scene from nearly a century before, when France introduced its first mode of public transport: The horse-drawn omnibus.
Admirers of the fashion house can gain insight into this history at the Hermes Heritage – In Motion exhibition, taking place from May 11 to 19 at Hermes Liat Towers.
Hermes Heritage is a cycle of exhibitions featuring precious artefacts and objets d'art from Emile Hermes collection (Emile was the grandson of founder Thierry Hermes), the archives, the Hermes Conservatoire of Creations and contemporary pieces.
The In Motion exhibition focuses on the idea of journey, following the brand's origins as a harness-maker and saddler into the present-day.
That very first scarf from 1937 is on display, as are items from Hermes' storied history that have contributed to modern travel. From a child's carriage with full leather interior that was harnessed to one or two goats, to the Bolide picnic bag created in the 1920s, to the Flaneur d'Hermes bicycle with saddlebag attached, to the skateboards of today.
The exhibition also features contraptions designed by Hermes for seafaring explorers of yore who loved to entertain regardless of the weather forecast, including a storm-resistant pipe and a rig that prevented drinks from spilling no matter how rough the seas got.
The touring exhibition is directed by Bruno Gaudichon, curator of the La Piscine Museum of Art and Industry in Roubaix; and exhibition designer Laurence Fontaine.
Hermes Heritage – In Motion runs from May 11 to 19 at Hermes, 541 Orchard Road, Liat Towers, from 10.30am to 8pm daily. Admission is free.