Home decor tips: How the right mix of grey and yellow can liven up your rooms
Pantone's official colours for 2021 are Ultimate Grey and a vibrant yellow known as 'Illuminating'. While the combo might be too bold for many homeowners here, there are ways of using this contrasting pairing in your decor.
Unusual times call for atypical choices, and when Pantone revealed its official Colour of the Year for 2021 sometime last month, the colour institute chose two instead of the usual single hue – the contrasting pairing of a moody Ultimate Grey and a vibrant yellow known as Illuminating.
If you're planning a decor update for your home, it's a good time to think about adding these two colours to the current palette of your living space. Interior designer and stylist, Barbara Fritschy, who helms interior design firm Make Room, said she had mixed feelings about these colours when first announced but thinks that they can work well in the home.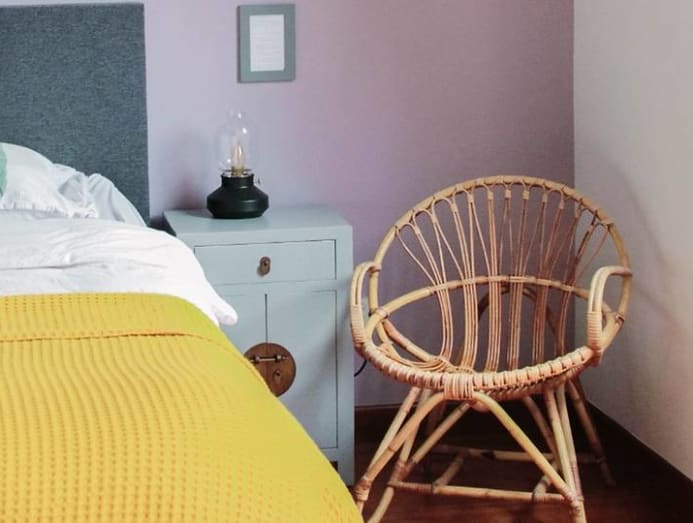 "After the year we've had, I was hoping for something more exciting than Ultimate Grey. That being said, it's also an accurate portrayal of 2020 and potentially the unforeseen experiences we'll have in 2021. Illuminating yellow then acts as the perfect depiction of hope and optimism for the upcoming year, and used well in interiors, can look really striking," she shared.
Folks in Singapore, however, do not seem to be an adventurous lot when it comes to bringing colour into their homes. Fritschy says that many of her clients here tend to play it safe on colour, for fear of creating a space that is either too overwhelming or won't stand the test of time.
"Singaporeans are very trend-aware but have a keen focus on keeping things practical and timeless, so that can sometimes be counter-intuitive. I believe you've got to be bold and daring when it comes to making interesting decisions in interior design," she said.
Thinking about venturing out and refreshing your decor with these newly trendy hues? CNA Lifestyle shares how you can do so, along with a few pointers from Fritschy on successfully pulling them off.
PUT THEM ON THE WALLS
Think a fully grey or yellow wall in the home is too much of a statement feature in the home? Here are Fritschy's views: "On their own, they are either too plain or too intense, but I definitely do think the two colours can be a good match – they balance each other out nicely."
She pointed out that it all comes down to where and how you incorporate them. "For example, in a relaxing and soothing master bedroom, I would never paint all the walls in yellow. But, say, in a kids' room, a feature wall would be really playful and invigorating," she added.
You don't necessarily have to splash them on an entire wall, although there's nothing to stop you if your tastes happen to veer toward the bold. For those who prefer a subtler and more interesting take, Fritschy suggested doing something more unique and graphic with paint – like creating a half-painted wall, or a fluid shape, which will add more dimension to the room.
You can consider going for a patterned wall paper that incorporates small accents of yellow and/or grey, or even DIY a faux patterned-wallpaper effect with just paint and a little bit of creativity – there are endless chic ideas that you can reference on Pinterest and execute even with limited artistic skills.
COLOUR THE FURNITURE
Paint can be used on other things besides walls. Give your furniture a new lick of colour – it's a great way to give your inexpensive pieces (or those that are old and perhaps starting to look a little run-down) a quick and easy makeover. Think outside the box: For example, instead of covering a cabinet entirely with paint, you can simply just paint the doors, legs, or just the inside of a shelf that's exposed. That way, you can create an eye-catching effect with swatches of colour without the risk of overkill.
Elsewhere, explore reupholstering chairs or even the headboard of your bed with a fabric that can bring fresh colours into your home. You'll be surprised at how much of a change they can make to a tired-looking space.
ACCESSORISE, ACCESSORISE, ACCESSORISE
If you have a neutral colour theme in your home, it'll be easy-peasy for you to introduce splashes of colour with accessories. White, tan, grey and black make a great background for bright pops of colour (like yellow) to be interspersed throughout your home – as for grey, guess what, you probably already have some elements of the hue in your decor.
"You can also bring colours into any space through thoughtful styling – think soft accessories like cushions, or wall art, vases and other decorative elements. The possibilities are endless! I will always include throw cushions in a bedroom and living room to soften the space and add colour. There is also an abundance of really beautiful ceramics and vases these days, both online and in Singapore, so bringing in different shapes and colour through sculptural elements like these is also really effective in bringing life into a room," shares Fritschy.
Don't forget that you can also change your rug, curtains, or hand towels and bedlinen for an affordable and low-commitment way to inject some colour into your home's decor. Colours can be introduced via flowers, books or even crockery that are placed on tables or shelves for display.
PLAY WITH VARYING SHADES
There isn't a rule saying that you need to use the exact Pantone Colours of the Year, of course. Try playing with varying shades of yellow or grey, or if you don't really fancy these two colours at their full intensity, experiment with lighter or pastel washes, or head in the opposite direction and go for darker, richer variations of these hues. The former will lighten and brighten up a room while the latter can really help dial up the cosiness and add a luxurious feel to your space, if you throw the right textures into the decor mix.
You can think beyond just yellow and grey too. Mix and match them with other complementary colours that pair seamlessly yet introduce an interesting and eclectic feel. This tricks works particularly well with accessories – don't be afraid to experiment and move things around to find the right look.
"You need to be mindful of the energy colours intrinsically bring to a room. Learn to understand what colours and hues work well together, and how they will impact the subconscious feel and vibe of the space. Yellow is known to be associated with positivity, energy, the sun, so even if you want your room to feel like the happiest place on earth, think about using the colour wisely so as not to overwhelm," advised Fritschy.