Uniqlo is cutting water usage by 99% so your jeans don't kill the planet
CNA Lifestyle went to California to find out how the Japanese company behind Uniqlo has developed tech to make your blue jeans in a thoroughly green fashion.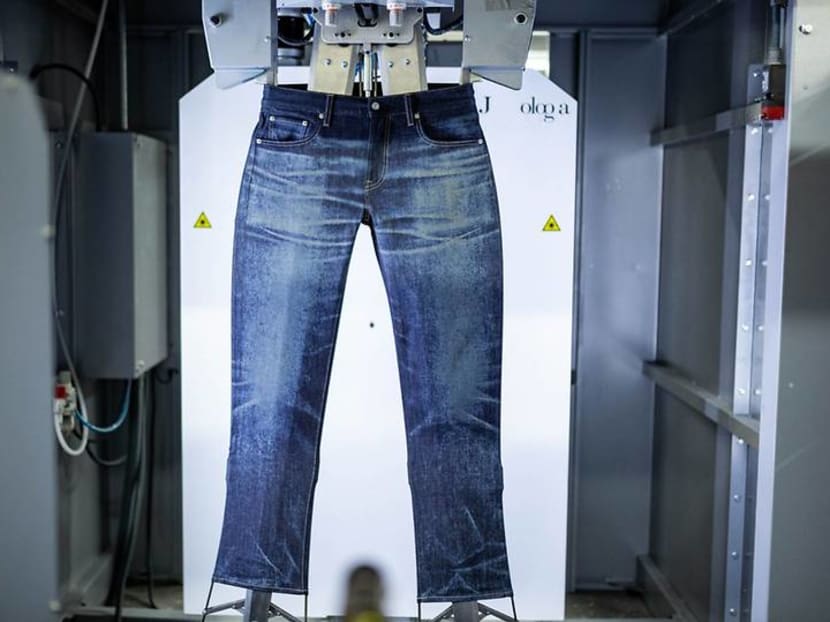 The dry, dusty and cactus-dotted scenery reminded me more of the Netflix show Narcos than of a state-of-the-art R&D facility where people make eco-friendly jeans. 
But I was told that in this quiet and seemingly barren part of Los Angeles, one can find the technology to create the washed look and silky-soft feel of vintage jeans using less water than a cactus needs. I was intrigued.

The company behind this indigo revolution is Fast Retailing. The Tokyo-headquartered retail company may not ring a bell but some of its fashion brands might: Helmut Lang, J Brand, GU, Theory, PLST, Comptoir des Cotonniers, Princess tam.tam and the largest of all, Uniqlo.
But what is a Japanese jeans research centre doing in the middle of the California desert? "Jeans began in California and it has a history here," explained Masaaki Matsubara, the chief operating officer of the Fast Retailing Jeans Innovation Centre (JIC).
Which makes it the perfect place to try something new – like reinventing the way jeans are made.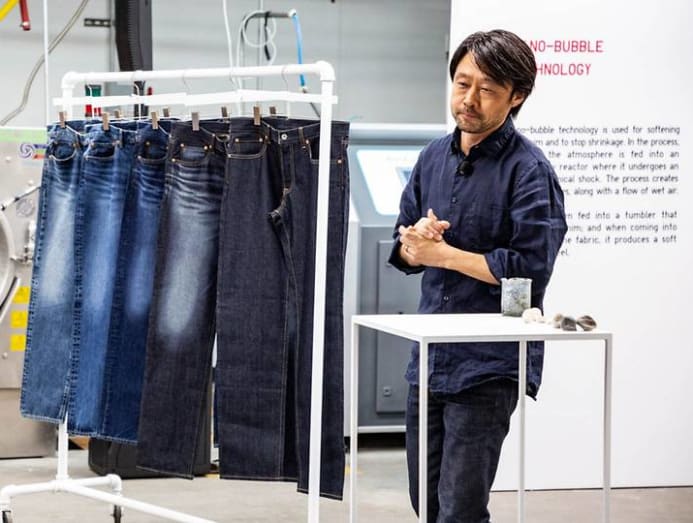 HELPING TO REDUCE WASTAGE
Jeans are one of the world's most ubiquitous piece of clothing – but it's taking a toll on the planet.
For one, it takes at least 10,000 litres of water to produce just a kilo of raw cotton – enough to make only one pair of jeans, according to the United Nations. And that's not counting the water usage in the wash process the denim goes through to create the soft texture of used jeans – and other repercussions we'll get to later.
We never intended to reduce the water used for jeans washing by only 10 per cent or 20 per cent. Ultimately, we want to reduce water usage to zero.

Beyond water wastage, there's also the issue of producing too many clothes. According to a BBC report, the global garment production currently stands at more than 15 billion items a year – a number that has doubled in the past 15 years because clothes are worn less and thrown away faster.
Singaporeans are guilty of this, too. A YouGov Omnibus research in 2017 revealed 73 per cent have thrown clothes away, with 25 per cent dumping more than 10 items of clothing.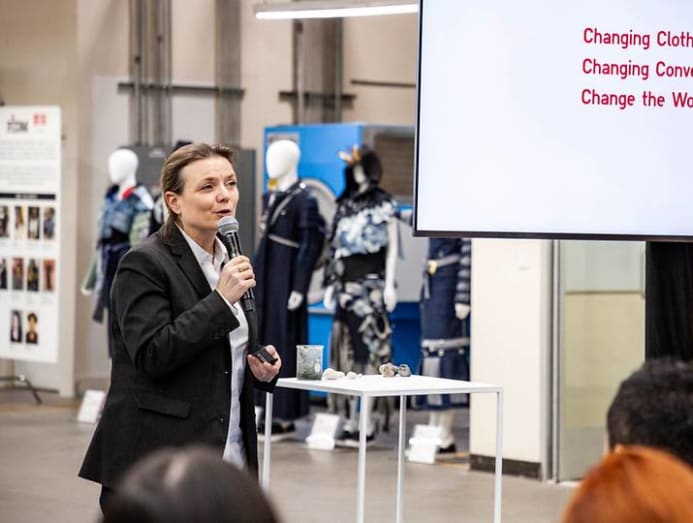 And, of course, Uniqlo itself is part of the system that contributes to the cycle. A spokesperson said that it produces 1.3 billion items of clothing across the world each year, with more than half (51 per cent, to be precise) of the brand's sales coming from China, Hong Kong, Taiwan, and South Korea.

Which is why Uniqlo's parent company is trying to do something about it.

TOUR OF TECHNOLOGY
According to Fast Retailing's sustainability director, Veronica Rochet: "Making clothes that are long lasting and functional" is the company's way of helping to reduce global wastage. 
Which brings us back to our tour of the JIC. Looking more like a high-tech lab than a factory, the well-lit and high-ceilinged JIC is unlike the dark, stuffy and sweaty place you'd imagine with piles of failed jeans experiments covering the floor. Instead, it looked like Marie Kondo had been there.
I was tempted to run my finger over a ledge to check for dust but didn't think that would spark joy in my host.
The centre was founded in 2016 by the Tokyo-born but LA-based Matsubara, who's been totally focused on figuring out how to make sustainable jeans.
He explained the conventional process of making one. "Jeans still aren't complete after sewing. They are the only garments that have to go through a wash process – and they are the only apparel that has to look old even though it's new," he said.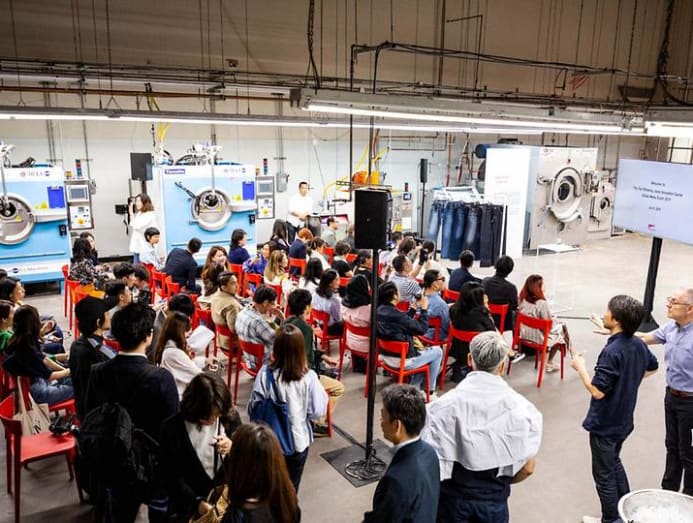 The wash process – which is stonewashing with pumice stones – softens the denim and eliminates its stiff, starchy texture. For the record, each pair of Uniqlo jeans uses an average of 100 litres of water to wash. 
That's actually just 43 litres shy of what the average Singaporean uses per day in 2017, according to the PUB.
What becomes of the pumice stones is another waste issue altogether. A staff said that each wash cycle typically requires about 80kg of pumice stones. But after just one wash cycle, they'll be reduced to half their size. "The stones turn into waste," Matsubara explained. "They break down into tiny bits and when discharged, they pollute the water system."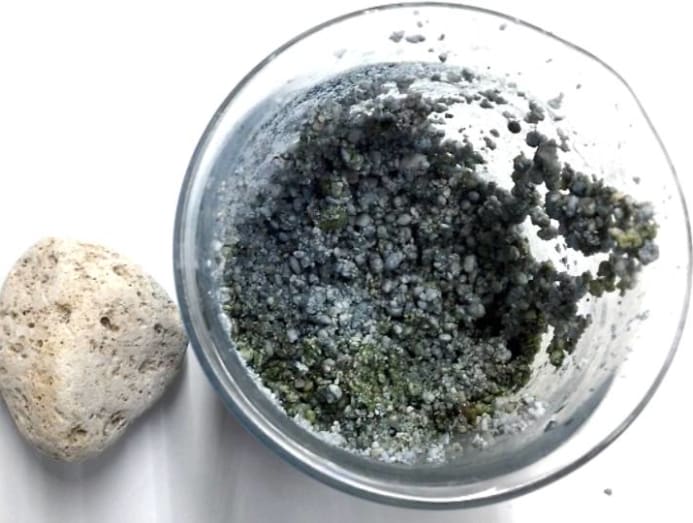 Even creating the faded streaks (known as whiskers), rips and tears that add to the "vintage" appearance of the jeans comes at a price to the environment and workers. Chemicals such as potassium permanganate (if you paid attention in Chemistry class, it is toxic to aquatic animals and can burn skin) are applied and the process can take an hour per pair of jeans.
I edged away when a staff demonstrated the old-school way of sanding down the jeans. Manual labour is again responsible for the aesthetically placed holes, rips and tears before the jeans are ready to hit the stores.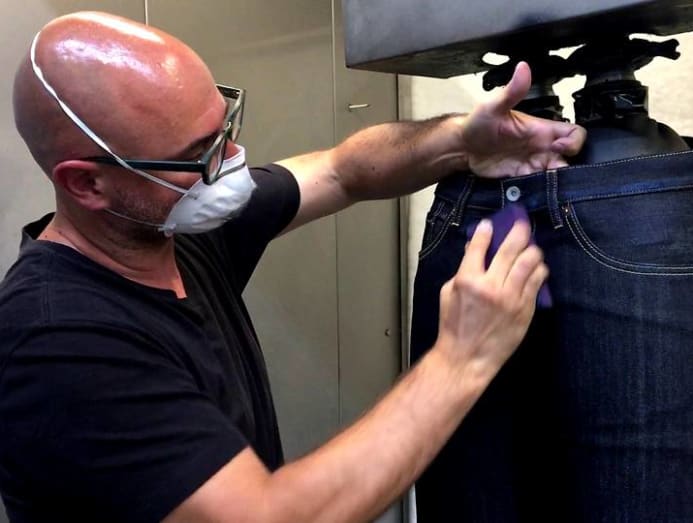 READY? LASER AND ACTION
To deal with all of these problems regarding chemicals and water, Uniqlo has turned to technology for eco-friendly solutions.
A laser machine, for instance, is used for the laborious sanding process. This hulk of a grey metal frame can replicate the whiskers or fade patterns that result from the wearer's repeated movements – after years of dedicated wear, as I thought back to my own jeans. But here, it was about to happen in an instant.
The platform had several pairs of jeans in various washes placed on it. An ominous yellow light started to flash and a sound that wasn't too far off from a jumbo jet taking off deafened the room. Were the jeans going to catch fire? Would I see laser beams shooting out? Did anyone have a fire extinguisher on standby?
If you were anticipating a laser show like Marina Bay Sands', no such luck. But the flash fires (yes, actual fire) that flared up as quickly as they died down wherever the invisible laser hit the denim were just as exciting – perhaps even more so. And just like that, you get a specifically placed frayed edge or rip.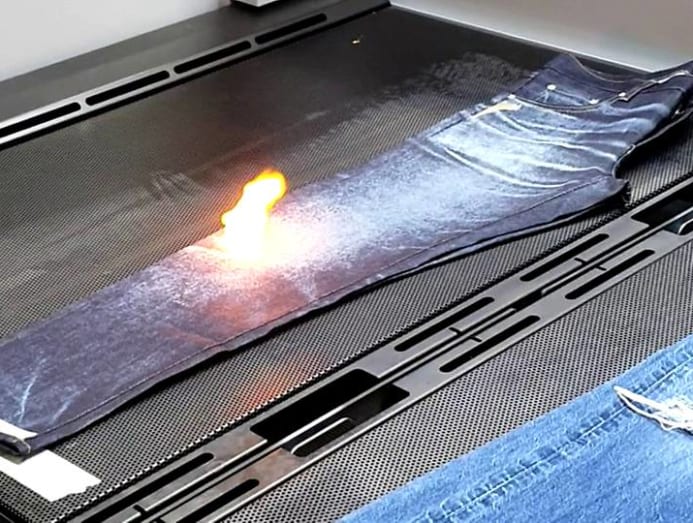 In fact, the very same distressed design can be replicated with precision on other pairs of jeans many times over. A designer just has to create the pattern on the computer beforehand, and the laser system can churn out 60 pairs of jeans per hour, compared to the 10 per hour using manual labour. How's that for efficiency and consistency?
SAVING WATER
As for the wash processes, they're doing away with pumice stones altogether. Matsubara walked up to one of the cupboard-sized industrial machines and fished out a fistful of seemingly ordinary rocks. "Instead of using pumice stones to wash the jeans, we've developed our own eco stones made of polymer," he said. "They don't break down and won't pollute the water system."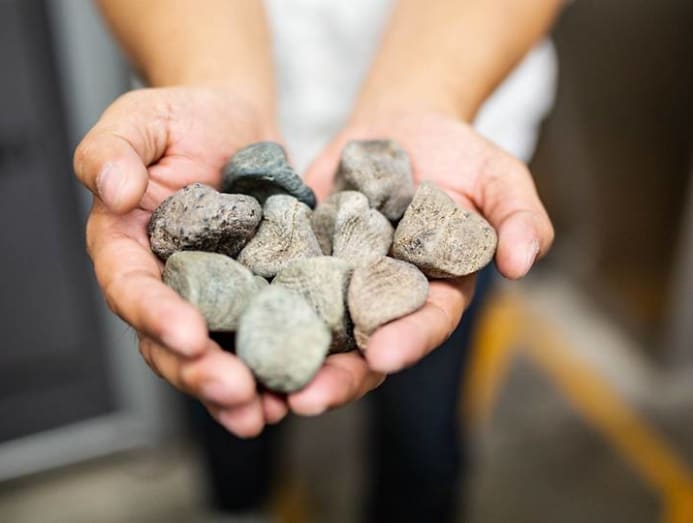 And the biggest issue of water usage? A staff said that no water is added at all in the wash with the eco stones. The jeans are placed into the machine wet and that is all the moisture used. "The nanobubble technology turns water into moisture particles to cut down water usage by 99 per cent," said Matsubara.
By 2020, 100 per cent of the processes that you see here today will be available in all our factories worldwide.

To remove the indigo stains, the JIC has another water- and bleach-free trick up its sleeves: Ozone gas cleansing. Indigo oxidises and fades in the presence of ozone, and when it is all done, the gas is released into the atmosphere where it becomes oxygen, or so we were told.
Whatever little amount of water is used, the JIC is still working on getting it 100 per cent recycled. I thought the displayed water samples looked transparent and clean, like NEWater. But they aren't quite there yet, said Matsubara. "We never intended to reduce the water used for jeans washing by only 10 per cent or 20 per cent," he said. "Ultimately, we want to reduce water usage to zero."
ENCOURAGING RESPONSIBLE CONSUMERISM
If you're wondering how far Fast Retailing is from rolling out the technology seen at the JIC, it is already in use.
"Around 60 per cent of our facilities at the moment have the technology at the moment," said Matsubara. In fact, that pair of men's regular fit jeans that you might have recently bought from Uniqlo could be made using the technology.
"By 2020, 100 per cent of the processes that you see here today will be available in all our factories worldwide," he said.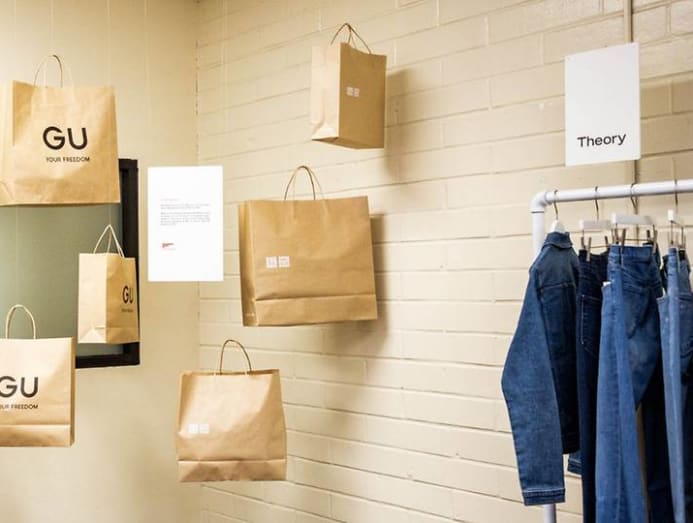 Beyond the clothes, there are other ways the Japanese retail giant is also looking into other eco-friendly measures, such as reducing the use of plastic bags and packaging in stores. The target is to reduce the use of plastic by 85 per cent, which translates into "7,800 tonnes of plastic" by 2020, said Rochet.
As for Fast Retailing's next eco-conscious step, group senior vice president of sustainability Yukihiro Nitta said: "We would like to look at raw materials for our next sustainability efforts, perhaps using recycled materials."
The dusty landscape that surrounded the R&D centre might look devoid of water but it sounded like ideas to further revolutionise garment production have started flowing.

CNA Lifestyle was in Los Angeles at the invitation of Uniqlo.