What causes dark eye circles? And what's the best way to get rid of these?
Sleeping habits, ageing and how thin your skin is are some of the causes of your under-eye woes. But while you can't completely avoid these, there's a way to make them less prominent, says an aesthetic doctor.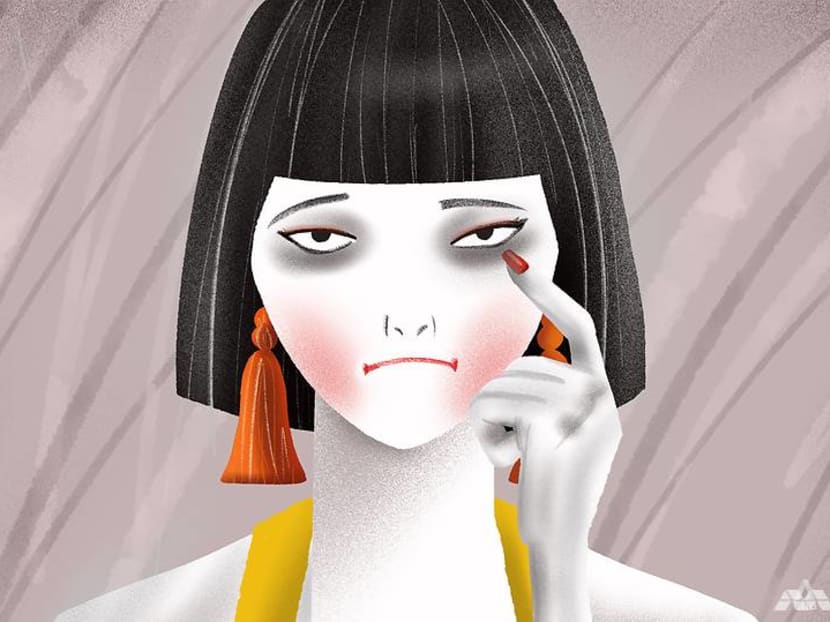 You'll probably agree that dark eye circles are the facial equivalent of crop circles that seem to appear out of nowhere. They were definitely not there when you looked at the mirror last night and – surprise! – you've got a panda staring back at you the next morning.
And to think that you've done everything in your power to avoid it – you clock in a full beauty rest every night, apply eye serum or cream religiously, and even follow this up with a jade roller.
So why do you still get these dreaded dark circles? And how can you avoid and banish these? CNA Lifestyle turned to an aesthetic doctor for answers.
WHERE DO DARK EYE CIRCLES COME FROM?
According to Dr Calvin Chan, medical director of Calvin Chan Aesthetic & Laser Clinic, there are a few possible causes:
Circulation: "Lack of sleep can affect circulation, as does staring at a TV or computer screen for long hours. Both can worsen the hollowness on the eye socket, making dark eye circles apparent."
Thinness of skin: "The thinner the skin, the more translucent it is – prominent blood vessels and underlying muscles are more likely to show through, resulting in a purplish appearance."
Ageing: "Skin around the eyes thins as we age, causing dark circles to become more pronounced. Volume deficit and thinning of skin over the eye socket creates a hollowness and emphasises the appearance of a dark curvilinear line under the eye."
Excessive pigmentation: "Excessive sun exposure and intake of certain drugs can cause pigmentation around the eyes. Post-inflammatory hyperpigmentation of the lower eyelid skin is also not uncommon in those with allergies."
The way you sleep: "How much you sleep, whether too much or too little, and even the way you sleep can cause blood to pool and fluids to accumulate in different areas of the face which can result in dark circles and eye bags."
It's genetic: "Dark circles can be genetic, and more often than not, they are usually compounded by eye bags."
HOW TO DELAY THE ONSET OF DARK EYE CIRCLES
But before you throw your hands up in the air and give up the fight, Dr Chan assured that while we cannot completely banish dark eye circles, we certainly can delay their onset and prevent them from becoming even more prominent.
Start by understanding that the skin around the eyes is thin and delicate. Treating the area with TLC is vital. "Avoid rubbing and scratching the skin around the eyes as that can cause the fragile skin to loosen and droop, which can worsen the look of eye bags and dark circles."
Other good eye care practices include applying a cold compress over the eyes regularly, massaging the eye area gently and getting more shut-eye to improve circulation.
"A good anti-ageing eye cream can help delay the loss of volume and thinning of the skin around the eyes," said Dr Chan. "Look out for ingredients like vitamin K to strengthen and thicken the delicate skin around eye area; hyaluronic acid to hydrate and plump out fine lines; and peptides to relax and smoothen skin."
Scroll on to find out which eye care solutions can help keep your dark eye circles in check.
BIO ESSENCE BIO GOLD EYE POWER ILLUMINATOR, S$36.90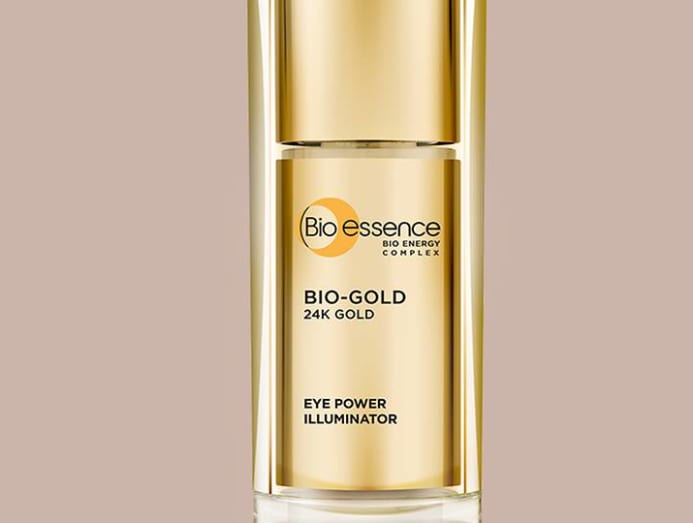 The anti-inflammatory and antioxidant properties of 24K gold in this blend protect skin against free radicals that lead to wrinkles and skin damage. The Bio Energy Complex in the formula provides optimal nourishment to combat signs of premature ageing and plumps up the area around the eyes for youthful-looking peepers.
VICHY LIFTACTIV EYES, S$69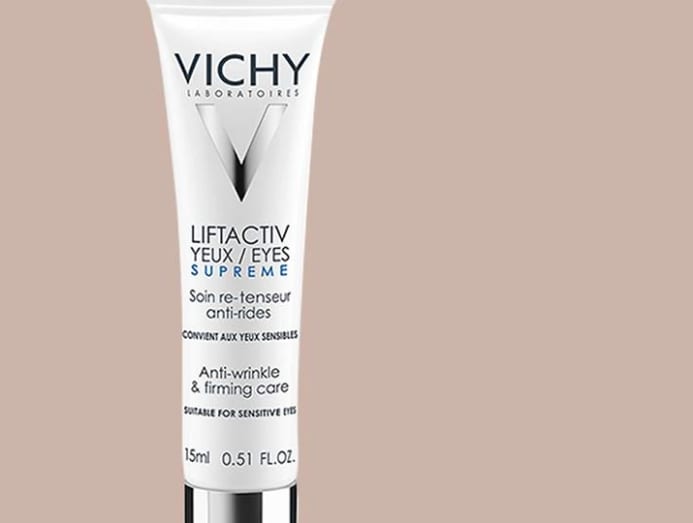 An MVP of eye care solutions, this corrective treatment provides an all-round lifting effect, while ironing out wrinkles, smoothing out creased eye lids, lightening dark circles and de-puffing under-eye bags.
SIGI SKIN PINK NECTAR, S$62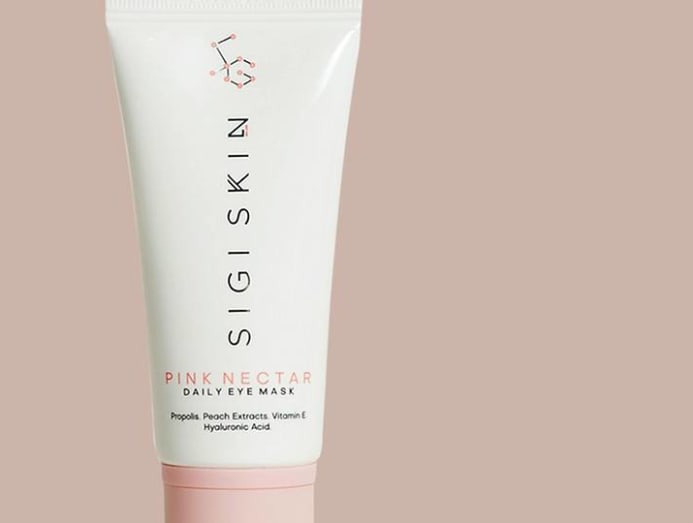 Do you know there are five different kinds of hyaluronic acids (the stuff that retains water and plumps up your skin)? And all five of these hyaluronic acids can be found in this eye cream, along with anti-ageing nutrients such as vitamin E, propolis and niacinamide, to rejuvenate the eye area and stop crow's feet in its track. It also doubles as a nourishing lip mask.
ESTEE LAUDER ADVANCED NIGHT REPAIR EYE SUPERCHARGED COMPLEX, S$105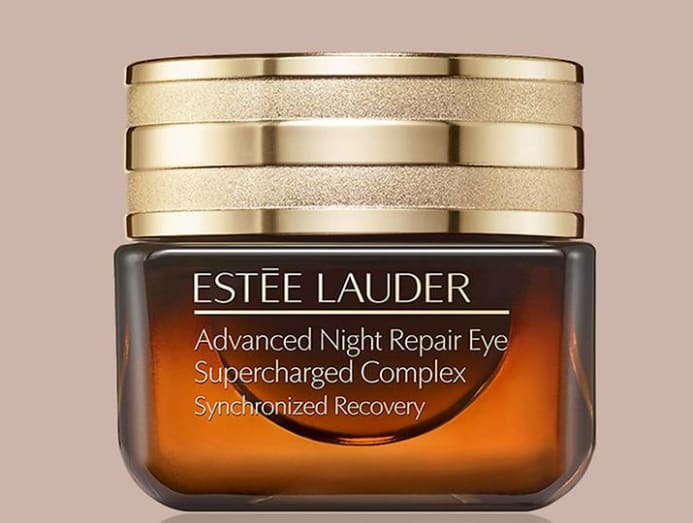 This concentrated treatment uses the patented ChronoluxCB technology (the natural synchronisation of your skin's repair process at night) to take out the ill-effects of insufficient rest, UV, pollution, even blue light so your eyes always look like they're fully rested. The technology also ensures 24-hour hydration, fights free radical damage and most importantly, brightens dark circles in just three weeks.
FRESH BLACK TEA AGE-DELAY EYE CONCENTRATE, S$115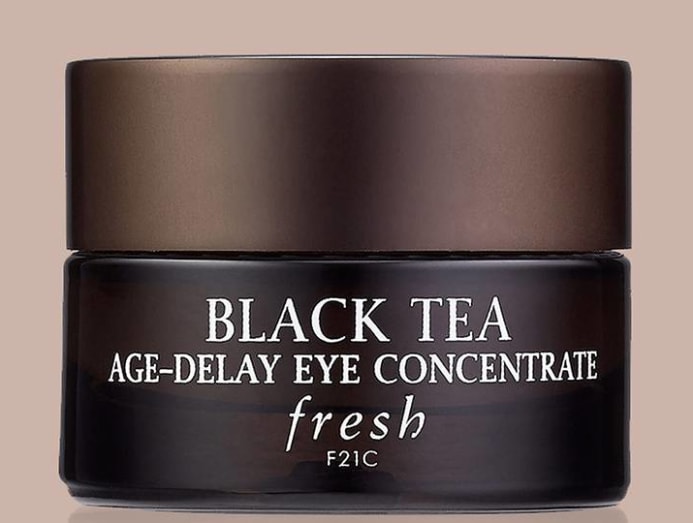 Instead of reaching for used tea bags, up your game with this eye concentrate to keep those dark circles and puffy eye bags at bay. The concoction not only taps the free radical-busting ability of black tea extract, it is also souped up with antioxidants (from superfruit noni) and hyaluronic acid to help skin stay hydrated.