The Singaporean designer who changed the way we look at the cheongsam
An interest in Chinese heritage and a love for its most iconic cultural garment spurred Goh Lai Chan to make it relevant for modern women.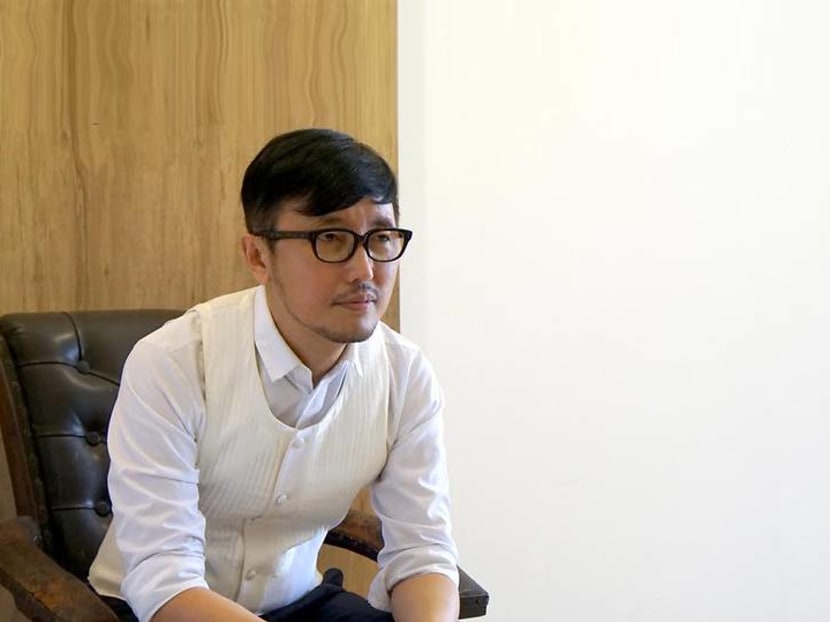 In a fashion scene as small as Singapore's, few names tend to have staying power while simultaneously becoming synonymous with a single type of garment.
But that's exactly what Goh Lai Chan has done. For nearly 40 years, the couturier has been outfitting Singaporeans with exquisitely made cheongsams while growing an international clientele along the way.
Now in his late 50s, Goh runs his eponymous label Laichan at his boutique in Paragon, where a pret-a-porter cheongsam collection is available. He also offers a made-to-measure service for those looking for customised creations.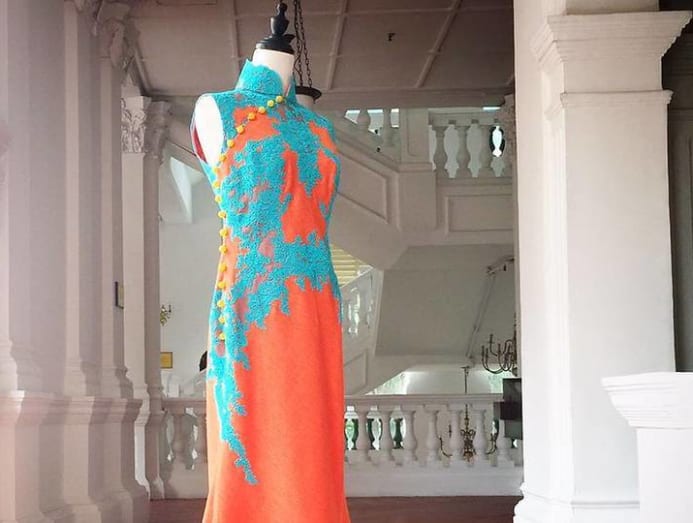 While Goh also designs evening dresses and gowns, it's his cheongsams that stand out – women from Singapore and other countries know who to look for if they want a creative take on the traditional garment that also retains a classic touch.
A SELF-TAUGHT DESIGNER
For someone who's considered a local fashion institution, it may come as a surprise to some that Goh didn't have fashion training during his tertiary school years.
"I studied building and real estate management at Ngee Ann Polytechnic, even though I had a big interest in fashion," Goh shared.
"Back then, I was already designing cocktail dresses for friends and customers who wanted something nice to wear to parties. I spent my weekends buying fabric, beads, sequins and trimming to make dresses, and even wedding and evening gowns. I made enough to allow me to continue to make more clothes."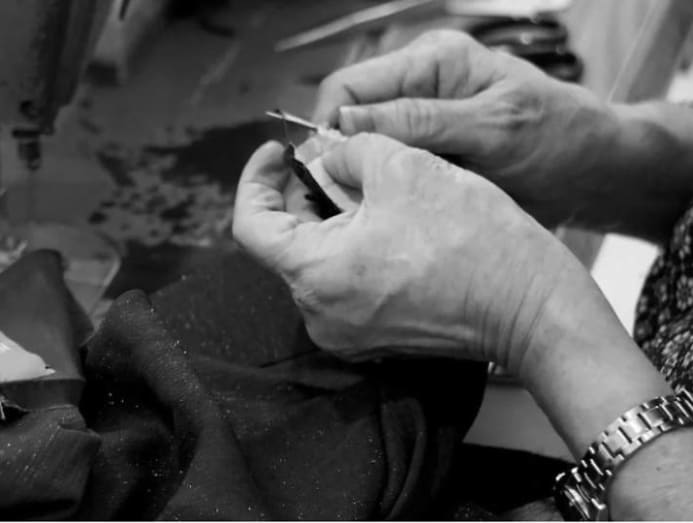 Goh learnt how to bring his designs on paper to actual clothes by trial and error. "I had no official fashion or dressmaking training in that sense; I had only interest and an eagerness to figure out how to do it right. I drafted, cut and pieced together samples out of paper and with staples – and I was already fiddling with this process as early as when I was in secondary school. I would keep on altering the paper samples until I got them right."
It was a somewhat DIY approach at the start but for Goh, it was inevitable: "I knew I would be in the fashion industry ultimately. But at the same time, rather oddly, I liked the idea of knowing nothing (about it) for a start. It was like jumping into a pool without knowing how to swim."
OBSESSED WITH THE CHEONGSAM
The one type of garment that Goh was immediately drawn to was the cheongsam. "My passion for the cheongsam started with my interest in Chinese traditions, culture and also its relevance to Singaporeans. It represents the significance of our roots and heritage in contemporary times and the future," he said.
"I don't refer to the standard schoolbook for dressmaking. Some parts of my cheongsam creations can only be crafted and sewn by hand. I work with different figures by varying the cutting."
Beyond the cheongsam's cultural significance, "it's such a beautiful garment," Goh explained. "With it, women can make a subtle yet strong statement. Put any woman – regardless of her age, shape, weight, cultural background and social standing – in a good cheongsam, and she is suddenly poised and respectable."
And there are also the challenges it presents to a designer or dressmaker. "A good cheongsam is not easy to craft – you have to get the fabric, cut, finishing and proportions exactly right," he pointed out.
And thanks to the changing lifestyles of women, the approach might differ through the years – a cheongsam that is cut and sewn in the 1920s would be different from one made in 1950s or the Noughties.
Goh is keenly aware of this and has boldly implemented his distinctive touches to make the garment more relevant in contemporary times and wearable for his customers – while balancing tradition.
GIVING TRADITION A MODERN TWIST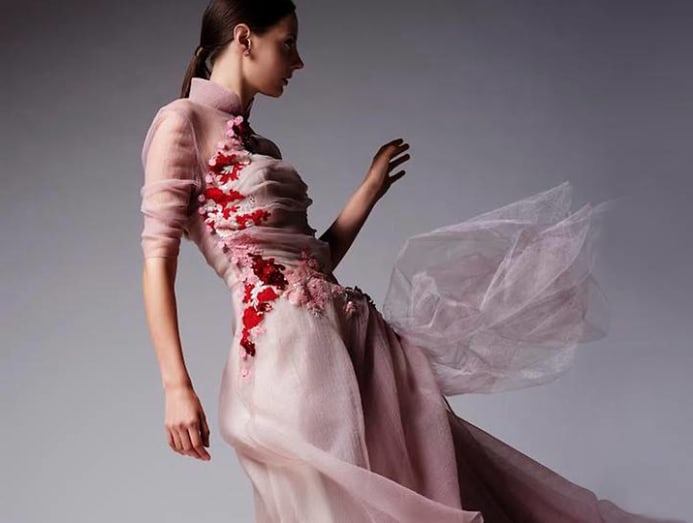 "The more I loved the cheongsam, the more I needed to understand its silhouette. At the same time, there was this explosion of western ideals, fashion and that desire for modernity. I thought the branches of the future could not be spread wider without digging deeper into the roots of tradition," Goh shared.
"I had the privilege of working with old shifu drafters who let me break the discipline. I collect beautiful vintage cheongsams only to study and tear them up. While measuring and fitting customers every day, I realised that modern women are different from their mothers. Their diets, lifestyle and thinking cannot agree with traditional clothes, be it a cheongsam or a garment belonging to any other culture," he continued.
He doesn't agree that only svelte women can carry off a cheongsam well.
It's the reason why he doesn't agree with the stereotyped notion that only svelte women can carry off a cheongsam well.
The result has been cheongsams that are "softer" in terms of cut, silhouette and fabric to accommodate modern figures better than a traditional cheongsam would.
"The cheongsam should be drafted to suit each individual woman in an ideal manner. I don't refer to the standard schoolbook for dressmaking. Some parts of my cheongsam creations can only be crafted and sewn by hand. I work with different figures by varying the cutting," Goh revealed.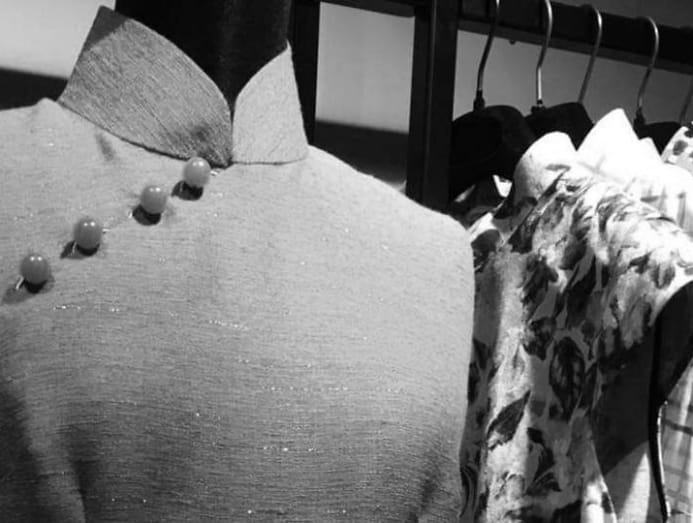 Another interesting feature that sets his cheongsams apart from others is the fastenings. Bead buttons made out of semi-precious stones such as jade, turquoise and quartz are used in place of traditional knotted frog buttons, and they run all the way from the collar down to the hip in a dramatic fashion.
"I thought it'd be interesting to make the cheongsam contemporary yet luxurious," he explained, adding how he was inspired by how "the emperors and maharajahs wore jade, pearls and precious stones along with their imperial or royal robes."
CLOTHING GENERATIONS OF WOMEN
Many of Goh's loyal customers have followed him over the decades – from his first boutique at Liang Court in the 1980s to the Raffles Hotel Arcade in the 1990s and, three years ago, to Paragon.
"My clients from back then are now my regulars and friends – they are now bringing their daughters and daughters-in-law here to get outfitted for their weddings even," he shared.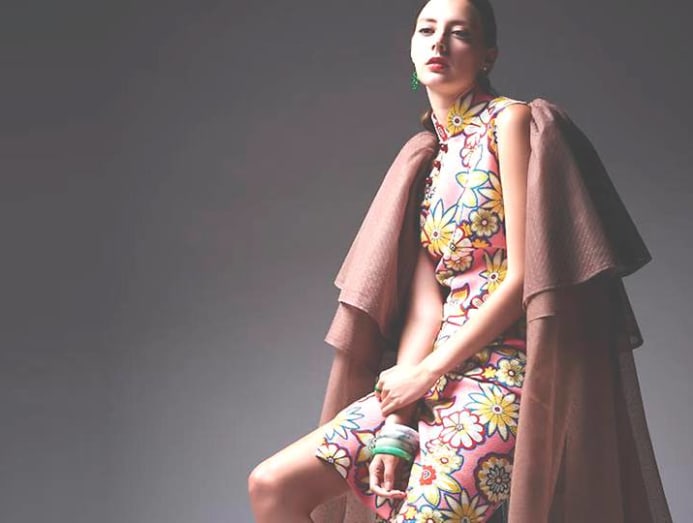 And in case you're wondering if most of these customers are Chinese, Goh says that they are actually of many races – some are even from Europe. "They also come from all walks of life. It's not just the society ladies who are interested in investing in a well-made cheongsam. They want the outfit for various reasons – special events, weddings and even for everyday wear," he shared.
An off-the-rack cheongsam from Laichan starts from S$780, while made-to-measure pieces can cost anywhere from S$3,000 to more than S$10,000 depending on the complexity and the materials required. But of course, the returns a customer gets from the purchase are infinitely more than its value in monetary terms: As Goh himself said, "a Laichan cheongsam always makes a woman happy and beautiful inside and out".