The rise and rise of Levi's: Why is this American denim icon back in the limelight?
After collaborations with Valentino and Miu Miu, Levi's is making a fashion resurgence – but did it ever go away?
More than a year after working mostly from home, and going out less, many of us have gotten unspeakably bored with athleisure, loungewear or just plain ol' singlets and shorts.
At the same time though, we are not quite ready to embrace full-on dressing up yet – nothing too revealing, tight, stiff, starchy, formal, fussy or trendy, please, because that would make us want to run home and crawl back into our pyjamas.
That's probably the reason why the old school denim jean is back. They are safe, comforting and digestible, having been tried, tested and trusted for generations.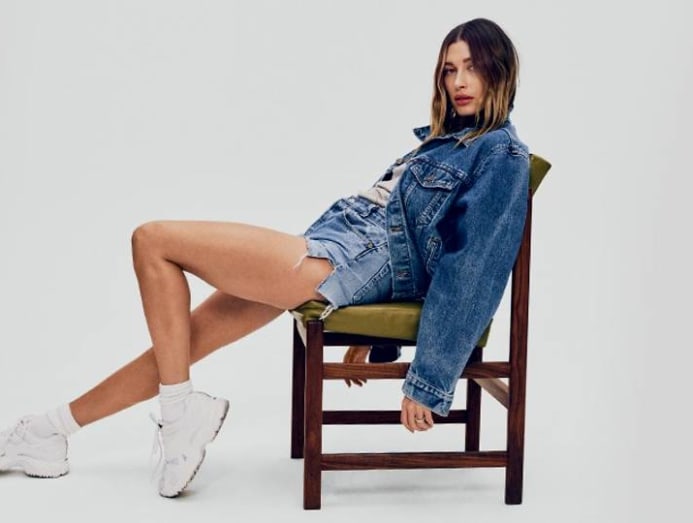 They've been around since Levi's created them in 1873 as a workmen's staple. By the 1930s, they had come to be considered an essential building block of any (male or female's) wardrobe.
Across the decades, denim jeans proved to be amazingly versatile. 
They could be acid-washed, stonewashed, faded, whiskered, ombred, or dyed in any colour. Embellished, ripped, shredded, distressed, patchworked, embroidered upon.
They could come in low-, mid- or high-rises, with cuts that varied from ultra-skinny to skinny to straight to tapered to flared to bootcut to baggy.
Hemline options covered butt-cheek-baringly short Daisy Dukes to knee-length to capris to ankle-grazing and even floor-sweeping lengths.
They were super democratic in that they could be found anywhere from thrift stores to department stores to luxury boutiques, and at any price point ranging from a few bucks to several thousand dollars. 
But no matter what denim trends came and went, and which jean brands rose and fell (you can bet that the Carhartt/Rag and Bone/Everlane/Madewell/Heron Preston millennials and Gen Zs would not believe how big labels like Gloria Vanderbilt, Jordache, Fiorucci, Sasson and Guess were in their heyday), old-school Levi's remained steadfastly unshakeable, a Rock of Gibraltar in the sea of denim.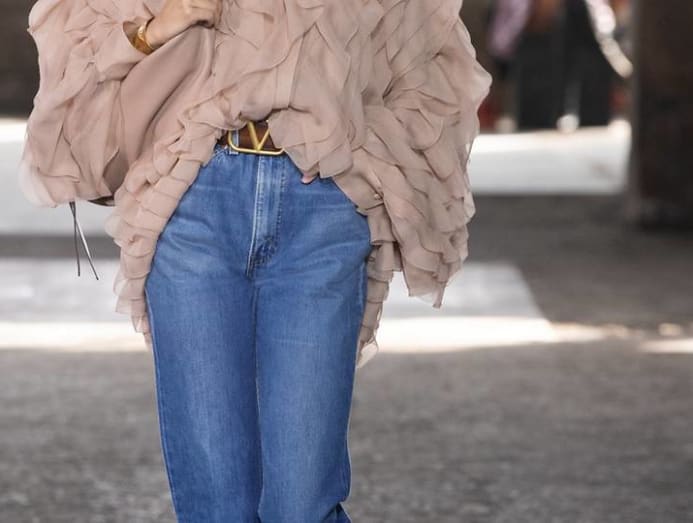 As Whowhatwear.com noted last year: "Why everyone loves Levi's, even though there are so many competitors on the market. The answer is pretty simple: They're affordable, trendy yet classic, celebrities wear them, and they fit well."
During a time when we're impatient to return to life as we knew it before the pandemic, while facing fear and anxiety about when and whether the pandemic will end, we need something that represents solidity, familiarity, freedom, ruggedness, comfort and youth.
They're affordable, trendy yet classic, celebrities wear them, and they fit well.

That's probably why so many luxury brands have collaborated with the American jeanswear manufacturer of late.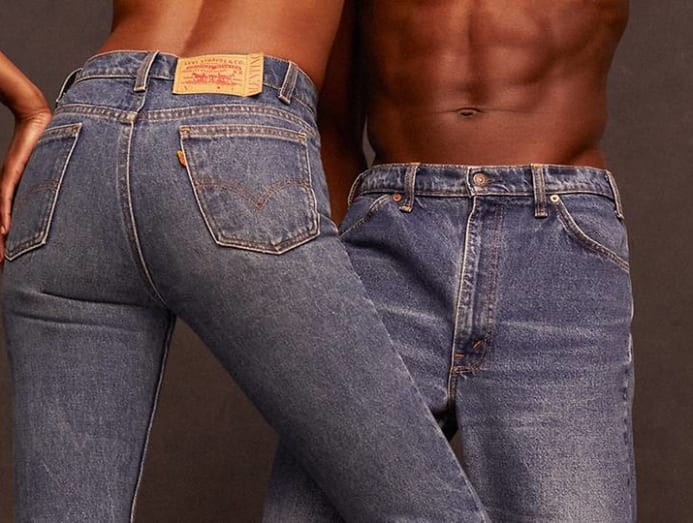 There's Valentino x Levi's, which sees the Italian fashion house doing co-branded Levi's 517s. The medium-wash boot-cut jeans were designed in 1969, with a gentle flare below the knee. 
The Vintage model uses authentic vintage 517s dating back to the 70s, of which only 517 numbered limited edition pieces are available, while the Re-Edition version is a perfect replica of the original. Both sport jacrons (yes, there is a name for that leather patch on the back of your jeans) bearing both Levi's and Valentino branding, as well as a red Valentino x Levi's print detail on the inside of the seat where your butt cheeks would be if you had the jeans on.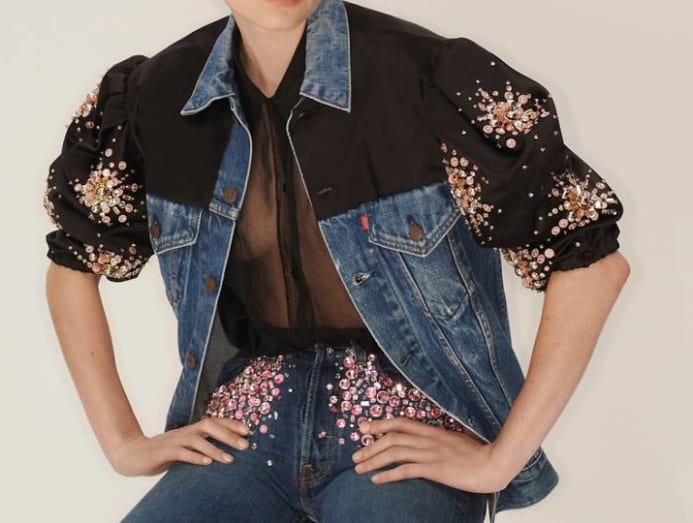 Then there's Miu Miu x Levi's, which is part of its Upcycled by Miu Miu initiative to promote circularity and sustainability in product cycles. 
This sees a selection of vintage Levi's 501 jeans and Trucker jackets from the 80s and 90s, given a touch of girly freshness by way of crystal, pearl and embroidery embellishments, or reworked with add-ons such as puff sleeves or patchwork in silk, lace and leather. And the usual beige Levi's jacron replaced with a powder-pink co-branded one.

And of course, there's that ongoing debate between Boomers and their baggy 80s-style Dad/Mom jeans, versus Millennials who, thanks to Hedi Slimane, have been wearing skinny jeans since 2005 (even if they themselves were far from skinny), and most recently, Gen Zs who declared skinny jeans to be dead.

As The Guardian noted recently: "There has been an increased focus on body inclusivity in fashion in recent years … this chimes with Generation Z's social activism and calls for greater diversity … On TikTok, Gen Z users have advocated for baggy jeans instead of slim-fit – eschewing the prescribed idea that thinness is attainable. According to market research company Edited, sales of men's relaxed fit jeans have increased by 15 per cent and women's wide-legged jeans are up 97 per cent".
Well, considering that denim jeans were originally designed as a more comfortable and casual alternative to the more restrictive fashions of its time, and considering the extra weight we've put on thanks to stress/boredom-induced pandemic snacking, that may not be a bad thing.
THE MOST BELOVED CLASSIC JEANS STYLES FOR MEN

1950s: Marlon Brando wore 501 Original Fit denims in The Wild Ones, making them the denim of choice for subsequent bad boy celebs such as James Dean and Elvis Presley. The original classic that started it all in 1873, the straight cut 501 sits on the waist, and has a button fly.
1960s: Denim flares and bell bottoms were the perfect foil for the hippie vibes of the era.
1970s: The flares got bigger to accommodate disco dancing in platform shoes, and to balance out the big hairdos, such as afros, on top.
1980s: Pop star Nick Kamen (who died recently) created a sensation as the star for the TV ad that saw him strip down to his boxers as he washed his 501 Original Shrink-to-Fit, the raw denim version of the 501s, in a public launderette.
Guys, if you don't want to be arrested for indecent exposure, here's how to shrink yours to fit at home: Buy a pair with your true waist size but with an inseam two sizes larger than what you usually wear. Put them on, and sit in a warm bath, then wear them till dry. Other trends include acid or stone washed jeans, rips, and tears.
1990s: The grunge movement led to jeans becoming extremely distressed to the point that there was more hole than fabric. But as rap and hip-hop became more popular, the jeans got baggier and saggier.
2000s: Low-rise and bootcut, or low-rise and skinny, were the way to go.
THE MOST BELOVED CLASSIC JEANS STYLES FOR WOMEN

1950s: Stars such as Grace Kelly wore straight leg dark-wash denims in a relaxed fit, with turned-up cuffs, paired with men's style button-down shirts, or tight sweaters, while Doris Day preferred knee-length capris. Brigitte Bardot paired high-waisted ankle-length jeans with a white T-shirt tucked in.
1960s: Dark-wash jeans were still favoured, with Jane Fonda and Marilyn Monroe wearing them with men's style white shirts, and brown leather boots and belts.
1970s: Wide-legged, flared, or bell-bottomed was the way to go, preferably with contrast stitching. Light and medium washes were especially popular.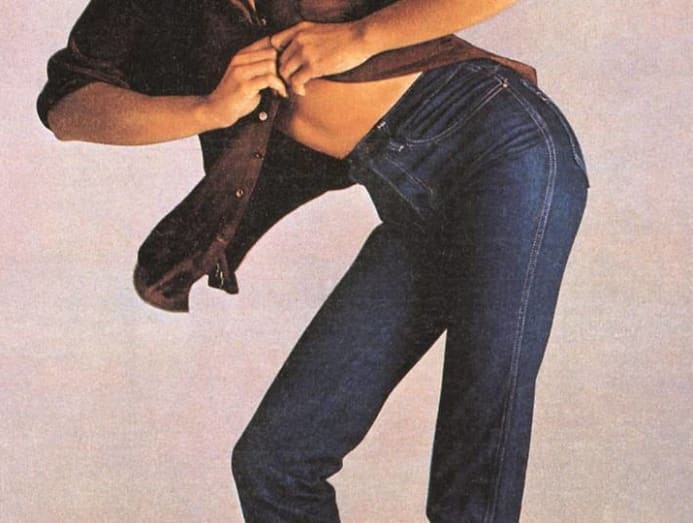 1980s: The then-15-year-old Brooke Shields made waves with her "Nothing comes between me and my Calvins" jeans ad for Calvin Klein in 1985. Other popular brands included Jordache, Guess, Wrangler, Sasson, and of course, Levi's. Princess Diana popularised mom jeans, but skin-tight,  acid-washed and ripped styles were all the rage too.
1990s: Low-rise bootcut jeans (worn with skintight or cropped tops), defined the era of minimalism), with Alexander McQueen's iconic bumster jeans causing many women to flash butt cracks and thongs.
2000s: Skinny jeans and jeggings became the de facto denim style.