Louis Vuitton's Virgil Abloh can do no wrong – and that might be his superpower
He isn't just a designer. He's only the hottest fashion ticket in the world.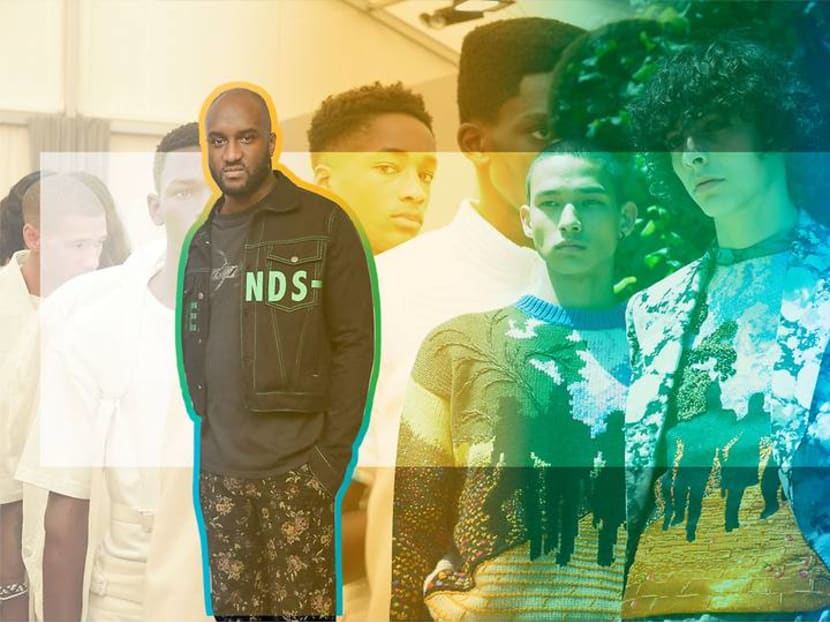 Just weeks ago, Virgil Abloh was in a DJ's console spinning his Halloweekend set at the new Circo Loco at Brooklyn's Navy Yard. It was a hot ticket - only 5,000 tickets available at US$150 (S$207) a pop - that put fans in the same breathing space as Naomi Campbell and Kyle. Abloh tossed in a bonus, as he frequently does: Limited signed records of his Circo Loco club mix of Kanye West's Lift Yourself.
Fast forward seven days and Virgil Abloh is working hard (as documented on his Instagram account @virgilabloh) on his photo campaign for Louis Vuitton (LV) Men Spring Summer 2019, with photographer Ryan McGinley.
The collection, which showed in Paris in this past June, was a rousing success for the designer - if not for the clothes and accessories, then for the triumph of a dream come true for Abloh, who had been vocal about his desire to head a European luxury brand for many years.
The photo shoot reflects the essence of his show, which featured a diverse racial mix of models, highlighting the clothes in his impeccable collection, which was a prismatic take on white and refracted rainbow colours. This ad campaign has a feel that is distinctly different from LV Men's previous styling: Hard white light bouncing off hard white bodies have made way for warm colours, warm lighting and cocoa-skinned models gleaming in cool pistachio blazers and pullovers. The effect is uplifting, wholesome, unexpected.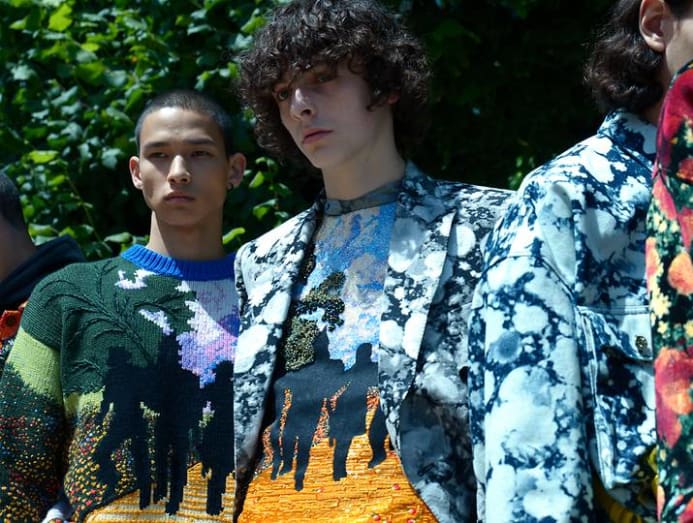 That's kind of the whole point about Abloh. He is uplifting, wholesome and unexpected. He breaks the stereotype of the Creative Head of a luxury brand, with his Ghanaian heritage, 1.9m frame, authentic humility and smouldering heterosexuality - yes, the guy married his high school sweetheart Shannon and they have two little girls, Lowe and Grey.
He did not study at Central St Martin's or Parsons School of Design; he studied engineering at the University of Wisconsin-Madison, and obtained a Masters degree in architecture from the University of Illinois. And oh yes, he's the first African-American male to take the top creative spot at a European luxury house, and not just any European luxury house but Louis Vuitton, which is, in his words, "the zenith of the zenith" of luxury brands.
The show, which Abloh said he conceived of in minutes during a flight, was symbolic in many ways. It opened with a beautifully cut, slouchy, white mohair suit, followed by a series of white outfits - a nod to his success in streetwear via his Milanese brand Off-White – before it exploded into joyous colour: Purples, greens, reds and tie-dye in all kinds of fabric (tie-dyed leather, imagine!).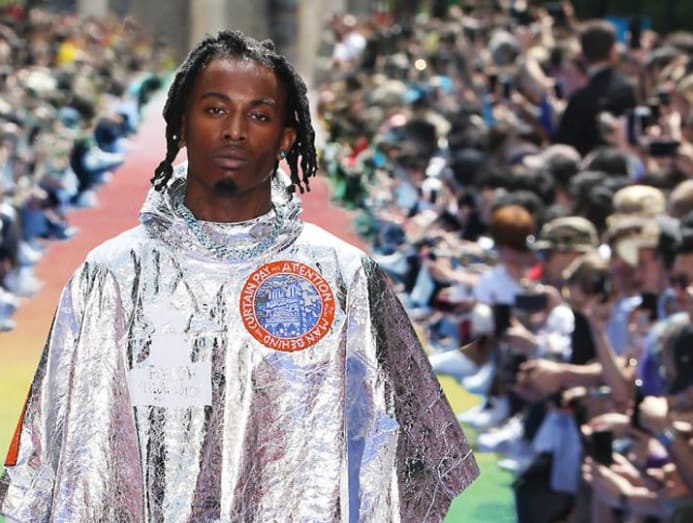 Exhibiting his social media savviness, he sent Internet celebrities like Playboi Carti, Dev Hynes and Kid Cudi walking down the catwalk in his LV. The designer made reference to The Wizard Of Oz, explaining in his show programme a veritable dictionary of "new lexicon" such as "accessamorphosis", for the accessories melded with outfits that he introduced - some that looked like holsters; others like pencil cases. As The Guardian reported: "D was for Dorothy, 'A farm girl from the Midwest transported to Oz, a fairy tale land where she experiences things beyond her imagination. As an outsider, she soon discovers she was taken to Oz for a reason'." Ostensibly, Abloh was talking about his own yellow brick road to success.
From the fashion crowd, the reaction was deeply mixed: Some celebrated the fresh, loose silhouettes that have hardly ever seen an LV runway; others pooh-poohed his mixing of plastic chains with LV's leather bags. However, fashion director for Saks Fifth Avenue, Roopal Patel told Reuters: "He respected the codes and the heritage of Louis Vuitton, which is very important for a house of this nature, but he infused his own sensibility and his own DNA into what we saw."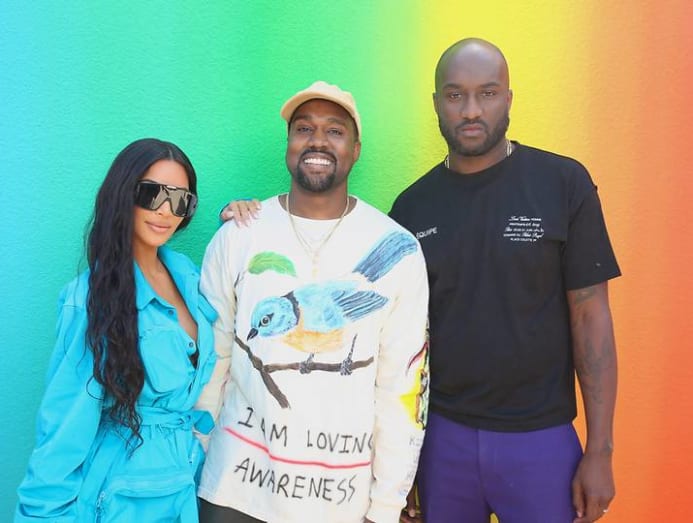 For fans of his own label Off-White, as well as his celebrity friends in the front row like West, Kim and Kourtney Kardashian, Rihanna, artist Takashi Murakami and the 3,000 fashion students he invited - because he's about inspiring youth too - the Vuitton Men SS 2019 collection was a watershed moment, a success that could not be easily outdone. It can't just be about the clothes and the accessories anymore; in the same way Abloh has blurred the lines between streetwear and high fashion, the barometer by which a show is critiqued must surely start to transform as well. Yes, crisp tailoring is a good thing, as Abloh's predecessor Kim Jones demonstrated. But a luxury interpretation of eminently wearable, and more importantly, desirable pieces that consumers are actually looking for - that's where the money is.
As he told GQ, "People, when they say 'streetwear,' they miss the central component, which is that it's real people; it's clothes that are worn on the street. The street (is) where you get the relevant ideas to real people."
CAN'T KEEP A GOOD MAN STILL
While other, more human designers would probably drop everything else to focus on this very important new job, Abloh doesn't look like he's about to change anything about his multihyphenate's lifestyle. Yes, he has moved his family to Paris, but he has also moved his recording set-up into his LV office so that he can continue recording Televised Radio, his show for Beats 1 Radio on Apple Music.
His own label Off-White could not be hotter. Just five years old, it was named "Hottest Fashion Brand in the World" by Lyst, a global fashion search platform that bases its findings on Google search data, social media mentions and actual sales. Searches for "Off-White" in online stores have been increasing 14 per cent every quarter, outstripping popular luxury brands by a mile. This is the power of the "real people" Abloh talks about and talks to.
He is the King of Collaboration. In fact, it was his Off-White collaboration with Nike, "Ten Nike Icons by Virgil Abloh", where he redesigned 10 of Nike's most classic sneakers (which, of course, flew out the stores and are now being resold at many times their original prices) that propelled him into the fashion stratosphere. The sneakers featured details like his ironic quotation marks ("AIR") and text printed over the swoosh.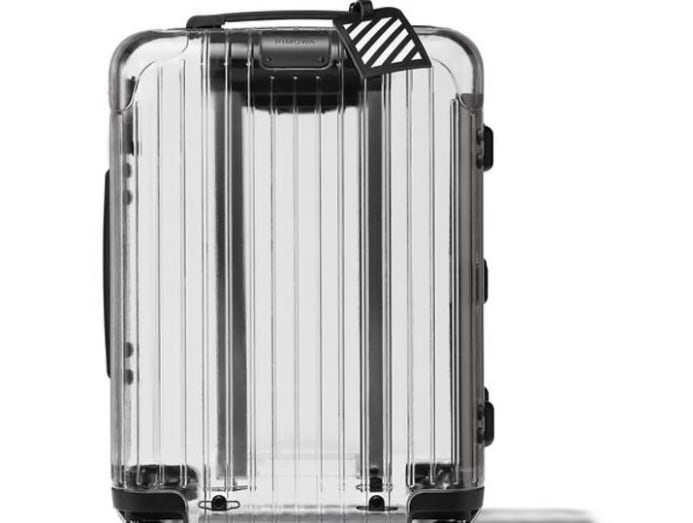 What's probably most exciting about Abloh is his enthusiasm about collaborations across industries. Most recently, he teamed up with luggage maker Rimowa for a collection called "Personal Belongings", in which Rimowa pieces come emblazoned with his signature typography, arrows and a yellow Off-White belt and tag.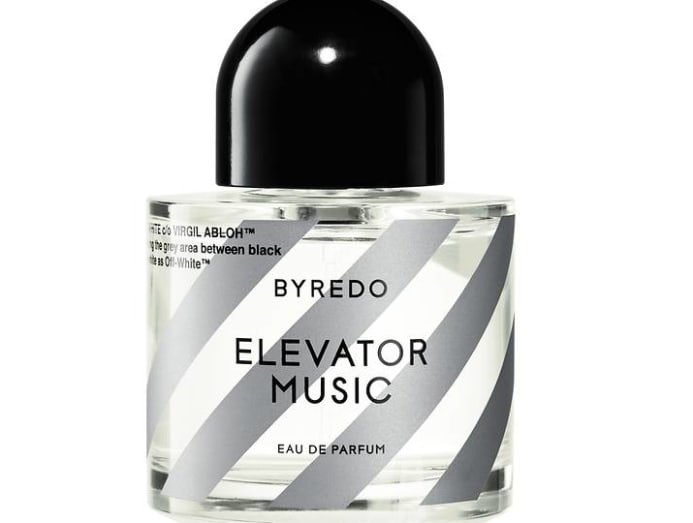 He has also collaborated with Byredo on a fragrance called Elevator Music, done an interior design project with Hirshleifers, tote bags with Mr Porter and a drink with Parisian café Wild & The Moon, and, most recently, Moet & Chandon x Off-White (bottles bearing "Do Not Drop" on the side) and a gradient capsule collection, Off-White x Selfridges. What's most anticipated must be his collaboration with furniture giant Ikea on a millennial collection of furniture that hits stores next year.
One of his longtime collaborators is artist Murakami, whom he met when they both worked for Kanye West's creative content brand Donda for which Abloh was creative director. Currently, Abloh and Murakami are holding their third exhibition, America Too, at the Gagosian in Beverly Hills. In true Abloh style, only 500 pieces of a special edition America Too T-shirt were printed for sale online at the Gagosian (which had to be picked up in person at the Beverly Hills gallery). Sold out, of course.
How did Virgil Abloh get so far, so fast to the zenith, to borrow a term, of fashion? It looks like the perfect storm of right time, right place, right message and right attitude. It could not have been predicted given his backstory: One of two children born to Ghanaian immigrants in 1980 in Chicago, Illinois, Abloh grew up a middle-class kid in the middle of America who listened to his parents and studied engineering; his mother, a seamstress, was the one who taught him about sewing. It was at a Catholic private high school that he met his wife Shannon Sundberg.
Abloh started DJ-ing when he was 17 and to this day, it's his happy place. He continues doing it under the moniker Flat White, his Soundcloud account name. "DJ-ing is my only peace of mind. When the phone is off, I play my favourite songs really loud for myself and I'm not talking to anyone, I'm not managing anything; it's just a time when I can listen to music… I'll be DJ-ing after I'm done designing or doing anything else," he told Teen Vogue. Like many teens, he was influenced by skate culture and skater fashion - only with Abloh, these influences would later parlay into luxury streetwear.
2002 marked the turning point in Abloh's career, when he met a young black man known as Kanye West. West saw a gift in Abloh and made him creative director of his agency. That was the beginning of their strong friendship, buoyed by a shared creative streak that won them both an internship at Fendi in Rome in 2009.
In 2009, Abloh and West went to the fashion shows in Paris and Milan. He recounted to Highsnobiety that response to their presence was less than enthusiastic in those days - not surprising, considering the highly exclusive industry fashion is - or at least, used to be. "We got into about 60 per cent of the shows [in Paris]. We were a generation that was interested in fashion and weren't supposed to be there. We saw this as our chance to participate and make current culture. In a lot of ways, it felt like we were bringing more excitement than the industry was."
In this light, Abloh being at LV is a really big deal. American football star Victor Cruz, who has African and Puerto Rican roots, told Associated Press that "I'm happy to be alive and be part of this, because this hasn't happened before in my generation. People now have to pay attention to minorities and the culture that we are shaping for ourselves… Pay attention in a real way, and not just (by) inviting us to their shows. There are more doors opening to us now."
Abloh's first attempt at fashion in 2012 was to buy deadstock Ralph Lauren flannel shirts at US$40 apiece, stencil his design on them and sell them for US$550 each under his first label, Pyrex Vision. Despite the disdain of fashion purists, those shirts were snapped up fast, and have since inspired a fake version called Pyrex Original.
That same year, he launched Off-White (official name: Off-White c/o Virgil Abloh), which successfully married street culture with couture, ushered in an age of luxury streetwear and has practically conquered the world. In 2017, Abloh received the British Fashion Awards' Urban Luxe Award. This year, Time magazine named him one of the 100 most influential people in the world.
WORLD DOMINATION, IN A FLASH
The moment that catapulted Virgil Abloh into public consciousness beyond the runway was when he designed the Queen collection for Nike with Serena Williams and dressed her up in what has been indelibly printed on the minds of millions around the world: Her one-shouldered tutu (with "LOGO" over the swoosh) on Aug 27 at this year's US Open, in defiance of the French Open officials' objection to her wearing a compression catsuit, also by Nike.
When asked how he does so many things at a time, Abloh admits to needing less sleep than normal people. He also has a way of designing things in a very short time. That definitely helps if you want to conquer the world from every angle.
He told GQ, "From my perspective, I'm trying to stand for a generation. You know, each generation has designers who go along with it. I think it's explicitly the fact that I split my time among many things that gives me the point of view to know (what I'm doing is) relevant."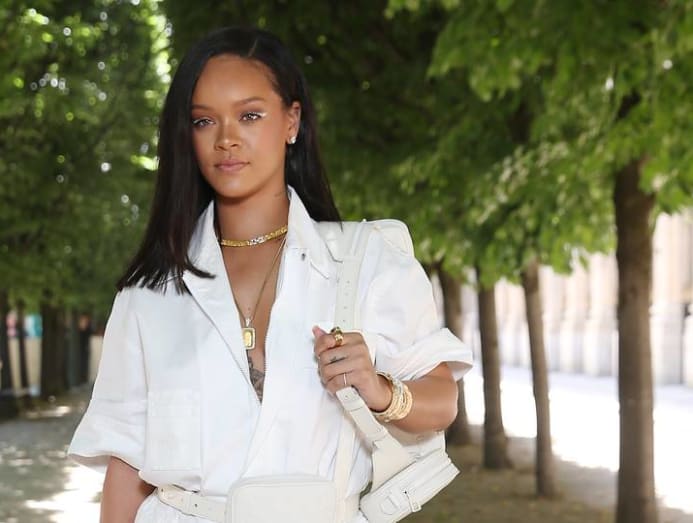 "Relevant" sums it up. Virgil Abloh will no doubt be in our news feeds, Instagram feeds, podcasts, and even traditional newspapers because of his uncanny ability to identify what really matters to whom, when. Who knows what he'll be up to next - but we can be sure it'll be just the right thing for the right time, and we will want it badly, because we'll probably be seeing it debuted by Rihanna and dozens of Abloh's other celebrity friends.
He has done so much in so short a time that next year, the Museum of Contemporary Art in his birthplace Chicago is holding an exhibition titled Figures Of Speech, which focuses on Abloh's creative process and collaborations in fashion, future and graphic design.
The closest Abloh has come to to demystifying his success factor is his comment to GQ: "We're consumers. We're raised off of the understanding of what makes things valuable." That understanding of what consumers want in every industry is his superpower.