Beauty tips: How to maintain pretty nails until you can visit your manicurist
It'll be weeks until your next appointment. Thankfully, you can hide those overgrown nails with some ingenious hacks.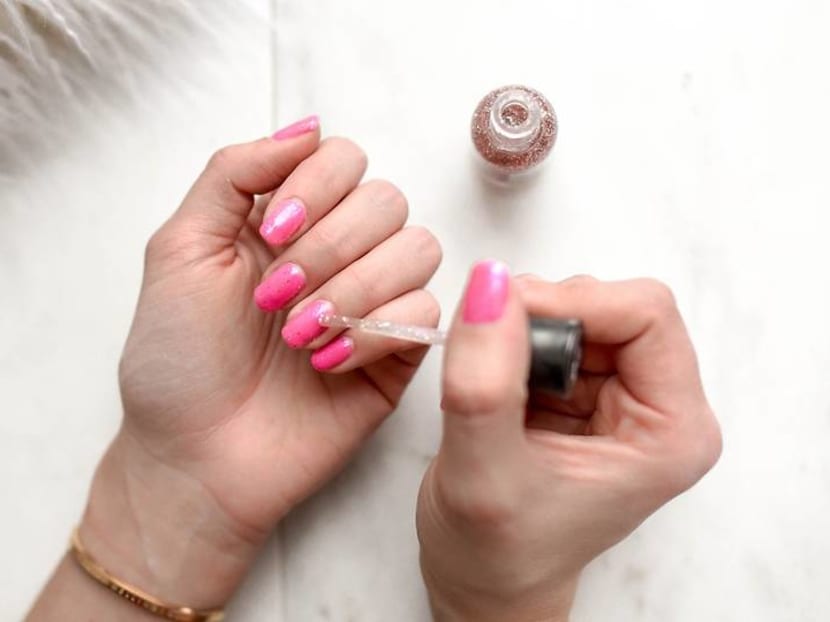 The chicest thing you can do for your nails is to get a glossy manicure. But a manicure won't last forever. To keep them looking in tip-top condition, maintenance is a must. Which means regular visits to your manicurist are recommended every three to four weeks.
Which is impossible right now – because thanks to the circuit breaker extension, calling on your manicurist will only be possible in six weeks. That's twice as long as you normally would schedule an appointment.
Left to your own devices, what should you do?
Here's what you can do. Hydrate your nails and cuticles daily with a conditioning hand moisturiser and cuticle oil. This will help your manicure last a little longer. Make gloves your partner in crime when doing housework, especially when coming into contact with cleaning agents as over exposure to chemicals can cause the manicure to weaken and therefore chip.   
What you shouldn't do is to file down your gel manicure as that can cause the seal of the gel polish to lift and peel at the free edge – bacteria may harbour in the empty space as a result. Also, don't pick at your manicure as that may compromise the health of your nails.  
Then there's also the issue of an overgrown manicure. Instead of trying to soak off your gel manicure at home or removing your nail art altogether, you could cover the overgrowth with ingenious add-ons. Scroll down for six why-didn't-I-think-of-that hacks.
A COUPLE OF STROKES FOR SOMETHING 'NEW'
Give your existing manicure an update by adding just a couple of strokes. Whether you are superstitious or just looking for a bit of amusement, try doodling good luck symbols like this evil eye to ward off bad luck. This abstract version, which includes fluttery gold lashes is contemporary as it is comforting.
USE SOME EXTRA GLITTER
Help your gel nails last and last by filling in the gaps of overgrowth with glitter. Untrained eyes won't be able to tell that the glitter portion was added as a cover-up since glitter varnish has a similar consistency as gel varnish. Go tone-on-tone like baby blue varnish with cobalt sparkles or pick a complimenting shade like bubblegum pink with silver sparkles. 
ADD A CONTRASTING COLOUR
Not a fan of sparkles? A play on contrasting colours is a refreshing alternative. Pay attention to the textures of the two different sets of varnish though. If you've got gel nails, you'll want to top up the second colour with another varnish that is equally dense in texture for consistency and a smooth finish. Garnish with a shiny pearl or matte stud for a little extra icing on the cake.
PAINT SOMETHING ARTISTIC

For the artists among us, go ahead and try drawing free-hand with a striper brush. In particular, long or round fruits and vegetables fill the overgrowth gap nicely. This pumpkin, for example, works brilliantly against orange nails. You could also try a juicy apple against red nails, a banana against yellow nails or a spiky durian against green nails. For the more accomplished artists, you can even try drawing a caricature of your cat.
MAKE EACH NAIL DIFFERENT
Draw attention away from the overgrowth by giving each nail its own unique look. There are no hard and fast rules to live by. You could choose to go free-hand and paint whatever puts a smile on your face. Or you could draw lines and checks – create arrow straight lines with nail striping tape or make perfect circles with a dotter tool. Whichever way you go, don't worry about making mistakes because there's nothing a nail polish correcting pen cannot undo.
JUST CAP IT
By far the simplest hack to cover your manicure's overgrowth. And the best part is there are no tools involved – all you have to do is to slip on a bunch of nail rings and voila. Perfect for when you need to get from slack to glam in a snap.