Guys, wearing a shirt with the wrong type of collar can be a turn-off for ladies
Not all collars are created equal. Some can help you dress up or dress down, and even enhance your face shape and jawline. Here are 10 styles every gentleman should know and when to wear them.
Up until the mid-15th century, men's shirts tended to feature scoop or boat necklines, after which standing collars made their appearance.
Since then, there's no denying that the men's collared shirt forms the backbone of the modern masculine wardrobe. But if you really want to go one up on the style stakes in order to impress the ladies, you'll need to really know your shirt.
First off, the collar should never fit too loosely or it will look like you borrowed an ill-fitting shirt. Too tight a collar and you could be accused of needing to go on a diet. Both of which might not go down well during a blind date.
To ensure the perfect fit, you should be able to glide one or two fingers between your collar and your neck.
Then, you need to know the makeup of a collar's anatomy, such as:
Collar points: The fashion tips of the collar.
Spread: The distance between the collar points.
Collar band: The piece of fabric that wraps around the neck.
Collar height: The height of a collar as it fits on the neck.
The style of a collar is defined by its points, spread, band and height. The right one can enhance your face shape, jawline and neck, showcase your personality, reflect your sense of style, and broadcast your awareness of the sense of occasion.
Here are 10 collar styles and how to wear them.
FORWARD POINT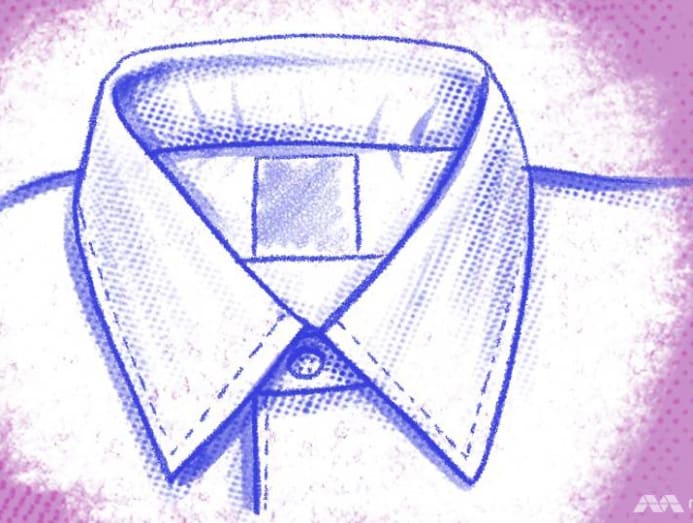 Also known as a "point collar", it's considered one of the most traditional styles. There's only a narrow distance between the collar points, which are not covered by a jacket's lapels.
Best for: Anyone and everyone, especially if you're a no-nonsense minimalist who wants to maintain a more streamlined wardrobe.
Wear with: Jeans, chinos or dress pants.
Wear to: Anywhere you need to look like a regular guy on a regular day.
BUTTON DOWN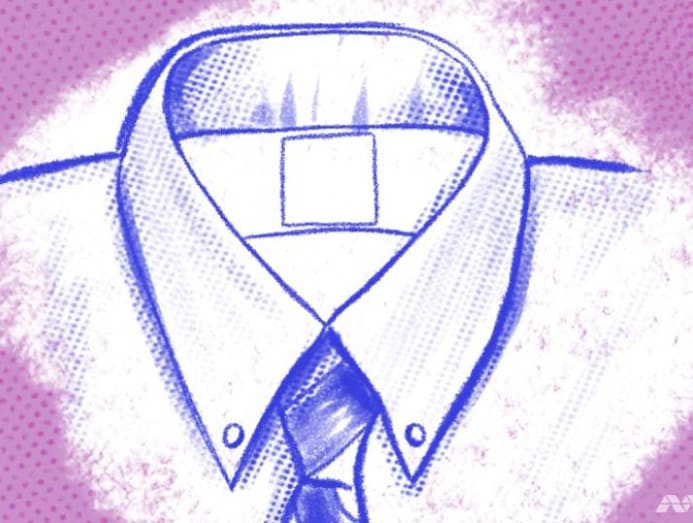 Originally designed for polo players to keep their collars from flapping in their faces while riding, the points are buttoned down onto the shirt.
Best for: Channelling a classic preppy, smart-casual elegant look. If you have a bit of a double chin, or chubby cheeks, the two buttons on the collar can help draw attention downwards, creating the illusion of a longer, slimmer face.
Wear with: Jeans, chinos or dress pants. Works with or without a tie.
Wear to: Work or play. Or both, if you just happen to be a professional polo player on his way to a tournament, in his convertible, with the top down.
SPREAD
The collar points end and disappear right where they meet the jacket, in an elegant and symmetrical manner.
Best for: Anyone who wants to add a certain je ne sais quoi to his outfit, without looking like he's trying too hard. If you have a long, thin face, the spread collar can help those sharp angles appear to look softer and more spread out.
Wear with: Tie, or no tie. Jacket, or no jacket. Jeans, or dress pants.
Wear to: The office or to meet your online date for the first time.
TAB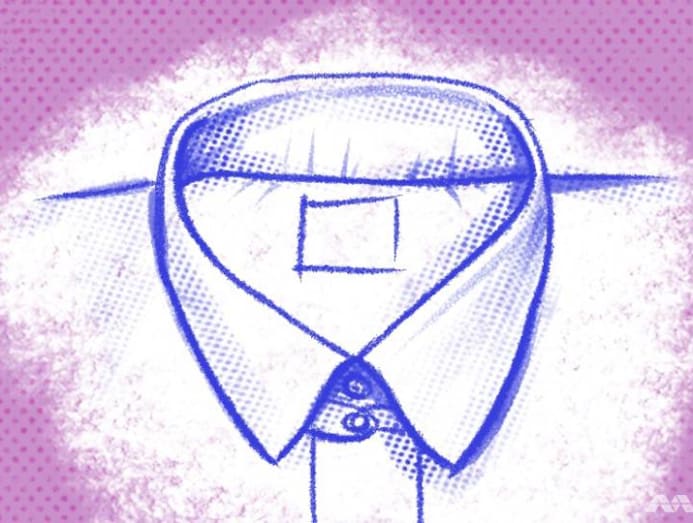 This has two small tabs in the middle of the collar points, which connect with hook-and-loop, a button, or snap beneath the necktie, pushing the knot up and out.
Best for: Displaying debonair 1930s Art Deco flair. Also, if you're slightly pudgy, that more pushed-out tie can help make you look a little less rotund.
Wear with: A bold tie and a double-breasted suit.
Wear to: A formal business meeting or to dinner at a Michelin-starred restaurant.
CUTAWAY OR WINDSOR
Popularised by the Duke of Windsor, the collar points are angled outwards instead of pointing down, and the collar has a wide spread to accommodate a Windsor knot tie.
Best for: Confident, flamboyant types with razor-sharp cheekbones and chiselled jawlines. Preferably with designer stubble.
Wear with: A Windsor-knotted tie, naturally. And collar stiffeners. Sharp pinstriped trousers, and maybe even suspenders a la Gordon Gekko in the classic movie Wall Street.
Wear to: A hostile corporate takeover or when some startup comes to you begging for venture capital. Or a third date, where you might get lucky.
MANDARIN
This collar style – where the entire turned-down collar is completely missing, leaving just a flat band around the neckline – has many, many names. It's also called standing collar, band collar, choker collar or Nehru collar.
Best for: Relaxed dudes, especially if they happen to have short necks.
Wear with: Linen drawstring trousers, jeans, chinos, joggers, silk jacquard dragon-print kungfu pants, fedora hat, designer sneakers or pool slides.
Wear to: Sunday brunch, a hipster cocktail bar, a beach holiday or a God Of Gamblers costume party.
CLUB OR ETON
Invented by Eton College in the 19th century England, the sharp collar points are rounded off.
Best for: Posh types who read politics, philosophy and economics, and consider themselves in the league of gentlemen.
Wear with: Sharp, pleated trousers or slim, flat front pants. Preferably designer, or better still, tailored at Savile Row.
Wear to: A cocktail party or semi-formal event. Or, of course, every Eton old boys' reunion.
PIN
The eyelets on each collar point are fastened together with either a collar bar or tie pin.
Best for: The gentleman who has to attend lots of fancy events, and quite possibly, rub shoulders with the high society set and maybe even royalty.
Wear with: A bespoke tailored suit, of course. And a very expensive silk tie. Don't forget the collar bar or tie pin.
Wear to: Formal and semi-formal occasions, or really important business occasions when you have to sign documents with your lucky Montblanc pen.
CAMP
Also known as the Cuban, Cabana or Revere collar, this open-necked style comes with a notched lapel, and usually appears on short sleeved shirts that come in plain colours or tropical prints – upon which it becomes not just a camp collar shirt but a Hawaiian shirt.
Best for: Channelling a relaxed, summery retro 50s vibe a la Elvis Presley.
Wear with: Jeans, chinos, bermudas. Can also be worn unbuttoned over a T-shirt.
Wear to: Barbecues, pool parties, beach vacations. To Cuba. Or anywhere with a cabana.
WINGED OR WINGTIP
The most formal shirt collar of all, the stiff, heavily starched short collar doesn't fold down like your usual shirt collar. Instead, the tips stand up and point horizontally, almost looking a seagull taking flight. Also known as the Gladstone collar.
Best for: Strictly for evening events with black-tie or white tie dress codes.
Wear with: A tuxedo and a bow-tie. Under no circumstances should you wear a normal necktie with it.
Wear to: Grand weddings in posh hotel ballrooms, charity gala dinners, coronations.