An ode to the alluring moon phase watch, just in time for the Mid-Autumn Festival
From a model crafted with telescope material to one adorned with a photo-realistic lune, these are the 10 timepieces that inspire lunar lust.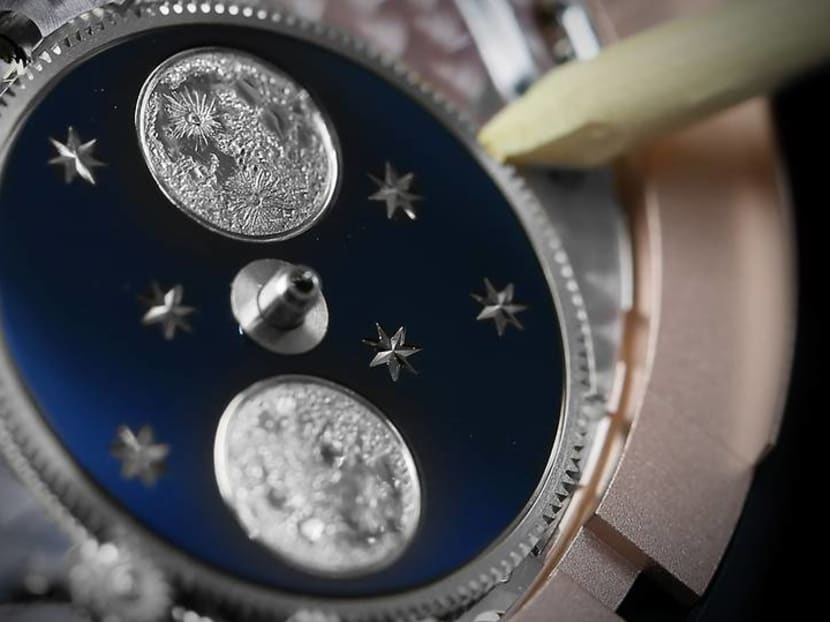 Words like "lunatic" and "lunacy" come from the Roman goddess Luna, who is said to be the embodiment of the moon. While there is no scientific correlation between the appearance of full moons and instances of insanity, the same cannot be said of horological enthusiasts when it comes to moon phase watches.

Moon phase madness has been around since at least the 14th century, when the first astronomical clocks appeared. Their function was to reflect as closely as possible the lunar cycle, which takes 29 days, 12 hours, 44 minutes and three seconds – or one lunar month – to complete.
Some watchmakers round down the lunar month to 29.5 days, and to compensate for this, users have to correct the moon phase setting every two and a half years. On higher-end watches, correction is not needed for at least 10 years, and in some cases, even a thousand or more years. 
With the full moon expected during the Mid-Autumn Festival, this is an ode to 10 moon phase tickers that make our hearts swell.

A. LANGE & SOHNE LANGE 1 MOON PHASE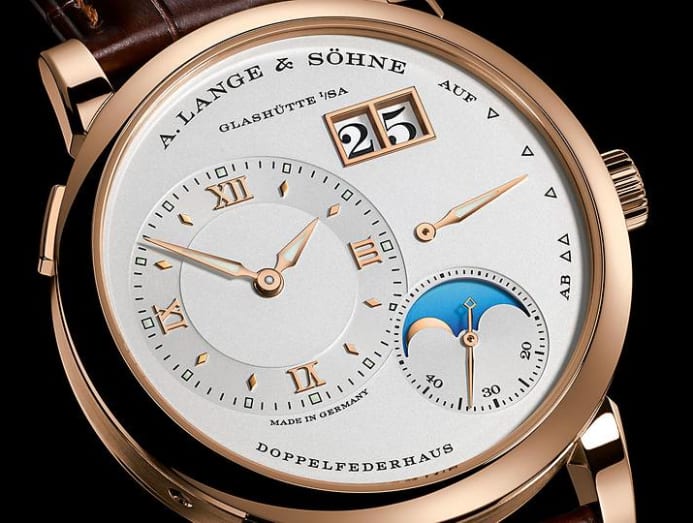 As is typical of German marque A. Lange & Sohne's watches, the devil is in the details. First released in 2002, the Lange 1 Moon Phase was updated with a new movement and new features in 2016. Chief among these was the moon phase indicator itself.
Comprising two discs – one housing the moon and the other, rotating behind it, the sky – the latter is decorated in vibrant, graduated shades of blue to represent daylight and twilight.
AUDEMARS PIGUET ROYAL OAK RD#2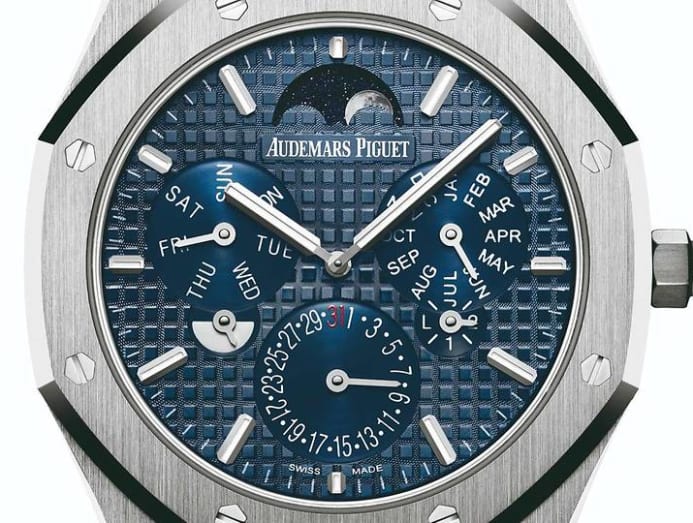 To fully appreciate Audemars Piguet's Royal Oak RD#2, you have to view the watch on its side. At just 2.89mm, it is the thinnest automatic perpetual calendar wristwatch in the world – and a good three times thinner than the "regular" Royal Oak Perpetual Calendar.
The RD#2's elegant moon phase display sits discreetly at 12 o'clock, a photo-realistic lune against a star-spangled night sky.
BREGUET CLASSIQUE 7787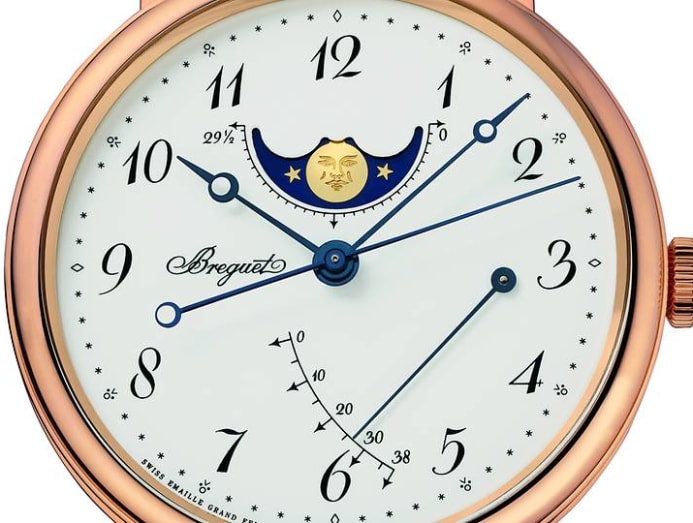 The Classique 7787 appears, at first glance, ultra-refined, but is at heart a quirky device rife with surprises. The moon phase aperture, for example, is shaped like a smile or a moustache. The moon face on the moon phase – a Breguet signature – references the mythical man on the moon.
The final surprise lies at the 7787's core: A cutting-edge movement that boasts silicon parts. Breguet was among the earliest watchmakers to embrace this ultra-modern material in 2006.

GLASHUTTE ORIGINAL SENATOR EXCELLENCE PANORAMA DATE MOON PHASE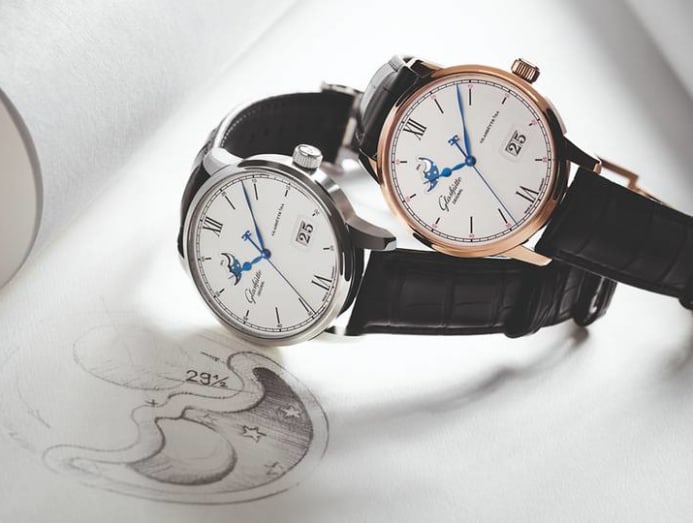 You'll notice that the little crescent-shaped window, in which the moon appears, occupies the unusual position between 10 o'clock and 11 o'clock. But there is method to the madness: It visually balances out the big date display diagonally across from it. 
The watch is otherwise a classy affair, with blued steel hands, a silver grained dial, and a finely finished movement that is visible through the case back. The dial and movement are both made in-house, at the German firm's facilities in Pforzheim and Glashutte, respectively.

H. MOSER & CIE ENDEAVOUR PERPETUAL MOON CONCEPT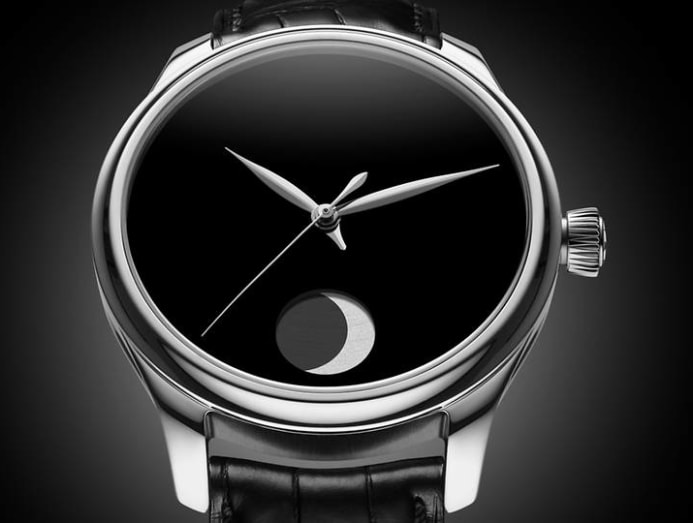 Independent Swiss firm H. Moser & Cie takes minimalism to another level with this new September 2018 release: The Endeavour Perpetual Moon Concept. No logo, no indexes, just three hands and the pure, graphic beauty of the satellite as it waxes and wanes across the six o'clock window. 
The moon phase indicator happens to be one of the most accurate on the market, with no adjustment needed for 1,027 years. On the steel model, there is even a direct connection to astrophysics: Vantablack, the black coating on the dial, is used in telescopes. The carbon-based material absorbs more than 99 per cent of light.

JAQUET DROZ GRANDE SECONDE MOON WATCH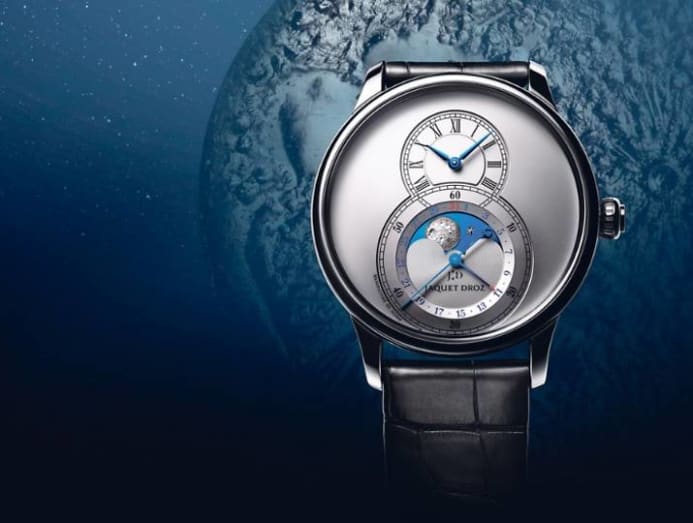 The figure-eight display on Jaquet Droz's flagship Grande Seconde has always reminded us of the adorably rotund BB-8 droid from Star Wars. Appropriate then, for the watchmaker to add a moon phase complication to the lineup. 
First seen on three models in 2017, the moon phase returned in four new guises in August 2018. Most alluring of these is the 39mm steel-with-diamonds ladies' model, which comes with an aventurine dial resembling the night sky.
The moon and stars, tooled in white gold, and boasting a highly textured surface, deserve scrutiny under a loupe. Adjustments need to be made only once every 122 years.

MONTBLANC STAR LEGACY MOONPHASE 42MM
When Montblanc decided to give its 20-year-old Star Legacy collection a face-lift this year, it tweaked very little. Only the hour markers were redesigned as Breguet-style Arabic numerals as a hat-tip to vintage pocket watches from the Minerva manufacture, a facility that Montblanc acquired in 2006.
This is a watch for purists, who like their tickers fuss-free, with a well-proportioned moon phase indicator, and accompanying date ring anchoring the 6 o'clock position.

OMEGA SPEEDMASTER MOONPHASE CO-AXIAL MASTER CHRONOMETER CHRONOGRAPH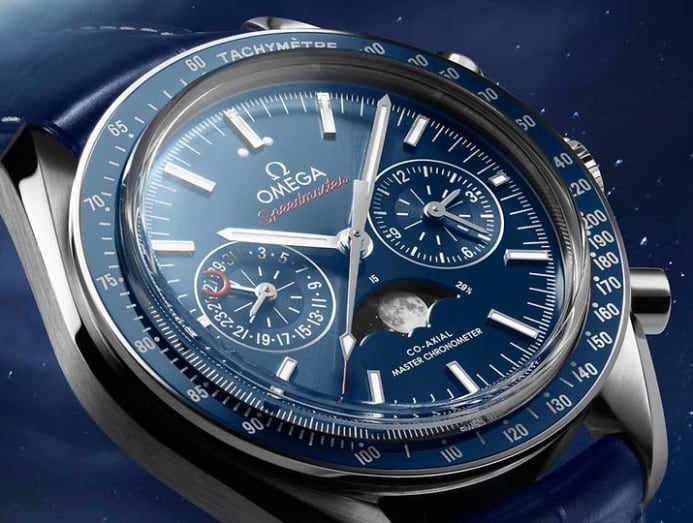 Is there a watch more closely associated with the moon – the actual celestial body – than Omega's Speedmaster "Speedy" Moonwatch? Probably not. This relative of the timepiece that accompanied Buzz Aldrin during the 1969 moon landing was released in 2016. Nine references of this watch exist, varying in case material, bezel colour and dial treatment. 
On the steel versions, the moon is depicted in a photo-realistic manner, albeit with the quirky addition of an astronaut's footprint. The indicator needs adjusting every 10 years. But unlike other watches that require a stylus to reset a button on the case side, all it takes is a few turns of the crown.

PATEK PHILIPPE NAUTILUS REF. 5740/1G
Patek Philippe's Nautilus line received its first grand complication this year. Reference 5740/1G plays host to a perpetual calendar, with indicators for the day, date, month, leap year, 24-hour time and, of course, a moon phase. That is a lot of information to take in on a 40mm dial, but the latter holds its own at 6 o'clock, charting the lunar path from left to right. 
The date ring on its circumference is handy not only for the wearer's daily reference, but also when setting and correcting the moon phase. (Patek's website lists the dates of each full moon until 2021). Connoisseurs will also be delighted to know that at 8.42mm, the watch is Patek's thinnest perpetual calendar.

VACHERON CONSTANTIN FIFTYSIX COMPLETE CALENDAR
Vacheron Constantin has actively courted Millennial collectors for the past couple of years, with more wallet-friendly (relative to the brand, anyway) releases. This year, the Genevan manufacture unveiled a new line of watches, the Fiftysix, which is inspired by an archival piece from 1956. 
The Fiftysix Complete Calendar – which has day, date, month and moon phase displays – comes in two guises, steel and 18K pink gold. At S$33,100 and S$52,000, respectively, they are not exactly bargain basement. But you get sophisticated wrist machines with in-house calibres that are certified with the Hallmark of Geneva, a highly respected quality seal.