Olivier Rousteing: The brash millennial designer using social media to turn a profit
On the brink of bankruptcy, Balmain took a risk on a young designer with a penchant for disco. Rousteing, with his army of celebrities, now pulls in an annual profit of S$233.5 million.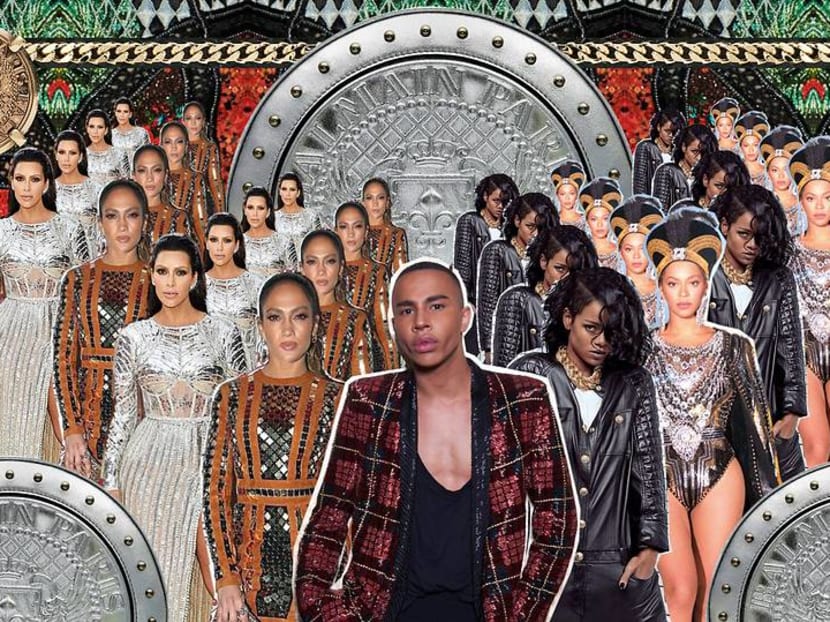 He's young, he's famous, he's gorgeous – a vision of glowing skin perpetually sucking on a lollipop. And he's got the whole fashion world eating out of his hands.

Olivier Rousteing, 32, is an anomaly, but precisely the kind that fashion loves. Being the rare European man of colour in a creative head position at a French luxury brand, Rousteing occupies a unique position in the fashion landscape today. (Notably, Virgil Abloh, an American, was appointed Louis Vuitton Men's creative director this year.)
Made creative director of Balmain at the tender age of 24 in 2011, Rousteing was a wild card appointment, being relatively unknown, and also black. But as it turned out, he came to the fore at a time when the world of social media was just about to explode, and here was a young man who knew, better than almost every other designer, how to work it.

His personal Instagram account boasts 5.1 million followers, and is peppered with selfies that he takes while partying with members of his Balmain Army – a collection of celebrities like Rihanna, Kim Kardashian, Kendall Jenner, Gigi and Bella Hadid, Rosie Huntington-Whiteley and well as models like Cindy Bruna, Amanda Wellsh and Ysaunny Brito.
Then, of course, there is the extended army of the women who wear Balmain to fashion and entertainment's most visible events: Taylor Swift dressed as a disco ball at the American Music Awards; Jennifer Lopez in a staggering beaded crucifix gown at the Met Gala; and at the Oscars, Anna Kendrick in a chic pant-suit, outdone only by the legendary Jane Fonda in a white Balmain gown. And that's just this year.

I love seeing a Zara window with my clothes mixed in with Celine and Proenza Schouler. I think that's genius.

In 2009, Rousteing came to Balmain from Roberto Cavalli, where he was a designer for womenswear under chief designer Peter Dundas. He became assistant to head designer Christophe DeCarnin, who was a renegade that caused Balmain's stratospheric climb to popularity with his decision to upturn the brand's demure and feminine – and to be truthful, unpopular – aesthetic in 2006 and sex things up, from hemlines to prices.
DeCarnin's rock 'n' roll take on Balmain electrified the world – it seemed the more expensive it was – US$15,000 (S$20,640) for that must-have beaded military jacket – the more customers wanted it. But after five years, DeCarnin resigned from Balmain, reportedly due to stress.

Promoting Rousteing to DeCarnin's position seemed an unorthodox move, but was, on hindsight, a sensible one. Rousteing was already working with the same creative team, he understood what it took to make Balmain the highly desirable brand it had become, yet he maintained respect for the house the Pierre Balmain built.
"I do think that my aesthetic is exactly what Pierre Balmain would do," he told The Independent in 2014, referring to Monsieur Balmain's "Jolie Madame" or jet-set woman of his day.

Today, seven years after his appointment as Balmain's creative director, Rousteing has more than proven that he was the right choice.
The brand was close to bankruptcy in 2006 when DeCarnin was first hired. By 2016, it was valued at 500 million euros (S$779.4 million) when Qatari sovereign wealth fund Mayhoola for Investments, which also owns Valentino, acquired a majority stake in the brand.

If Valentino's rapid rise since the acquisition is anything to go by, the investment should allow Balmain to develop much further as a major luxury brand with global stores and expanded categories. Although the branding is remarkable, Balmain's 2017 revenue was reported to be just 150 million euros, compared to Louis Vuitton's 42.6 billion euros. It's a small brand that Mayhoola believes has long legs.

Credit has been given to Rousteing and his propensity for extreme glamour and sex appeal that draws hot celebrities like bees to honey. He has given interviews over the years that state that the important things in life are sex and breaking the rules.
There's also the goldmine that is his social media flair, particularly his Instagram savvy: Rousteing was the first French designer to hit one million followers on Instagram. Thanks to him, Balmain now has 8.8 million followers on Instagram.

Rousteing's millennial status – he was born in 1982 – makes him relatable to his generation, in the same way Rihanna (born in 1988) and Kendall Jenner (born in 1995) are.
Orphaned at birth, he was adopted at five months by a white French couple – that he stood for diversity in fashion only increased his social clout. To them, he is both fantasy and reality, a superstar who parties every chance he gets (it seems), and maintains a craving for late-night McNuggets with barbecue sauce ("The cheeseburger is so good, but I save that for mornings when I'm still drunk," he once told Harper's Bazaar).
Of course, the millennials know all this and more because it appears in Jenner's or Gigi Hadid's Instagram feeds.

He clearly designs for the confident, empowered woman who is unafraid to dress to please herself.

What endears him further to his young fans is his recognition that Balmain is, in fact, out of their reach for now. He said to The Independent in 2014: "I know not everyone can afford a thousand-dollar jacket. I'm doing fashion for my amazing front row every season, but at the same time, I'm doing fashion for young girls, who wear their version in the street."
"I think it was Coco Chanel who said that if you're original, be ready to be copied. I love seeing a Zara window with my clothes mixed in with Celine and Proenza Schouler. I think that's genius."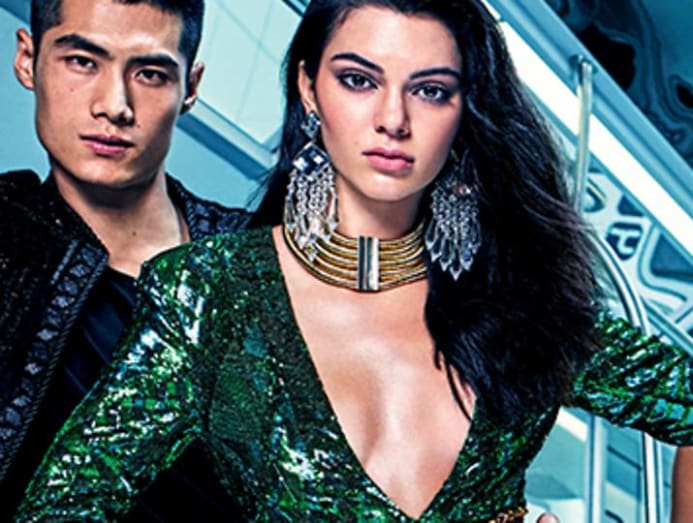 Today, you can buy a Balmain logo tee for around 300 euros, which is less than a third of what his predecessor priced a basic tee. In one of Rousteing's boldest moves, Balmain collaborated with H&M in 2015 on a collection generously based on the brand's best-selling pieces. Of course, that collection sold out online within minutes (and hours at flagship stores) of its launch worldwide – it offered a wider audience a piece of Balmain at half the price, or less.

The beauty of it all was that it took nothing away from his core, luxury customers – Rousteing makes sure he takes good care of them. Min-Li Tan, a lawyer and Balmain collector based in Singapore has been investing in Rousteing's designs for many seasons and is proud owner of about 20 Balmain pieces.

"I love where Olivier has brought Balmain, and I love his strong, feminine silhouettes," she said, adding that although she had been aware of the brand before 2011, it wasn't on her radar to purchase.
"He clearly designs for the confident, empowered woman who is unafraid to dress to please herself. His often body-conscious styles also force me to keep in shape – an added bonus. Olivier has often stated that he champions diversity and the empowerment of women, which strikes a chord with me."

Earlier this May, Tan met the designer himself in Paris at a by-invite-only Net-A-Porter event launching a Balmain capsule collection. "He was extraordinarily warm and charming, so friendly and humble – I was so taken with him," she said. "If I wasn't a fan before, I certainly walked away from that dinner a Balmain fan."

Rousteing has received accolades for his collections from the likes of Vogue's International Editor, Suzy Menkes, who seems to grow fonder of the young designer by the season. But he has his fair share of critics, among them Robin Givhan of the Washington Post, who has made trolling Balmain almost a yearly affair.
I feel like fashion tries to fit everybody in the same box: If you fit, then that is the industry's view of success. And to me, that is elitist.

Her headline for the Spring 2016 Paris Fashion Week: "At Balmain, those aren't clothes on the runway, they're a social media moment." Givhan's Spring 2017 collection header: "Could a new designer at Givenchy mean a little less Kardashian in our lives?"
Rousteing takes it in his stride. He told The New York Times in 2017: "People don't have to love my show or my clothes. But they should at least embrace the fact I bring some diversity into the luxury world. Sometimes I feel like fashion tries to fit everybody in the same box: If you fit, then that is the industry's view of success. And to me, that is elitist… I am able to take criticism but not disrespect."