A watch that costs as much as a 5-room BTO? Someone bought it ... online
It seems when it comes to what luxury shoppers are willing to spend with a click of a button, the sky's the limit.
As any savvy shopper will tell you, you can buy pretty much anything online these days, even cars. Yes, cars can be added to your shopping cart as if they were cans of cat food.
Similarly, e-tailers are increasingly offering high-value items, such as luxury timepieces and jewellery, for sale on their sites.

On Jeweluxeworld, you can order a handmade necklace from Spanish jeweller Magerit for US$42,229 (S$57,755). On Net-a-Porter, you can find a Buccellati cocktail ring for US$85,888. 
Sincere Fine Watches' e-commerce platform has a Laurent Ferrier dual timezone watch for S$136,000. And on Net-a-Porter's sister (or should it be brother?) site Mr Porter, you can have a one-of-a-kind Roger Dubuis watch with a skeletonised dial for £213,516 (S$371,856).

Except you can't – because it's been sold. Two of the three Laurent Ferrier watches, which are world exclusives available only on sincerewatch.com, have also been sold.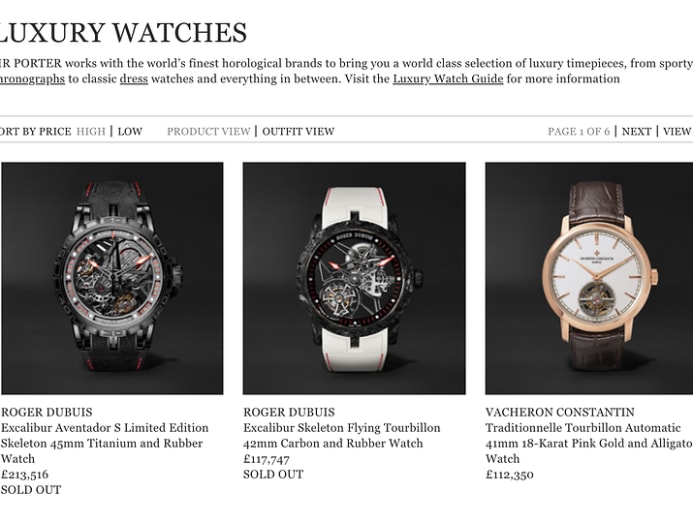 This sort of high-spending habit might come as a surprise to those of us more accustomed to shopping for clothes and accessories on Asos or Zalora, groceries on Redmart, and gadgets and toys on Amazon, where the final bill doesn't often – or perhaps never – exceeds S$1,000. At S$370,000, you could get a 5-room BTO flat in Sembawang, Sengkang or Yishun. 

What's interesting is the speed at which these high-ticket items were sold. While Mr Porter has retailed timepieces since 2013, the Roger Dubuis special edition was only made available on Nov 19. Meanwhile, Sincere Fine Watches went online in Jul 2018. Clearly, there's a demand for such items.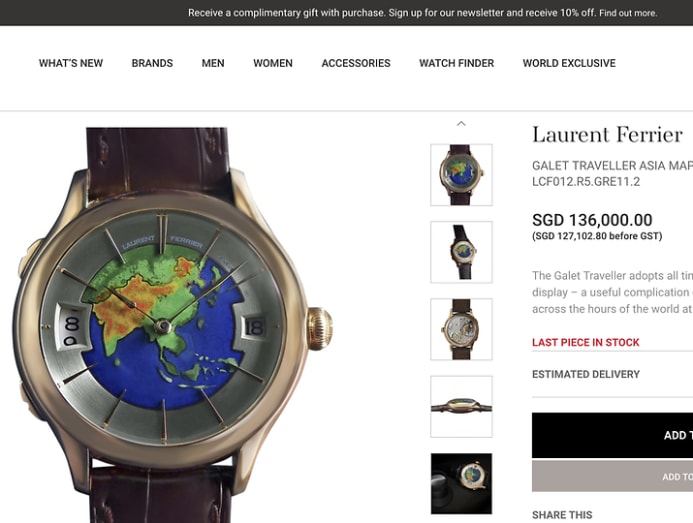 Ong Ban, CEO of Sincere Fine Watches, admitted that the fine watch industry in Singapore "has been slow to embrace e-commerce and digital innovation", and that until this year, the only digital channels that customers could acquire or trade luxury watches were online marketplaces. However, "most of the watches sold [through such channels] are deemed unauthorised by the brands".

Net-a-Porter's Global Director, VIP Client Relations Lupe Puerta believes that the demand was pent up. "Our customers are very savvy and have been wanting to buy hard luxury online for a long time," she told CNA Lifestyle.

The site began offering a dedicated watch and jewellery section earlier this year, and now counts 50 brands in its stable. Some of these brands, such as De Grisogono and Piaget, have never had an online retail presence prior to Net-a-Porter.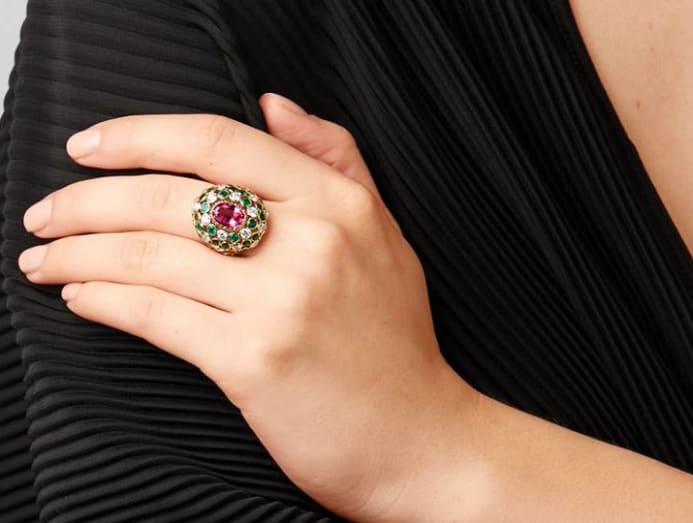 Not surprisingly, Singapore ranks among the top three markets for the site's fine jewellery business, said Puerta, the other two being Hong Kong and Australia. 
The top-selling brand in the region? The (Chinese-owned) Italian brand Buccellati, makers of that US$85,888 gem-encrusted ring. There are more affordable options from the brand, of course, like a US$612 pair of 18K gold earrings.

But affordable doesn't come with bells and whistles, and perhaps that's part of what's driving the interest and demand.

The buyer of the unique Roger Dubuis Excalibur Aventador S timepiece – designed in partnership with Lamborghini – gets to enjoy an equally unique experience. He will be flown to Geneva, put up in a five-star hotel, presented with his purchase at Roger Dubuis' watchmaking facility, and then taken on a driving tour through the Swiss Jura mountains in a (what else) Lamborghini Aventador S. Nice work if you can get it.

WILL MILLION-DOLLAR TRINKETS BE SOLD ONLINE SOMEDAY?

Prior to Nov 19, the most costly timepiece on Mr Porter was a Vacheron Constantin Traditionelle at £112,350 (S$195,950), or half the price of the Roger Dubuis. Which begs the question, will the company ever retail watches that cost more than US$500,000 or even a cool million?

"It would be tricky for me to say if there will be a price limit set on the luxury watches we sell," Mr Porter's Managing Director Toby Bateman told CNA Lifestyle. "We endeavour to introduce even more luxury and exclusive timepieces to our global customers, so the sky would be the limit."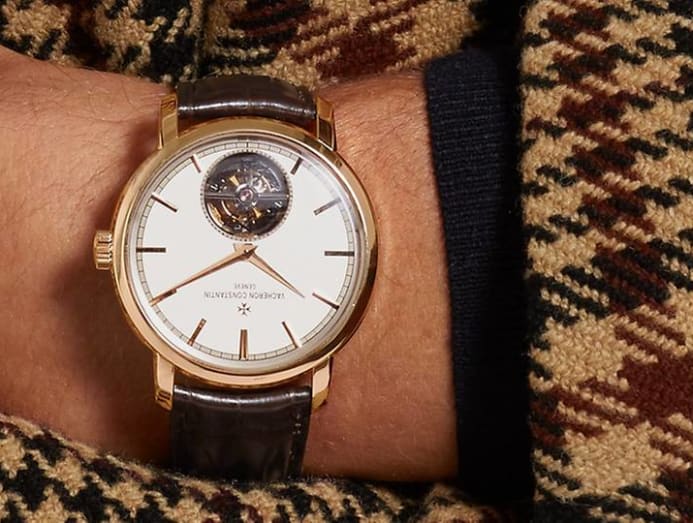 Currently, Net-a-Porter's priciest bauble is the Buccellati ring. Its costliest timepiece is an IWC Schaffhausen Da Vinci, retailing for US$40,069. Puerta believes that it won't be long before the US$100,000 threshold is crossed.

"Our customers are incredibly loyal to Net-a-Porter," she explained. "Almost all of our jewellery customers revisit the site on a weekly basis, showing us that they are very comfortable shopping with us for high-end pieces regularly."

Puerta added: "A significant proportion of our fine jewellery sales come from our EIPs (Extremely Important Persons) who are in contact with their personal shoppers on a daily basis through multiple channels. Especially with known brands, it is a matter of service and convenience that our customer can have pieces sent directly to their homes."

DO ONLINE SHOPPERS HAVE A PSYCHOLOGICAL PRICE BARRIER?

Angela Loh, Founder and CEO of jeweluxeworld.com, said that for well-known brands, customers would "spend up to S$5,000", but for lesser-known brands, "they will not go beyond S$1,000". She also noticed that for items costing above S$1,000, customers would make enquiries before committing to the purchase.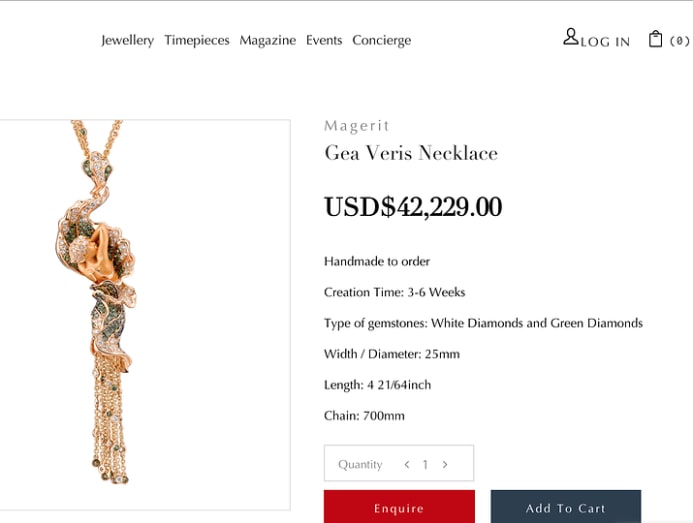 Ong noted that while sincerewatches.com has sold everything from S$400 pieces to the two S$136,000 Laurent Ferrier limited edition models, he sees "no limit to how much customers will spend online". 
He said: "Customers' level of comfort is dependent on various reasons including the offer, product exclusivity and rarity. If customers can shop in confidence and with assurance on an authorised platform, there is no reason why they will not acquire the timepieces."

Puerta and Bateman sang a similar tune. Said Puerta: "We cannot generalise when it comes to the high-end and luxury customer. We see some customers who like to invest in very important pieces, no matter the price but they are driven by different factors, whether that be emotional, as a collector's piece, or for a special occasion."

Bateman explained: "I'm afraid it would be unrealistic for me to set a price threshold on luxury watches for our customers. A luxury timepiece can be an object of mechanical wonder, and people are allowed to perceive its value differently based on their taste and experience with the brand. A watch could mean a substantial fortune to someone if it resonates with them aesthetically."

BUSINESS SCHOOL 101: SERVICE IS KEY

Often, how much a customer is willing to spend depends on the experience he or she has had on the site, believes Loh. "If they spend S$15,000 and they feel positive, they will continue to buy," she said, adding that she places a lot of emphasis on her site's concierge services. "We call or WhatsApp (our customers), so it's more personal."

Meanwhile, Net-a-Porter and Mr Porter both maintain multiple avenues of support for their customers, ranging from live chat functions to private viewing opportunities.

"We continue to educate ourselves through working with the variety of watch brands onsite, and only with such are we able to pass that knowledge and advice to our customers through our Luxury Watch Guide and detailed description for each timepiece," said Bateman. 
"We are definitely also acquiring watch experts to provide 24/7 service to answer any questions our customers may have through a phone call or via live chat."

Net-a-Porter's Personal Shoppers receive training from the Gemological Institute of America (GIA) – the industry standard for training and professional development in gems and jewellery – which Puerta says allows the team to deliver on-demand, expert advice.

"Our Personal Shoppers can also reserve key styles from the brands stocked on Net-a-Porter, with the exclusive opportunity to host private viewings of new collections and place bespoke orders for one-of-a-kind pieces for those wishing to build a truly original collection," she added.