Phyllis Quek's inside-out beauty approach to looking ageless
The 47-year-old actress and recording artiste reveals her secret to looking young.
Not every well-kept woman needs a 13-step beauty regime. At 47, actress and recording artiste Phyllis Quek has managed to look ageless, nary a day older than when she took Star Search's runner-up spot in 1995.
To boot, this Malaysia-born beauty only subscribes to a simple three-step beauty routine of serum, moisturiser and sunblock.
Quek is behind Careless Whispers, an ongoing digital series that delves into ASMR (autonomous sensory meridian response) with her celebrity friends such as Hong Hui Fang, Cassandra See, Apple Hong and Jack Neo.
CNA Lifestyle recently caught up with this ageless beauty just before she jetted off Down Under with her Australian husband.
When asked how she has managed to defy time, Quek admitted that the secret sauce doesn't come from a skincare bottle but credits an overriding attitude to life. "Above all, I always remind myself that it's crucial to stay happy," she said.
Scroll on to find out what lifestyle habits have helped Quek preserve her youthful looks.
DO YOU ATTRIBUTE YOUR ABILITY TO "FREEZE" AGE TO GOOD GENES OR PERSONAL EFFORT?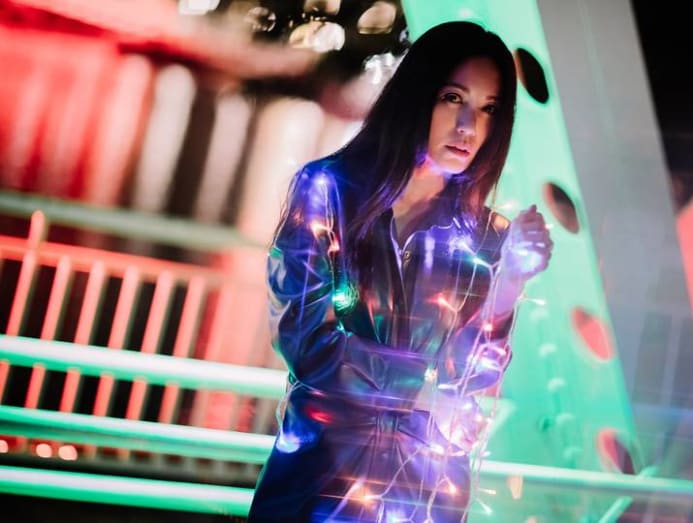 I'm flattered to be described as ageless but as we know everyone ages. What is important is that I follow my daily routine religiously, exercising and watching what I eat. 
I try to work out five to six times a week, doing a variety of exercises like hot Vinyasa, body combat, spinning and Zumba. Recently, I have been trekking as well. But on days when my muscles are sore, I just go for a swim.
My meals are simple. For breakfast, I usually have bread or oatmeal. Lunch and dinner alternates between chicken and fish, with vegetables, quinoa, soup and fruits. I try to minimise on carbs but I do enjoy a good dessert. And I love my chips and chocolates.
Above all, I will always remind myself that it's crucial to stay happy.
DESCRIBE YOUR DAILY SKINCARE ROUTINE.
Serum, moisturiser and sunblock.
AND WHAT ABOUT YOUR NIGHTLY ROUTINE? 
Moisturiser. I put on a mask occasionally.
WHAT IS YOUR GO-TO SKINCARE PRODUCT?
I trust La Mer's moisturising soft cream to nourish my skin.
YOUR MUST-HAVE MAKEUP?
Makeup base and BB cream. But if I'm only heading to class then just sunblock.
WHAT ARE YOUR MAKEUP TIPS TO PUT YOUR BEST FACE FORWARD?
I'm going through an au natural phase at the moment. My makeup is simple, earth-toned eye shadow and eyeliner to brighten up my eyes and that's pretty much it.
WHAT ABOUT LIP COLOURS?
At the moment, I'm into coral colours because I found that this family of colours brightens my complexion and infinitely lifts my mood up. 
HOW DO YOU TACKLE LIPSTICK TRANSFER?   
I wear only one coat of lipstick and blot the excess away with tissue paper.
LET'S TALK ABOUT YOUR SIGNATURE CENTRE-PART HAIR.
It makes my face look more symmetrical.
IS TIKTOK YOUR NEW OBSESSION?
I started exploring TikTok during lockdown. It's interesting how people of various ages put up very unique content. In particular, I enjoy the beauty and fashion content. Some videos are very trendy and they inspired me to put up a couple of my own videos too.
WHAT'S YOUR FASHION STYLE LIKE?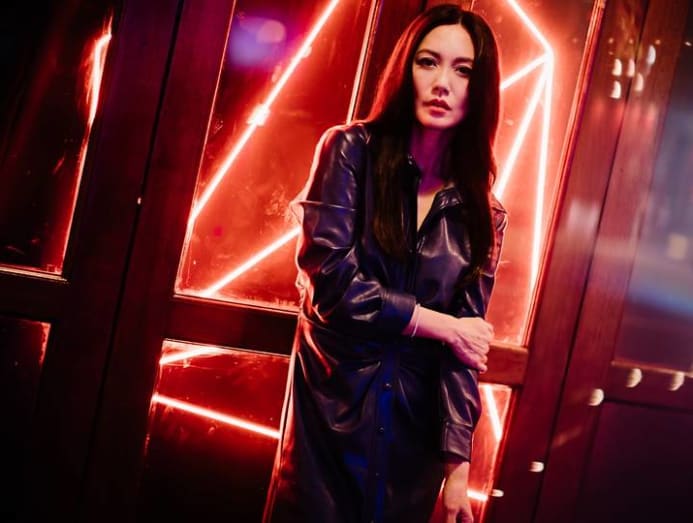 My personal style is classic and simple. How I dress really depends on how I feel that day. In my fashion book, there are no hard and fast rules to dressing up, I'm generally a jeans-and-dresses girl.  
WHAT ARE YOUR TIPS TO AGEING GRACEFULLY?
It is very important to stay happy. Yoga also helps, I've been practising for over 10 years. I'm an exercise junkie who is addicted to working out and breaking a sweat because I feel that sweating rejuvenates me and helps me focus better.