Influencing the influential: The man who has Rihanna, Madonna and Beyonce selling for him
Riccardo Tisci's famous friends are throwing their weight (and fan base) behind him, following his move from Givenchy to Burberry.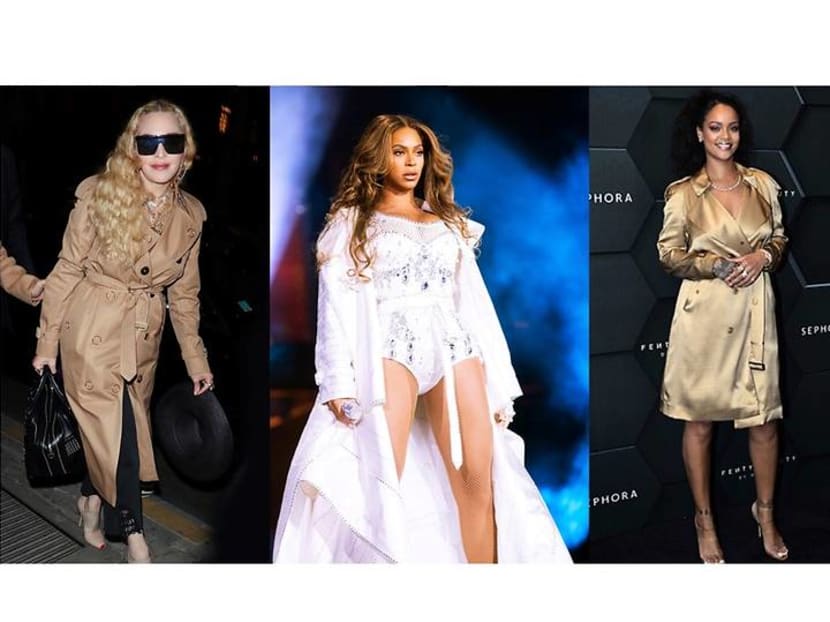 During his 12-year tenure ending in 2017 as creative director of Givenchy's, Italian designer Riccardo Tisci was much feted for his contemporary yet romantic creations that seductively combined gothic subversiveness with luxed-up streetwear influences and uncompromising craftsmanship.
Aside from revitalising the 66-year-old French fashion house, which was then stuck in a "elegant but rather stuffy" rut since its Audrey Hepburn heyday in the 50s and 60s, Tisci quickly amassed a fan base that read like the who's who of pop culture royalty. 
He dressed Kim Kardashian in a form-fitting lace dress for her 2014 wedding to Kanye West; escorted Madonna, who rocked a Givenchy boob-and-butt-baring strappy black lace bodysuit, to the 2016 Met Ball; and sent Beyonce down the red carpet in a translucent, flesh-coloured latex gown with strategically placed crystal embellishments.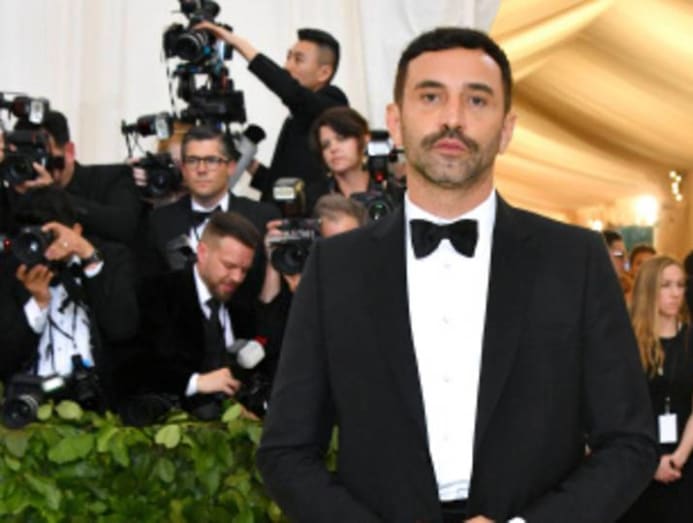 Other famous A-listers sporting Givenchy during Tisci's reign included the likes of Julia Roberts, Cate Blanchett, Jessican Chastain, Rihanna, Natalie Portman, Rooney Mara, Nicki Minaj, Naomi Watts, Rosamund Pike and Anne Hathaway.
The designer's appeal extended far beyond the runway and onto the red carpet — Givenchy's revenues were reported to have increased sixfold during his time there, fuelled mainly by a growing millennial fan base who couldn't get enough of his T-shirts, handbags and luxury sneakers.
Of course the fashion world was shocked when Tisci announced last year that he was leaving Givenchy to focus on his "personal interests and passions". And we had to collect our jaws off the floor when those "interests" was to take over the design reigns at the very British Burberry in 2018 following Christopher Bailey's departure.
NEW BRITANNIA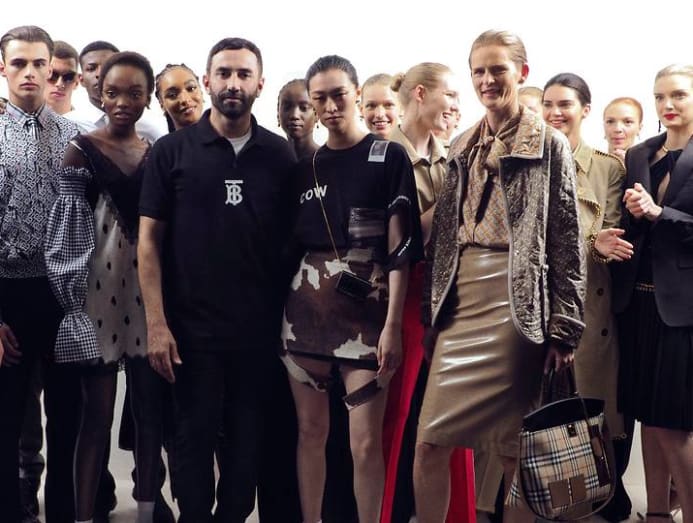 How different would his vision for the 162-year-old Brit fashion house be from that of his predecessor, who was credited with producing the consistent stream of wearable, modern takes on classic British wardrobe staples that Burberry had come to be associated with during Bailey's 17-year tenure?
How would he inject a subversive, streetwear element that would capture the attention (and wallets) of Insta-happy millennials, while hopefully not drawing back the British football yobs and chavs who favoured the brand so much in the early 2000s that pubs and restaurants in the UK were known to turn away wearers of its distinctive tartan?
How would Tisci introduce sexy, edgy eveningwear to a label that was more associated with daywear?
Most importantly, would his famous fans come along for the ride, now that he was chief creative officer at Burberry?
ALL ABOARD
Even before he unveiled his debut collection for Burberry's Spring/Summer 2019 ready-to-wear collection on Sep 17 during this year's London Fashion Week, Tisci was already making one thing clear: He still had plenty of clout left in him as a master influencer of the most influential A-listers.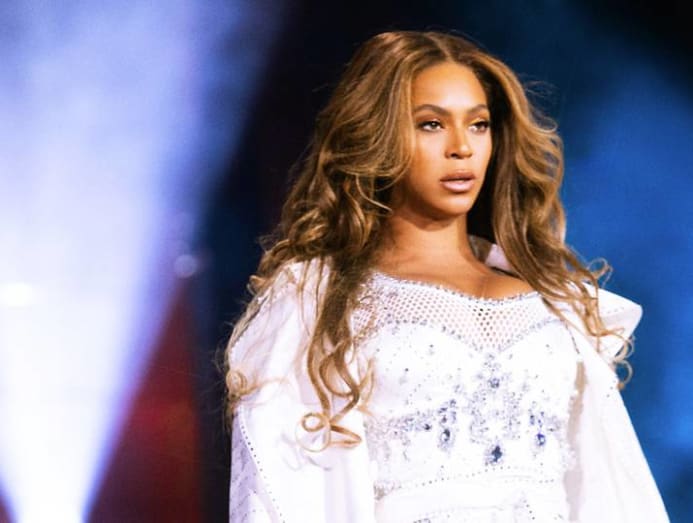 As early as August, Beyonce was already wearing Burberry SS19, specifically, a bodysuit, cropped hooded trench and sunglasses, all in the brand's signature plaid, at one of her Run II tour concerts in New Jersey. She then performed in Houston wearing a white, made-to-measure crystal-embroidered trench coat with a matching bodysuit and white heeled boots.
Just 48 hours after the Burberry SS19 show, English rapper and producer MIA wore two key pieces from the collection — a fawn print trench layered over a matching blouse — for the London premiere of her documentary Matangi/Maya/MIA, no less.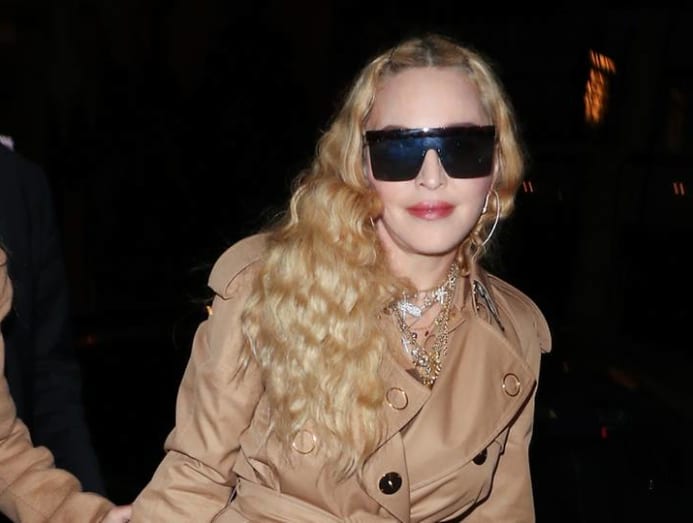 At Paris Fashion Week, which took place right after London Fashion Week, Madonna stepped out in a camel-coloured, double-breasted Burberry SS19 trench coat, belted tightly over a khaki top, black denim jeans and the distinctive nude ankle boots with a red peep-toe detail that featured heavily in the Burberry SS19 collection.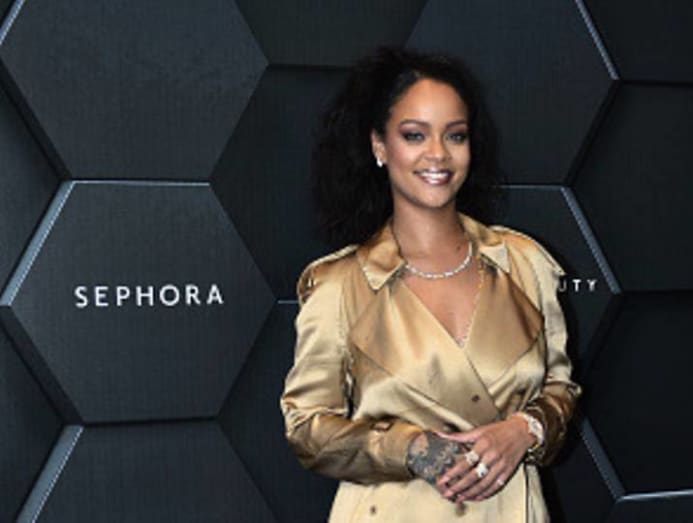 Meanwhile, in late September, pop princess Rihanna sported a caramel-hued satin trenchcoat-dress to a Fenty Beauty event held at Sephora in Dubai.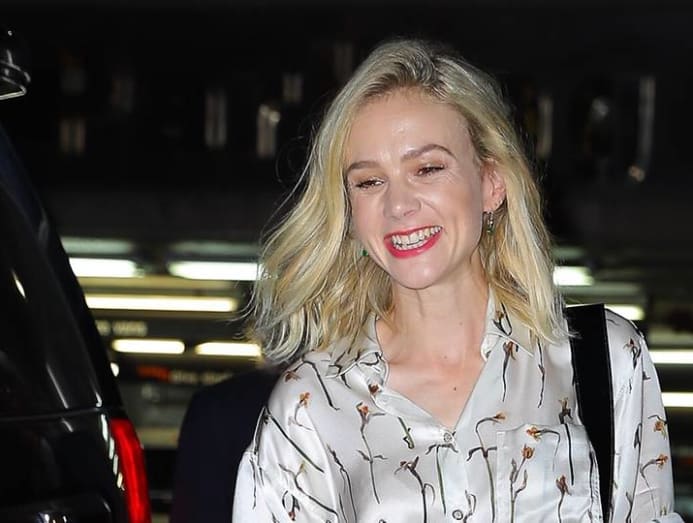 In early October, actress Carey Mulligan attended the SAG-AFTRA Foundation Conversations: Wildlife event in a white silk blouse featuring botanical prints of floral sprigs, paired with toffee-coloured gathered-waist leather trousers – yes, the very latest from Burberry.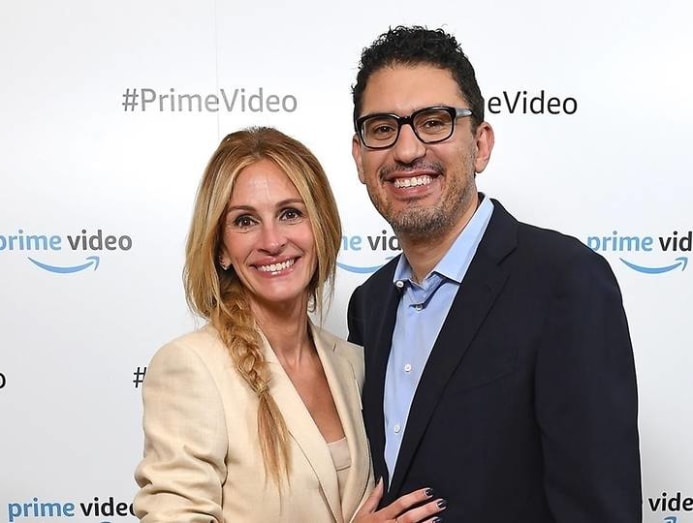 And two days later in London, Julia Roberts wore an ultra-feminine beige skirtsuit, sheer top and square-toed heels from the same collection to an event promoting her new Amazon series, Homecoming.
Other sightings include models Anok Yai in a butterscotch satin coat dress worn over a vintage-inspired lace-edged silk slip, and Nadia Vodianova in a black trench over a floral dress.
LET'S NOT FORGET THE CLOTHES
There's no doubt Tisci's loyal famous posse has his back.
But far from just catering to the elite celeb minority, he declared that his mission at Burberry is to dress everyone: "The mother and the daughter, the father and the son."
Indeed, the 134-look collection has been thoughtfully subdivided into three segments: "Refined", "Relaxed" and "Evening".
True to Burberry's longstanding reputation for elegant, wearable daywear, the "Refined" section takes centre stage, featuring trenches; separates such as blouses, skirts and trousers; and pantsuits in fluid fabrics such as silk and organza in a muted palette of mainly beige, caramel, camel, chocolate and black.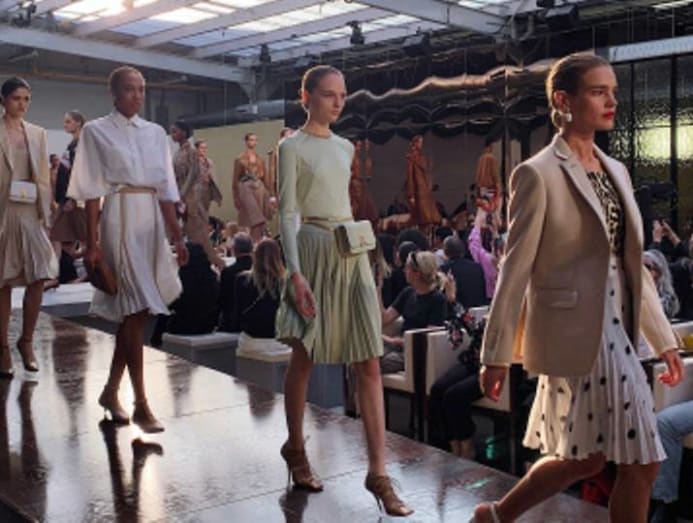 Occasional touches of blush, mint, red and coral, and a scattering of prints such as the brand's signature tartan, stripes, polka dots and British-influenced motifs such as horses and portraiture, inject a sense of freshness. This is tastefully timeless stuff that any woman aged 16 to 76 can pull off – it's easy to imagine how good four generations of females from the same family would look if they all wore different "Refined" outfits for high tea or a wedding lunch with the family at a hotel.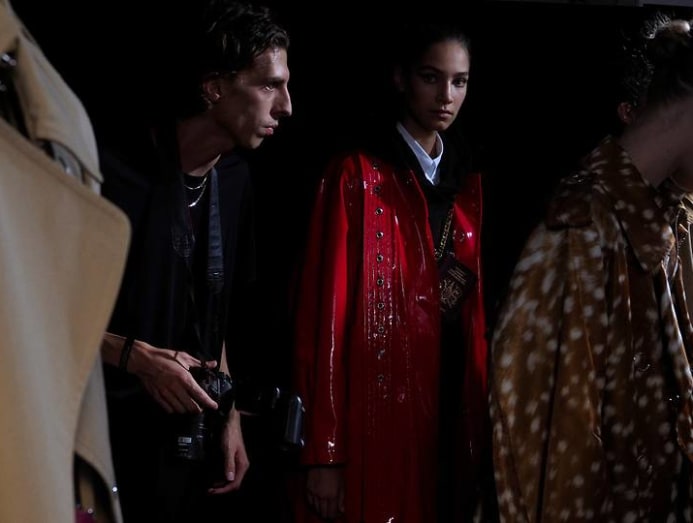 The "Relaxed" segment was a lot more playful, subversive and street, with rebellious punk-inspired pieces (after all, London is the birthplace of punk, and Tisci had mentioned earlier that he was enlisting the help of grande dame of punk-inspired fashion Vivienne Westwood at some point).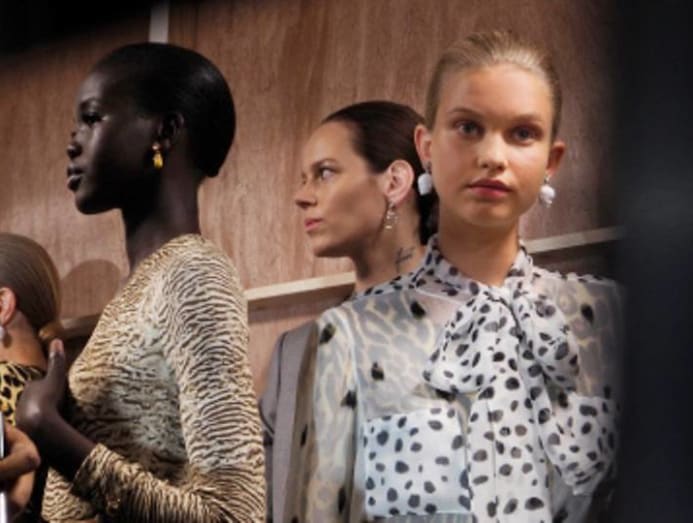 The clash of everything from cow- and fawn-print, gingham, black leather, shiny stainless steel zips, lingerie, tracksuits, gothic Lolita mini frocks and chunky Mary Janes would definitely draw in a newer, younger fan base. In fact, the "Why Did They Kill Bambi?" slogan and fawn print is a less-than subtle reference to the fact that Burberry has just sworn off the use of real fur from this collection onwards, as well as to the much-beloved cartoon deer that has featured so heavily in Tisci's past work for Givenchy.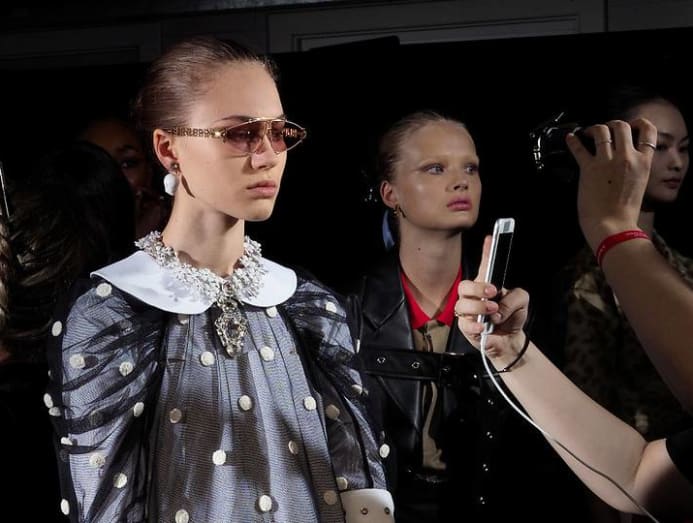 When it came to the "Evening" segment though, Burberry chose to tread with cautious baby steps, presenting a tiny selection comprising just seven full-length evening gowns, all in black. Some were so classic, you could see mums and daughters sharing them now and over the decades, while the gold-fringed one, as well as the one with a midriff cutout and a high slit up the leg, are definitely not for shrinking violets.