Everyone gets a (virtual) front row seat at Singapore's first digital fashion festival
Called The Front Row, the 10-day online event kicks off on Aug 20 and will showcase 31 homegrown and 10 regional brands, as well as talks by the likes of Next In Fashion winner Minju Kim.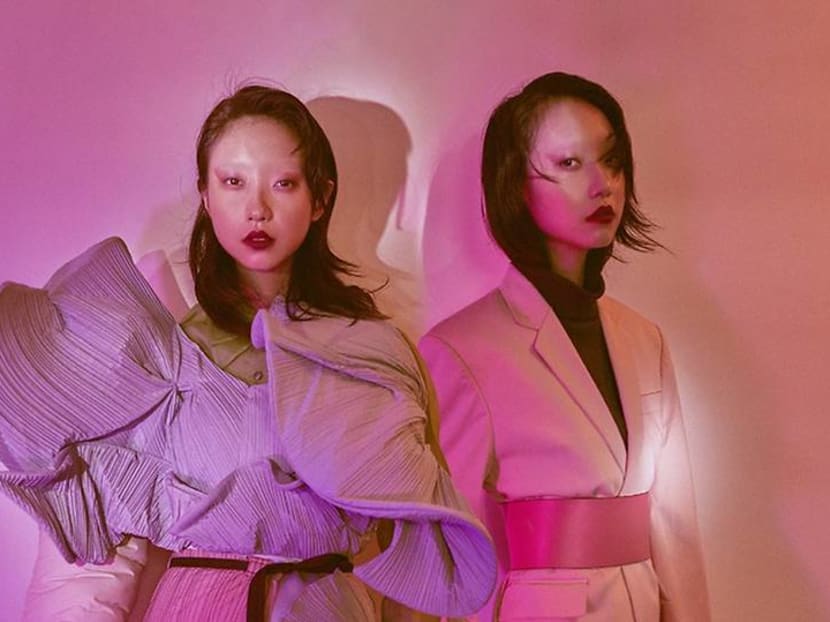 In the wake of a global pandemic, what could fashion shows look like? In Singapore at least, everyone has a chance to get that coveted "front row" seat on the runway when an all-new virtual fashion event kicks off on Thursday (Aug 20).
The Front Row (TFR), which will run for 10 days, will be showcasing 31 local brands and 10 other labels from the region, which online viewers can get a chance to see without even dressing up. The event will also include interviews, short films and podcasts, and guests can participate in interactive workshops and join post-show chats with the designers.
The curated podcast panel line-up includes South Korean designer Minju Kim, the winner of the first season of Netflix's Next In Fashion, who will speak about how Asian labels can stand out in this current COVID-19 world; as well as Stephanie Dickson, founder of website Green Is The New Black; Malaysian couturier Carven Ong; and Melbourne-based Singapore designer Jude Ng, who will discuss sustainability in fashion, fashion education in the age of COVID-19 and digitalisation of fashion. 
On the interactive workshop front, local accessories artist The Kang will be conducting a sustainability workshop where participants can learn how to create his signature accessories by upcycling everyday materials like plastic bags.
The festival also allows consumers to immediately shop at the click of their mouse right after the show.
The Front Row event was the brainchild of Singapore fashion personality and festival creative director Daniel Boey and homegrown photographer Rui Liang. The two worked with digital agency AP Media to bring the virtual event to life and the festival has garnered support from Enterprise Singapore.
"As we live in unprecedented times, we have to be innovative and rethink traditional fashion shows. Through TFR, we have challenged ourselves and to discover and push out new ways to showcase a new collection to its best extent," said Nick Tan, managing director of AP Media.
"It is undeniable that the seamless use of the vast possibilities of technology is the pragmatic way forward for designers and brands to stay connected and relevant, and in the process, invigorate the industry of fashion and technology."
Instead of picking the usual big name suspects in the fashion industy, the organisers felt this was an opportunity to showcase "fabulous under-the-radar designers".
For instance, Boey relied on word-of-mouth recommendations when selecting the likes of Reckless Ericka, Binary Style, Ginlee, Graye, Oliveankara, Elohim by Sabrina Goh, and State Property fine jewellery.
"The brands we selected need to be relevant to today's conditions and have embraced or pivoted to adapt to the changing world of retail," he told CNA Lifestyle. "They have to be the future of fashion. It is also important that they are eco-friendly, sustainable, responsible and inclusive, traits which I think will represent the future of what fashion will stand for."
With the inclusion of ethically-minded labels such as the above-mentioned Oliveankara and Maisha Concept, it's clear that TFR's focus is on sustainability for this year's event.
"A digital festival is a very environmentally-friendly way of presenting fashion shows," said Boey. "Running everything online greatly reduces the wastage from having to build extravagant sets, only to tear them down. It also reduces the carbon footprint as people do not need to fly around the world to attend shows, and designers do not need to travel to present their collections."
He added: "Fashion is one of the biggest polluters on the planet and we will all need to do our part to help save the environment. And it starts with designers and practitioners of the craft of fashion - stylists, show producers et al. It will take time for consumers to catch on to this concept but, like everything, we have to start pushing the message now before it's too late."
The Front Row runs from Aug 20 to 29. Visit https://www.thefrontrow.style/ or https://www.instagram.com/thefrontrow.style for details.