Smart skincare: How today's beauty products do more than just cleanse and moisturise
A new generation of skincare products is tapping into scientific knowledge and medical research. Here's a look at what some of these can do.
There was a time when skincare products were frills-free and basic. What women used on their faces way back when were pretty much just a cleanser, toner and moisturiser, and these did no more than what their names indicated, which was simply to cleanse, tone and moisturise the skin.
Fast-forward to current times and the skincare landscape has changed vastly, along with our evolving and ever-expanding skincare needs. Basic is no longer adequate, evidently. 
Even as the world is leaning towards skincare that is formulated with more natural ingredients, we want, at the same time, to be stunned by innovations that are built on advanced methodologies. 
The answer, as recent trends in the beauty industry show, lies in science, medical research and technology. Skincare companies are leveraging knowledge from these fields and applying it on products that delve far deeper beyond the surface, both literally and figuratively.
Even as the world is leaning towards skincare with more natural ingredients, we want to be stunned by innovations built on advanced methodologies. 
Some of them tap on medical science from biological and genetic studies, while others employ high-tech methods to package precious youth-giving ingredients and deliver them not just deep into skin, but to exactly where they are required. 
If these set the path for future products to follow, we can expect great things to come indeed. For now, though, here's how skincare has already been scientifically advanced to give you better skin in ways we'd never have imagined.
THEY CAN 'READ' YOUR SKIN
A product that can read your skin, recognise what it needs and give it exactly what it wants? It sounds like a dream too good to be true. Yet, this custom-fix effect is exactly what some skincare brands have been pushing in recent years.
An example is Clinique's Smart Custom-Repair range, which comprises a serum, eye treatment, and day and night moisturisers that purportedly can "understand" the specific signals your skin is sending out and delivers targeted repair as needed and where needed.
While the technology within it isn't specifically spelled out, a large range of actives is evident in the ingredient list. This demonstrates how the product can cover a wide spectrum of skin concerns, thus translating into its ability to meet each individual's unique combination of skin needs.
Elsewhere, niche skincare brand Priori claims to use biotechnology expertise in its formulations to give them similar "custom" repairing abilities. Its products contain a sequence of "super-hero" complexes created by combining a known active ingredient with other complementary ingredients – this increases the products' scope of effect and thus improves their adaptive properties.
THEY 'DELIVER' EXACTLY WHERE YOU WANT IT
The encapsulation of skincare products in pods or tiny beads isn't new – we've seen it in use from as early as the 1990s in products such as Elizabeth Arden's iconic Ceramide Capsules, which were designed to keep the ingredients at their freshest until they were ready to be used.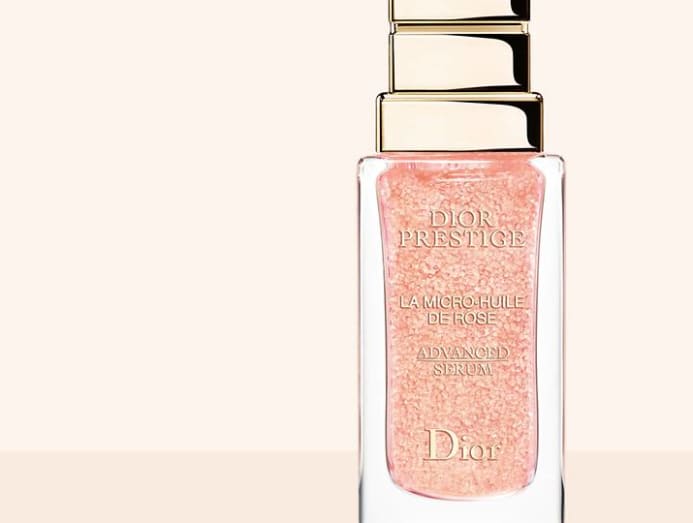 These are early examples of how microfluidics – the study and manipulation of fluid behaviour – can be applied to skincare technology. 
Twenty years into the new millennium, micro-encapsulation has advanced by bounds and leaps, as seen in Dior's Micro-Huile de Rose Advanced Serum (available in September) that is filled to the brim with 10,000 micro-pearls containing the prized extract of its custom-bred Rose de Granville.
These micro-pearls, unlike those that came before them, are produced with micrometric precision that is the result of a complete reinvention of early encapsulation processes. 
According to Dior, the ingredients are weighed in microgrammes, along with controlled micro-flow pressure, while temperatures are adjusted as near as possible to the required degree. It took two years of adjustments to achieve an ultra-potent serum that is optimally absorbed by skin and penetrates deeper into skin's layers in order to transform it.
THEY ZOOM IN ON YOUR GENES
Epigenetics is a buzzword that has found its way from the medical field to the beauty industry of late. Via the science that studies how genes can be "switched" on and off, skincare brands are learning how to hone in on the genes that will give you better skin.
Sisley is one of the first names to have produced products based on this area of research – its Sisleya L'Integral Anti-Age Firming Concentrated Serum helps mature skin regain a tauter appearance by targeting the origin of behavioural ageing at a cellular level. 
It works to plump and lift skin, while diminishing wrinkles by reawakening elastin production at its source.
For its recently launched Advanced Night Repair Synchronized Multi-Recovery Complex, Estee Lauder tapped into epigenetics studies and found out how it can target a specific micro signalling molecule found in skin cells that's essential to the skin's natural repair processes and youth-generating strength. 
The result is this latest generation of its iconic Advanced Night Repair serum, which promises to surpass its predecessor by plumping up lines, boosting skin's hydration levels and firmness, while diminishing pore size in just three weeks, according to efficacy tests.
THEY TAKE THEIR CUE FROM YOUR GUT
The microbiome of the skin refers to the biological environment of its surface, and is composed of many micro-organisms that each play a role in maintaining skin health. 
Just like how gut health can be maintained by balancing its microbiome with the right prebiotics and probiotics, the skin can also benefit from these cultures.
Research of late has shown that skin's microbiome can easily be thrown out of whack when it is subjected to stress – particularly when it is washed with cleansers that are too harsh or have an antibacterial effect. 
When this happens, it becomes more prone to the onset of skin problems like dryness, an acne breakout or eczema flare-up. 
This is where skincare products that can restore microbial balance step in. Instead of fighting a breakout or a rash solely with targeted treatment products, it could help to restore skin's health and reinforce its natural barrier at the same time by supplying it with probiotics. 
There's plenty to choose from as more and more skincare brands are hitching on to the trend. Start with a serum like Lancome's Advanced Genifique Youth Activating Concentrate Serum, which contains lactobacillus; or a quick-absorbing essence such as Hera's Cell Essence Biome Plus, which is packed with both probiotics and prebiotics. 
Prefer a brand that specialises in this field of skincare? Aurelia Probiotic Skincare is a pioneer in this respect and sells an entire line of probiotic-infused products, from face to body care, made with BioOrganic ingredients at that.