This Singaporean female carpenter turns wood into chic bags and jewellery
CNA Lifestyle continues its series on trailblazing Singaporean female entrepreneurs in March. This week, we meet Studio Mu Yu's Lyn Ng, who left a well-paying job in marketing to pursue her love for woodworking.
Even as preconceptions and stereotypes are gradually being broken down in the professional world, there are undeniably certain occupations that remain largely dominated by a single gender. Carpentry is one such line of work that remains very much the domain of men, for various reasons.
For Lyn Ng, who's 28, trying to find a place in Singapore where she could pick up woodworking as an apprentice was not easy. Unsurprisingly, astonishment was one of the reactions that she received from most of the carpenters she spoke to, apart from doubt that she can handle the strenuous and technical nature of the job.
"In the beginning, when I started talking to different carpenters, I got remarks such as 'you are a girl, don't do woodworking lah – it is not for you'," Ng revealed. Is bias or concern the reason behind these comments? To be fair, there's probably both.
Still, that's not enough to stop Ng from pursuing the craft – she headed to Taiwan and attended woodworking classes there for half a year. On her return to Singapore, she worked with Triple Eyelid Studio, a local sustainable set-up that makes furniture out of upcycled wood. 
It was then when she was struck by the idea of turning the wood remnants left from producing furniture into something else that can be useful. This, of course, led her to start her own business – Studio Mu Yu – three years ago, selling fashion accessories and other lifestyle goods that are handcrafted out of upcycled wood. 
GOING OFF THE BEATEN PATH
Evidently, there are very few women who would seriously explore carpentry as a career, even if there might be a growing number of females who are interested in woodworking as a hobby. The notion of picking it up came when she was moving house four years ago and thought about the possibility of making a simple wooden headboard for her bed.
At the same time, she found herself at a career crossroads. Ng studied mass communications and marketing in school and worked in marketing following her graduation – at a local designer fashion label and subsequently an Italian F&B group.
You are a girl, don't do woodworking, lah – it is not for you.

"I always enjoyed marketing and knew (at that point) that I wanted to do marketing for a living – telling stories through a brand is what I love the most. However, my job in F&B led me to rethink my goals in life," Ng shared.
After a taxing period when she had to work from 9am to 3am for a few weeks straight, she found herself approaching her manager about the situation. "She said this to me: 'If you have the passion for something you love, you will sacrifice your time for it'. These were the words that made me realise that I didn't want a nine-to-five job or rather, I want a job that I would willingly sacrifice my time for," she continued.
The job she was seeking turned out to be not just woodworking, but building a brand around it while making something unexpected out of it. "I explored the possibilities of (crafting accessories out of) upcycled wood and started prototyping for a year before I finally decided to set up shop," Ng said.
GROWING WITH HER BRAND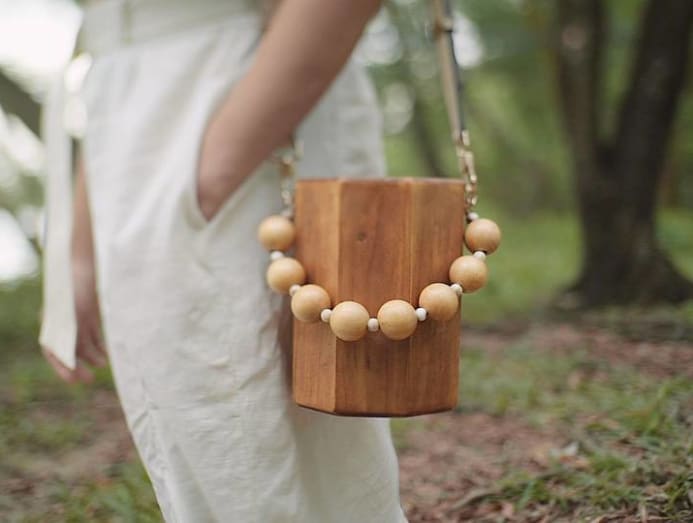 Business set into motion slowly. "I started off with word of mouth, via friends – they are my 'guinea pigs'! I got feedback from them for the first three months, and began to refine the designs based on their feedback," she revealed.
"Business did not move fast during the first nine months, so I started heading to major art markets like Public Garden and Boutique Fairs. Everything was trial-and-error, but slowly, I began to gain an insight to the customer's persona. It wasn't until after a year that I started to see the customer base and sales figures grow."
Everything was trial-and-error, but slowly, I began to gain an insight to the customer's persona.

Today, orders are "coming in waves by waves", according to Ng. Thankfully, she now has the help of two part-time staff.
"We are facing a slight production bottleneck as everything is made by our small team. It's also a struggle finding 'craft-minded' people to join the team,"she said. "Many carpenters in Singapore reject the idea of making wooden jewellery and bags, as the items are too small and require detailed work, while the option of offshoring our designs is hard as well. Right now, I'm on the lookout for people who want to learn the craft while working – they are definitely not easy to find!"
Becoming an entrepreneur also forced Ng out of her comfort zone. "One of the most important parts about doing business that I had to figure out is the financial aspect of it. I am a fairly right-brained individual and the financial issues are really a headache for me to handle. This includes the costing of our products, payroll, supplier payment, rental charges and so on. It's a whole new ball game for me, and I'm still learning how to be better with the finance part of the business," she said.
Ng added: "I also learnt how to handle different customers. Over time, I realised that I want the right customers for my brand, and not those who don't understand the craft and insist on asking for discounts and such. I learnt how to say no to unfair requests and also realised the importance of bringing value to my brand and the craft."
While handling every aspect of Studio Mu Yu's operations, she is also working at a content marketing agency as a freelancer. "I realised that I need to be out there and know what's happening in the (marketing) industry as well," she explained.
Her favourite part about work now is the designing process – she enjoys combining her interest in fashion with woodworking, and trying out new ideas that challenge her to improve her craft. This is evident in the extensive variety of earring designs, which range from simple to organic, quirky and graphic. While wood is, of course, fundamental in every single design, you'll also see other materials pop up in pairings such as mahogany and jade agate, and other woods like teak or oak with resin or acrylic.
THE GENDER DIVIDE
If there's one reason why the fairer sex is disadvantaged in the field of carpentry, Ng thinks it's the fact that women simply aren't as physically strong as men.
"Wood is heavy. Sometimes, when I collect material from my carpenters, I find it tough to lift and move it. The weight can be an issue while cutting wood on the machines as well. In order to overcome these difficulties, I have to devise props that I can use to make it easier for me to shift the wood about. That, in itself, is a fun problem-solving challenge that I oddly enjoy tackling too," she shared.
Ng feels that women may be better at putting themselves in the position of the user of the product and are thus able to to come up with ideas that better meet their needs.

Besides the above, there really is no other reason why women can't be as adept or creative as men in woodworking. In fact, Ng feels that women may be better at putting themselves in the position of the user of the product and are thus able to to come up with ideas that better meet their needs.
While gender stereotyping still exists in carpentry, Ng thinks that people's attitudes – be it that of men or women – are indeed starting to change. "More women are fearlessly going into male-dominated lines of work such as carpentry. I met many of them recently and they are amazing – the way they learn about woodworking and what they want their brand to portray is something that I always respect," she said.
CHANGING FOR THE BETTER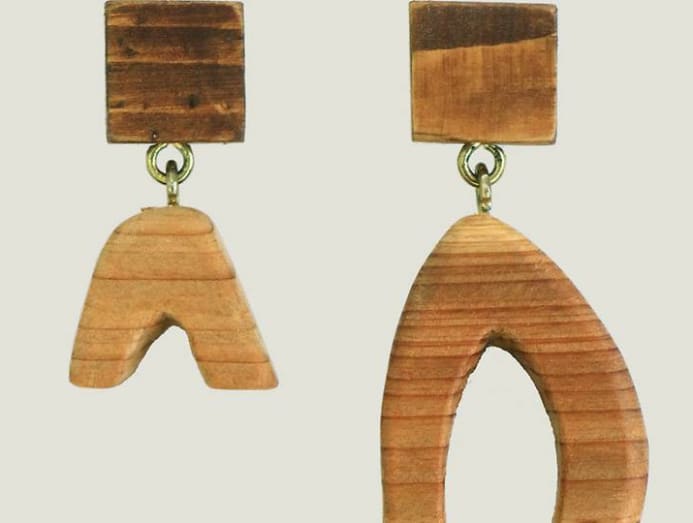 While Studio Mu Yu operates largely online, it is, regardless, impacted by the coronavirus pandemic in some ways. "We can no longer go for large-scale events or markets. These markets give us exposure to more customers and the opportunity to meet and have conversations with them," Ng explained.
However, she did manage to find opportunities to grow the business in other ways. "During the circuit breaker, we launched a series of wooden craft kits, with which customers can make their own art creation. They sold quite well. At the same time, many companies also engaged us to conduct Zoom crafting workshops for their employees. I think what's really important is adaptability – the ability to shift the brand's business model to fit changing market conditions. I'm glad we are able to survive this pandemic thus far and meet even more new customers along the way," she said.
In my opinion, there is no right or wrong – you just have to try it.

"This year, we are planning to do bigger art pieces and commission work for home decor pieces. I'm also looking forward to collaborate with wedding planners or event venues to help design and make backdrops for events. Hopefully, two years down the road, we will be able to have our very own retail space, where we can feature different local or regional carpenters, as well as our own designs," she shared.
On tips she can share with aspiring entrepreneurs, Ng said: "Just do it. If you already have a concrete idea of how you want to market your brand, the kind of product you want to sell, then go for it! There is no point just pondering about starting up but not having enough courage to do it. In my opinion, there is no right or wrong – you just have to try it."
Mu Yu is available at https://muyu.co/