Taking this creative mind out of T-shirts and slippers to match his career
Entrepreneur Visakan Veerasamy subconsciously shied away from special occasions because he didn't have the right clothes. It's CNA Lifestyle's Style Switch team to the rescue.
The first thing anyone notices when they catch sight of Visakan Veerasamy is his height. He stands at a towering 1.95m. The next thing – before the makeover – is his substantial facial scruff.
Visa, as he likes to be called, is a man of many talents: Entrepreneur and consultant, writer, T-shirt maker… Basically, a bundle of non-stop creative energy.
"I want an image that gets up to speed with my career," said Visa. "I want my look to represent my identity – I feel dressed down all the time, and I'd like to be more proactive in managing my image. People say they're used to me not dressing up."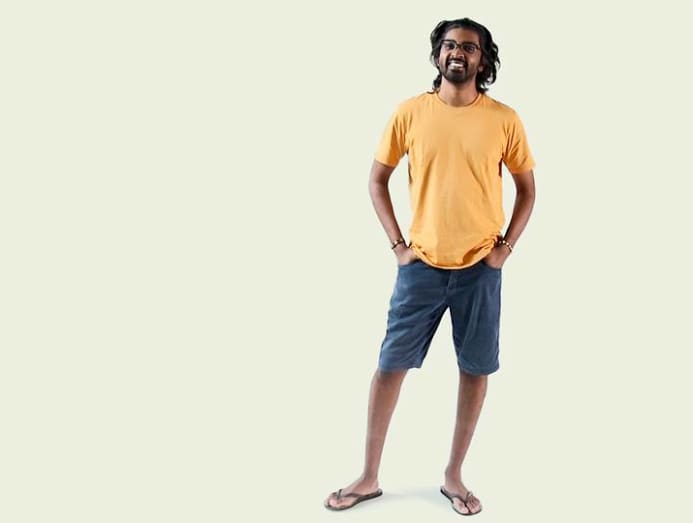 Visa got into the habit of wearing Bermuda and T-shirts with slippers everywhere because of his previous job at a tech startup.
"It was super liberal; super anything goes. So I would basically dress in T-shirt, shorts and slippers all the time," he explained. "It came to the point where there would be nothing else in my wardrobe."
"I had some shirts and pants and shoes… from 2012 maybe, and by 2015, I would fly into a panic if I had to attend wedding. Of the three shirts I owned, two would fit horribly, and I'd be forced to wear the third."
"I also found that sometimes when the occasion called for dressing up, I'd feel a bit out of place, a bit disappointed. When you don't have clothes to wear for certain kinds of occasions, you subconsciously avoid those occasions."
"I'm tired of that – I want to feel like I can just go for anything and be anywhere, but I feel like my current wardrobe doesn't adequately empower me to do that."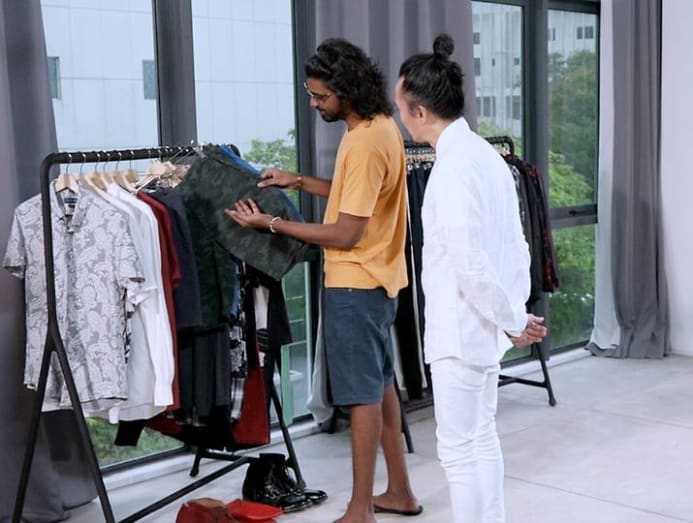 Visa shared having problems finding off-the-rack shirts that fit him properly – when the sleeves fit, the body would be too baggy; when it fits across his chest, the shirt length would be too short.
Similarly for pants: He only has one pair of jeans. "I think it's fair to say I have never in my life worn a shirt and pants that fit me properly. It's pretty sad, but it's true. It's a life of a misfit – literally."
"I never had an option to blend in," he added. "With my height, I was prominent. Plus I was the class clown as a kid, and I was good – still am – at public speaking. Whether I'm in a classroom or I'm at work or just hanging out, people are going to see me differently from everybody else, so I feel like there's not much point trying to be understated.
He said: 'If people are going to look at you, you might as well give them something to look at. So, I want to do more bold prints and colours, partly for me to feel like I'm confident and comfortable in the way I present myself."
Stylist Yang Derong saw Visa's height as a great asset. "Enjoy your height and your personality!" he said. "You are part of the hip set – dress cool and happy."
Pants are not a problem, according to Derong. "It's fine for Visa to wear pants that are shorter, that end above the ankle," he said. "He can even roll up the pants and wear boots, or long socks with shoes or trainers."
Derong updated Visa's "uniform" with a pair of black and white checkered pants that end above the ankle, pairing them with boots and a striped T-shirt. Rolling up the cuffs of the pants as well as the sleeves of the T-shirt give him a rebel feel, he explained.
"For meetings, he can just throw a jacket over it. It doesn't have to be a tailored jacket – a tailored hoodie looks good on him and adds a pop of colour."
Visa was surprised and pleased at the choice of outfits – cleverly styled, they worked beautifully on his frame.
"I really like the prints. I feel like it's really bold and it feels very assertive, very strong and artistic. I would never have thought to wear pants like these – it's actually nice, comfortable, it doesn't feel too formal nor informal. I like it a lot."
The grooming team also got to work on him. Visa was clear from the start that he was very attached to his facial hair and wanted to keep it. "We spruced and tightened him up," said Derong. "We trimmed him down, both hair and beard. He was totally cool with it."
Derong admitted that for guys like Visa, who are extraordinarily tall, "it's not the easiest thing in the world for them to find clothes to wear."
"But when they find something that they like and the length is not quite right or the sleeves are too long or the collar fits but the rest of the body doesn't fit – that is where we have to go in and do some stylistic adjustment," he said. "Look for things you can roll up, things you can tuck away, things you cheat with a little and get away with looking really good!"