Crash and burn: Racism and arrogance has imperilled Dolce & Gabbana
In a matter of just four days, the Italian marque has lost nearly everything it has built in its 33-year career.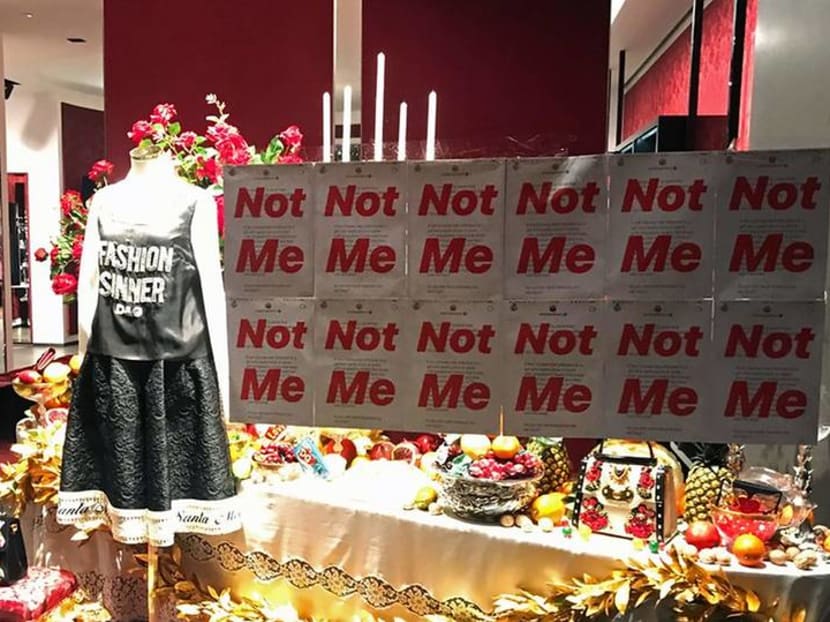 Yesterday, Xiang Kai, a director and writer based in Shanghai, burned more than US$20,000 (S$27,500) worth of Dolce & Gabbana products, including coats, a vest and bags. A previous fan of the brand, he said he also threw his shoes and watches from the label in the trash.
"The purpose of burning my clothes is to awaken the Chinese people and the Chinese nation," said Mr. Xiang, who posted photos online of his products in flames. "Some people say you've wasted a lot of money. I'm willing to waste this money for the nation's dignity."
He was among an untold number of people who have revolted against the Italian fashion brand that built its reputation on the ability to make Sicilian widows' weeds sexy. Earlier this week, the company released video clips widely seen as racist, pandering to old stereotypes (they featured a Chinese model being taught to eat spaghetti, pizza and a cannoli with chopsticks) in advance of a planned extravaganza of a show in Shanghai. Then Stefano Gabbana, a company co-founder and designer, appears to have engaged in a bout of insulting name-calling (including suggesting that the Chinese eat dogs) with a critic on Instagram. Mr. Gabbana said his account was hacked.
Someday this still escalating debacle may form the body of a new industry fable, one with a moral about the dangers of ill-considered direct communication, the swift retribution of the crowd and the hazards of cultural arrogance. But right now the story's most striking revelation is what happens when a history of playground-bullying online meets the economic force of the fastest-growing, most important and very autocratic luxury market.
The dominoes begin to fall. The pigeons come home to roost. The rats abandon the sinking ship. You become a veritable paragon of clichés! And a cautionary tale. After all, in the four days since, the brand has, in no short order:

Been forced to cancel the show;

Been excoriated by the Chinese celebrities and models slated to walk in the show;

Been the subject of videos of consumers burning, destroying and otherwise renouncing their Dolce products;

Had their physical locations altered, with the label's storefronts plastered with "Not me" posters mocking Mr. Gabbana's response to the scandal;

Disappeared from the site of Chinese e-tail giant Alibaba's TMall platform as well as jd.com, secoo.com, and department store Lane Crawford, which said customers had been returning the brand's products;

Been excoriated in the fashion press and the fashion enthusiast communities, with particularly passionate coverage coming from fashion industry watchdog Diet Prada;

And increasingly been abandoned by its European and American supporters, including the influencers the brand has expensively wooed over the last few years.
Net-a-Porter, the luxury e-tailer headquartered in London and owned by Richemont, has removed all Dolce products from their Chinese website. Lucky Blue Smith, a model/influencer with 3.2 million followers on Instagram who has become a millennial Dolce staple, posted a note on his account explaining his decision to skip the show that read in part, "We are all gods children and we should all be treating EVERYONE, EVERY CULTURE with respect. I will be back to China soon - love you all so much."

And apparently fearful of damage by association, fellow Italian brand MaxMara made a proactive statement Thursday on its WeChat account, stating "China, you're the best! I love you, homeland!"
Various fashion brands have been previously accused of cultural mistakes or insults. Australians took Chanel to task for its sale of a luxury boomerang. Zara was accused of using Nazi and alt-right hate symbolism on their products. Just this week Dior came under fire for ads featuring Jennifer Lawrence while purporting to celebrate Mexican heritage. Still, the Dolce incident is the first time this kind of misstep has had such global repercussions.
Spokespeople for Secoo and Net-a-Porter could not remember either company ever dropping a brand for such reasons before. As Angelica Cheung, the editor of Vogue China, wrote in an email, "This case is a wake-up call: a 1.4 billion population is for sure a huge consumption power, but if you don't get it right, hundreds of millions of people voicing their outrage on social media is a powerful force, hard to ignore."
Dolce & Gabbana released three statements, first saying its accounts had been hacked, then offering words of support for the people who worked on the canceled show and declarations of love for China. But it wasn't until the end of the week that the founders officially apologized in a video in Mandarin. They seemed to have underestimated the importance of Chinese national identity while also overestimating their place in the wider fashion ecosystem.

"The consumer is more selfish right now in feeling that China has a rich history and culture and is now a world power - that we know we are your most important customer base and you need to respect them," said Ben Cavender, a senior analyst at China Market Research, a consultancy based in Shanghai. According to the Boston Consulting Group, Chinese consumers are currently responsible for 32 percent of luxury goods sales worldwide, a number expected to grow to 40 percent by 2024, at which point the Chinese will drive 75 percent of the growth of the global market.
The hacking excuse, which could have been accepted at face value as a way for supporters to embrace the brand, has had almost no traction, in part because of Mr. Gabbana's history of hitting back at any criticism of the brand on his Instagram feed. Though traditionally the brand has seemed impervious to such controversies - indeed, has seemed to thrive on being politically incorrect - this time is different.
In the eyes of many in the international community, Mr. Gabbana has become the designer who cried wolf. You can't take on everyone from Selena Gomez to gay parents with bluster and venom and then claim you were hacked and expect to be believed.

As Susie Bubble, a London-based critic, street style star and front-row regular, posted to her 440,000 Instagram followers, "this is yet another example of a misguided diva creative director in the upper echelons of the industry throwing his weight around and vomiting over social media in a reckless manner that impacts on a billion dollar company with thousands of employees as well as umpteen parts of the industry that would have been flown into Shanghai for what was supposed to be a media/celebrity fueled extravaganza."

Estelle Chen, the Victoria's Secret model, had a similar reaction, writing: "saying your accounts (both personal and official: Dolce & Gabbana) were hacked shows how much of a coward you are. Could you please at least take responsibility for your behavior?"

The brand's track record of insensitivity has not helped. Dolce has been called out in recent years for labeling a US$2,395 pair of shoes "slave sandals" (in 2016; they later changed the name to the more innocuous "decorative flat sandal") and including earrings that looked like they were made of blackamoor faces in a 2012 collection. They have also banned a number of critics from shows (The Times has not been invited to a Dolce show for over a decade; Women's Wear Daily, W magazine, Italian Vogue and Vanity Fair have also been rejected at various times).
Dolce & Gabbana is also the only major Italian brand that has refused to join the Camera Nazionale della Moda Italiano, Italian fashion's governing organization and lobbying group, and does not appear on the official Milan Fashion Week schedule. As a result, Carlo Capasa, the president of the Camera della Moda, which has always been fiercely protective of Italian brands and industry and which might have been expected to come to the brand's defense, simply said he couldn't make a statement about the situation because Dolce was not a member.