The mess of modern power dressing: Many proposals, few conclusions this fashion season
On this season's runways, the question of what constitutes "power dressing" today was raised.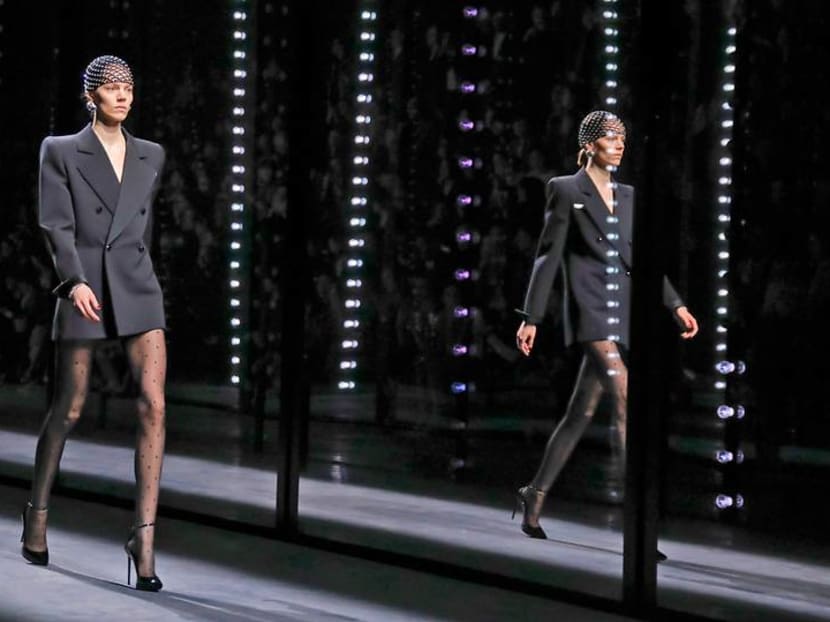 What does female power dressing look like today? As Theresa May fights for her political life and agenda in a bright red jacket and statement necklace, strict black suits and pearls, and Alexandria Ocasio-Cortez exerts a magnetic force in a shoulder-pad-less white shirt and plain skirt at the South by Southwest festival, it's hard not to wonder.
The struggle to provide an answer formed the subtext of the recent fashion season, which ended last week in Paris. Many proposals were made, but few conclusions reached.
Backstage at Givenchy, for example, Clare Waight Keller talked about "power shoulders" and created big domed ones of tweed on her pantsuits and sharp ledge ones on jackets. They were dwarfed only by the linebacker shoulders at Saint Laurent (often paired with micro-hemlines), the bolster shoulders at MaxMara and Hugo Boss, and the soft shoulders at Chanel.
At Celine, Hedi Slimane riffed relentlessly on the Dress for Success era in culottes and blazers, not to mention the Margaret Thatcher pussy-bow blouse. At Burberry, Riccardo Tisci offered his version of adult dressing (following his version of Gen Z dressing) in the form of ties and cardigans and trenches. Thom Browne subverted the Man in the Gray Flannel Suit by turning him into a woman – and then turning his suits into trompe l'oeil sheaths.
Rick Owens name-checked "the power of glamour" as expressed in film; so did Julien Dossena at Paco Rabanne. There were combat boots everywhere. Also a lot of pinstripes. That's three entirely different suits of armor.
Watching, you thought: Aha – 1980s power dressing is back! Then you thought: Aha – it's the 1940s! Then you thought: The 1970s? Then you thought: Whatever.
There was no consensus. It was a messy state of affairs, and it reflects our messy current understanding of the situation. Which may actually be the real point. And why it matters.
THE QUESTION OF POWER
"Power dressing" is a term we throw around often and easily, kind of like "sustainability," without really grappling with a definition. In part that's because the definition changes with culture and society. We tend to think, as Justice Potter Stewart said in a 1964 Supreme Court case, "I know it when I see it." But what if that's no longer true? Does it matter?
Once upon a time, power dressing was identified with the uniform of the ruling class, whether demarcated by gender or profession or race, and those who would have access to it. Once upon a time, during her husband's first presidential campaign, Michelle Obama wore floral dresses with sleeves to sugarcoat just how strong she really was.
What the runways revealed is just how incoherent such tropes have become.
We are in a convulsive moment of change, one in which the old order and the new coexist in uneasy alliance; one in which received notions of presentation are increasingly being rejected in favor of individual identity. A person's experience and history are worn as badges of pride, not disguised so as to better blend in.
The codes (because what is power dressing but a dress code by another name?) of old are going out the window. Both those that are explicit and dictated, and those that are unspoken but widely accepted.
This is a more complicated proposition for everyone: Designers, consumers, viewers, job hunters. More choice is always harder. It places the burden on the dresser as opposed to the majority. It requires active thinking about clothes and identity as opposed to passive shopping.
FASHION IS NOT THE ANSWER?
In an email exchange, trying to hash this all out, Richard Ford, a professor at Stanford Law School who is working on a book on dress codes, wrote, "There is a lot to like in the demise of overly stringent dress codes and such, but it's also true that the old uniform of business suit had a certain democratising power – everyone from world leaders to file clerks wore a suit, and eventually as the workforce became integrated, there were standard feminine versions as well – a safe bet for women who wanted to command respect."
Fashion isn't there to provide a solution to the problem. That's up to individuals.
This is why, increasingly, designers seem to explain their shows as being aggregations of "characters", and different kinds of women being given different ways to signal their aspirations. This was a thing, for example, at Marc Jacobs, who gave us a bit of it all – big voluminous protective garments and florals and feathers and rigorous minimalism – and at Louis Vuitton, where Nicolas Ghesquiere's piazza full of performers and BCBG art dealers and rockabilly kids brought Paris to a close. It has become the essence of Alessandro Michele's Gucci and its success, which maybe should have taught us all something.
You can see the flux as a sign of weakness or inability to commit. (I've levelled that accusation on occasion.)
But maybe instead of wanting a neat and easy new look, we should be celebrating the confusion and what it signifies. A loosening of bounds, a pivot point, an expression of the reality that diversity of all kinds (thought, aesthetic, opinion) is on the rise, and that the uniform is no longer an object of desire. An acknowledgment that there are many kinds of power and ways to design for them.
By Vanessa Friedman © 2018 The New York Times