Expert tips: How to stop makeup transfer on your face mask once and for all
Because your foundation or face powder is supposed to stay on your face, all you'll need is setting makeup spray. Here's how to do it.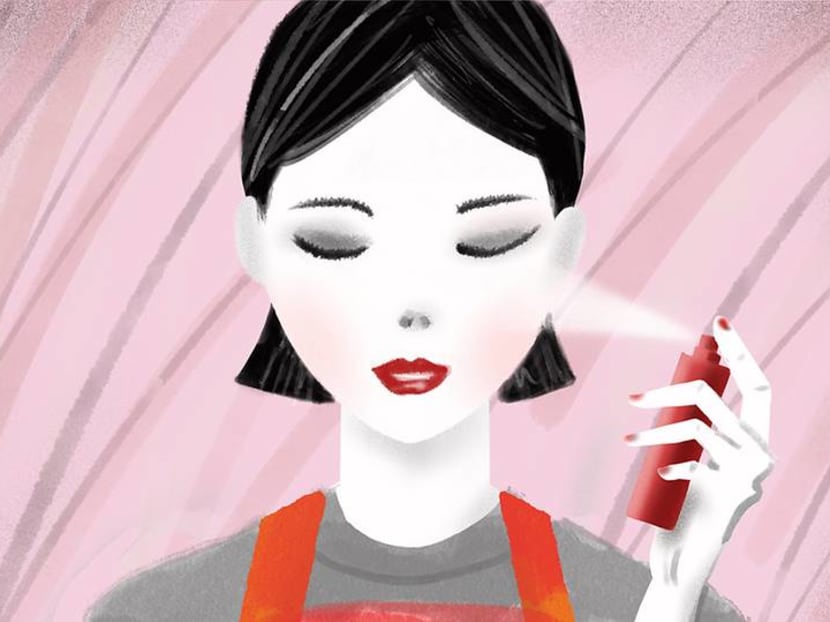 How does one keep her makeup intact under a face mask? While budge-proof lip colour is a good place to start, what about makeup on the rest of your face? 
Foundation/concealer/face powder transfer on your snazzy face mask is not a good look. The heat and humidity don't help either – sweat, sebum and moisture gathered under your mask could fade your makeup or, worse, cause your carefully applied makeup to look patchy or streaky.
According to celebrity makeup artist Elain Lim, a setting makeup spray is all you need to solve these makeup woes. "It helps the makeup adhere and hold onto your skin better, thereby minimising foundation transfer," she explained.
ALL IT TAKES IS A SPRITZ
The setting spray is not new to the market but few are aware of what a difference it can make to how makeup lasts. What's also noteworthy is the fact that it can also eliminate "cakey-ness", giving your application a more natural and "filtered" appearance – a major plus point for those with mature skin or those who are heavy-handed with powder application.

CHECK YOUR TECHNIQUE
If you want your base makeup to stay on your face, not your mask, set your makeup with face powder before spritzing on setting spray – the setting spray should be the very last step of your makeup routine.

Once it's on, don't talk, smile, or move your face muscles until it is completely dry to ensure that your makeup sets perfectly.

"Apply the setting spray evenly across the face in a zig-zag motion at least 20 cm away from your face," advised Lim. "Do it a little more liberally on the nose bridge, your jawline and the area under your eyes – zones of the face where the edges of your mask will sit."
When putting on setting spray, you should avoid hitting your face in forceful spurts as this may dissolve the makeup and mar its finish. For the best results, setting spray should land on your skin in a light, fine mist and not disturb the makeup on it.
Once it's on, don't talk, smile, or move your face muscles until it is completely dry to ensure that your makeup sets perfectly.
To further prevent makeup transfer, Lim has a suggestion. "I would recommend a translucent face powder instead of a pigmented one to minimise the mess that makeup can leave on the mask."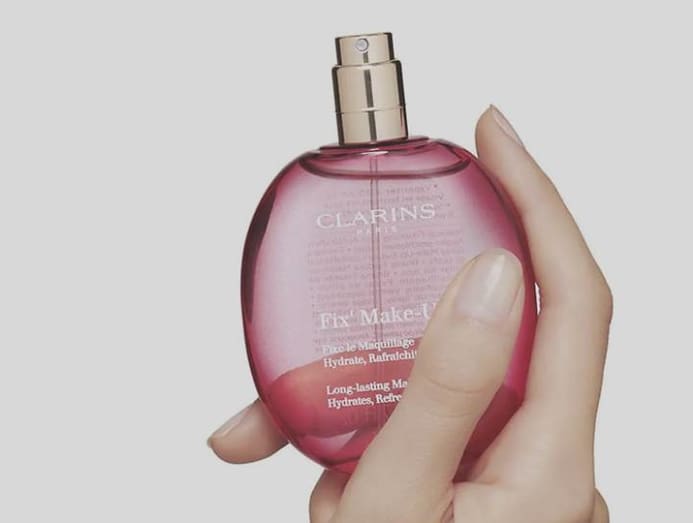 Lim's personal favourites include Urban Decay's popular All Nighter Makeup Setting Spray (S$48 for 118 ml), which boasts a formula that lowers skin temperature to help lock makeup into place, and Clarins' Fix Makeup (S$45 for 50 ml) which contains skin-soothing ingredients like rose and aloe extracts.
Both formulas work best for those with normal or combination skin. However, if you have oily, dry or problem-prone skin, you might want to pay closer attention to the ingredients list before making a purchase. 
HYDRATE DRY SKIN
If you have dry skin, avoid formulas that are alcohol-heavy. The Make Up For Ever Mist & Fix's (S$50 for 100 ml) alcohol-free formula also increases skin's hydration levels on application.

Look out for formulas that contain hydrating ingredients such as glycerine or hyaluronic acid, which help supply your parched skin with the moisture it needs. 
The Tatcha Luminous Dewy Skin Mist (S$72 for 40 ml) may not be marketed as a setting spray, but can benefit very dry or flaky skin by helping the makeup blend better into it and imparting a soft glow that obscures fine lines and skin texture.

MATTIFY OILY SKIN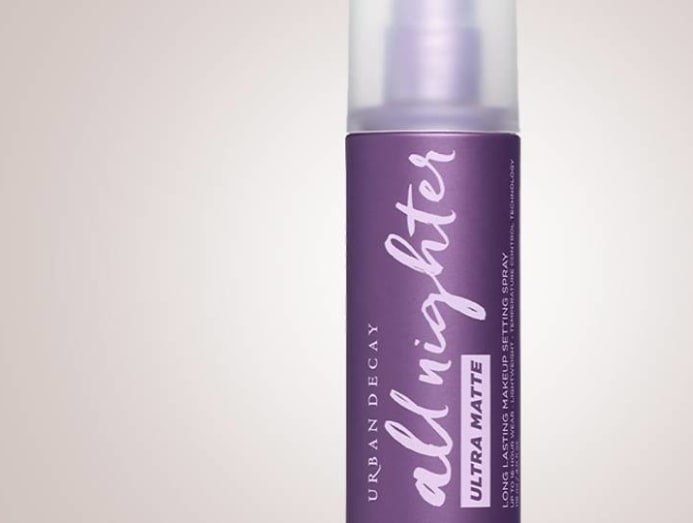 If your skin tends to get oily easily, it's best to avoid hydrating sprays that are designed for those with dry skin. Try formulas that are oil-free and won't exacerbate your skin issue, like the ultra-matte version of the Urban Decay All Nighter Makeup Setting Spray (S$48 for 118 ml).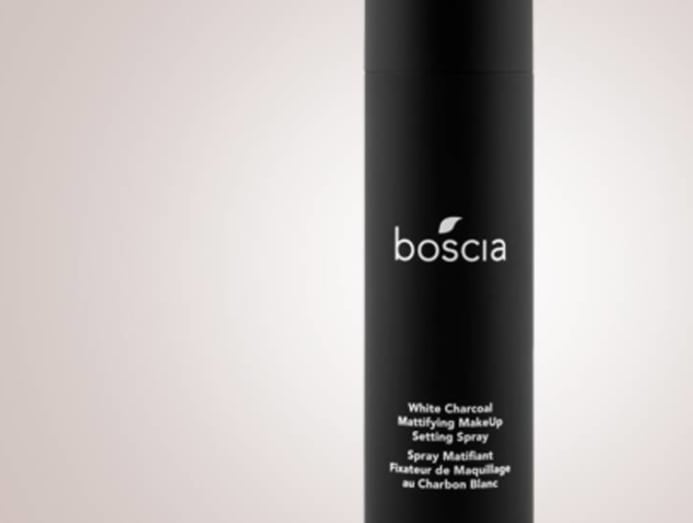 You can also opt for sprays that contain ingredients with oil-control properties, such as Boscia's White Charcoal Makeup Setting Spray (S$65 for 150 ml), which mops up excess oil on the skin with kaolin and charcoal powder, and even minimises the appearance of large pores.

PROTECT SENSITIVE SKIN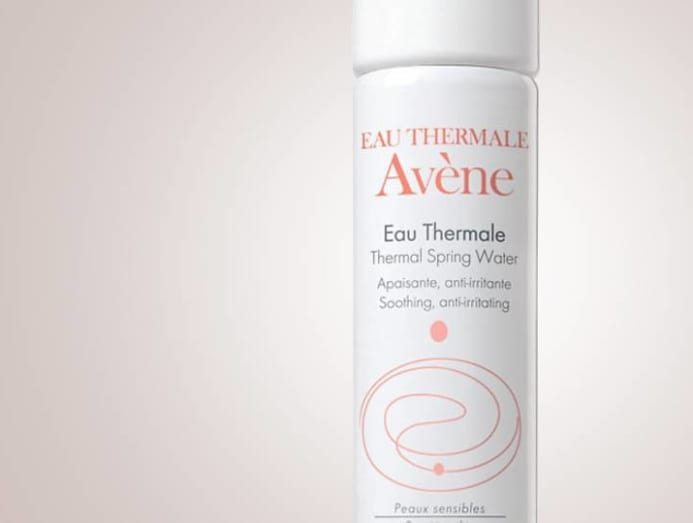 Alcohol-free setting sprays are the best bet for those with sensitive skin, but if you'd rather play it very safe, you can consider using a mineral water mist like Eau Thermale Avene's Thermal Spring Water Mist (S$10 for 50 ml) or an all-natural facial skincare mist such as Caudalie's Grape Water (S$13 for 75 ml).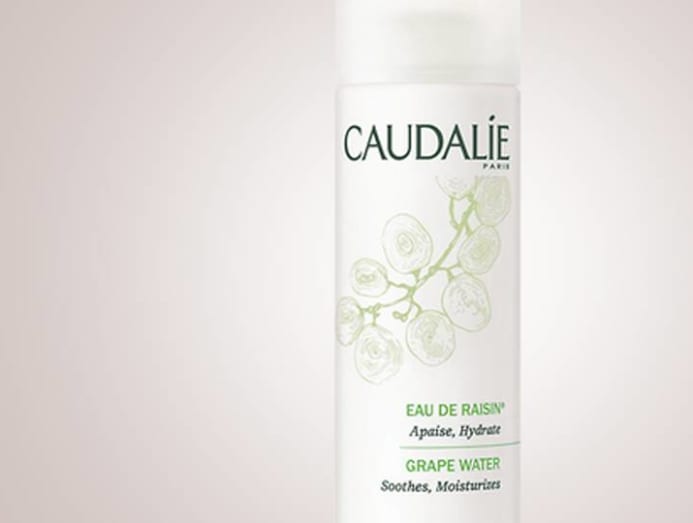 "Back in the day, before there was setting spray, mineral water mists were commonly used by makeup artists to set or refresh makeup," said Lim. "But of course, they don't perform as well as setting sprays since they do not contain the ingredients that lock in makeup."