Why watch aficionados should collect niche brands, according to Arnold & Son
Specialist marques offer collectors something unique, its COO Florian Serex tells CNA Lifestyle.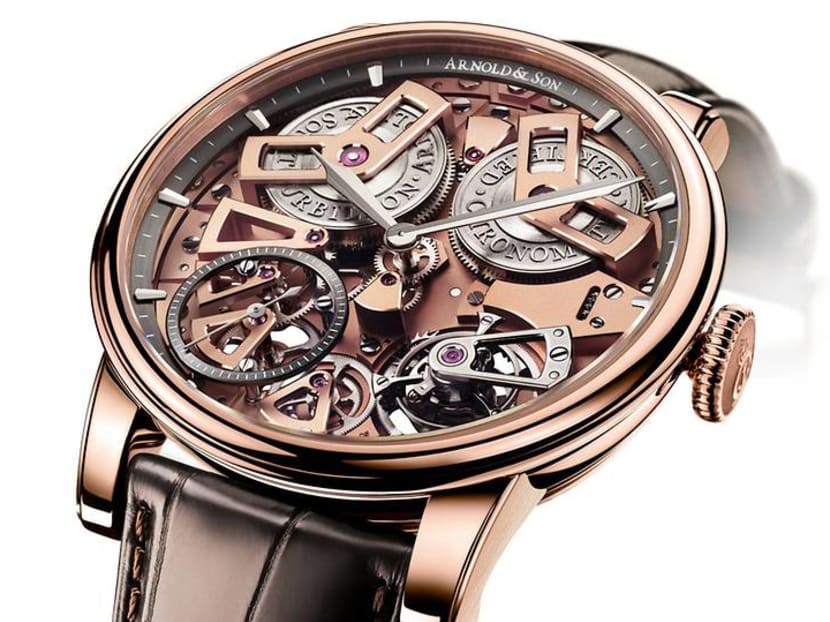 For the most part, watch collectors go through a cycle when it comes to their prized collections. They typically start off with entry-level pieces from renowned name brands. They then progress to higher-end models from those brands. At the top of their game, they start acquiring rare watches, limited editions, vintage pieces, and unusual creations from niche or independent watchmakers.
Niche brands like Arnold & Son produce only 600 timepieces a year – a far cry from the purported one million tickers that roll off Rolex's factory floor annually. The chances of an Arnold & Son wearer bumping into a fellow aficionado are therefore pretty slim.
Not all watch collectors are into niche brands though. Some bemoan the lack of after-sales service or customer support.
CNA Lifestyle spoke to Arnold & Son's COO, Florian Serex, who was in Singapore recently, to assuage collectors' concerns.
WHY SHOULD A WATCH ENTHUSIAST COLLECT NICHE BRANDS?
When you want something that not everybody is wearing, perhaps it is better to look for a niche brand. And you do not need to spend too much money. For S$15,000, you can get our HMS1. The Nebula is S$20,000. And you will have something special on your wrist.
WHAT ADVICE WOULD YOU GIVE TO A WATCH ENTHUSIAST WHO IS LOOKING TO START COLLECTING NICHE BRAND TIMEPIECES?

He or she should find out if the brand produces their own movements, or if it is a brand related to history. It could be something historically significant, or connected to the history of watch development.
With Arnold & Son, we have at least these two specifications. We are continuing the work that was started by John Arnold (1736 – 1799), a watchmaker who worked for England's King George III. We now operate from Switzerland, so we are a Swiss manufacture.
We design all our products in-house. We produce, assemble and test the components; redesign them if there are problems; fix the problems; and then produce the decorations. We only work with suppliers for the cases, but even then it is a close partnership.
WHAT ASSURANCE CAN YOU GIVE THAT A WATCH FROM A NICHE BRAND LIKE ARNOLD & SON WILL HOLD ITS VALUE?
I cannot give any assurance of that, but I can say that our brand will not die tomorrow or in two years' time because we have a huge group behind us (Citizen Watch). We can repair the watch if it stops or has a problem. We can refresh the movement. We have components. Our watches are not like electronic or connected watches. With those watches, it might be difficult to find components after two years. But you can restart our watches even after 200 years. Just add a bit of lubricant!
So many brands claim that they are manufactures, but not many of them have the machinery that can sustain in-house production.

SOME CUSTOMERS OF NICHE BRANDS LAMENT THE LACK OF AFTER-SALES SERVICE AND/OR CUSTOMER SUPPORT. WHAT ASSURANCE CAN YOU GIVE?
If they bought the watch from a retailer, they can bring it in to the retailer and we will repair it. We have an international guarantee. If a customer in Singapore bought the watch in Hong Kong, he/she would need to go back to Hong Kong, return the watch, and we will repair it. If the customer returns the watch in Singapore, he/she would need to pay the GST first, and then we will repair it.

WHAT SHOULD A POTENTIAL ARNOLD & SON CUSTOMER START WITH? ARE THERE ANY PARTICULAR MODELS TO CONSIDER?
The HMS1, which has a central hour/minutes indication and a small seconds display at six o'clock. It is a beautiful watch, very thin, with a 90-hour power reserve and a see-through back so you can see the decoration on the manual-winding movement.
If he/she already owns a similar watch from a "standard" brand, perhaps he can skip the HMS1 and jump on the Nebula. It is not a skeletonised watch. It was built to be completely exposed. From the top you can see the whole movement, the barrels, the gear trains, and the balance wheel. From the bottom, you can see the gear train that is used to set the time.
After that, on this same line of architectural products that were specifically designed to show the internal functioning of the watch, you have some other models. The next one can be the Tourbillon Chronometer 36, where you can see the barrel, gear train, and a tourbillon. You can see how a tourbillon works, and the 50 pieces inside a tourbillon.
​​​​​​​WHAT IS THE MOST OVERRATED THING ABOUT WATCHMAKING TODAY?
So many brands claim that they are manufactures, but not many of them have the machinery that can sustain in-house production. But we do.