'Woman, Southeast Asian, landscape architect': Thailand's Kotchakorn makes mark at global climate change talks
GLASGOW: David Attenborough was in the middle of arguably one of his most important public calls to action. To more than 100 world leaders, on the biggest stage at the opening of global climate change talks in Glasgow, he called on delegates to rewrite the human story in the face of a monumental challenge.
As he paused, for a moment, another face appeared onscreen with a decidedly different accent.
"Can we fix the climate problem in one generation? My answer would be yes. We have to," said Kotchakorn Voraakhom.
The Thai landscape architect was as surprised as anyone to be seen in front of the world's most powerful people. "Oh my gosh. I just had no idea, actually," she said. "My friend in the US posted it on Instagram and I thought, what am I doing there? Of course, I feel definitely honored and very surprised."
The video excerpt was from an interview Kotchakorn had done in the lead up to COP26, a short film in a YouTube series sharing the voice of the people on the frontline of climate change. 
Kotachakorn was last year named a United Nations Global Climate Action Award winner for her transformative work building innovative landscape solutions for urban resilience in Bangkok.

That recognition gave rise to her attending COP26 in the UK, which began on Nov 1. Given the logistical difficulties, the ongoing COVID-19 pandemic and the apparent limited access to the conference from attendees from the Global South, she admitted that she felt fortunate to even be there.
"It's such a slim chance. It's like you win the lottery, not the first prize but yes. I feel that if I didn't get this award, if I didn't get recognition, and I still try to fight this battle, it would be impossible," she told CNA.
The 40-year-old's work has made an impact in Bangkok, where she founded her urban design firm, Landprocess. She has been a leading voice promoting functional green spaces in Bangkok's new developments and converted spaces.
Her sights have been set on sustainable green infrastructure that makes the city more liveable, walkable, and suitable for its future and new uncertainties to come.

At a campus for Thammasat University, Kotchakorn's designs have given birth to Asia's biggest rooftop garden, a place with incredible aesthetics and true function.
The 22,000 sq m space recreates a rice terrace, includes micro-watersheds from its cascading roof and has expansive areas for students to grow organic vegetables and herbs. It has aesthetics but more critically, purpose.

Opened in 2017, Chulalongkorn Centenary Park is a critical piece of functional architecture that reduces inundation risk in the city during periods of heavy rain, by collecting, treating, and holding millions of litres of water, reducing pressure on sewage infrastructure.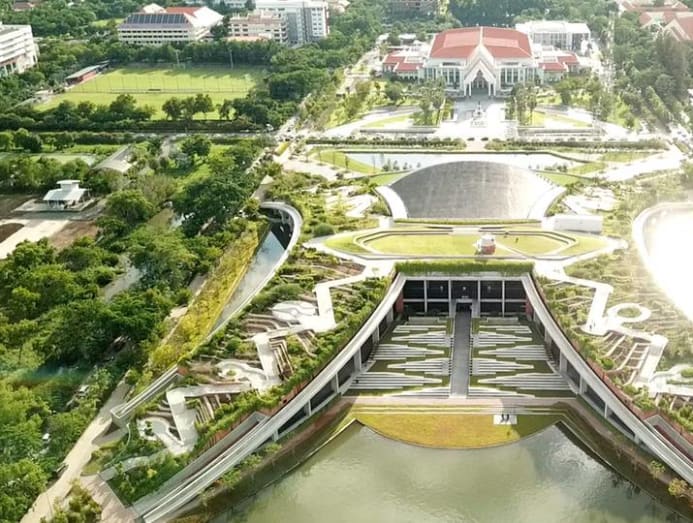 Bangkok is one of the world's most vulnerable cities to climate change impacts. The megacity is slowly sinking, just as sea levels rise. It means much of the city could be underwater within decades and increasingly exposed to dangerous flooding.

The looming crisis, and the chance to witness global talks up close, has given Kotchakorn more perspective about the need for greater action, the inequalities that exist and the frustrations of political negotiations.
"I'm glad that there is COP, but I think there should be more impact to those who are really in the crisis," she said.
"Let's say, woman, Southeast Asian, landscape architect - and that's one seat," she said, describing her own situation.
"There are not enough seats at the table. You say, don't leave anyone behind, but we don't even have a seat. 
"What about the millions of seats that are missing? What about those who have a small factory next to my house, people on the street, those who are still using buses burning gas? Much of what we're talking about is so high up."

Kotchakorn intends to focus more on areas of greater need in Thailand's capital, including restoration of the city's crucial but poorly maintained canal networks. She said that exciting projects are in the pipeline, working closely with local government units.

Her work is full of urgency, a feeling only further endorsed by her short moment in a very bright spotlight at COP26.
"Right now, we can see we are most vulnerable, especially delta cities like Bangkok, Jakarta, Penang, many cities in Vietnam, Manila, definitely," she said.

"They're so vulnerable and if we don't adapt I don't think we will exist on the map."