COP26: World leaders promise to end deforestation by 2030, but most Southeast Asian countries yet to sign on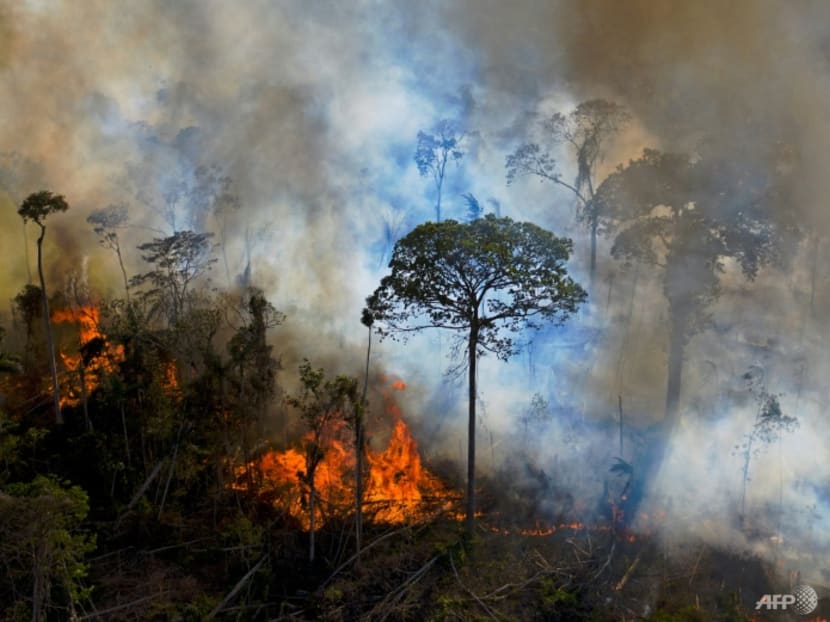 GLASGOW: More than 100 countries have signed a pledge to halt and reverse forest loss and land degradation by 2030 as a tool to combat climate change and limit global temperature rise.
Yet, despite the signatories including some of the world's largest forest custodians, including Brazil, Indonesia and the Democratic Republic of Congo, most countries in Southeast Asia did not make the commitment.
Collectively the signatories account for 85 per cent of the world's forests. Among the Association of Southeast Asian Nations (ASEAN) member states, only Indonesia and Vietnam have committed.
The Glasgow Leaders' Declaration on Forest and Land Use, issued at global climate change talks at COP26 on Tuesday (Nov 2), promises to better conserve forests, accelerate their restoration and promote sustainable practices that do not encourage land degradation. It also pledges to empower indigenous people and local communities as well as significantly increase finance for sustainable agriculture and forest management. 
Under the declaration, US$12 billion of public funding will be mobilised over the next five years in developing countries, on top of additional funding to be provided by the private sector.
Forests are crucial in efforts to slow down the onset of climate change. The World Resources Institute estimates that forests absorb nearly one third of all carbon emissions. But their effectiveness is being compromised by human activities, including ongoing deforestation.
Southeast Asia is home to nearly 15 per cent of the world's tropical forests, yet also has one of the fastest rates of deforestation. 
While vast areas of forest have already been lost, what remains are crucial carbon stores that scientists say need to be protected.
Ms Nonette Royo, a human rights and environment lawyer and the executive director of the Tenure Facility, which works with local communities on sustainable forest management, said it was disappointing that Southeast Asian countries with crucial responsibilities to preserve forests had not signed the declaration.
"That's really a letdown. For me, it's on our wish list for those countries to come forward," she told CNA on the sidelines of COP26.
"But it has not negated the movement in the countries. In all those countries, there are still people mapping, documenting and waiting for when the opportunity comes for those rights to be registered in the system," she said.
Simply having indigenous people recognised in the leaders' declaration was a huge positive after years of striving for their voices to be heard in the corridors of power, Ms Royo said. She also singled out the impact it could have in Indonesia, a country with huge forest resources and ambitious plans to use that land to decarbonise its economy.
"For the president of Indonesia to say indigenous peoples, it's very important because Indonesia has not officially said that before. They say legal customary communities. So that's significant," she noted.
The declaration coincided with a separate pledge for a massive injection of private and government funding for Indigenous people and local community tenure rights and forest guardianship. 
The UK, Norway, Germany, the US, and the Netherlands, in partnership with 17 funders, pledged to invest US$1.7 billion, a significant increase in funds directly available to forest groups and communities, which is currently predicted to be only US$46 million annually.
It is estimated that indigenous groups manage about half of the world's land and 80 per cent of the Earth's biodiversity. Yet, land ownership remains overwhelmingly tenuous and these groups have been historically frozen out of decision making about forest management.
"We welcome the financial pledge. It's really the first time we're seeing a global partnership of influential nations and donors responding so dramatically to the evidence of indigenous people, playing an outsized and unsung role in conserving the nature of the world," said Ms Victoria Tauli Corpuz, an indigenous activist and the former UN Special Rapporteur on the Rights of Indigenous Peoples.
"This isn't just about securing carbon. Securing rights for indigenous peoples also benefits the integrity of our ecosystems and biodiversity, reducing pandemic risk," she said at a launch event for the new funding pledge in Glasgow.
"We will decide what accountability looks like based on our culture. There is no nature based solution for climate change if indigenous peoples are not central to every proposal."
There are multiple threats that remain to the world's forest resources, including mining, fossil fuel extraction, land grabbing, clearing for agricultural expansion, illegal logging, narcotics trafficking and financial speculation.
"There's exploitation, still. The growth agenda where the only places to grow is to dig, cut, demolish, resettle. The only counter to those challenges are the pledges, the Nationally Determined Contributions, the sustainable development goals that governments commit to," Ms Royo said.
"We're racing with time."
For the declaration to be successful, and for funding to provide benefits to important forest areas in Southeast Asia, local communities need to be put in the driving seat, according to Mr David Ganz, the executive director of RECOFTC.
"To stop these emissions, indigenous peoples and local communities must be fully at the table where decisions are made," he told CNA.
"They must have a prominent role in implementation. And they must have support to ensure they can participate effectively in climate action. 
"Forest communities hold the solutions to protecting the world's most biodiverse ecosystems yet only 1 per cent of global climate finance is reaching Indigenous peoples, traditional owners, and local communities," he said.