COP26: Indonesia needs more climate help from developed countries, Jokowi tells world leaders in Glasgow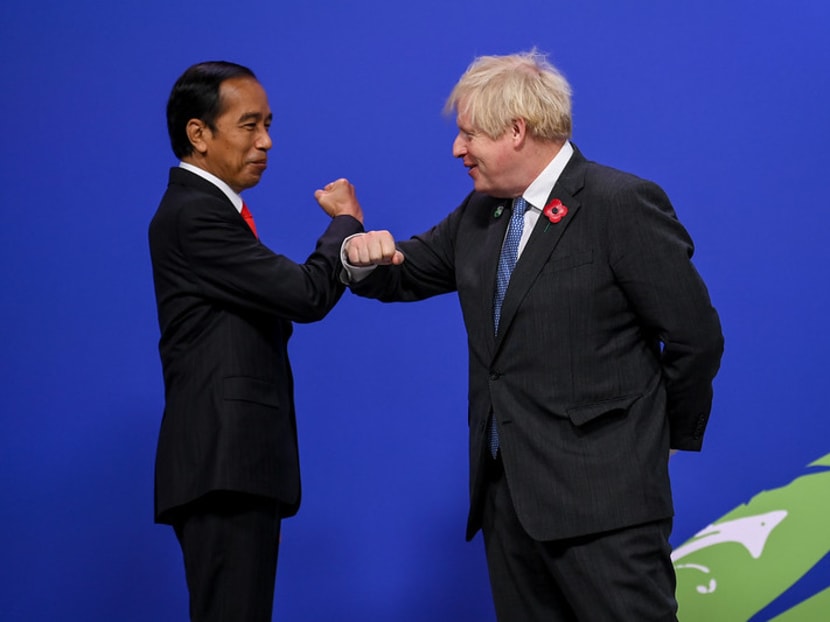 GLASGOW: Indonesian President Joko Widodo said on Monday (Nov 1) that developed economies need to contribute more funds and share technology in order for his country to ramp up its climate change efforts.
In his speech as part of the World Leaders Summit at the United Nations global climate change summit (COP 26), Widodo highlighted Indonesia's efforts to use its abundant natural resources as a key strategy in lowering its carbon emissions, while describing climate change as a "major threat to global prosperity and development".
"With its abundant natural resources, Indonesia continues to contribute to tackling climate change," he said.

"We, countries with large green areas and re-greening potential, as well as countries with vast seas that have the potential to contribute to carbon sequestration, need support and contribution from developed countries."
Developing countries are pushing the world's richest nations to deliver on a pledge to deliver US$100 billion in annual financing, which was initially agreed to as part of the Paris Agreement.
Since then, those funds have largely not been mobilised. According to a new report released ahead of COP26, the funds are not expected to be provided until 2023.
Under its updated climate targets - known as Nationally Determined Contributions, submitted before COP26 - Indonesia outlined three pathways to a low carbon economy, the most ambitious being contingent on foreign assistance.
That path would see the country meet its Paris Agreement commitments and progress towards net zero emissions by 2060 or sooner. It also pledged that its most polluting sector - forestry and land use - would reach emissions peak by 2030.
"Fulfilment of climate finance by developed partner countries is a game changer in climate change mitigation and adaptation for developing countries," Widodo said.
"Indonesia will be able to contribute faster to the world's net zero emissions goal," he added.

"The question is, how big are developed countries' contributions for us? What kinds of transfers of technology will be provided? This creates action and implementation as quickly as possible." 
NET CARBON SINK
The challenges ahead of the world's fourth most populous nation are steep, as it looks to protect and restore its vast forests and peatlands and reform an energy sector heavily reliant on fossil fuels.

The president told the summit that deforestation in Indonesia had dropped to the lowest levels in 20 years, forest fires were down 82 per cent in 2020 and that the rehabilitation of huge areas of mangrove forests was underway. 
The Indonesian government wants its forestry sector to be a net carbon sink that absorbs more carbon dioxide from the atmosphere than it produces by the end of this decade.

Its national strategy still does not outlaw all deforestation, which has typically been driven by land clearance for palm oil and timber plantations in the past.
Widodo also highlighted Indonesia's efforts to develop an electric vehicle ecosystem, build Southeast Asia's largest solar power plant as well as the world's largest green industrial park in North Kalimantan.
RELIANCE ON COAL
That region is one that still relies heavily on coal production, an issue that is being hotly debated at COP26. 
The UK, the host nation of COP26, has been pushing for a timeline to stop the burning of coal and end the building of new coal infrastructure, which Indonesia has not committed to.

Leaders at the G20 Summit in Rome this week did reach an agreement to phase out overseas coal financing by this year.
Indonesia is still staunchly reliant on coal - it is the second-largest producer of the resource and the biggest seaborne coal exporter. 
But it has a roadmap for a massive rollout of various renewable energy infrastructure using new technologies, given the energy sector could become the country's heaviest polluting industry within five years
Alue Dohong, the country's vice minister of Environment and Forestry, echoed his president's message at COP26, telling CNA that Indonesia might be able to reach its net zero goal earlier than 2060 if developed nations provide the necessary help for a clean transition.
"If financial assistance or technological assistance is available from developed countries, then we can make it even earlier than 2060. That's the condition. I think that's possible," he said.
"This challenge, particularly related to finance, needs to be a shared burden with other countries. We hope they will commit to fulfill their pledge or promises.
"Without that kind of US$100 billion per year, it's probably very difficult for developing countries to address climate change. We hope, because we have to be positive thinkers."
Speaking at an event for Indonesian ministers at COP26, the minister for finance, ​​Sri Mulyani said carbon markets and pricing instruments would provide the platform for a low emissions "transformation", domestically and globally.

But she warned that Indonesia would not be taken advantage of.

"This is a global game, but within this game, Indonesia has to protect our own interests," she said.
Indonesia will start collecting a carbon tax from the operators of high emitting coal power plants from April next year.