Transforming 'Trash Island': Amid plastic crisis, skies are clear over the Maldives' notorious mountain of waste
The government has passed ambitious laws on plastic as it looks to overhaul the dysfunctional waste management policies of the past.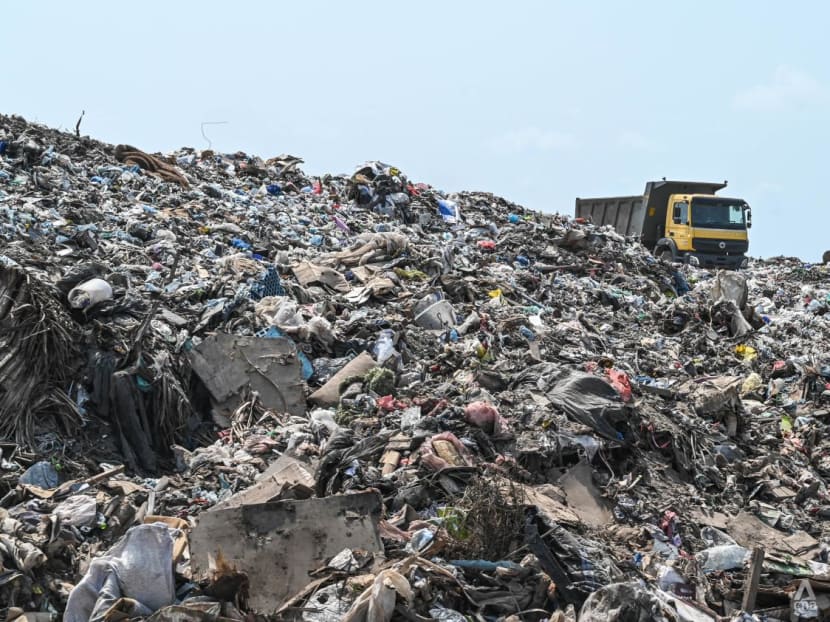 MALE: For years, the Maldives has been feeding a heaving mountain of trash on fire. Wicked, noxious smoke has belched from its burning surface, polluting the skies, showering the surrounding area with black ash and spilling waste into the sea. Locally, it is known as "Trash Island".
Thilafushi is not the sight one imagines when thinking of the Maldives. But it is the legacy of the booming development of this tourism-driven island nation.

It has been a blight on the Maldives that could no longer be kept hidden away from the world. As the global plastic crisis worsened, the pressure on the country's limited space and infrastructure became impossible to ignore.  
"For many years, it has been a source of national shame," said Aminath Shauna, Maldives' Minister of Environment, Climate Change and Technology.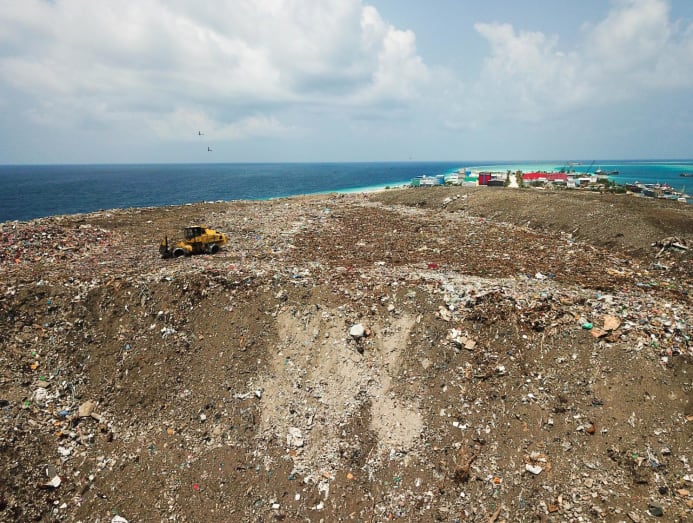 It never used to be like this. This was once a clear lagoon with shallow coral until the early 1990s when the government designated it as a dumping spot for the country's garbage.
"All the waste we have produced since 1992: all the kitchen waste, all the plastic waste, all the chemical waste, all the waste that is coming from resort construction, everything has been dumped into this lagoon. Now a landfill has become an island, an island that is reclaimed from waste," the minister said.

"And for many, many years, this dump site has been burning openly. Because we have not managed our waste for all these years."
Since September last year though, the fires have been extinguished. It was one of the most visceral changes in a major transformation under way at Thilafushi.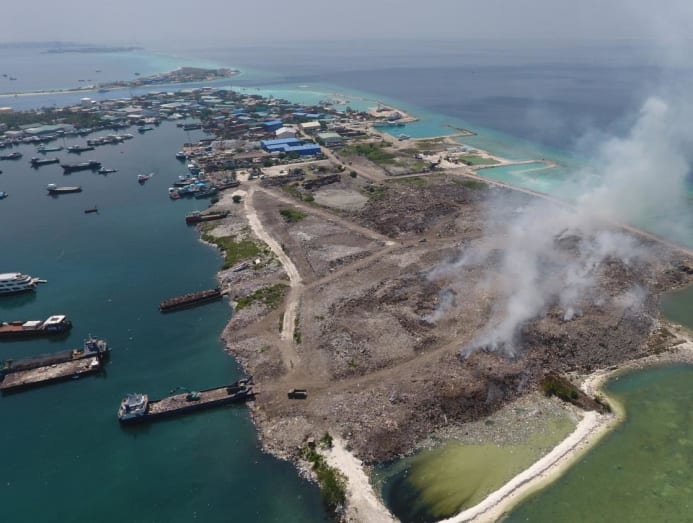 "When I was here the first time, it was like hell. It was hell burning all around," said Guenter Hacklaender, a consultant for the Asian Development Bank (ADB) charged with providing the practical expertise to assist local waste personnel to deal with the burning.
"The people who work here were openly breathing this. And it was very bad for their health. It was crazy. At first, I didn't know what to do," he said.
The mountain is still an ugly work in progress. It will not disappear any time soon, but the immediate harm caused by its existence has been nullified. 
Heavy-duty trucks and compacting machinery traverse the path that winds itself up to the peak. This is the highest viewpoint in the entire country and it still grows, as more waste is dumped at the top before being crushed.
Still, there is order now - waste is finally being sorted and baled ahead of future incineration. By 2024, with the support of several multilateral donors, there is an expectation that this area will be home to a state-of-the-art waste management system, including a waste to energy facility. The two-phase project is valued at US$211.13 million.
Included are ambitious plans to establish a modern waste collection, transfer and disposal system in the Greater Male area, which includes 32 islands. The logistics are steep and expensive, but the need is urgent.
Right now, up to 1,200 tonnes of waste is shipped into Thilafushi every day. Recycling rates are dire. The changes cannot come soon enough for a country being inundated with plastic.
"The conservative estimate shows that we produce at least 20,000 tonnes of plastic annually in the Maldives. And just about 5 per cent of that is recycled. The rest either ends up in landfills or it's burnt or it's in the ocean," Shauna the minister said.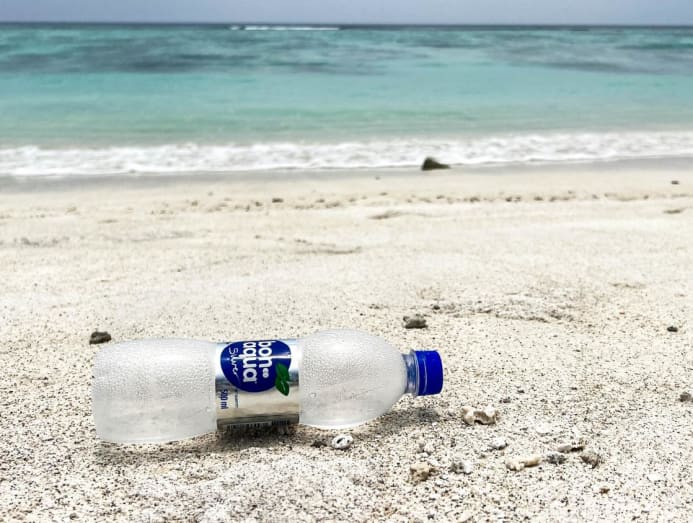 EMPOWERING LOCALS
Throughout the Maldives' nearly 200 inhabited islands, the challenge of plastic waste being generated and washing ashore, is a constant.
On the small island of Gulhi, there is no formal system for handling waste at all. Food scraps are thrown into the sea, including from the island's hotels and guesthouses. 
Plastic and other materials are piled onto a steaming landfill close to the shoreline where they are burnt when the winds are favourable and do not blow back towards the tourist beach.

"We don't have enough resources or enough budget to manage the situation or even to build a safe location to dump the waste," said Mohamed Raisan, the secretary-general of Gulhi Council.
"It's not the proper way. The talks are ongoing and the government is planning something but so far we haven't done anything," he said.
Eventually, islands like this will be covered by a Greater Male project. Biodigesters are meant to be installed to handle organic waste, simple infrastructure will enable local authorities to sort their waste and collection will be covered by purpose-built vessels operating out of Thilafushi.

These islands all suffer from a shortage of fresh drinking water, a situation exacerbated by climate change. It has resulted in the increased reliance on bottled water, the remains of which litter the landscape.

Empowering island communities to intercept this plastic at its source is a task that has been taken up by Parley Maldives, an environmental organisation focused on ocean protection and the upheaval of the plastic economy.
"I think the easiest to convince, in many ways, are the populations of these small communities. Because they are very much interested in a solution. They are very conscious. and they know the damage it is doing. The demand is now there for change," said the NGO's director, Shaahina Ali.
Since 2015, Parley Maldives has given presentations on conservation to approximately one-third of the national population and collected 1,700 tonnes of plastic from the environment and exported it overseas to be repurposed. If burnt, this amount of plastic would have emitted 21 million kg of carbon into the atmosphere, according to Shaahina. 
"It is much worse than it was before. Because we have a lot of plastics, styrofoam packaging and all the stuff that comes with tourism and development. The local population is also very dependent on imported stuff and everything has packaging," she said.
"I think we realise now what has happened. The Maldives is really struggling with that realisation. We are overwhelmed with it because we have prioritised different things like tourism and waste generation has increased and we have not put in the infrastructure to handle it."
With an infrastructure strategy falling into place, the government is also in the process of enacting some of the most ambitious plastic legislation in the world. 
The import of many common single-use plastics is already banned and a legislative amendment to ban the production of such plastics in the Maldives is expected to come into effect in June. The country also wants to phase out all single-use plastics by 2030.
These targets will be assisted by a program called Plastic Drawdown, a rapid assessment tool developed by international experts, including scientists. It helps stakeholders work out how plastics are getting into the environment and the types of policies that could be effective to prevent that.

"Plastic Drawdown has been able to visualise the trend in growth of the problem and also disaggregate it by type of plastic," said Arturo Castillo Castillo, a research fellow at Imperial College London's Centre for Environmental Policy, who was a member of the research team

"That is very powerful in providing a basis for action on policies targeted to specific kinds of items such as drinking water bottles and above all it allows governments to monitor progress and to engage with other elements of the supply chain whenever possible."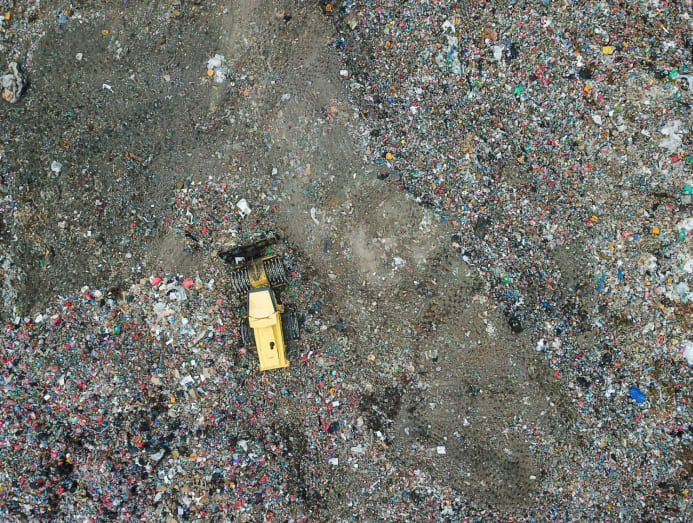 Plastic pollution in the world's oceans is predicted to quadruple by 2040 without decisive action from governments and corporations, according to a research study by the Ellen MacArthur Foundation.
The Maldives cannot solve that issue but wants to be an example, particularly for other island states.
"We are ahead of the game. But we also realise that there's a lot more we need to do," Shauna said.
"Our contribution to global plastic pollution is negligible. But we will still have the most ambitious targets. And we will work to achieve them to demonstrate to the rest of the world that if there is political will, we can find ways to address these issues."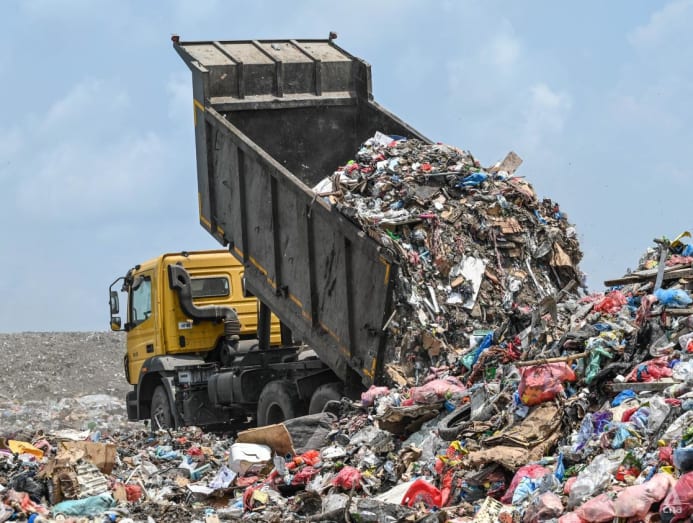 JUST SCRATCHING THE SURFACE
There is a strong acknowledgment of the problem and of past mistakes among decision makers. At Thilafushi, the years of neglect are being addressed directly and openly.
"In order to bring the change, in order to make a difference, you need to own something that is not right. You need to believe it, you need to know that something is not right. And now we believe that. Believing is not enough, you need to act upon it. So now we have a solution," said Imjad Jaleel from the project management unit for the Greater Male Environment Improvement and Waste Management Project.
"Waste can be reduced, it has to be reduced, it has to be recycled. But also we need to find a way to deal with the existing waste because no one is going to take our waste from us. It's something that we generated, so we better take care of it.
"There's an issue in maintaining and sustaining our image for the next 10 to 20 years if we don't really take care of this problem of waste. This beauty that surrounds us can only be as it is if we really act responsibly. This shame can no longer be hidden."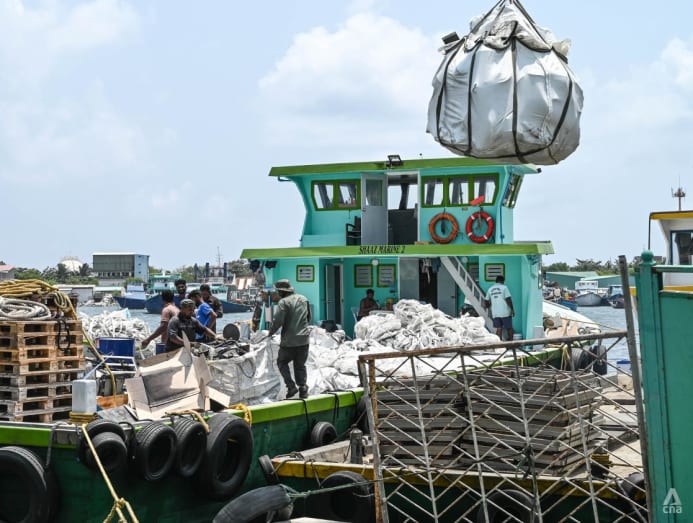 There are many years of hard work ahead to modernise Thilafushi and the entire waste management chain that flows into it. Much of that will fall onto Waste Management Corporation Limited (WAMCO), a local government unit in charge of daily operations.
"I think we've just scratched the surface. The work that we've done and the goals we've achieved, including extinguishing the fire and smoke is a major milestone. But I think ahead of us are the bigger challenges," said Ahmed Shafiu, WAMCO's general manager.
"It's about changing the 20-plus year-old mindset of people in terms of managing waste, changing the current management procedures, proper handling of waste at the household level, at community level. So, we are talking about a major behavioural shift."
The waters around "Trash Island" are now starting to rehabilitate following land reclamation to provide a buffer zone from the waste. From the heights of the landfill, the lagoon looks shimmering and blue, akin to a Maldives postcard.

It is a small change, but perhaps one unimaginable just five years ago. It could be symbolic of that shift the country is so badly in need of.