Shopping smart: How are Qoo10, Lazada and Shopee gearing up to get people to spend big on Singles' Day?
Live-streaming, buddy flash deals and working with sellers to pre-pack popular items - these are just some of the ways e-commerce platforms here are upping the ante ahead of one of the year's top online shopping draws.
SINGAPORE: Yes, that day of the year is coming.

Singles' Day - aka 11.11 - on Nov 11 is the world's biggest online shopping event where items can go for up to 90 per cent off their usual sticker price.

Enthusiasm for the one-day shopping spree has been growing since it was first introduced locally by Chinese tech giant Alibaba in 2009. It has since gone on to be a global event, with Alibaba raking in US$25.4 billion in sales from the 2017 edition alone, and the gala was attended by Australian actress Nicole Kidman, US artiste Pharrell Williams and Chinese stars like Zhang Ziyi, among others.
That success has spawned similar efforts by other e-commerce platforms such as Lazada, Shopee and Qoo10 hoping to cash in on the phenomenon.

But how are they ramping up their efforts to entice consumers to their platforms and making sure the items purchased are delivered on time? Channel NewsAsia spoke to all three to find out.
LAZADA

NEW FEATURE(S): As the e-commerce platform backed by Alibaba, it's no surprise that Lazada is adopting features that are commonly seen on its parent company's Taobao platform. One of these is in-app live-streaming, a new element being rolled out this year, said Lazada Singapore CEO Alexis Lanternier.

"Since social selling is quickly becoming an important decision-maker for shoppers, our live-stream function will allow customers to shop directly from the stream and engage with the brands and personalities in real time," Mr Lanternier told Channel NewsAsia in an email.

He added that a Snap to Shop function will also make its debut this year, where shoppers can take a picture of something they like and find the exact product or something similar.

WE HEAR YOU: The Lazada Singapore CEO shared that it will also introduce a Chat function, something which shoppers had requested. Based on its findings, the consumer is three times more likely to complete the purchases if the query is responded to within 30 minutes, he added.

GAME ON: Lazada will also rely heavily on gamification tools to get shoppers to spend more time on its platform in the hope that they will spend more, similar to the approach taken by its rival Shopee (read more below).
One example is Shake It, which was introduced on Nov 1 and will run till the actual day. Consumers can shake their mobile phones at designated game sessions to try and get shopping vouchers, Mr Lanternier shared.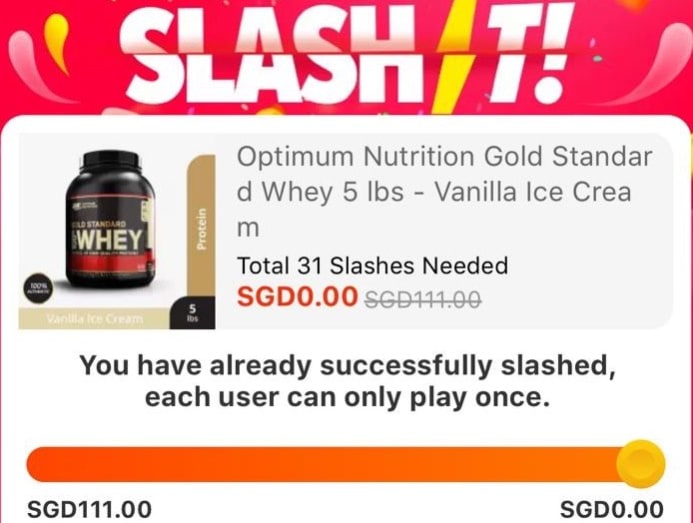 Another feature called Slash It, which runs from Nov 1 to Nov 10, gives shoppers the opportunity to lower the price of a product by sending the product link to their friends. The more these friends "slash" the price, the lower it gets for the buyer, he explained.   

MEETING DEMANDS: Mr Lanternier said the 11.11 sale is growing in popularity, and Lazada Singapore expects "at least three times more sales and orders to fulfil" compared to last year's numbers, which he did not disclose.

To meet this demand, he said the company started preparing earlier this year and has ramped up its manpower "multifold" to facilitate faster packing, as well as introduced more automation in its warehouse. The latter initiative was road-tested for the smaller-scale 9.9 shopping day, which saw productivity increase by 30 per cent, the executive claimed.    

He also pointed to the recent announcement of its partnership with 7-Eleven and Ninja Van to offer parcel collection at the convenience stores instead of relying on home deliveries, as another way of meeting shoppers' needs. The service is now available at 159 stores and will be deployed to the remaining 350 by year's end, "which should ease last-mile delivery challenges", he said.

SHOPEE
NEW FEATURE(S): Shopee, the e-commerce unit of Singapore tech company Sea, will be having the third edition of its 11.11 shopping event this year, and one of the features it is bringing to the table is Flash Deals reminders.  
Head of marketing Tao Ruoshan told Channel NewsAsia during a recent interview that shoppers had told them: "I saw the upcoming offer and want to get it, but when the Flash Deal started, they forgot to return until it was too late.
"They'd say: 'Oh my god, I forgot! Can you bring it back?'" Ms Tao recounted, adding this reminder would help shoppers keep track of their wishlist items.
Another feature that will be deployed is the voucher wallet, which allows shoppers to collect vouchers that various sellers are offering. On checking out their items, they can go to this wallet to use the applicable voucher and get better deals, she explained.   
This was first introduced at its earlier 9.9 event and, asked how the feature was received, Ms Tao said: "Given that Singaporeans are not very vocal when it comes to (praising positive things), not receiving any complaints is a very good thing."

WE HEAR YOU: See Flash Deals reminder.
GAME ON: Not to be outdone in the shakes stakes, Shopee is bringing back its in-app game Shopee Shake, which it said was well-received at the earlier 9.9 shopping event.
The game essentially allows shoppers to invite up to 10 friends (for 11.11) to form a group and, at stipulated times, "shake" their smartphones to earn Shopee coins, which can then be used to offset purchases.
Ms Tao shared that more than 500,000 sessions took place on Sep 9 and believed the "social and fun" feature is a hit among online shoppers. More recently, on the first themed day leading up to 11.11, Shopee saw a greater number of shoppers playing in groups - 1 in 3 players, up from 1 in 4 during 9.9, she said.
MEETING DEMANDS: The marketing head shared that her team has been working with sellers, such as audio companies JBL and Marshall, to identify popular items through analytics. With the information, these sellers can then pre-pack the items, she added.
"They typically spend up to three working days in advance pre-packing the relevant products," Ms Tao said.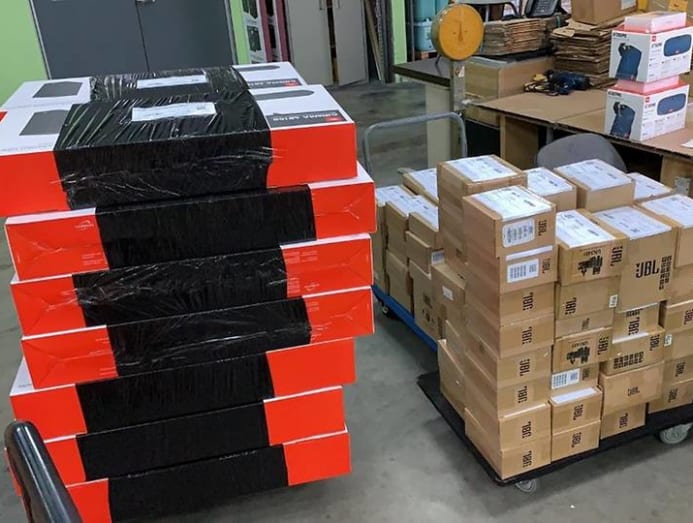 To make sure there is no downtime for the site during this season, the Shopee executive said its product team had worked to forecast traffic and put in place measures to ensure its servers have sufficient capacity.
"Closer to the event, they will also be conducting a series of stress tests to ensure that we will be able to effectively manage the influx of traffic," she explained.

QOO10
NEW FEATURE(S): Buddy flash deals, auction events and lucky draws are some of the features Qoo10 is bringing to the table this year, as it looks to end a milestone year, with a bang.
The e-commerce site, which is operated by Singapore-based Giosis, had sold off its Japanese assets earlier this year for a war chest to compete with its deep-pocketed rivals mentioned above.
Yet, it is competing from a position of strength. According to findings from Malaysia-based online shopping aggregator iPrice, Qoo10 remain the most visited e-commerce site in Singapore for the third quarter of this year, with more than 10 million monthly visits, followed by Lazada (6.3 million) and Shopee (2.5 million).
On the buddy flash deal feature, Mr Cho Hyunwook, manager of Qoo10 Singapore, said he expects participating customers to "save as much as 90 per cent off the usual price" of said products.  
WE HEAR YOU: One of the areas Qoo10 is paying attention to is how checkout coupons, made available during major events, are being used – particularly the balance between the discount provided and minimum spend required.
For instance, Mr Cho said it is seeing increasing consumer confidence in purchasing bigger ticket items like larger home electronics and smartphones. "Accordingly, our most valuable discount coupon for 11.11 this year saves the user S$110 for a minimum spend of S$800."
GAME ON: There are some gamification features leading up to the actual day such as a "lucky claw machine" game, but it's safe to say this is not a priority for the company.  
MEETING DEMANDS: Mr Cho said the company has been working to increase the efficiency of its delivery network to prepare for this year's shopping day.
He said one of the most common bottlenecks in huge online shopping festivals like 11.11 is parcel processing and delivery time, which often suffer because of the overwhelming volume of orders to process.

As such, it made "significant upgrades" to its backend systems like moving to a larger facility with a conveyor belt system that can automatically sort up to 4,000 parcels an hour, the manager revealed.
"This has allowed us to heavily reduce the intensive labour needed to manually sort items, and cut processing times by half," Mr Cho said.
"This, in turn, has allowed us to create a second time slot in the afternoon for dispatching deliveries, rather than our previous system of dispatching once a day in the mornings."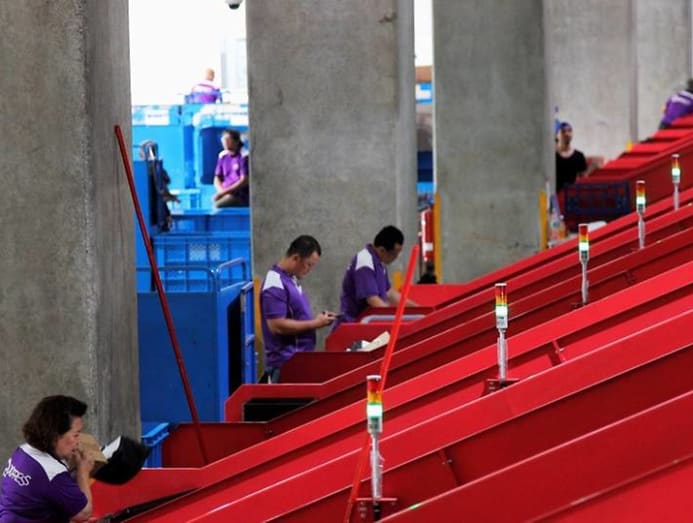 With all that said and done, which of the three platforms will you be mainly shopping out of come Singles' Day?