'Like being in a sci-fi movie': Exploring the sights and roller coasters of Dubai
Dubai knows how to have fun, and when it does, the motto seems to be "go big or go home". At least that's what GOLD 905's Mike Kasem and Vernetta Lopez discovered.
Depending on who you ask, Dubai means different things to different people. For frequent fliers, it's a major transit hub and the home base of Emirates. For business folks, it's an international financial centre. This city of superlatives is home to the world's tallest building, the world's largest shopping mall and the world's biggest air-conditioned theme park.
"Landing in Dubai was like being in a sci-fi movie, a make-believe place. It's really cool!" said Kasem, who visited the emirate with Lopez in late November. The pair spent six days there and recounted their experiences on air that same week. You can check out their videos here.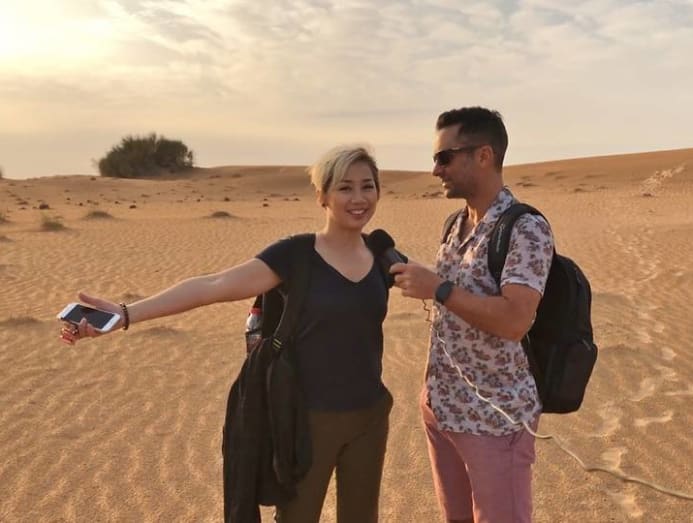 Interest in Dubai as a holiday destination is expected to pick up over the next two years in the lead-up to the 2020 World Expo, which the emirate is hosting. Together, Emirates and Singapore Airlines offer five direct flights a day from Changi Airport, with a flight time of just over seven hours – roughly the same time it takes to get to Melbourne or Sydney.
"There is just so much to do there!" Kasem added. "I had no idea of the number of things they have going on for couples, families etc. You're not going to run out of things to do." That said, here are seven experiences that should not be missed in Dubai, according to Kasem and Lopez.
BURJ KHALIFA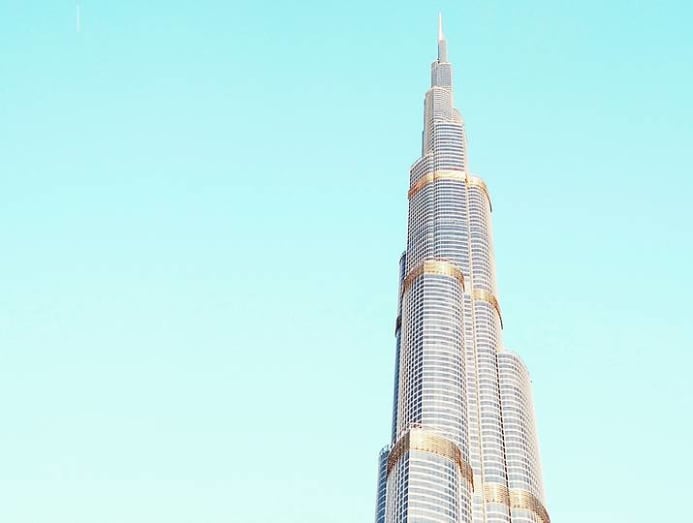 Piercing the heavens at over 828m, the 163-storey Burj Khalifa is the world's tallest building. The lift to the 124th storey (442m) observation deck hurtles you up in less than a minute, and is an exhilarating experience in itself. Even more thrilling is the viewing gallery on the recently opened 148th storey, which offers a real bird's eye view of Dubai.
The building is so massive that it reminded Lopez of a CGI rendering. "I went, 'No way, this isn't real!' And when you go in, they show you how they built it and everything. [But even if you don't go in] just sit in a park and stare at it for a while, because you're in the midst of human greatness."
"We were lucky because the 148th storey had just opened up," she added. "And it's quite calm. The way they organise the timings… when you get up there, it's not too crowded. And then there's this VR experience, where you put on a pair of VR goggles and [it's as if] you're clinging on to the outside of Burj Khalifa like Tom Cruise!"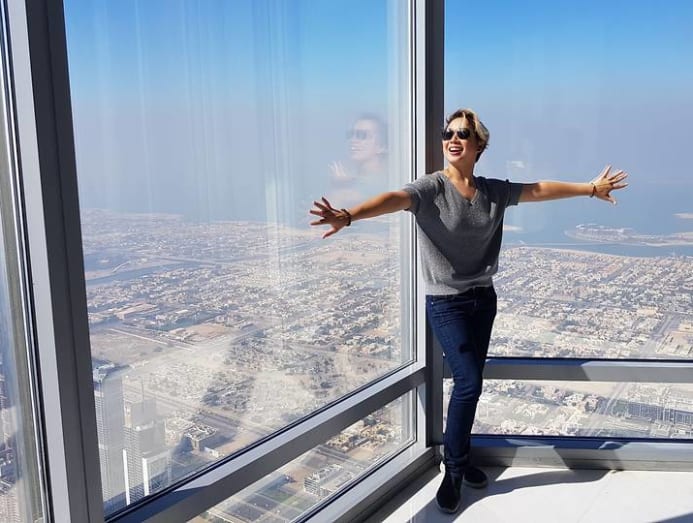 As its name suggests, the Dubai Frame is an enormous, 150m-tall by 93m-wide structure that frames views of old and new Dubai like a photo mount.
"It looked like a big picture frame… but when you go inside, you're surrounded by a 360-degree screen [showing a simulation] of the future of Dubai," explained Kasem. "And they're showing you what they're working on: Automated cars, drones, medical care… basically how technology is going to be integrated in our lives."
But the oohs and aahs didn't end there. Kasem and Lopez rode the lift to the 48th-storey Sky deck and had a pleasant surprise.
"There's a guy who'll ask you to take a few steps forward onto a clouded-out piece of Plexiglas. But once you step onto it, it goes clear. And when you look down, you're 'suspended' 48 storeys up! It took us 15 minutes just to be able to walk out onto it!"
For families who enjoy shopping and want to travel around the world on a budget, Lopez recommends visiting the Global Village. This enormous open-air bazaar, about half the size of Sentosa, consists of 30 pavilions that showcase cultures from 75 countries.
"They have country pavilions – Egypt, Pakistan, India, Morocco, China etc – with food, shopping, jewellery, homeware, as thought you were in [those countries]," explained Lopez. Vendors from different countries are brought in to add an air of authenticity to the experience.
"Every six months, they demolish the entire place and rebuild it [the next season]," Lopez added. "And they build it bigger each time. They do it because some of the facades melt in the summer. So you can go back every year and it'll look different each time, because they keep refreshing the themes. And different vendors come in."
Kasem believes it's a place that Singaporeans would love because "it's dedicated to shopping, food and entertainment. And it's great for pictures."
For more information, visit https://www.globalvillage.ae/en/
IMG WORLDS OF ADVENTURE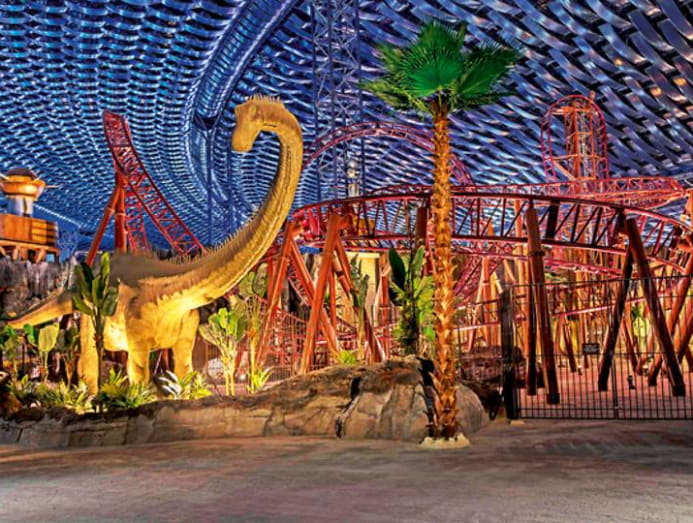 This indoor, air-conditioned theme park is the world's largest, and boasts four zones: Cartoon Network, IMG Boulevard, the Lost Valley – Dinosaurs Adventure, and MARVEL. Each zone comes with its own themed rides and attractions. In the MARVEL zone, for example, the rides are based on fan favourites like Spiderman, The Hulk, Iron Man, Thor and The Avengers.
This was a highlight for Kasem. "They actually have roller coasters! The Spiderman ride we went on was also awesome. They built it to be like you're casting a web on the side of a building and you're swinging around the side of that building," he enthused.
Another surprise was the high quality of the food. "We went to a Lebanese restaurant – because I'm half Lebanese – and it was so good! You don't expect good food in a theme park, but this [restaurant had] some of the best Lebanese food I've ever eaten," Kasem said.
For more information, visit: https://www.imgworlds.com/language/en/#
AQUAVENTURE WATERPARK
Aquaventure Waterpark is the largest of several waterparks in Dubai. It's part of the 5-star Atlantis The Palm Hotel, a 1,539-room resort situated on the outer edge of The Palm Jumeirah – the artificial island chain shaped like a palm tree.
The waterpark is home to slides and rides like the 27.5m-high Leap of Faith plunge, as well as a zipline that carries you across the park. If all that is too much adrenaline for you, you can choose to hand-feed friendly Cownose stingrays.
Lopez recommends staying at the hotel so that "you've got the whole day to take all the rides, do the zipline, and take the Leap of Faith – that crazy slide where I thought I was going to drop a lung or something – it's a straight-drop-down water slide!"
She added: "Families can spend two to three days in the park, suntanning on the beach, and just enjoying the resort atmosphere. There are so many water playgrounds for the kids as well."
For more information, visit https://www.atlantisthepalm.com/marine-water-park/aquaventure-waterpark
DUBAI AQUARIUM & UNDERWATER ZOO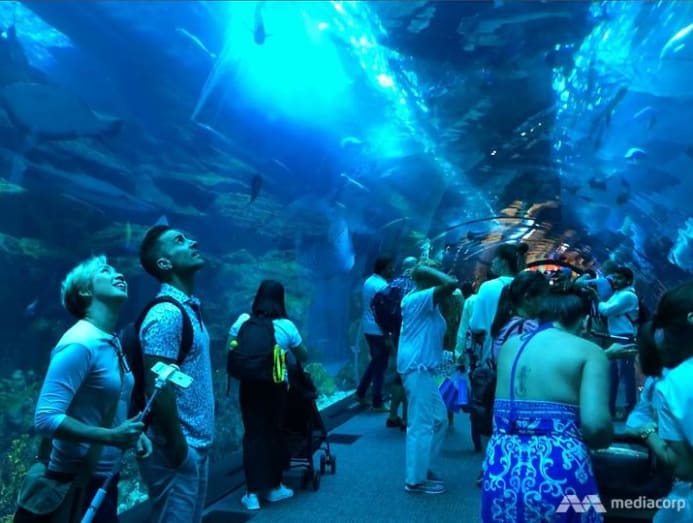 Remember the iconic aquarium in the basement of Wisma Atria? Well, imagine that, but scaled up several times. Dubai's Aquarium & Underwater Zoo – located in Dubai Mall – is a massive 51m long, 20m wide and 11m high.
The 10 million-litre tank contains more than 33,000 sea creatures, including a collection of sand tiger sharks. There's also a 48m-long tunnel within the aquarium that allows you to observe the creatures swimming overhead.
"It's like the S.E.A. Aquarium in Singapore," noted Lopez. "But in the middle of a mall, [where you also have] crocodiles so massive it'll blow your mind," she added, referring to the Australian Saltwater crocodile display.
Kasem, on the other hand, was blown away by the Shark Walker experience that he took part in, where "without a diving licence, you can [put a diving helmet on] and go for a walk with sharks".
For more information, visit https://www.thedubaiaquarium.com/en/Default.aspx
SHEIKH MOHAMMED CENTRE FOR CULTURAL UNDERSTANDING
If you have any burning questions about Dubai, the UAE or the cultures and traditions of the region, the Sheikh Mohammed Centre for Cultural Understanding is the place to go. The staff welcome any questions, no matter how sensitive they might be.
"You get to ask any question you want: Culture, religion, fashion, how [the locals] live," Lopez described. "And you can really get to know them. [You'll realise that] they're just like us, living life, enjoying life."
During the Q&A sessions, visitors can also get to sample traditional Emirati snacks, such as saloona (an Emirati stew), chabab (a pancake) and mhammar (spiced local fish). There's also a full schedule of cultural activities to take part in, including Arabic classes, heritage tours and guided mosque visits.
The centre is named after Sheikh Mohammed bin Rashid Al Maktoum, the Vice President and Prime Minister of the UAE, and Ruler of the Emirate of Dubai. "He's like the Lee Kuan Yew of Dubai. Everyone loves him," explained Kasem.
"When you go on tours, you get the sense that this visionary knew what to do to get people into the country, [locals] to embrace foreign cultures, and foreigners to come in to work, play and trade. The country has grown to become what it is because of his ideas," said Lopez.
"Fishing and pearl diving were the original trades. Which is odd, because when you think Middle East, you think oil. That's the parallel with Singapore. It's all about trade. Making it easy for people to do business. And those people could prosper along with the natives," she added.
For more information, visit https://cultures.ae/