A road trip through time: Fascinating central Greece on less than €350
Journeying from the Acropolis and Temple of Zeus of 4th century BC to hipster bars and cafes of modern day Instagram, central Greece is endlessly fascinating – and affordable.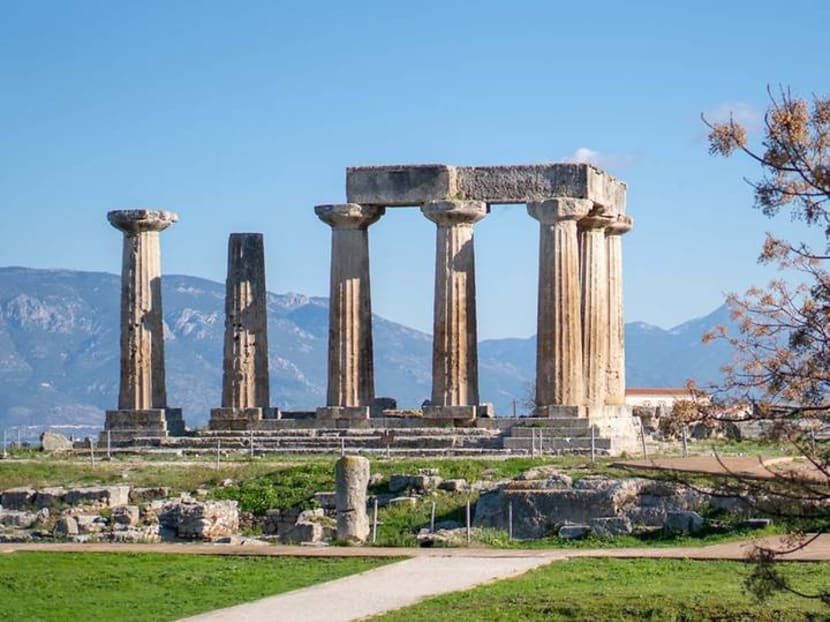 I trudged up a path through the Sanctuary Of Apollo, situated on the Southern slopes of Mount Parnassus in Delphi, an ancient city-state in central Greece. Panting like a dog, half regretting all those times I had chosen to stay in bed instead of hitting the gym, half hoping the exertion would not be in vain. (That's not true. I never regret staying in bed.)
It was mid-winter in Greece, but my friends and I had stripped down to our T-shirts from the climb. We had already marched past the ruins of the Temple of Apollo, so named after the Olympian Sun God who, according to myth, had vanquished a serpent-dragon at this very site.
Then, just when we were about to call it a day, we looked up and found ourselves utterly awestruck.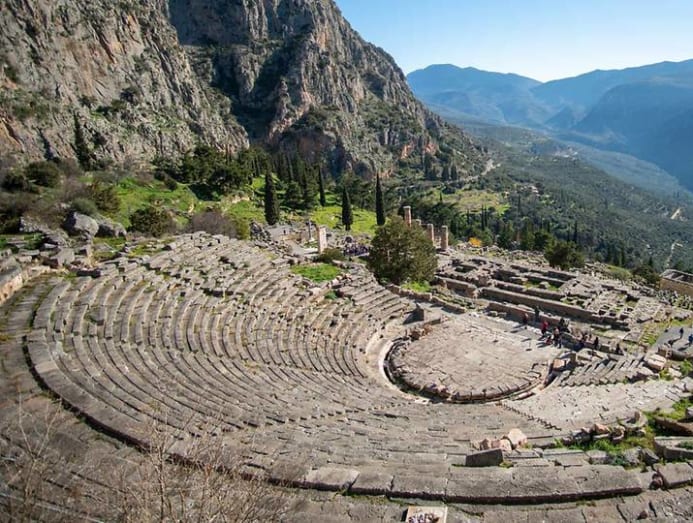 We had arrived at the theatre, a magnificent structure built in the 4th century BC with a capacity of 5,000. Unlike the Temple of Apollo, where only a few columns dating back to 4th BC remain, the theatre has been kept mostly intact, thanks to refurbishment efforts that go as far back as the 2nd century BC.
Sitting on a rock near the top of the expansive theatre, I wondered how the ancient Greeks must have felt attending a play or poetry reading here, surrounded by such spectacular views of the valley and temple below.
WHERE MYTH AND REALITY MEET
In some ways, to travel through Greece is to journey between myth and reality, to glide through centuries hidden in little moments, in luscious country landscapes, and in wonders both ancient and new. And, as I came to discover, one does need a bit of imagination to properly enjoy one's trip.
Since we were visiting in the winter, my friends and I decided to explore central Greece rather than visit the country's more popular beach destinations, mainly because we did not want to have to wear down jackets over our bikinis.
We also decided to book our trip through a small agency instead of handling it ourselves – after our last trip to Hainan ended in semi-disaster, when the five of us had to share an Airbnb apartment that came with a single squatting toilet with no door. You live and learn, people. You live and learn and outsource the work.
Happily, our four-day tour came up to only about €345 per person for three nights accommodation in 3 to 4-star hotels, and drivers' fees. The driver even arranged the seats in his cushy Mercedes Benz SUV so that we could sit facing each other, chatting or snacking on chips.
During the quieter moments on our road trip, I thought about the vague impression I had of Ancient Greece, pieced together from Greek plays and philosophical essays I had to read in college – and more important, the 12 times I watched the movie Troy (hello, Brad Pitt) in my teenage years.
Seeing some of the most important sites of Ancient Greece with my own eyes, however, made the works of Homer, Plato and Sophocles come alive.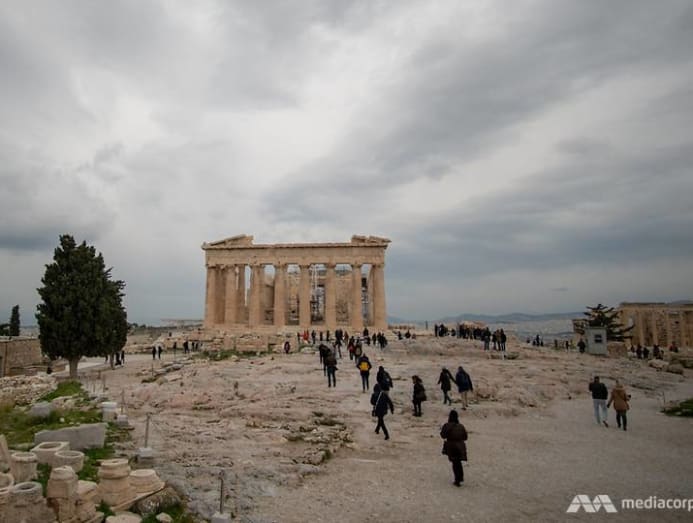 NAKED AND SACRED
We made several interesting stops during our four-day tour, including the picturesque Corinth Canal, only about an hour's drive from Athens. The canal, which was a strip of land until the 19th century, was one of the reasons the Ancient Corinthians were so rich and powerful.
According to our guide, it was the only safe way in which seafarers could travel from the Gulf Of Corinth to the Saronic Gulf of the Aegean Sea. And the Ancient Corinthians, who even thousands of years ago possessed the technology to transport ships both ways, would charge every ship a levy, in exchange for a safe passage. 
We also visited Ancient Corinth, which was of particular significance to those among my friends who were better acquainted with the Bible, as it is frequently mentioned in the New Testament as one of the cities visited by Paul the Apostle.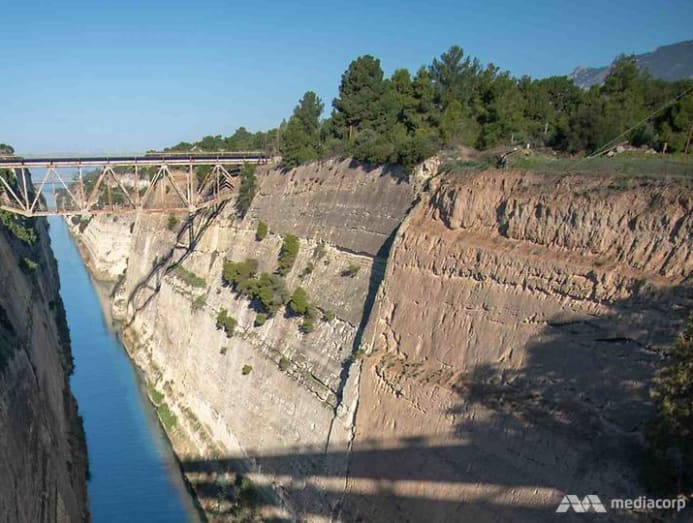 Olympia, on the Peloponnese peninsula, was especially fascinating, as it was where the ancient Olympic Games were held.
Even though the site must have been very impressive in its golden age in the 5th and 4th centuries BC, I found it difficult to imagine the area in its heyday, since most of its buildings are now reduced to rocks. Thanks to the museum next to the site, however, we learned how the imposing Temple of Zeus looked like before it was destroyed by the Romans.
My (childish) friends and I couldn't stop giggling as we imagined how we would have fared competing in the Ancient Olympic Games, where athletes used to compete in the nude. 
Though not an Ancient Greek city site, Meteora was by far my favourite stop on the trip. Located about a four-hour drive from Athens, the area is known for its breathtakingly beautiful rock formations as well as its Eastern Orthodox monasteries, which, amazingly, are built on some of these pillar-like boulders and date as far back as the 14th century.
We visited two of the six monasteries that still function today, though they were much prettier from the outside, particularly when the sun set over the Meteora Valley.
Late at night, we parked our car near Sunset Rock in Meteora and gazed at the stars. That is, until we froze in the wintry cold, and scurried back to our hotel in the nearby town of Kalambaka.
FOOD FOR THE SOUL
Happily, even though we travelled through small towns, and frequently chose restaurants on a whim, we never had a bad meal on the trip. We also rarely paid more than €10 to €12 per person for food and wine, partly because the servings were so large.
We had delicious salads at every stop, and a particularly lovely moussaka near our hotel in Kalambaka. But the one I liked best was a family-run restaurant that we stumbled into in Nafpaktos, a small town by the coast, which served the freshest grilled fish I'd eaten in a while.
After having had a taste of classical Greece, we returned to Athens, where we signed up for a short walking tour. We tried to reconcile the capital city's extensive history, with its challenges and triumphs of today.
There were buildings and relics dating back 2,000 years, like the Arch Of Hadrian or the Temple of Zeus in the centre of Athens, or the iconic Acropolis, which can be spotted from almost anywhere in the city. But situated among all that history, were hipster bars and cafes, shops selling pretzels and fresh Greek yoghurt, and an incandescent amount of street art.
We spent a lovely afternoon cafe-hopping, from The Underdog, which boasts award-winning baristas, to a trendy bar-slash-cafe called Six D.O.G.S, and finally to a cosy little restaurant called The Warehouse, which we found on Instagram and served surprisingly delectable fare.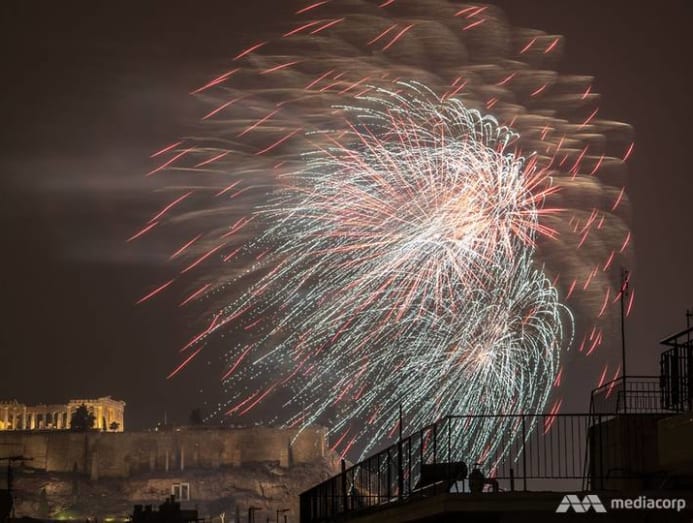 As I sipped on my hot chocolate, I wondered what Athens would look like in another 100 years, if the Greeks of the future would see the same Acropolis we could see from our Airbnb.
Only time, and perhaps a little imagination, will tell.