Celebrate Asia: No bandung in Bandung but there's great coffee and street food
In our ongoing series looking at unique people, places and food in the region, CNA Lifestyle had a taste of the growing cafe culture and vibrant street food on offer in the Indonesian city of Bandung.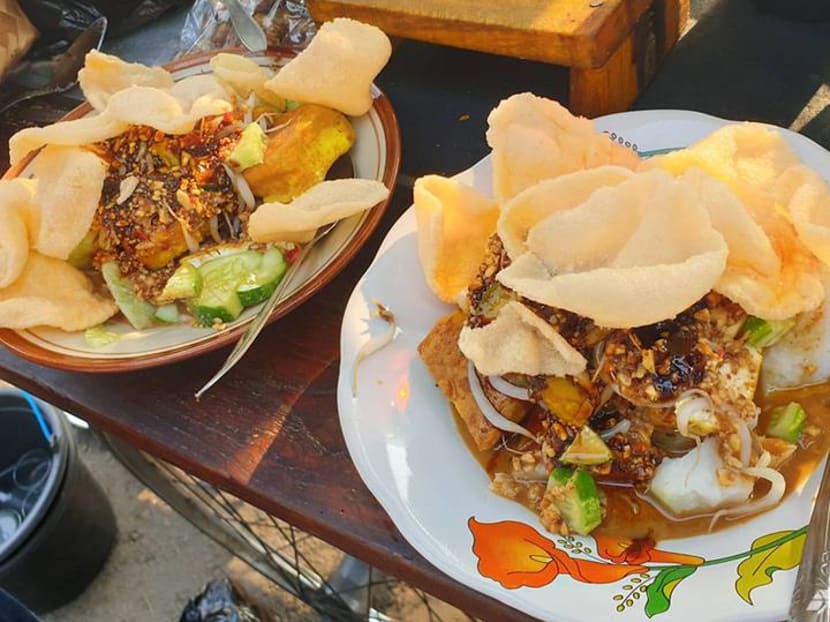 After spending a couple of days exploring Bandung, I've come to learn a few quirky things about Indonesia's so-called Paris of Java.
Here in West Java's capital city, all sorts of hantu – or ghosts – roam during the day, the people love their angklung music as much as their art deco buildings, and there's absolutely no such drink as bandung in Bandung.
In Bandung, Indonesia, you'll find street food that is fresh, piquant and heartfelt, as CNA Lifestyle found out. 
I was warned about that last part even before flying in, but I still found this fun fact more amusing than the people who dressed up as hantu pocong along Jalan Asia Afrika on weekends, presumably to terrorise kids and earn a few photo op bucks from tourists while they're at it.
After all, nasi padang did come from Padang, right? But as my guide Sutandi patiently pointed out something he must've explained countless times to many visitors from Singapore – that rose milk drink is something people up north drink, not here. "Here it's called soda sirup," he said.
"Aha, so you do drink it!"
"Eh, not really."
Which was true – I didn't see a single person holding a glass of anything that looked even remotely bandung-ish. Instead, everyone seemed to be either sipping coffee or slurping some soupy dish.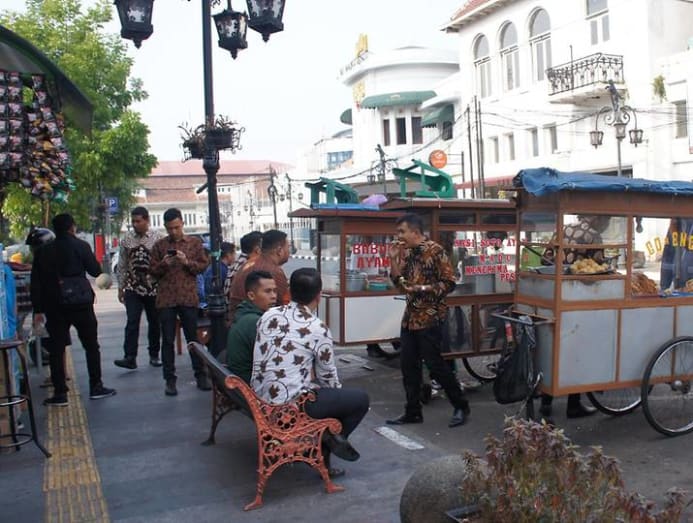 A CUP OF JAVA AND CAFE CULTURE
Bandung is slowly gaining a reputation as a foodie place – and it becomes evident when you notice that almost everywhere you'll find either modern hipster cafes or old school food carts and restaurants selling traditional fare.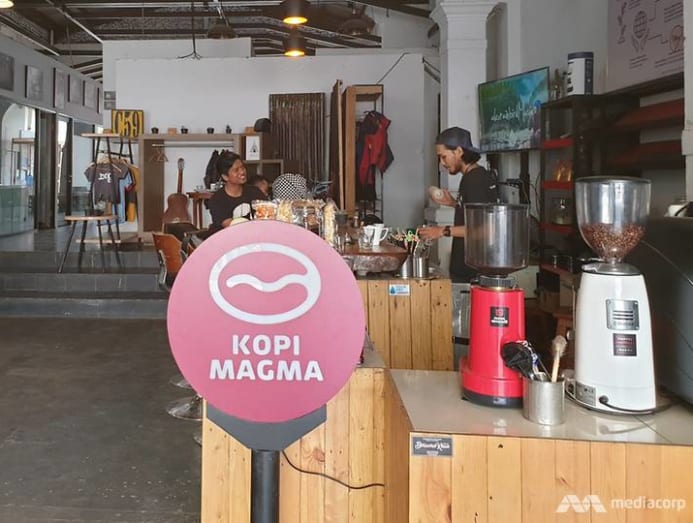 The past seven years have seen a cafe boom in the city – according to Rey, a barista at year-old cafe Kopi Magma, last year there were around 600 places where people can fittingly have their cup of java, ranging from cafes to traditional warungs.
"The Dutch used us for their coffee production during colonial times, they gathered coffee from all around Indonesia and called it Java Preanger. Now, coffee is our obsession. Even our leaders discussed independence over coffee," said Rey, who himself got into the coffee biz by working at a coffee plantation near Bandung.
Now, everyone discusses everything over coffee here. Kopi Magma is at one end of the touristy Braga Street. Further down, you'll see many more but their spot seems quite apt – it's in an old building that used to house textiles for the VOC or Dutch East India Company. Journalists and creative types work from there. It's flanked by a radio station and Bandung's oldest movie theatre-turned-music venue for rockers. And nearby is the building where the historic Bandung Conference took place, where Zhou Enlai, Jawaharlal Nehru and Sukarno hung out in 1955. That and a Starbucks.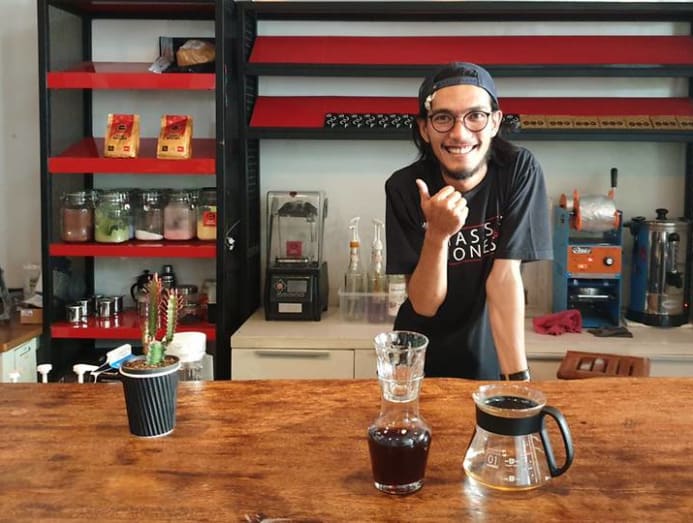 But you won't find any mocha frappuccinos at Kopi Magma. "Try the V60. We use a Japanese drip-method to make it," suggested Rey. Behind him is a detailed illustration tracing the journey of their Arabica beans from Pangalengan in West Java to your glass.
"Does it come ice blended?"
It doesn't, of course. But what they also have is kopi tubruk, an Indonesian style of brewing where coarse coffee grounds are boiled directly with the sugar. Some have compared its thick consistency to Turkish coffee. Unfortunately, what was once ubiquitous at street stalls and small warungs has been replaced by instant coffee in sachets.
STREET STALLS GALORE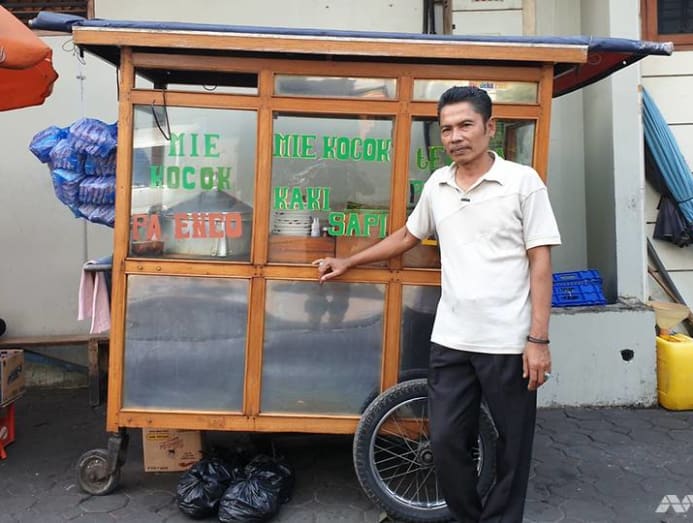 Perhaps the polar opposite of these hipster cafes are Bandung's street stalls. Called grobak, there are hundreds if not thousands all around the city, and you'll find them at most street corners selling all sorts of snacks and full-blown meals the entire day. Unless the Polisi Pamong Praja – or the municipal police – are out doing the rounds, in which case the grobak magically disappear in a game of cat and mouse.
The older ones still use bamboo charcoal, like Pak Nanang's mie kocok stall. A second-generation street vendor, he's been selling the soupy noodle dish for more than 50 years at the exact same spot in front of a popular food souvenir outlet – before it was even there.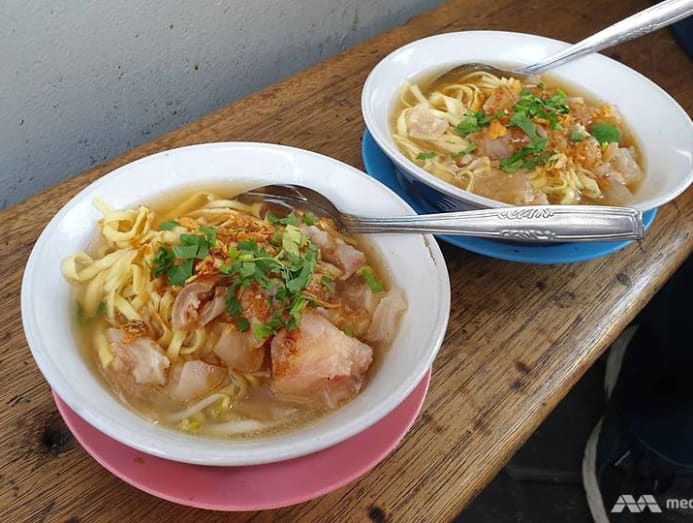 While he scoops up the beansprouts and yellow noodles and dunks them inside a tub of boiling beef stew (the word "kocok" refers to the quick dunking and blanching), before adding some choice beef tendons, Pak Nanang shared how his father used to sell the same dish, except that he didn't have a grobak but instead carried the containers on his shoulders using a wooden pole.
Of course, a cup of V60 and a bowl of mie kocok does not make for a "food trip". Here are other local Sundanese delights you should be trying out while you're in town. You can always have your bandung when you're back in Singapore.
KUPAT TAHUR
Admittedly, it looks and tastes similar to what many Singaporeans would have had – a plate of ketupat slices, fried tofu, bean sprouts and cucumber that's topped with a sauce made of freshly ground peanuts, kicap manis and shallots, and with a side serving of keropok. But it's a popular and filling breakfast dish, and the fun is in seeing the stall owner grind the pasty sauce on huge, flat mortars – and you trying to find a place to sit down when it gets hectic in the morning.
PEUYEUM AND ONCOM
In a nutshell, the first one's cassava that's been fermented for five days while the latter is fermented food by-product, whether it's peanuts, cassava or soy pulp from tofu. Yes, they love their fermented food in Bandung.
Peuyeum has a sweet-sour and slightly alcoholic taste. It looks like your typical cassava but it's got the slightly mushy consistency of durian. It's a bit of an acquired taste and I'm not sure if anyone actually eats it as it is – but it's a common ingredient in desserts. I had it for a shaved ice dessert, mixed with milk, black sticky rice and tapioca balls.
Meanwhile, oncom is fermented using mould and can be eaten as toppings or as snacks – a bit like fried tempeh.
SERABI
Versions of this Indonesian pancake is found in different places, and Bandung is known for being a bit firmer than others Made from rice flour and coconut milk, it's still traditionally cooked in clay pots over charcoal fire. There are a few areas where the streets are lined with restaurants that specialise in serabi, both savoury and sweet types. And while it used to be sold and made by older folk, my guide Sutandi pointed out that the younger generation have claimed it as their own with more "modern" versions with cheese, chocolate and other varieties. But if you want it the old-school way, go for the plain one, which is served with a drizzle of melted brown sugar (if you want it sweet) or a sprinkling of oncom (if you want it savoury).
BATAGOR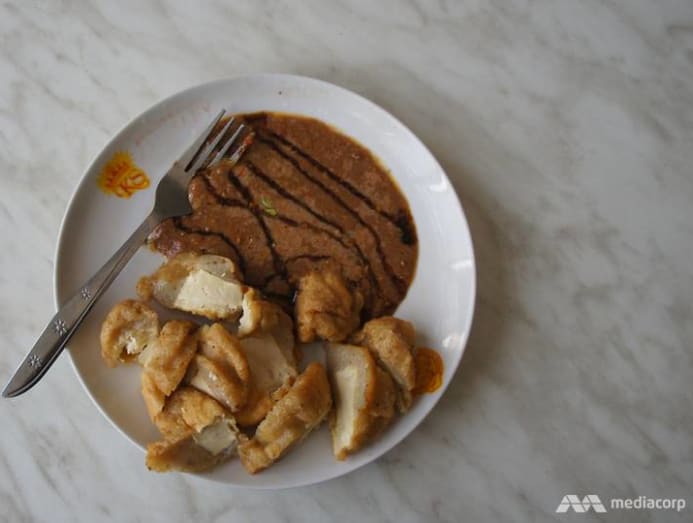 When it comes to savoury fried snacks, this is probably the most famous in Bandung. The name is actually an abbreviation of "bakso", "tahu" and "goreng" and it's self-explanatory – fried fish wanton dumplings with a tofu centre, which you typically eat with chilli, kicap manis or peanut sauce – or everything. Think of it as the guilty version of steamed siomay, another of Bandung's popular snacks. Lots of grobak sell these, but Indonesian tourists often opt for proper tables and the most famous is Batagor Kingsley, which also sells other noodle dishes.
PISANG MOLEN AND BROWNIES KUKUS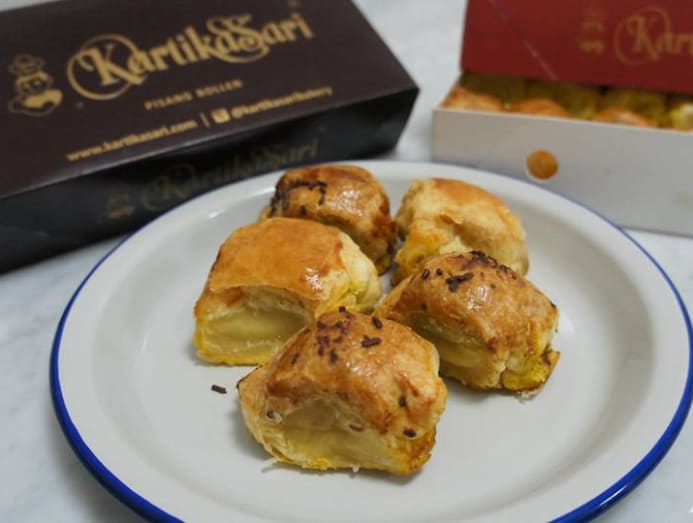 The former is a typical snack in Bandung, which can be found at street stalls – a pastry puff filled with banana that's probably derived from the Dutch's own fried ball pastry (it's sometimes also called pisang bolen).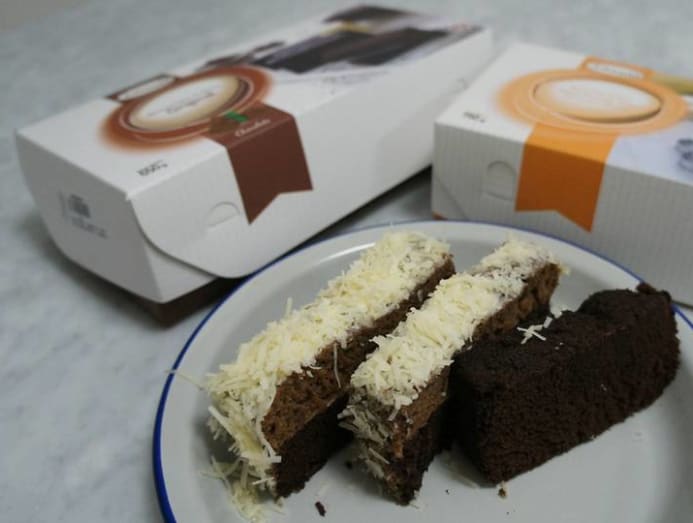 Meanwhile, steamed brownies are also popular gifts to take back home, with Amanda Brownies being the OG of them all – and for good reason, the brownies are very fluffy and there's an intense chocolate taste that's almost coffee-ish. They've got stores all over Bandung and there are other flavours, such as pisang keju or banana cheese. And in case you're wondering, there's no one by the name of Amanda – like batagor, it's an abbreviation of the phrase "Anak Mantu Damai" or "peaceful child and in-laws".
NASI TIMBEL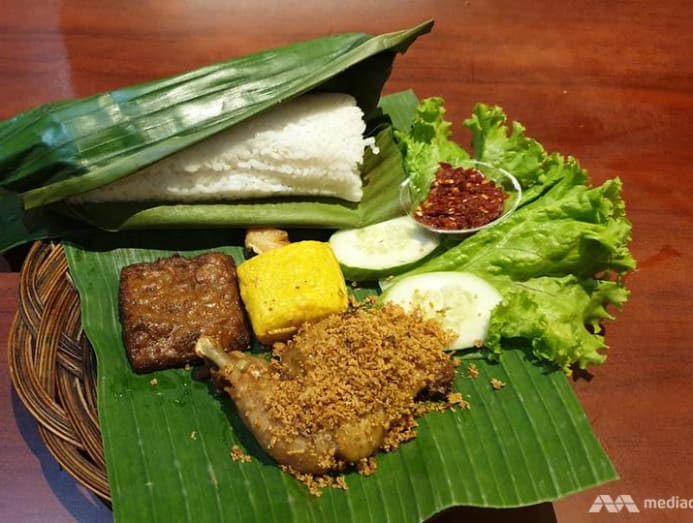 Rice dishes are staple in Sundanese cuisine – and while it can be complicated eating it out on the streets, it's worth going for a sit-down meal. Nasi timbel is characterised by white rice wrapped in banana leaves like a tube, and comes with different foods like fried tempeh, fried chicken, a bit of salted fish, and of course, sambal.
To find out more about Celebrate Asia, visit cna.asia/celebrate-asia.