Taipei street food guide – from Elvin Ng, Romeo Tan, Desmond Tan and Zoe Tay
Need to put on 10kg for work, like Romeo Tan did? The cast of All Is Well give us their street food and steamboat recommendations from filming in Taiwan.
What do you do when you're stationed in Taipei for a couple of months? You eat your way through it, of course. That's exactly what Singapore actors including Desmond Tan, Romeo Tan and Elvin Ng did when they were filming for the Taiwan-Singapore co-production All Is Well, a new Mandarin drama premiering on Monday (Aug 26). 
They were there for up to four months at a time, working and, of course, working out their appetites.
"I can give you all my bookmarked lists – there are lots!" enthused Romeo, who had the perfect excuse to eat like there was no tomorrow – he was told to put on 10kg for the role.
"If I have friends going to Taiwan, I'll tell them, 'You need to go to this place for breakfast, then move on for this place for brunch, then go for high tea over here, then go for steamboat at night. If you want more, you can go to the night market late at night. And if you want even more, there's steamboat until 4am or 5am.' So, basically, you can eat from morning all the way to the middle of the night."
Sounds like it's time to plan our own trip there, too. Now that these actors know Taipei like the back of their hands, what exactly are all of their must-eat foods in the city? Here are their insider's recommendations.
DESMOND TAN
My manager and I walked through the night market together and, from one stall after another, we would buy just one thing and share it. We ate nonstop from the start to the end.
My favourite is the Da Chang Bao Xiao Chang. It's like glutinous rice that is wrapped around a sausage. I don't know what sauce they top it with but I think there are onions and salted vegetables, which are very refreshing. I like the stall at the entrance of Shihlin Night Market, near the traffic light.
A lot of people think that when it comes to night markets, you have to go to Shihlin, but I don't think so. Ningxia night market is really good because it's a very short street and you practically have all you need to know about Taiwan food there.
I had the best oyster omelette there – the stall is recommended by the Michelin Guide (Yuan Huan Pien Oyster Egg Omelette). There's also a Michelin Guide chicken rice (Fang Chia Shredded Chicken On The Rice) but I think you can give it miss – Singapore's chicken rice wins big time.
ROMEO TAN
For the first two months, I visited a night market almost every night, to the extent that I felt my body was becoming too "heaty". Then, I moved on to steamboat. In Taiwan, steamboat is also very, very popular and you'd be shocked – there are 30 or 40 varieties of steamboat. I can name a few.
Wulao is my favourite because I love the soup. It has ginseng in it and the taste of it is very herbal. It's also milk-based. It smells so good – once you enter the restaurant and you smell it, you immediately feel hungry. Another one is Ding Wang Mala Hotpot. You can also go cheaper – Mala Hotpot restaurant is also very good. It's very popular among students and youngsters.
I was supposed to put on 10kg for my role, so I happily went to the night markets and bought chicken chops, sausages – everything – but it was hard, so I put on 5kg and on top of that I wore a fake tummy.
ELVIN NG
I learned about pepper pork buns! They're crispy on the outside and soft on the inside. Normally people don't talk about pepper buns that much – we talk about the crispy chicken – but those were nice, for me. You can find them at Ningxia, Raohe and Shihlin night markets.
There's also ginger duck soup. When we were filming, it was cold, and someone ordered a big pot of ginger duck soup. It's very nutritious. I had three big bowls. So, you can imagine how fragrant it is. But that's more a dish for winter and it's very "heaty", I think. Ask any taxi driver to take you to the ginger duck soup restaurant, and they will know which one.
ZOE TAY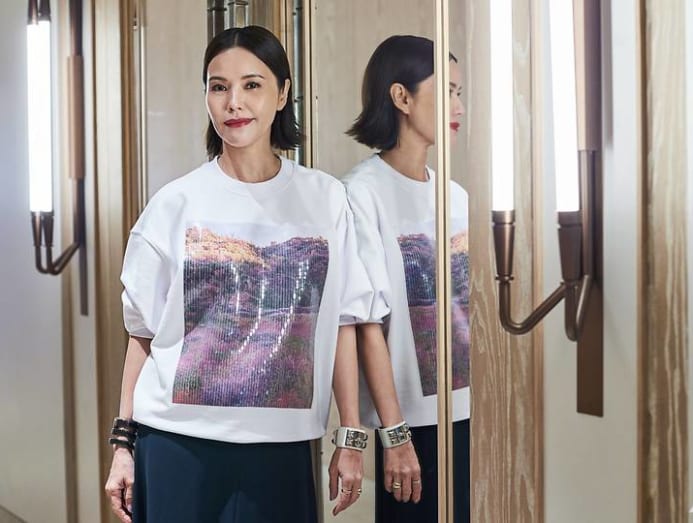 When I go to Taiwan, I like eating duck tongues, oyster mee sua and bean curd. There's also one thing that I think Singaporeans don't really eat – stinky tofu. Have you tried stinky tofu with jellied duck blood? When I visited with my family, we hired a driver to take us to Shifen, and he brought us to his hometown, which is near Shifen. There's a whole street there with stinky tofu stalls. It's so nice. And they are very good at doing small intestines, which are also very nice.
Interestingly, I asked the Taiwanese actors, "How's the food in Singapore?" They feel Singapore food is on the sweet side. "Your curry is a little sweet. Your sauces are a bit sweet. The satay is sweet." You didn't even realise that, right?
Catch All Is Well starting Aug 26, with the Singapore story airing weeknights at 9pm on Channel 8 and the Taiwan story at 10pm on Channel U. Also available on Toggle.