Affordable glamping: The great outdoors of Australia's Yarra Valley... for city folk
If you'd like to be in nature without having to give up some creature comforts, give glamping a try – and prices are comparable to a decent hotel room.
If you prefer your travel accommodation to have attached bathrooms, solid walls and a door that doesn't come with a zipper – with the added benefit of not having to worry if strong winds will blow it away in the middle of the night – then perhaps you've had your doubts about glamping.
But, as I found out, it's not such a bad thing after all.
Glamping – or glamorous camping – is basically camping for city folk who want to become acquainted with the great outdoors without having to forgo the creature comforts that camping may require, such as sleeping on the hard ground and not having access to power outlets to charge your phones.
For a friend's 40th birthday, I recently agreed to go glamping at Big4 Yarra Valley Park Lane Holiday Park at Healesville, regional Victoria, Australia. The area is home to award-winning wineries, a gin distillery, farms, farm-to-table restaurants and gourmet produce so you can indulge both your foodie and your adventurous sides.
It was a pleasant and easy one-and-a-half-hour drive from Melbourne, taking you through some winding country roads. Put on some road trip tunes and you'll find yourself in the perfect mood to enjoy a couple of nights out in nature. 
NICE AND AFFORDABLE
If you thought glamping means forking out for a posh experience that includes a jacuzzi and a personal butler, think again.
Just as there is a wide range of hotel accommodations available depending on your budget, the same applies to glamping. We chose the Big4 Holiday Park as it was a relatively affordable A$180 (S$180) a night, comparable to a decent hotel room.
Those with bigger budgets can splurge on more modern and fanciful accommodation that can come with en suite bathrooms and air conditioning, and can be set up in far more picturesque locations. These can set you back up to A$400 a night. We were just happy not to have to pitch our own tent or use a composting toilet.
The holiday park is set up in natural bush land and offers several different types of accommodation, such as cabins, caravans and glamping pods. We chose the Eco Lotus Belle single tent, which had all the fixtures and fittings you would expect in any hotel room.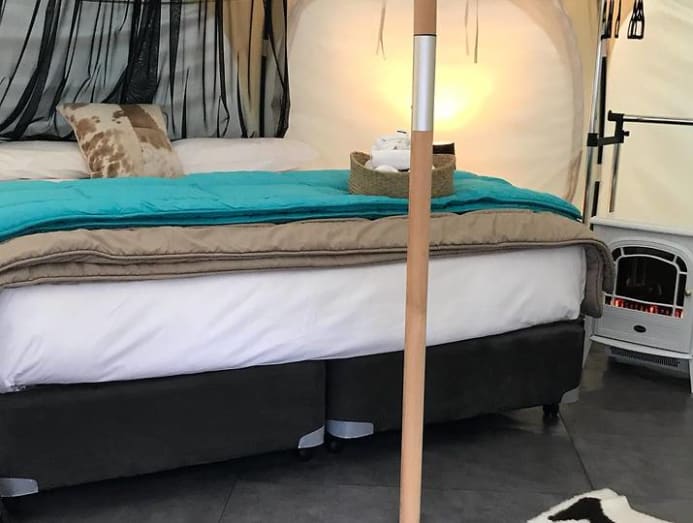 It comes with a king-sized bed, a TV, a sofa, dining table and chairs, a Bluetooth speaker, fridge, kettle, a heater and an electric blanket. Honestly, I've stayed in hotel rooms that were far more basic than this. If it weren't for the fact that you're bound to encounter wildlife just outside your zippered door, you'd think you were staying in a fancy hotel.
CLOSE ENCOUNTERS OF THE ANIMAL KIND
Speaking of wildlife, the moment we checked in, a few camp inhabitants came by to say hello: Rosellas, parrots, cockatoos and a particularly friendly duck.
They were obviously very used to guests as they casually sauntered over to see if we had any seeds to feed them. They quickly found out that we didn't and just as casually sauntered away. We also became acquainted with a very large and old-looking kangaroo while exploring the camp grounds.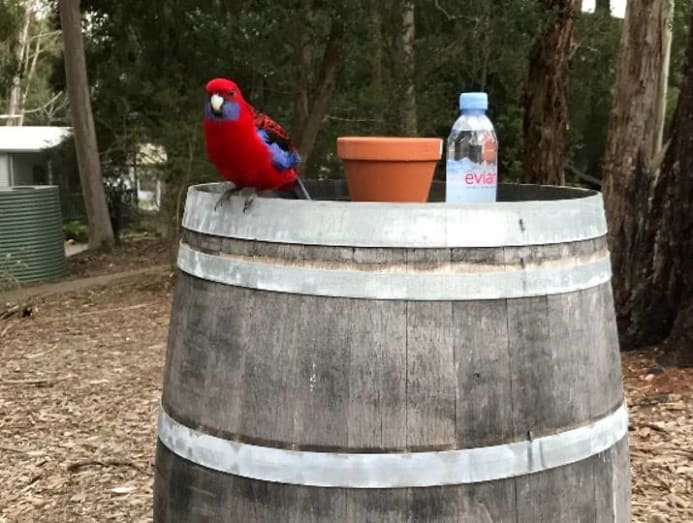 With all the cute animals around, you will no doubt want to take plenty of photos but be warned – there's no WiFi provided so if you absolutely have to post pictures of your holiday, make sure you have 4G or you may need to #latergram it.
We'd gone at the start of spring, in mid-September, and while we were lucky to enjoy mostly sunny but slightly chilly weather, it did get very gusty once, so much so that I got a bit worried that the tent might not make it through the night. (It did.) And if you're a light sleeper, you might also be woken up by the sounds of animals scurrying outside. (Wombat? Kangaroo? Erm, do they have bears in Australia?)
The tent doesn't come with an en suite bathroom but you have access to four private ones. They're basic but very clean and well-maintained, although it could also be because we were the only guests during our two-night stay.
A word to the wise: Empty your bladder before bedtime because while the facilities are fairly close to the tent, they may as well be found in the next town when it's 4am, it's cold and dark, and you can hear animals scurrying around. (Seriously, was that a wombat? A kangaroo? Are you sure there are no bears in Australia?!)
MEALTIMES ON CAMPGROUNDS
When it comes to meals, you can take a five-minute stroll to the camp kitchen and cook up a storm using the stove, oven or the barbecue. Glampers have access to pots, pans and utensils so you just need to bring some raw materials to start with. 
Or you can skip cooking altogether and treat yourself to a wide variety of food available at the town centre, just a 10-minute drive from the campgrounds. There's a supermarket and several cafes and restaurants to choose from and you can even do a spot of shopping if you want to pick up some souvenirs from your trip.
Make sure you stop by Monroe's Burgers and Beers for a burger and a shake.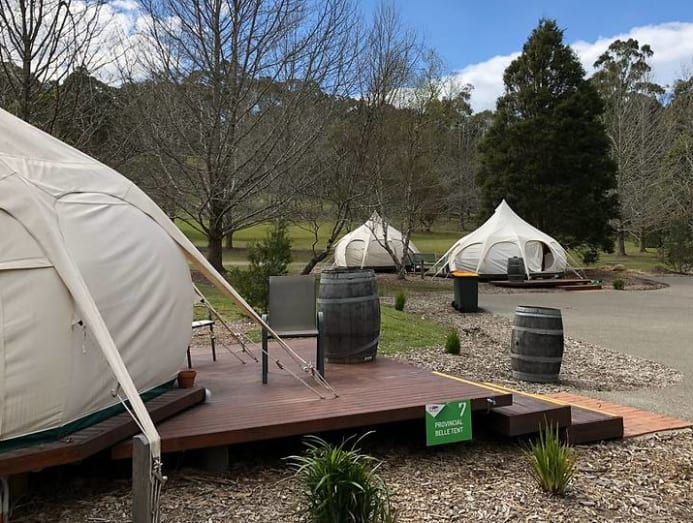 There's plenty to do within the camp grounds so you don't need to venture out if you don't want to. There's a playground, a creek, a lake (which only opens in the summer months), a tennis court and a trampoline – fun activities to keep little ones occupied. But with so much to do in Yarra Valley, you should definitely spare some time to check those out too.
***
YARRA VALLEY TIPS (EVEN IF YOU'RE NOT GLAMPING)
Yarra Valley is known for cool climate white wines and for producing high-quality Chardonnay, Sauvignon Blanc and Pinot Gris. Spend some time at award-winning wineries such as St Huberts, Dominique Portet, Yering Station and Leviathan Hills. If you're not a fan of the grape, you may want to hit up Four Pillars Gin distillery, which is housed in a former timber yard. Just be responsible and appoint a designated driver.
There's no shortage of good food and fine restaurants that showcase the amazing seasonal produce from the area. Make a reservation at top-rated restaurants like Innocent Bystander, Ezard at Levantine Hill and Meletos, just to name a few. Take note, though, that several restaurants close on Tuesdays.
Pick your own fresh fruits and vegetables at Rayner's Orchard or Jay Berries. Or head to Yarra Valley Dairy to taste test some freshly made cheese in surprising flavours like spicy chilli feta.