Fancy a 'sailcation'? Here are 11 unconventional staycation spots in Singapore
Borders have lifted, but not all of us can afford time off or expensive airfares. If you want a quick getaway, here are 11 alternatives to yet another hotel staycation.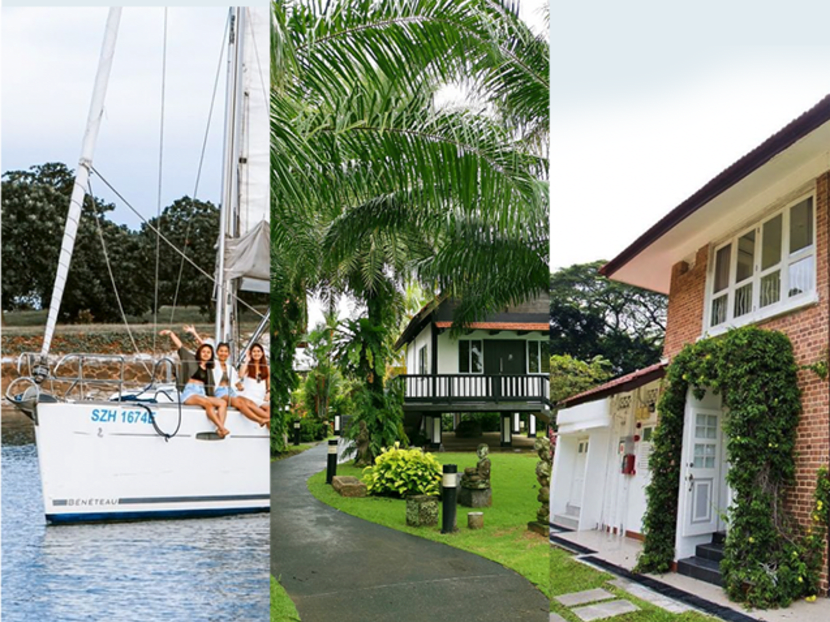 The average Singaporean doesn't move into their own home till their late twenties. That explains the appeal of hotel staycations, which have been baiting us with bathtubs and infinity pools long before SingapoRediscovers Vouchers, or SRVs, rolled around. Only for a breakfast buffet would we wake up that early on a non-work day.
It's all very inviting, but it does get old. Folks who have dressed their new homes to the nines find hotel staycations hard to justify, and being grounded for the last two years also made them feel less special. Borders may have lifted, but not everyone can afford time off or hefty airfares. In fact, some of us might still be expecting our passports.
Still, you can get away without checking into a city hotel, where reminders of work are never far enough away. Here are some unconventional staycation spots in Singapore.
D'RESORT
D'Resort at Downtown East has spent much of the pandemic serving as a Community Care Facility, but their long hiatus finally ends on Friday (Jul 15). The school holidays in June may be over, but their reopening discounts – including a 35 per cent early bird promotion – are the perfect excuse for parents to plan ahead for the September break.
The Beach Cove, Mangrove Walk and Park View rooms have two queen-sized beds each – a family-friendly provision hotels charge way more for – and the themed Rainforest Family rooms are even furnished with bunk beds for the little ones. The resort will also be welcoming Gallop Stable's third branch, after their Bukit Timah and Pasir Ris Stables, where adults and children can take riding lessons. Metro Garden, which will be opening on the rooftop of E!Hub's multi-storey car park, will also provide organic farming workshops and farm-to-table dining for those with a green thumb.
SAILCATIONS
A cruise to nowhere may not be feasible over our measly weekends, but a sailcation lets you spend a night out at sea without hurting your annual leave balance.
Yacht vendor Discover Sailing Asia is in the business of overnight cruises to nearby islands. Their 2D1N staycation at Lazarus Island starts at S$1,656.96 per boat – capped at six people – and covers water sports like kayaking and stand-up paddle boarding.
To make the most of a long weekend, the extended 3D2N itinerary stops by Pulau Ubin, where you will indulge in a sunset barbecue and explore the island on a bike or hike the next day, before sailing to the Southern Islands on the second day.
The good news is that pets can tag along, too, though your dog must remain on the deck no matter how good a swimmer he is.
Those who are prone to seasickness need not fear missing out at Emma Rose Yacht, which offers a berthed staycation at Marina Country Club in Punggol. Having made its rounds on social media lately for its onboard mookata and lava stone meals, the yacht is also open for one-night stays. It fits ten people comfortably with a super king-size bed and two sofa bed seats, and you can opt for a two-hour sail and/or a jet ski joyride. But we think the professional karaoke set onboard would be the life of the party.
HERITAGE SHOPHOUSES
It's a pity Singapore doesn't have an Airbnb culture, but if you've ever wondered what life outside a cookie-cutter apartment is like, here's your shot at staying in a shophouse.
Homegrown brand Heritage Collection Singapore has shophouses sprawled across four districts in central Singapore, so you get a taste of their old-world charm while remaining close to your favourite restaurants and bars. Take your pick from the modern studios along Cecil Street, or the lofts overlooking the Singapore River and Marina Bay Sands from their balconies. From studios to two-bedroom apartments, their properties are all furnished minimally but functionally, and prices start at under S$100 a night.
GLAMPING
Glamping is perfect for those who want to rough it out, but not really. Which is why air-conditioned tents have started sprouting at unlikely places like by the runway of our world-class airport.
The downside, however, is that these places are too close to civilisation, which is why a luxury bell tent in Singapore's "suburbs" might feel more like a proper getaway.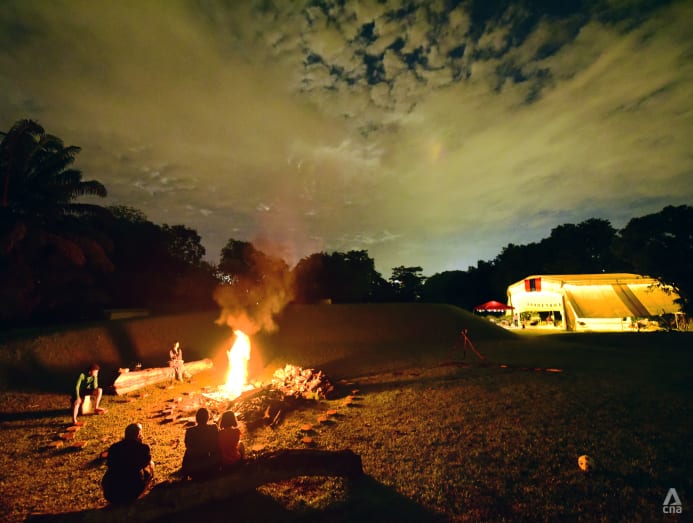 When you set up camp at ORTO in Yishun, you get to maximise your day at Singapore's first 24-hour leisure park. Unplug and immerse in the kampung lifestyle with activities like longkang fishing, prawning, paintball and go-karting, or wipe out the S$0.80 boat noodles by the dozen. Even if it drizzles, the nearby Adventure HQ at HomeTeamNS Khatib promises no lack of rock walls and obstacle courses to keep visitors of all ages entertained.
For the outdoor-minded, Beyond Expeditions' Mongolian Yurt is an alternative in the vicinity. Their 2D1N program costs S$580 per person, and you would leave a happy camper knowing how to pitch a tent, chop wood and start a fire. But if you're willing to splurge, Singapore Zoo's Staycation in the Wild might take the cake. Its lakeside dome tent costs S$1,599 for four guests and includes meals and activities like meeting elephants and feeding rhinos. Prepare to doze off to the zoo's signature scent, but the sunrise by Upper Seletar Reservoir will more than make up for it.
FARM STAYS
Farms in Singapore are synonymous with rooftop hydroponics and vertical gardens, but the Kranji countryside remains a rustic respite to this day. Bollywood Veggies and Hay Dairies are popular landmarks but follow the dirt roads and you would find two chalets to stretch your day trip into a weekend-long affair.
Gardenasia, a small property with three villas, are reminiscent of the black-and-white bungalows from colonial times. The one-bedroom villas, which start at S$380 a night, are slightly expensive but accommodate up to four people. We recommend timing your stay with The Local Farm Weekend, a monthly farmer's market where more than 20 vendors peddle produce ranging from fresh fish to edible cacti.
Bigger groups might feel more at home at Gallop Kranji Farm Resort, which has 35 villas. The largest of the lot would be the Family Suites, which accommodate eight guests with four queen-size beds, a living area, and a kitchen – because farm-to-table dining doesn't get fresher than that. After a day of exploration on foot, couples can also look forward to the privacy of the Executive Villa where a queen-size bed, steam room and jacuzzi await.
COUNTRY CLUBS
A basic hotel room in Sentosa costs at least S$300 a night, but the budget-conscious can stretch that dollar and still wake up to a sea view at the Republic of Singapore Yacht Club (RSYC) and Civil Service Club (CSC).
At the Marina Lodge in RSYC, S$300 lands you the Flag Officer's Suite – a nautical-inspired apartment for two with a living room, jacuzzi and view of the Marina. There's also a study area, but we doubt you would be using it much. Not when activities such as fishing, kayaking, and three-day sailing courses could help you check something off that list of new year's resolutions.
Need more space? CSC Changi I is as economical as it gets. Take your pick from its single suites, family suites – one of which is a Handicap Accessible option for the elderly or guests with disabilities – and villas made equally accessible with bedrooms on the ground floor. From S$574, the Premier Villa is yours for the night. The two-storey chalet is the largest of the lot and comes with three bedrooms, a living room, kitchenette, patio, and a private mahjong room. And, because the Premier Villa is a standalone property, you get to play mahjong all night without offending the neighbours.
Editor's Note: An earlier version of the story included Figment's heritage shophouses as a staycation alternative. It does not do paid stays of less than three months.