You can stay like royalty in these 6 British castles in the United Kingdom and still afford it
As the coronation of King Charles III unfolds in London, here's something to take note of for your next trip to the United Kingdom – from S$310 a night, you can get your own taste of nearly 1,000 years of pomp and lore.
When King Charles III is crowned on Saturday (May 6), the world will witness, for the first time since his mother's coronation in 1953, a ceremony that packs more than 1,000 years of British pomp and pageantry into a single day. But for some people, one day might not be enough.
The United Kingdom teems with castles that offer travellers a chance to walk the same halls and sleep in the same quarters as monarchs of days gone by. Those who revel in the grand spectacle unfolding in Westminster Abbey may also want to soak in the noble lore in the old stone walls of some of those castles.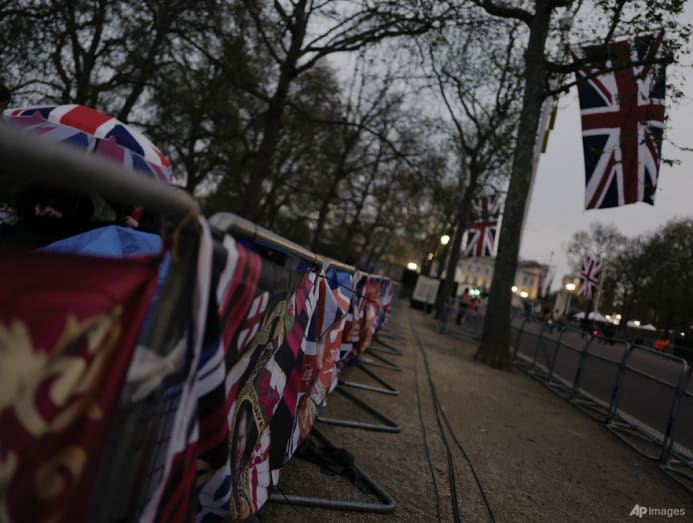 "The sheer drama of the past thousand years of royal history in Great Britain is like a long-running soap opera," said Tracy Borman, a London-based royal historian and the author of Crown & Sceptre, a history of the British monarchy from William the Conqueror to Charles III.
"You've got the king who marries six times, the virgin queen, the crown changing hands numerous times on the battlefield, abdication, usurpations, scandal. It's basically the best drama you could ever hope for."
Sleeping in a castle can feel like playing a bit part in that sweeping tale. "When people stay in a castle they never forget it," said Roger Masterson (aka the Castle Man), founder of Celtic Castles, a travel company and booking platform that works with more than 100 castles across the United Kingdom.
In the past year, Masterson said he had noticed an increase in Scottish castle bookings in particular, which he attributed to the coverage of Queen Elizabeth II's funeral and the royal family's journey back to London from Balmoral Castle, where the queen often spent her vacations. "It really showed off Scotland at its best," he said.
These six British castles may not be Balmoral, but they still give travellers a chance to steep themselves in history and get a taste of living, if not like royalty, at least like nobility.
HEVER CASTLE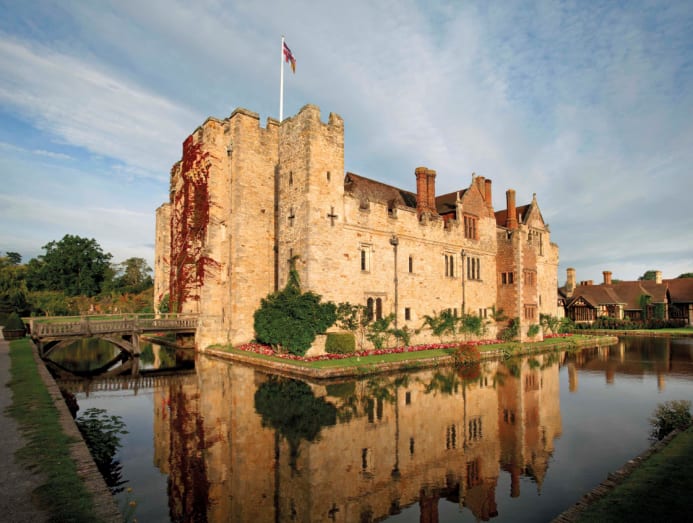 Set in Kent, the "Garden of England", just 35 miles (56km) from Buckingham Palace, Hever Castle transports guests 700 years back in time with fairy-tale architecture that features a medieval sandstone gatehouse, a double moat and two portcullises reached via a drawbridge.
But it's the castle's storied history as the childhood home of Anne Boleyn, the second wife of Henry VIII, that makes it a popular day trip from London.
"Anne decided to marry Henry when she was living here in 1526, which ultimately led to her own coronation via the break with the Catholic Church in Rome – a decision that changed the face of Europe and the course of history," said Owen Emmerson, Hever Castle's historian.
Visitors overnighting at the 27-room bed-and-breakfast or the four-bedroom cottage nestled within the estate's 125-acre grounds receive complimentary access to relic-filled exhibition rooms and a four-acre Italianate garden.
The castle's oak-and-walnut-panelled rooms house artefacts including a prayer book belonging to Boleyn that bears her inscriptions and signature. On exhibit through November 2023 are coronation robes worn by Cate Blanchett in the 1998 film, Elizabeth.
Rooms from £185 (about S$310) on weekdays, £210 (S$350) on weekends; day passes to the castle and gardens cost £23.10 (S$40), including tax.
SCONE PALACE
More than 40 Scottish kings, including Macbeth, were crowned at Moot Hill, on the grounds of Scone Palace in central Scotland.
The Gothic edifice, which dates to the 12th century and functioned as the seat of the Scottish Parliament for centuries, has been the established residence of a long line of earls from the Murray family (which still owns the castle). Travellers can rent the private wing, which sleeps 16 guests in eight bedrooms.
An atmosphere of nobility reigns in the dining room, drawing room and long gallery, which are filled with regal furnishings, including ivory, porcelain, royal portraits and silk brocade wall coverings.
Outside, the estate's 100 acres charm visitors with flowering gardens, 250-year-old Douglas fir trees, and a star-shaped maze of green and copper beech hedges designed to evoke the Earl of Mansfield's family tartan.
On guided tours, visitors can see a replica of the Stone of Scone, a sacred throne that was used during the coronation ceremonies of Scottish kings. "In 1296, it was taken by King Edward I of England and brought to Westminster Abbey," said Stephen Brannigan, head of Scone Palace.
Perhaps the most famous visit to the palace came in 1842 when Queen Victoria and Prince Albert stayed on their way to the Highlands (at considerable expense to the Fourth Earl, who expressed in a letter the inconvenience of the visit, but also knew that declining was not an option).
Prices start at £4,500 per night (about S$7,500, two-night minimum) for 10 people, including breakfast and tax; each additional guest is £450 (S$750) per night.
THORNBURY CASTLE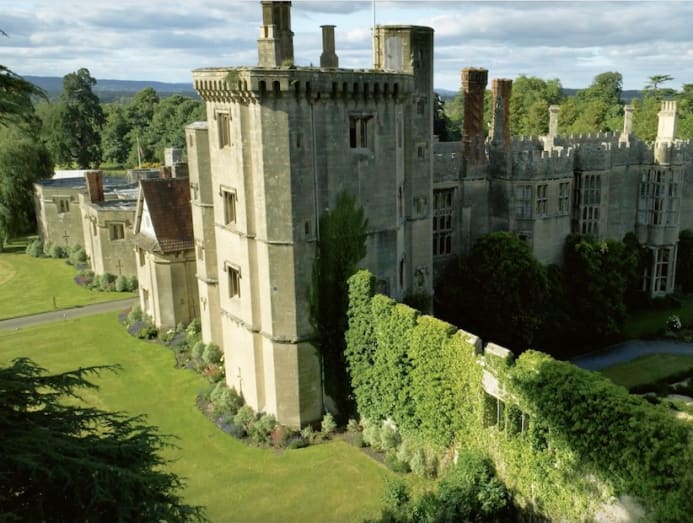 Originally an 11th-century manor house built for a Saxon lord in the Bristol countryside, Thornbury Castle was converted into a fortified castle by Edward Stafford, the third Duke of Buckingham, in 1510 with the permission of King Henry VIII.
Guests overnighting at the castle, a 27-room Relais & Chateaux property, are met with an impressive stone facade studded with medieval-style battlements and gunports, oriel windows, and manicured Tudor gardens within the 15-acre grounds.
Opulent interiors include period decor, four-poster beds and silk wall hangings. Outdoors, guests can partake in traditional country pastimes like archery and hatchet throwing, and even enjoy a falconry display.
"The Buckingham story is a microcosm of the Tudor era – politics, religion and beheadings," said Tony Cherry, a local historian and author who leads guided tours of the castle, recounting its rich history, royal links and architectural details.
"Stafford, a potential successor to the throne, conspicuously flaunted his wealth and royal blood, which made him a threat to the king, who had him tried for treason and beheaded in 1521."
Subsequently, Henry VIII became the owner of the castle for 33 years and visited in 1535 with his second wife, Anne Boleyn, who lost her own head the next year; guests can book a lavish suite named in Henry's honour.
Rooms, with breakfast, from £280 (about S$470), including tax.
GLENAPP CASTLE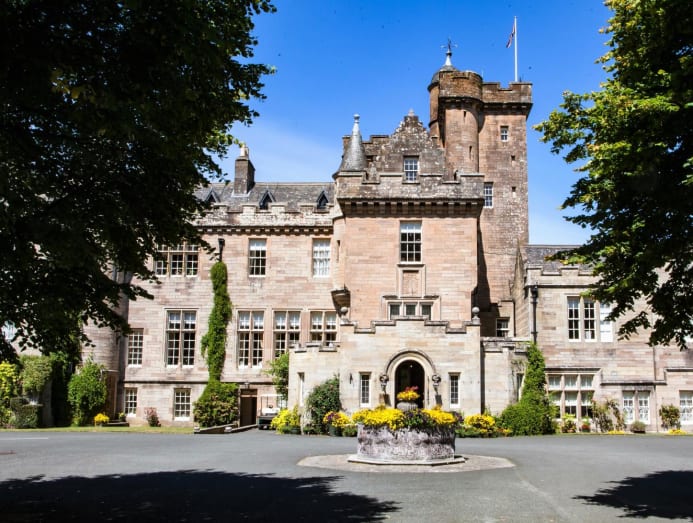 "When our guests arrive, they comment on how it is like arriving at a grand home because there is no reception desk or no bar," said Jill Chalmers, managing director of Glenapp Castle, a Relais & Chateaux property perched on the rugged Ayrshire coast of southwestern Scotland.
Panoramic views of the Irish Sea and the volcanic island Ailsa Craig complement a storybook facade topped with turrets, towers and crenelations, and a 110-acre private estate full of gardens and woodlands.
"We have personal hosts and butlers that tend to guests," Chalmers said, adding that Glenapp Castle's owner will often give guests a personal history tour of the castle. A four-bedroom penthouse with a personal butler, a private chef and a sauna was recently added to the hotel's 17 suites.
Guests can dine at the castle's new restaurant, in a 130-year-old greenhouse that echoes a similar conservatory at Balmoral. Epicures can also join the chef to forage for Scottish ingredients like wood sorrel, wild garlic and apple blossom within and around the property.
Traditional country pursuits including trout fishing and pheasant shooting are some of the more than 70 experiences Glenapp offers. Guests can also concoct a personal scent from 21 botanicals with a master perfumer and explore the Hebrides islands on an overnight trip in the castle's private boat with a personal chef and a butler.
Low season rates from £323 (about S$540) per night for a garden-view suite, including a full Scottish breakfast and tax.
AMBERLEY CASTLE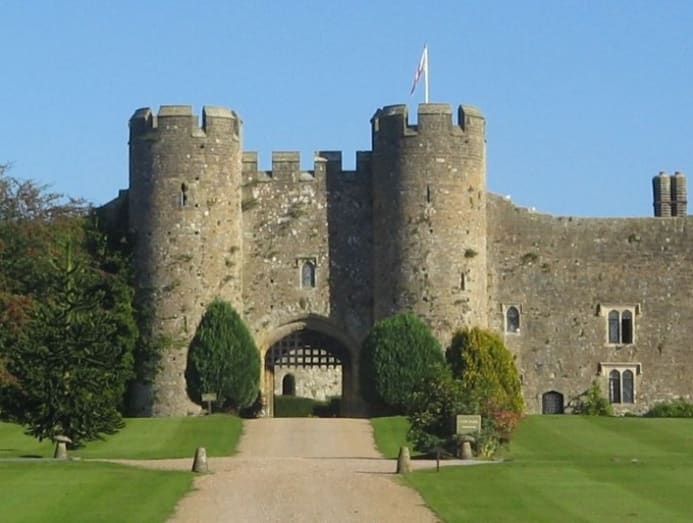 Originally a hunting lodge dating back to the early 12th century, Amberley Castle was transformed into a fortified manor house during medieval times and has hosted King Henry VIII, King Charles II and Queen Elizabeth II over the centuries.
Located in the West Sussex hamlet of Amberley, known for its thatched cottages, the Relais & Chateaux castle still flaunts its original stone curtain walls with crenelations, a working portcullis and a twin-tower gatehouse. The interiors showcase large wood-burning fireplaces, barrel-vaulted ceilings and mullioned stone windows, while 19 guest rooms feature exposed beams and the original stonework.
"The castle's location is everything," said Masterson, the Celtic Castles founder. "It's close to London in a beautiful English village, and you have really good access to the south coast of England and Arundel Castle, which is another super visitor attraction nearby."
Guests can stroll the 12-acre grounds alongside resident peacocks or enjoy a game of croquet, tennis or golf on the 18-hole putting course. Nearby, South Downs National Park's rolling hills, river valleys and woodlands – ideal for horseback riding, hiking and cycling – remain as timeless as the castle.
Rooms from £260 (about S$435), based on double occupancy, including breakfast and tax.
FORTER CASTLE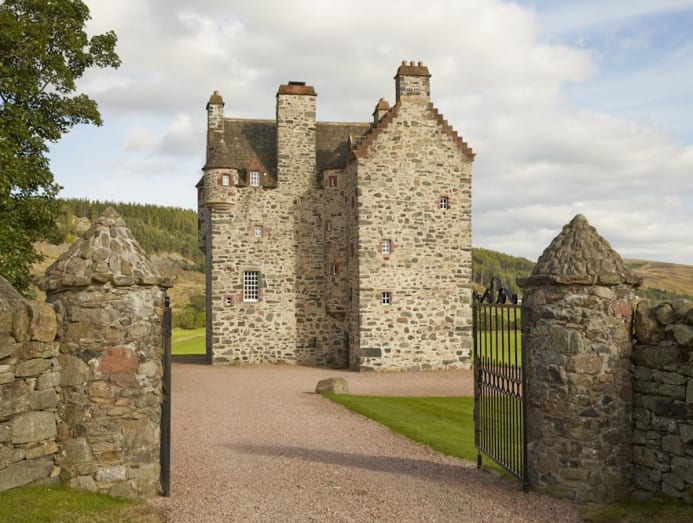 Family, royal or otherwise, is everything at Forter Castle, a 16th-century fortress about 80 miles north of Edinburgh in the Scottish Highlands.
"It very much feels like a family home," said Katharine Pooley, the owner and interior designer, who personally selected every design detail as she and her father meticulously restored the castle.
Goatskin chairs, antler candelabras, wrought-iron chandeliers and tartan rugs share space with Pooley family photographs and heirlooms. Five of the six bedrooms are named for her father and the four siblings with designs that reflect their respective personalities.
Furnishings include antiques and four-poster beds with Ralph Lauren linens. Pooley also commissioned a hand-painted mural depicting the history of the castle on the Great Hall's ceiling. A large Pooley sword hangs above the Great Hall's fireplace – a tribute to the family's history of producing high-quality swords that the royal family uses during some ceremonial events.
The tight-knit vibe is a draw for other families, too. "Many of our guests are multi-generational families with some sort of ancestral link to Scotland," said Maryln McInnes, the castle's manager.
In one intriguing transformation, a former dungeon has become a designer kitchen stocked with Le Creuset cookware where guests can prepare their own meals, or book a private chef.
Other extras include a private bagpipe performance, traditional ceilidh dancing and Highland pastimes such as archery, air-rifle practice and axe throwing.
Low-season long-weekend rates for up to 12 people start at £3,812 (about S$6,350, three-night minimum) on an exclusive-use basis, including tax.
By Nora Walsh © The New York Times Company
This article originally appeared in The New York Times.
Source: New York Times/ih