More than just a gateway to Australia's Great Barrier Reef: Fancy chasing cows and licking ants in Cairns?
Did you know that green tree ants taste citrusy? CNA's Try Sutrisno Foo discovered this – and that Cairns, Australia, is brimming with things to enjoy from riding an open-air gondola over a rainforest, mustering cows on an ATV, to feasting on fresh seafood and produce.   
In partnership with Tourism and Events Queensland.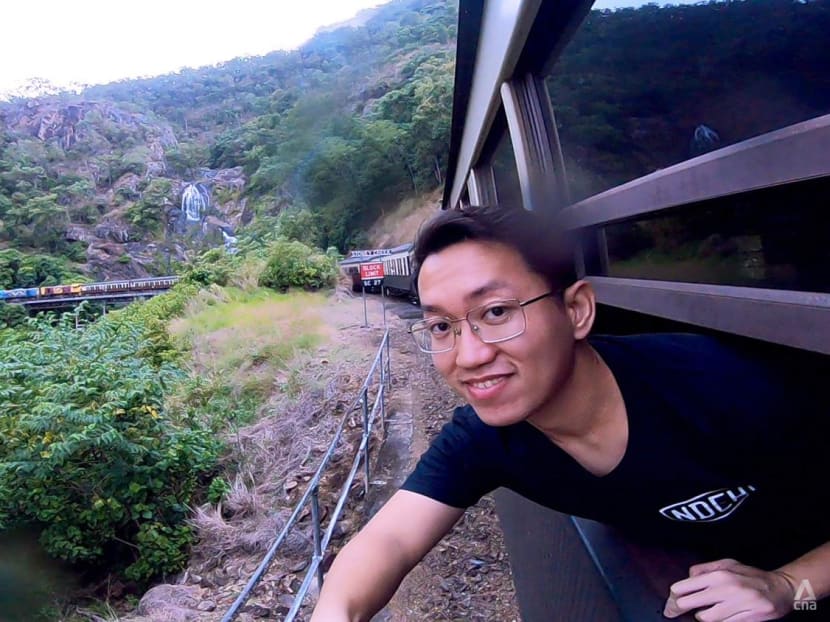 "You know how they say Australia is laid-back? Well, Cairns is lying down," declared our driver Jason as my colleague Joyee and I headed to our hotel from the airport.
Seeing as it was my first time in Australia, and I did not have any strong impression of the country beyond kangaroos and Uluru, I thoroughly expected the next six days to be a relaxing exploration of this northern city in Queensland and its surrounding regions.
Until the next day, that is –  when I found myself doing anything but lying down for my very first activity in Cairns.
Instead, I was suspended 10 metres up in the air, clearing a high element rope course, ziplining over a saltwater crocodile enclosure, walking on a steel platform circumambulating the dome's exterior, and jumping down a 13-metre tower. All within an indoor mini-zoo and adventure park situated on the roof of a casino building.
And did I mention my fear of heights?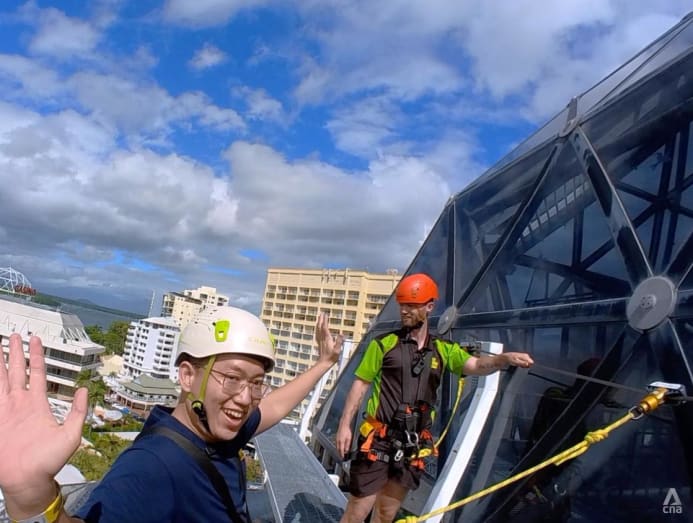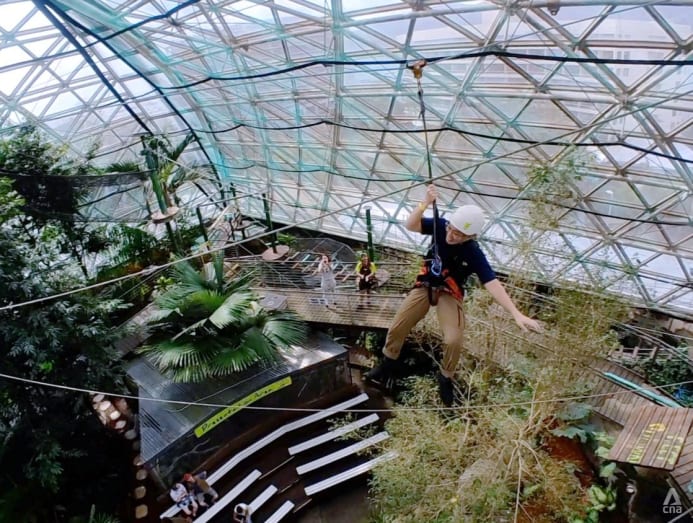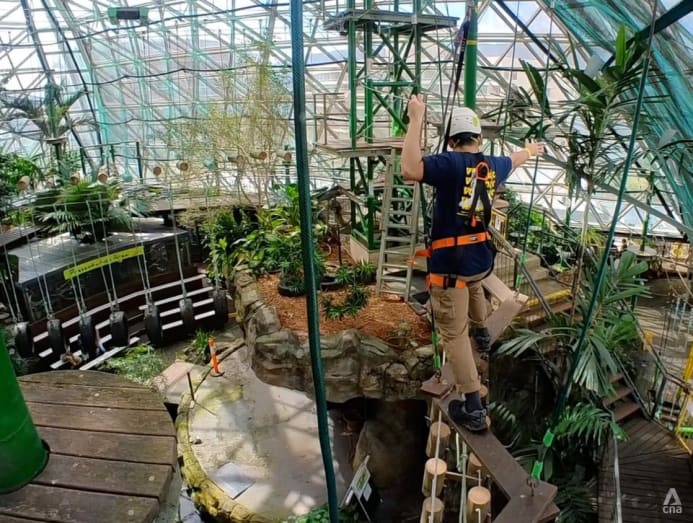 I let the absurdity of my personal situation at the Cairns Zoom and Wildlife Dome distract me. Here I was in a harness, with birds perched on lines, spectating and egging me to move forward, and I thought I heard a kookaburra's laughter echo throughout the dome. If there was a place to conquer my fears, this was probably it.
Thankfully, later that day, I eventually got a taste of what it means to relax in Cairns, with a visit to the Hemingway's Brewery restaurant and bar at the heritage-listed Cairns Wharf Complex. Overlooking Trinity Inlet, diners enjoy lunch and beer here with a sweeping view of the Trinity Forest Reserve and the occasional ship or tourist jet boat passing by.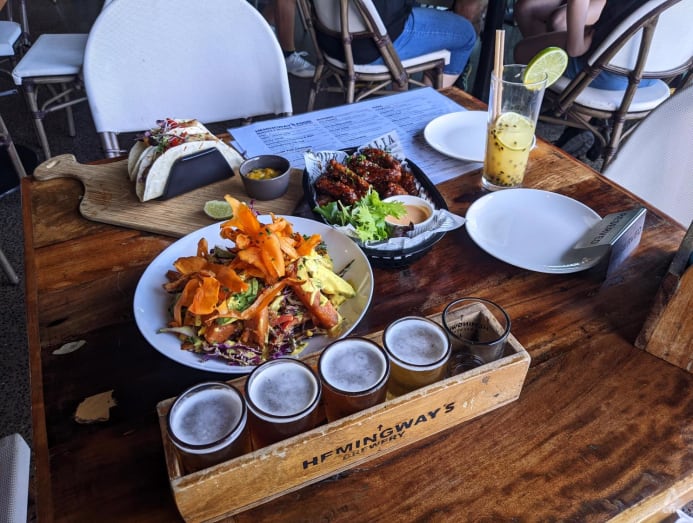 It was a glimpse of what Cairns and its surrounding regions – collectively regarded as Tropical North Queensland – had to offer: Lush greenery, aquatic adventures and good food. 
Cairns is the gateway to Queensland's tropical north, and CNA Lifestyle got a taste of what it has to offer. In partnership with Tourism and Events Queensland.
WORLD'S OLDEST SURVIVING RAINFOREST AND ITS HIPPIE ENCLAVE
A 15-minute drive north from Cairns is one of the best ways to get acquainted with a piece of Queensland's Wet Tropics, a world heritage forested area known for its unique plant species and with a claim to be relatively unchanged in the last 130 million years.
After a short morning drive out of Cairns, we reached Skyrail Rainforest Cableway's Smithfield Terminal. From the front, the cable car station looked like a large house with a green triangular roof, peeping out from a layer of trees and shrubs. Cable cars, or gondolas as they call them in Cairns, suspended on steel wire ropes thread through the back of the building, disappearing into the air over the rainforest as it went.
It was here where our ride in the sky began – and yet another instance to test my acrophobia.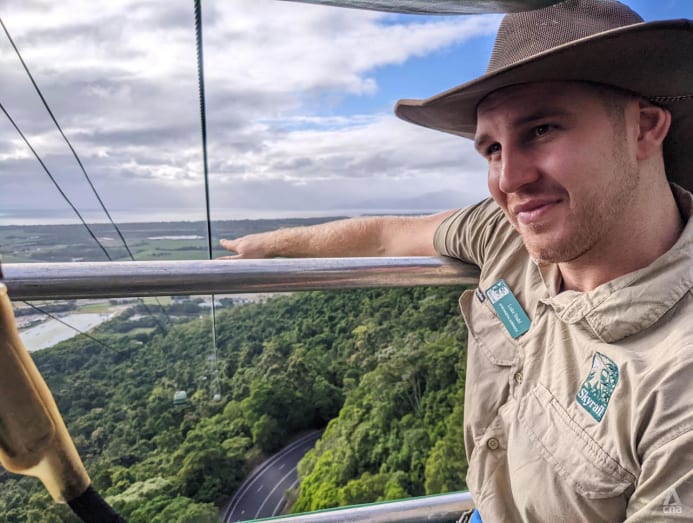 Luke, our guide for the ride, greeted us with what was now a familiar set of equipment – harnesses. We were, after all, not simply sitting in a box with windows to enjoy the view from above. We were riding on the Skyrail's Canopy Glider, an open-air cable car.
Once Joyee and I were safely hooked onto a metal frame in the centre, we were off. An environmental supervisor at the company, Luke enthusiastically dished out trivia while showing us how to spot plants one could also find in Singapore, such as the rattan palm.
With the morning sun shining and the trees casting dramatic shadows throughout the canopy, it was, theoretically, a sight to behold. It's difficult to be in the moment to soak in the panoramic views and cool morning breeze when your stomach's in your mouth.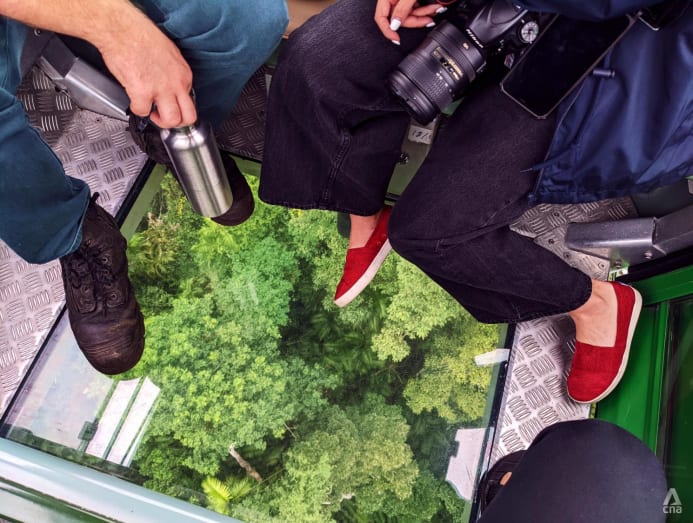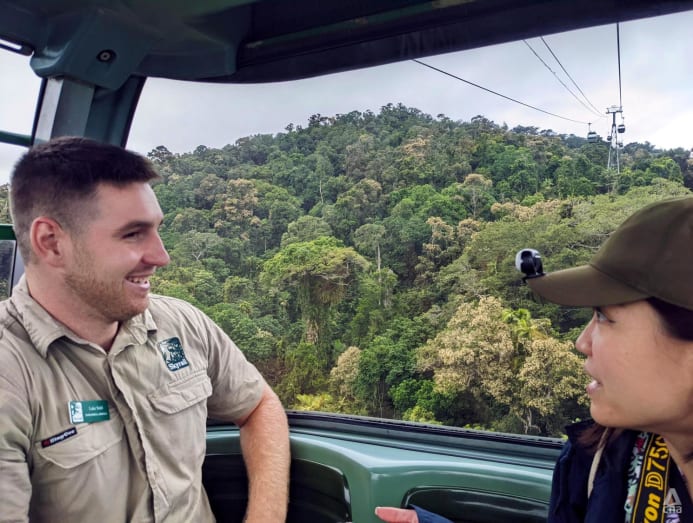 According to Luke, great care went into the construction of the Skyrail in the 1990s. Helicopters were mostly used in the construction as no road was built to cut through forest. Buildings like Red Peak station, where we briefly stopped to explore the boardwalk, were built over land cleared by mining companies in the past.
At our next stop, we left the harnesses behind and hopped on another gondola, this time with a clear glass floor, and I could now breathe better and take in the panoramic view of the Barron Gorge Falls with Luke's running commentary in the background.
Apparently, there's a rumour that it was this same ride that gave filmmaker James Cameron some visual inspiration for Avatar. Beneath the canopy, there's also an ancient network of thousands of metres of walking tracks, established by ancestors of the Djabugandgi Bama peoples as they made their way through the forests to reach the coast for trade and food gathering. These tracks later formed the basis for routes used by miners and railway workers.
By the time our trip ended at Kuranda village, I actually wished for another ride on the gondolas. Thankfully, Skyrail streams its cableway live on its website so I could relive the thrills. From the comfort of my room.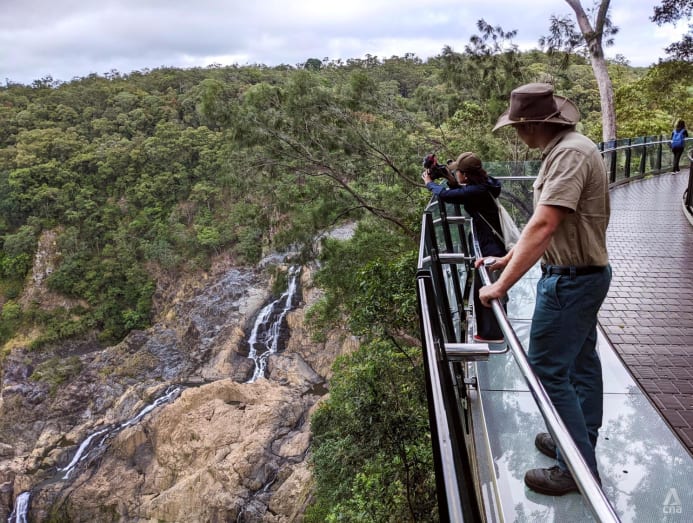 From Kuranda village, we hopped on a bus to Rainforestation, an eclectic nature park where one hops into an amphibious Army Duck, a military six-wheel drive dating back to World War II.
Our guides had all been helpful so far, and Duck driver Chris was the same, teaching us how to spot a coffee plant in the wild. At some point, we stopped at the edge of a small lake, where we took to the water, a calming way to end a relatively bumpy ride through the forest.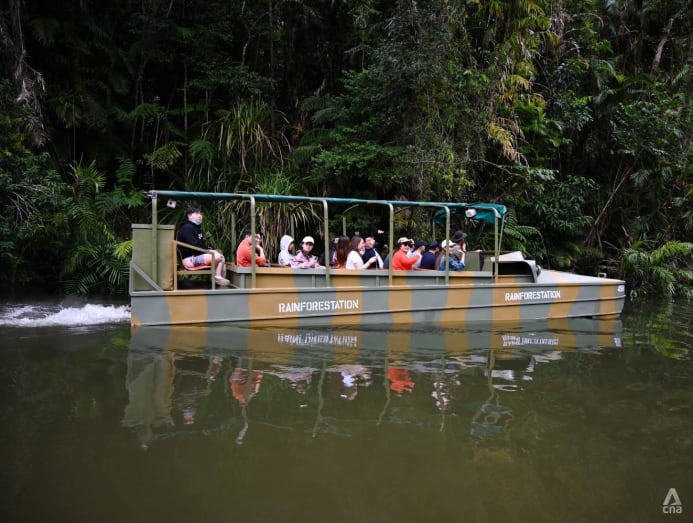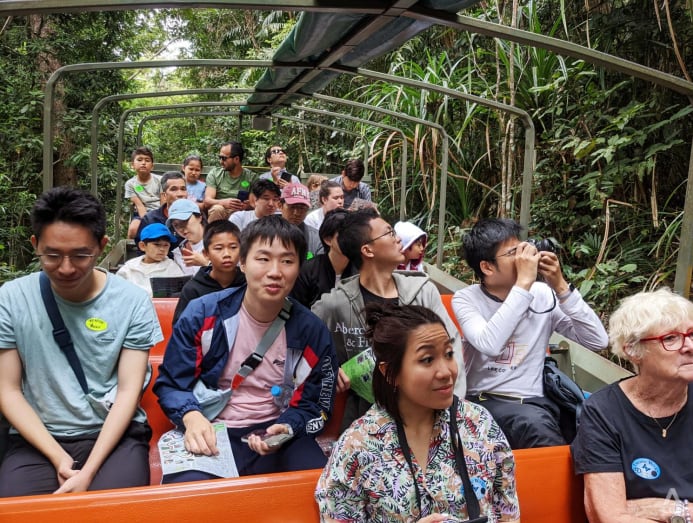 But before we left, Chris asked if Joyee and I would like to try tasting the butt of a green tree ant, also known as weaver ants. Yes, you read that right.
Picking up one such ant casually strolling on a metal railing, he held it up as we stuck our tongues out, ready to have a taste of, erm, the forest. As I smacked my lips, surprised at the slight citrusy zest, he picked up another one. Apparently, the intensity of flavour varies from ant to ant – and I now have a new thing to try out the next time I'm trekking at MacRitchie Reservoir.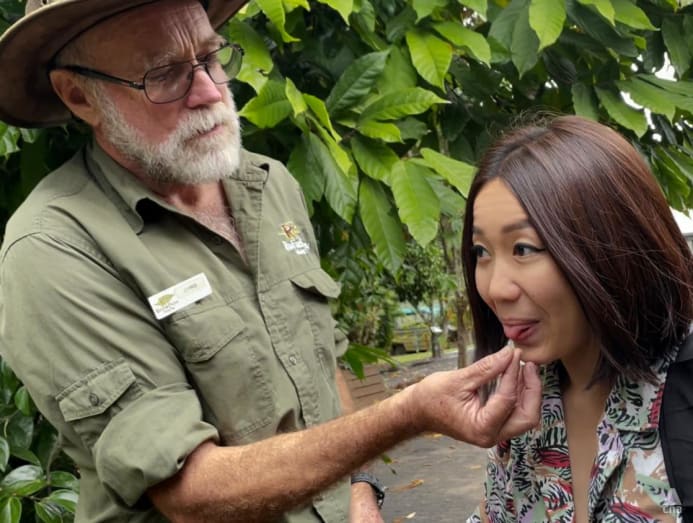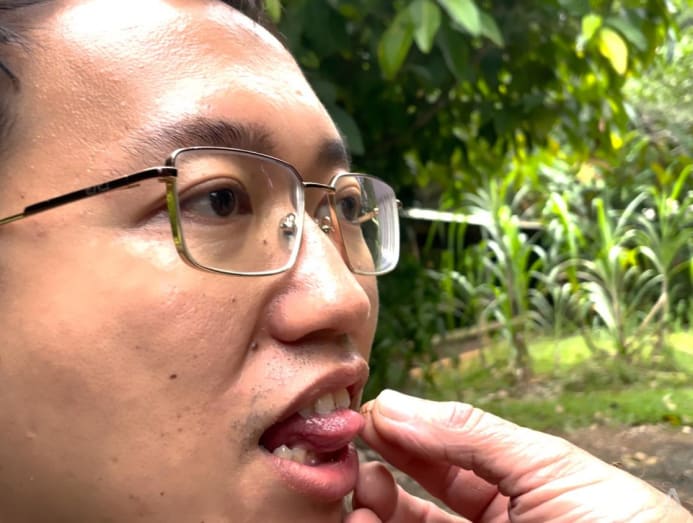 After catching a Pamagirri Aboriginal performance, joining the performers on stage to try the dance and learning how to throw a boomerang, it was back to Kuranda Village to hop on the Kuranda Scenic Railway.
But before that, we had time to drop by the market, where for a moment, I thought I stepped through a time portal. I was surrounded by people with braided hair or dreadlocks, wearing denim over tie-dye tops. There were colourful prayer flags overhead. I couldn't tell if they were tourists or locals but it seemed like we were transported back to the hippie days of the 1970s.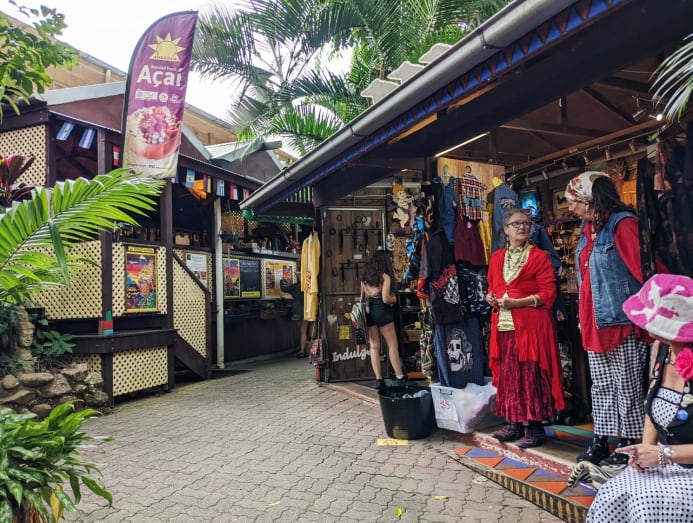 And I wasn't far off the mark. Ros, our guide and host for the entire trip, shared that Kuranda was a stop for hippies doing a "pilgrimage" around Australia, along with other sites with a culturally rich history, such as Ayer's Rock. Artists have also made the place their home, hence the plentiful art galleries. Something about the rainforest and the hill drew them there.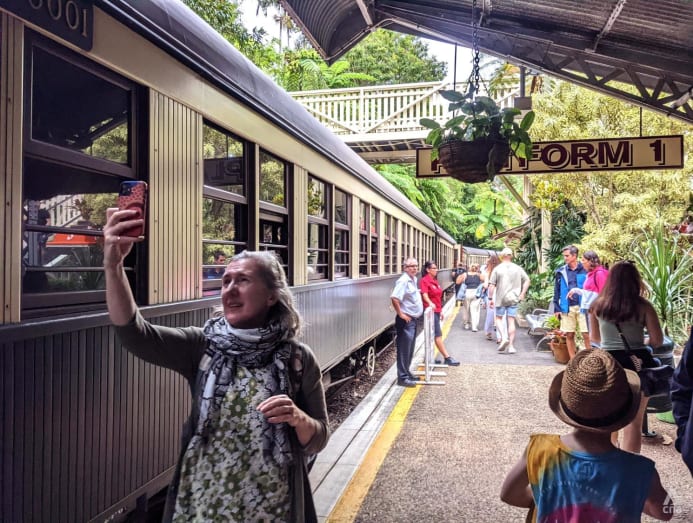 KURANDA SCENIC RAILWAY AND ITS DARK PAST

On our trip back to Cairns, we were treated to a more stylish ride  – on the Gold Class carriage, which felt as fancy as a business class flight, if not more. And it seemed apt that Karinda, our new guide for that leg of the trip (yes, you may have noticed our rotating host of helpful guides) was previously a flight attendant who joked she was hired because of her name. Karinda, Kuranda, get it?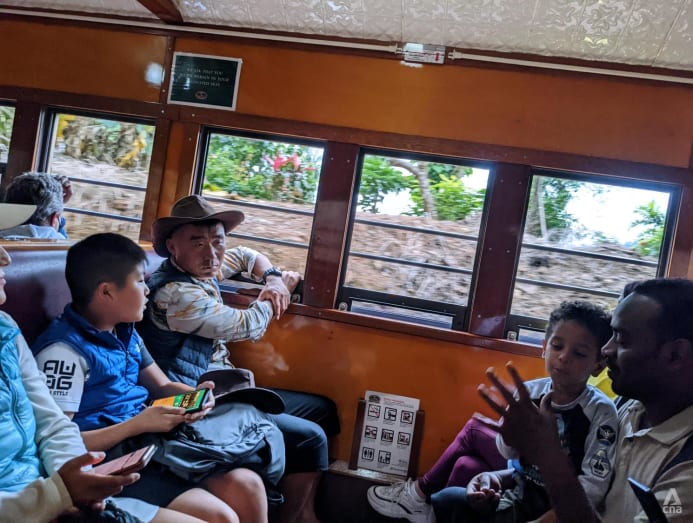 As the train made its way down the slopes of the Atherton Tablelands to Cairns City (including a brief stop for some photo taking at Barron Falls), a recorded commentary pointed out interesting spots along the route, from tunnels to rock formations. We also got an insight into the railway and train's construction and, by extension, a rather grim history of early Cairns.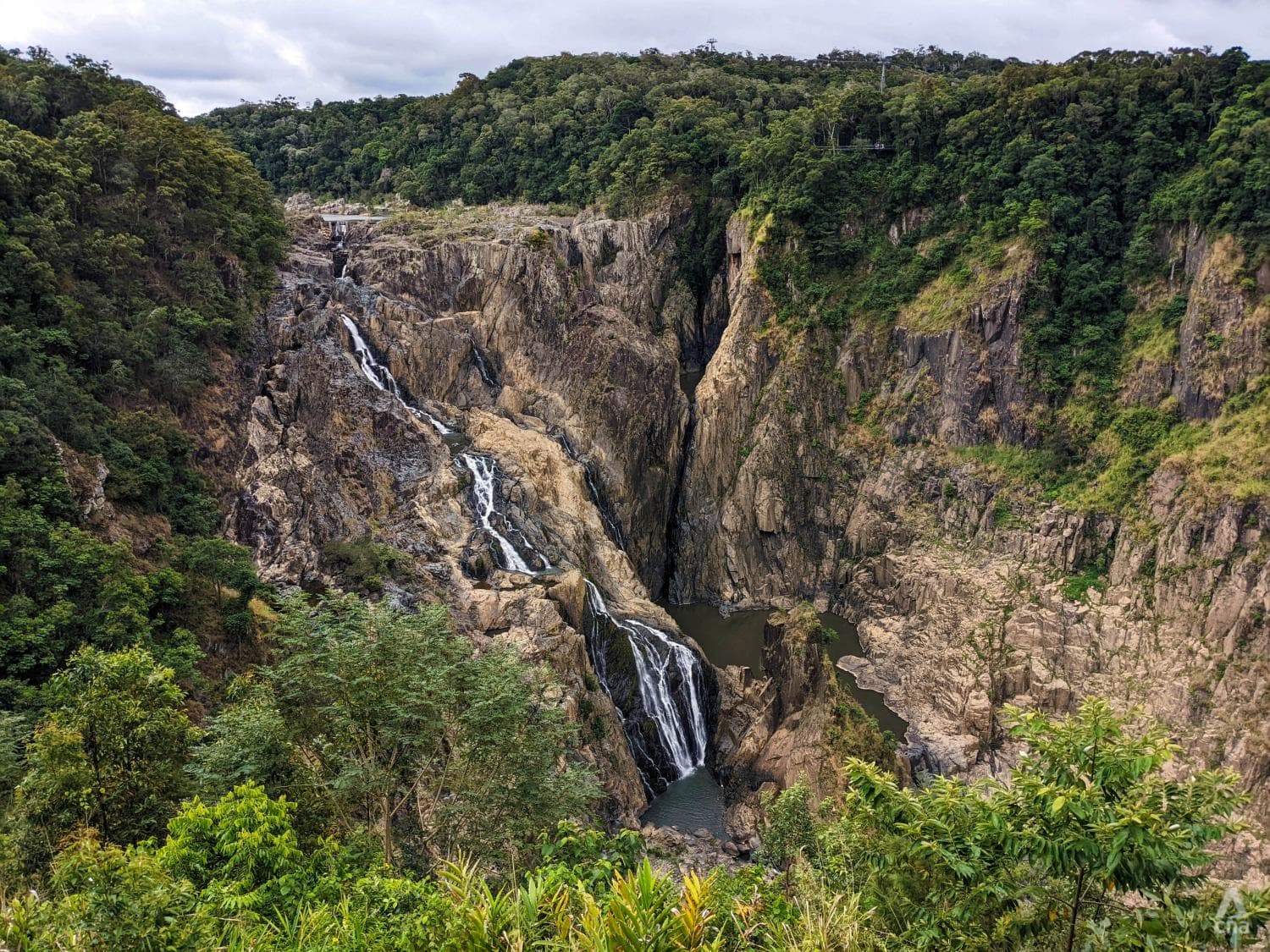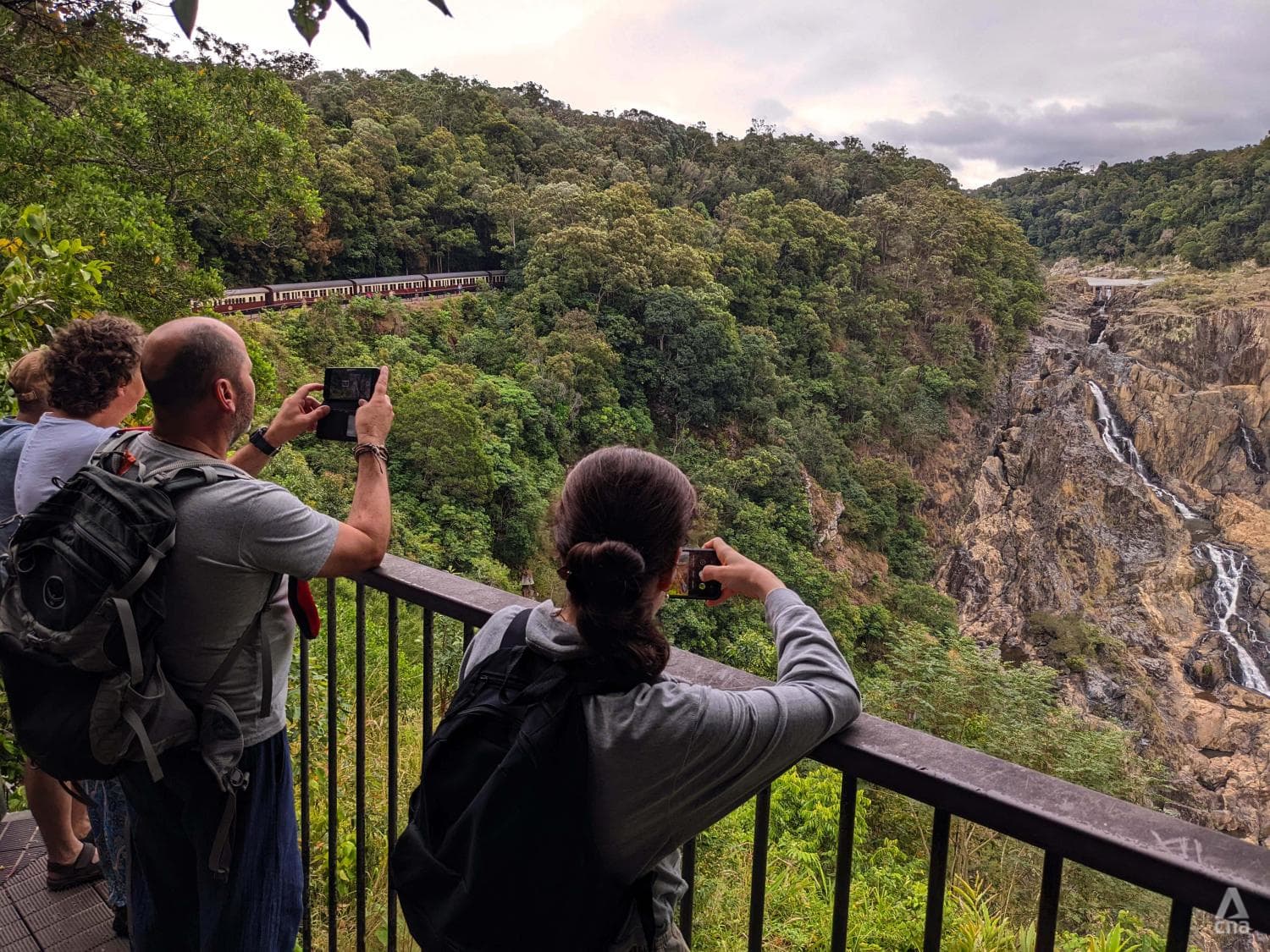 The railway began construction in 1886 to fulfill demands for supplies to reach mining settlements deep inland which were threatened by famine. So a railway to the coast was built, but at the expense of many lives as a lot of tunnels and bridges had to be built.
Workers, many of whom were of Italian and Irish descent, responding to job openings to build the railway also had to turn up with their own tools. Working conditions were poor, and many suffered from diseases such as dysentery and malaria.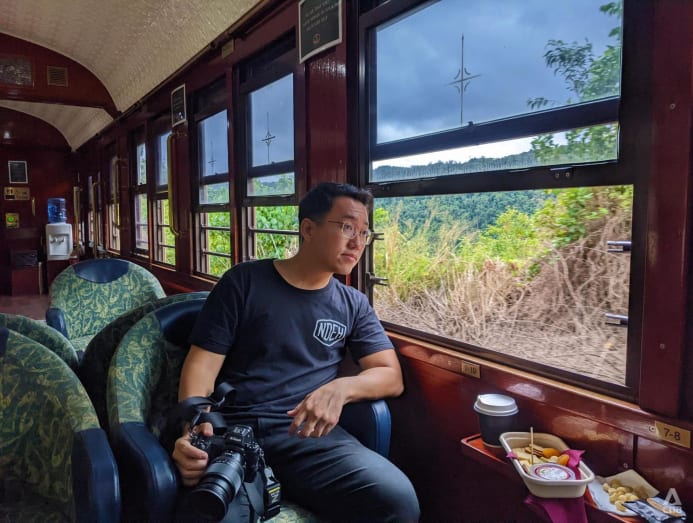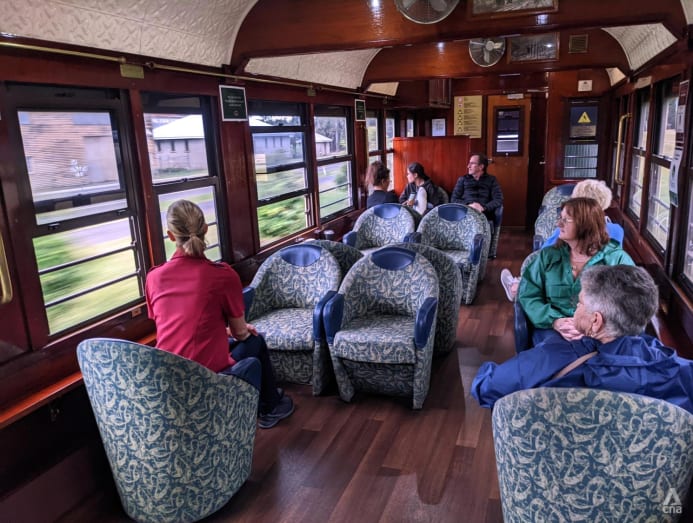 Despite the dark details being played on the train's speakers at various points, it did not dampen the journey down to Cairns. If anything, it was refreshing to hear less-than-savoury stories on what I thought was going to be a luxurious ride with nice views.
As the train pulled into suburban towns, seeing locals wave enthusiastically at the passing train also gave me a sense of how closely knit Cairns' folk were. Karinda and the train staff even made sure everyone stood by to wave to a "regular waver", a man who never failed to turn up to greet passengers.
And as the train reached the city, I ended the day with a deeper appreciation for a place with laid-back charm but whose residents and their ancestors had worked hard and toiled to bring it to life.
CAIRNS CITY, AUSTRALIA'S MELTING POT IN THE NORTH 
The weather was not always on our side during our time in Cairns. We were there during the cold season which typically comes with dry and calm weather. And as it turned out, we were in the middle of a "cold" spell, which was around 21 degrees Celsius, and it would occasionally rain or drizzle. 
But if one had to cancel or postpone plans outside of the city due to weather, a day spent within it can still be a colourful one.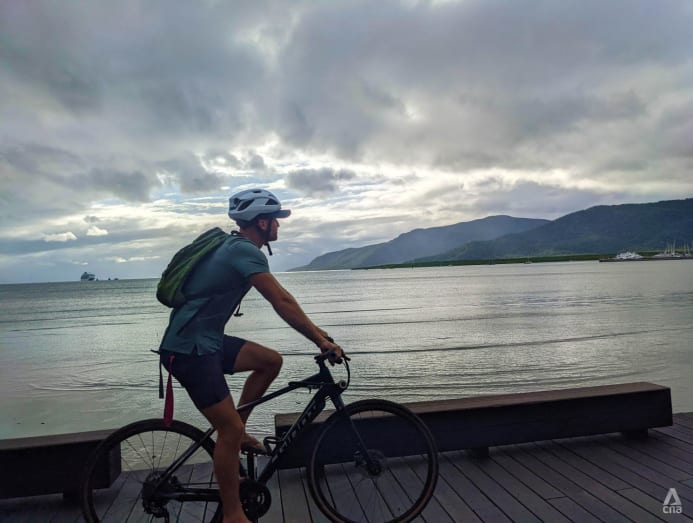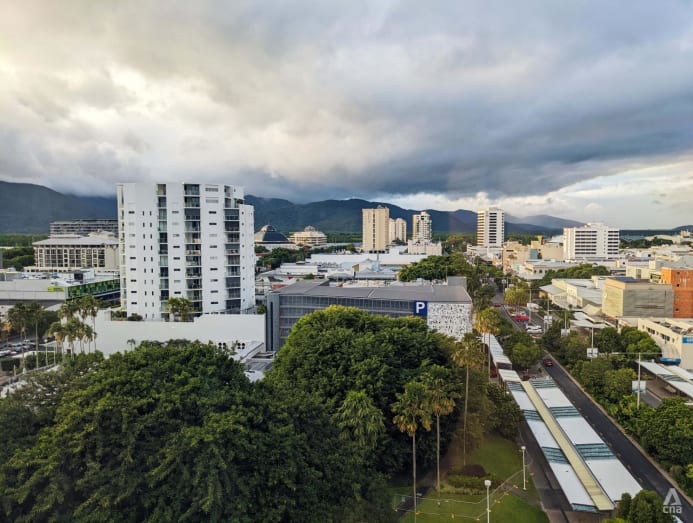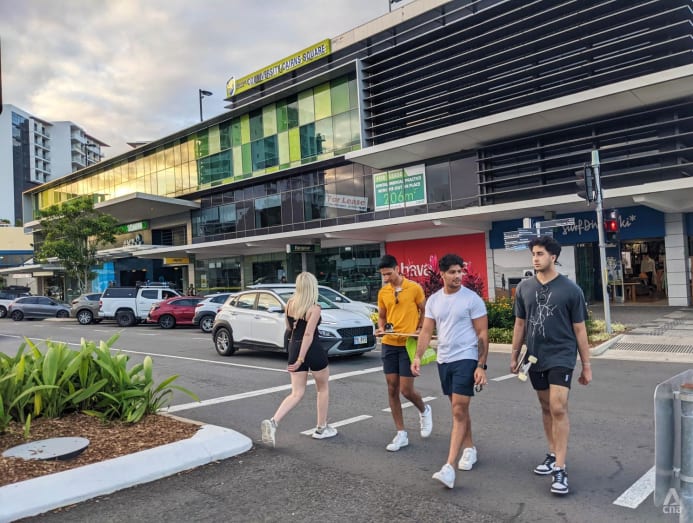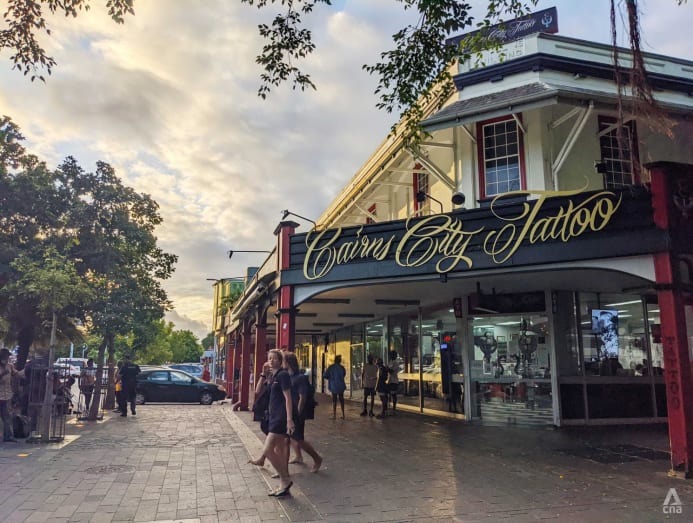 The first step would be to take a morning walk around Cairns Esplanade and perhaps stroll around the Central Business District area. The buildings between Grafton Street and Lake Street are great places to hunt for cafes which locals say are among the best in Cairns. Along the way, you can try searching for a hidden alley which has been covered in commissioned graffiti art.
If one is lucky enough to find themselves in Cairns city between Friday and Sunday, mornings are best spent in Rusty's Market along Sheridan street.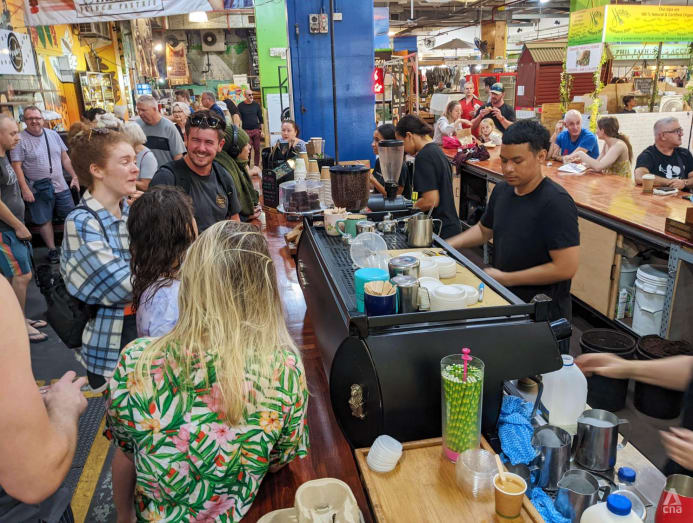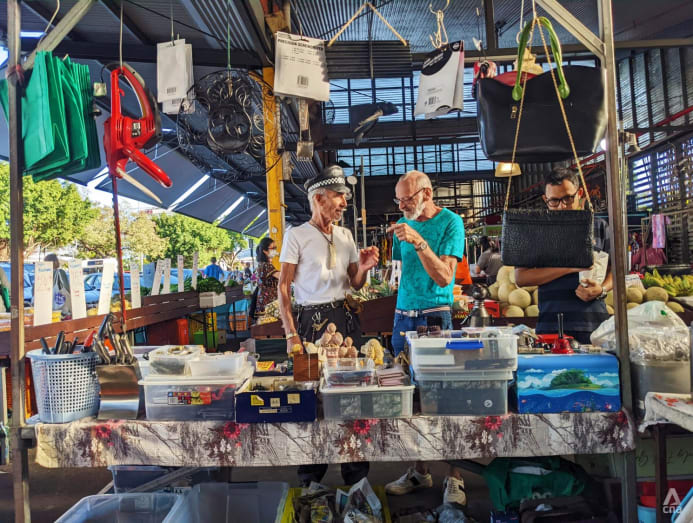 What some locals would say is arguably the social heart of Cairns started out in the 1970s as a Saturday market in a car showroom. It eventually expanded as more farmers and entrepreneurs from different ethnic backgrounds came in, from Papuan, Samoan and Italian to South Asian, Vietnamese and Thai. 
This was where locals would come to shop for the freshest produce harvested in the nearby Atherton Tablelands. The hustle and bustle from people haggling and catching up with friends was as familiar as the scenes in our wet markets back in Singapore.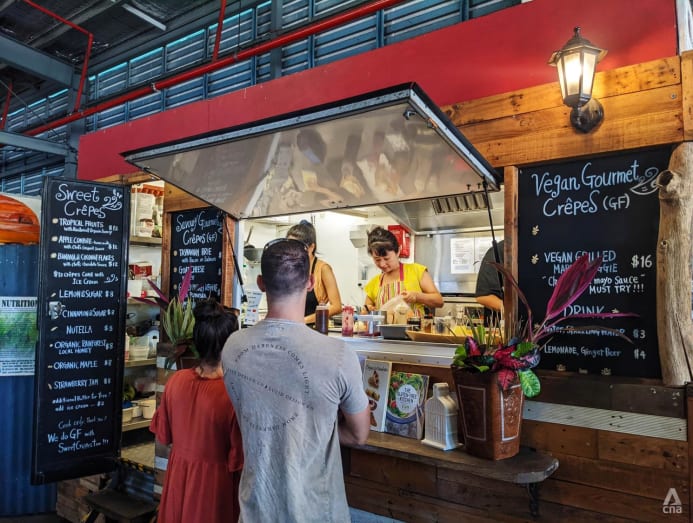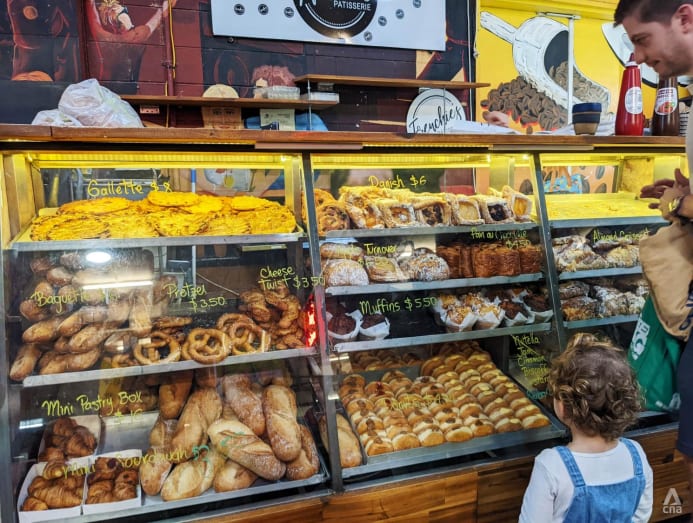 If you're not a morning person, there's also the Cairns Night Markets, which opens at 4.30pm. Although not as chill as Rusty's, in the sense that there aren't as many places to sit down and munch or drink, it's a bit like a bazaar for people to pass through. Inside is a cluster of stalls peddling anything from tourist T-shirts and temporary tattoos to cheap massages. At the entrance, there's even Taiwanese-styled tea, which was also popular with the younger crowd there.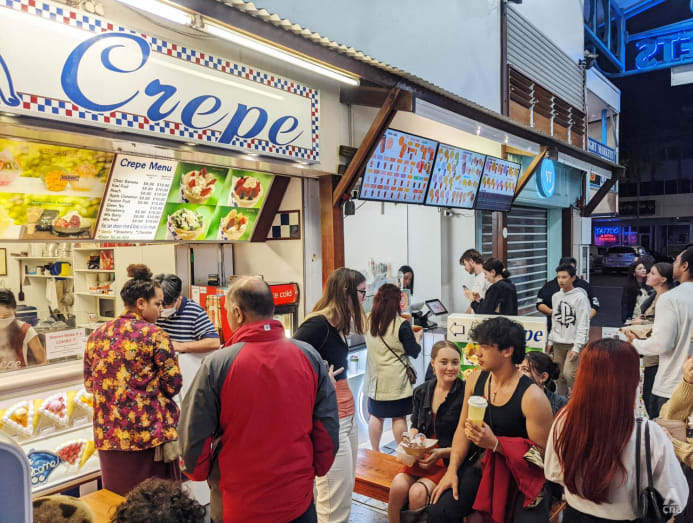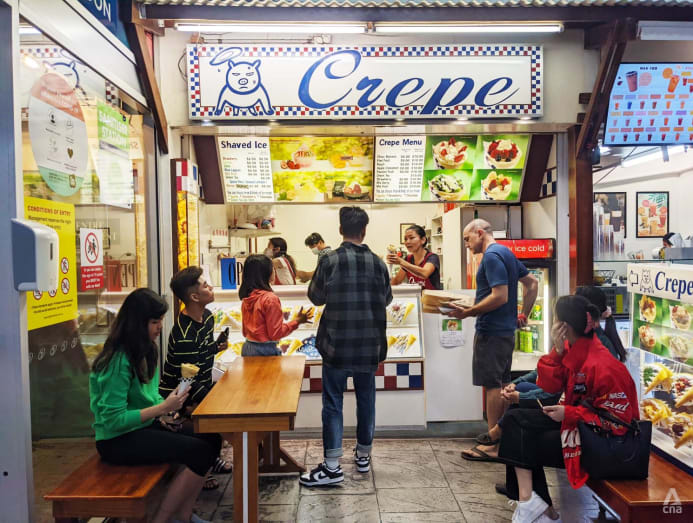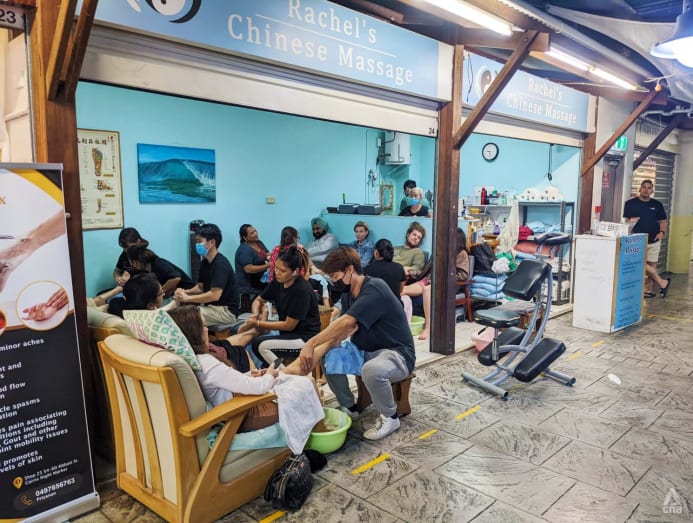 The other end of the market spills into a food court right next to the Esplanade, where visitors can take another stroll to catch the sunset. And there's also a ferris wheel by the boardwalk that comes alive at night, with the occasional busker filling the air with their songs.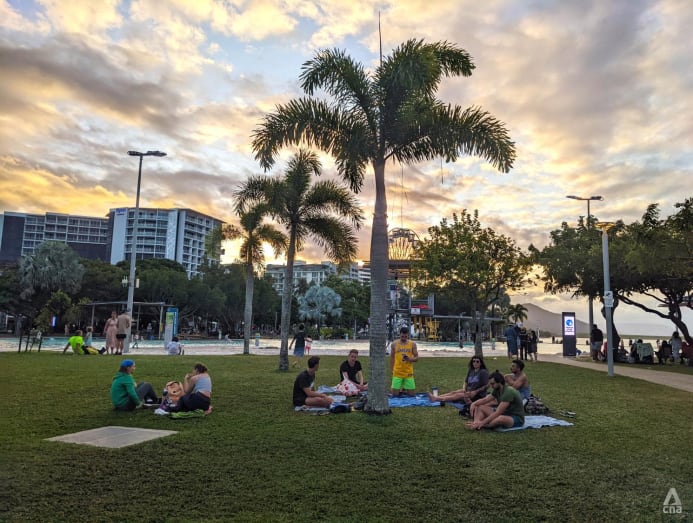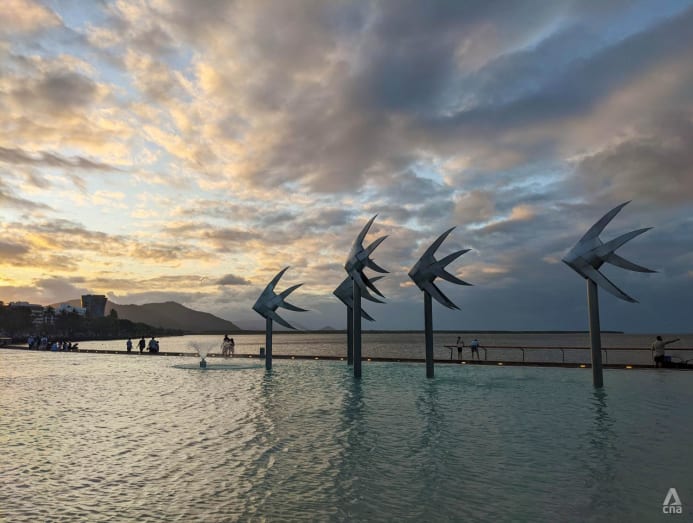 If you're hungry, there are plenty of options, from Italian and Thai to Vietnamese and Greek food. Or, if one fancies something different, you can head down to the Cairns Marina where seafood restaurant Prawn Star serves food from fishing trawlers docked at the marina.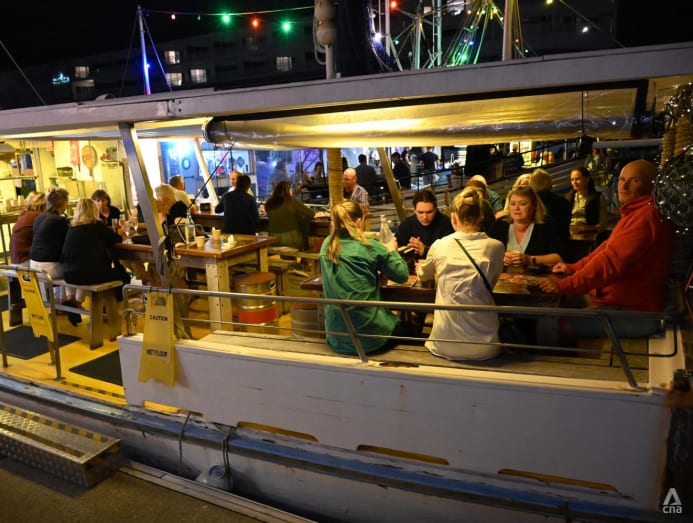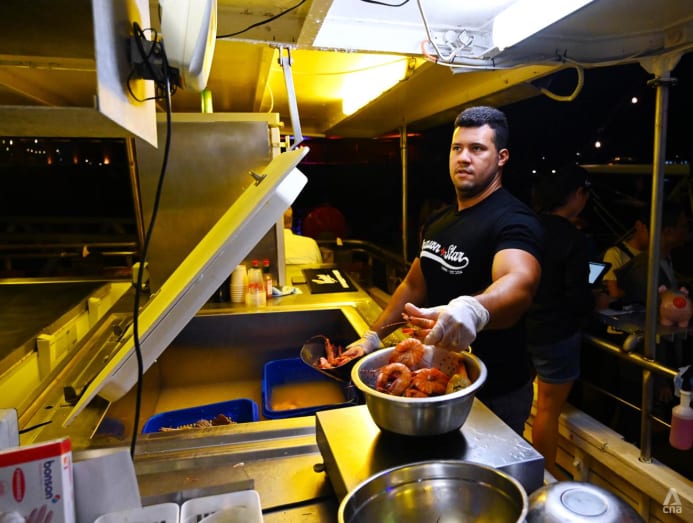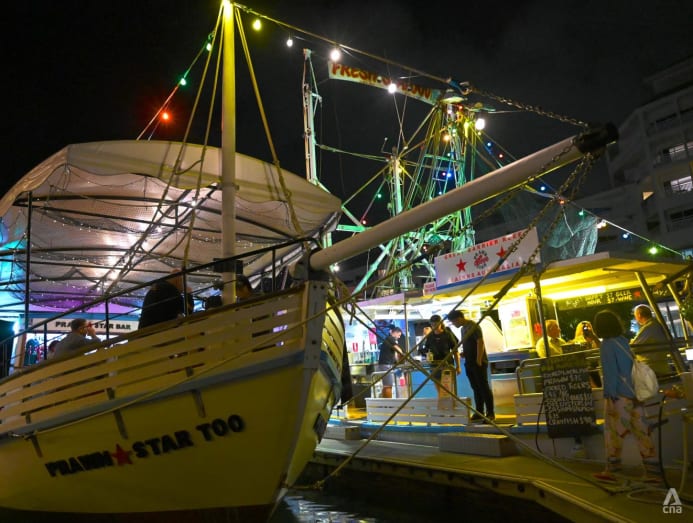 For those keen to paint the town red, there are some pubs and late night F&B spots in the alleys along Abbott Street. Be warned though: Cairns can be pretty quiet late at night and people not used to seeing rough sleepers on the streets may be taken aback. If not, the occasional calls of a bush stone curlew, a bird as common as the rock pigeon, which sounds like a shrieking woman, can spook.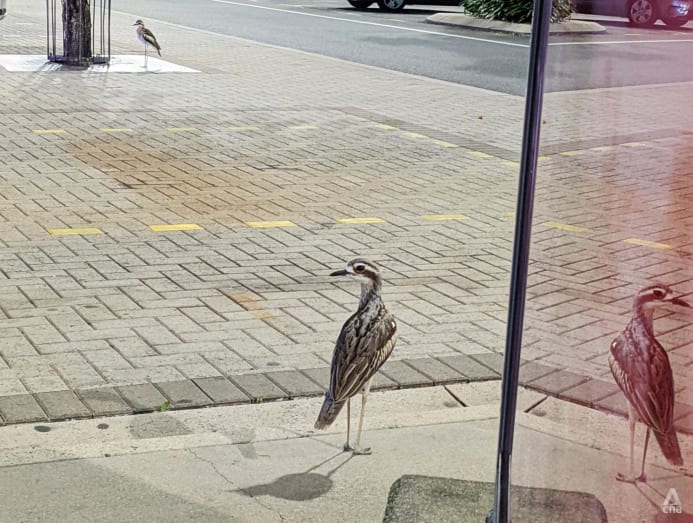 FARMS, FARMS, MORE FARMS AT THE ATHERTON TABLELANDS
To get a sense of where the fresh foods one gets in Cairns come from, a trip to the Atherton Tablelands is mandatory. Atherton Tablelands is a plateau further inland and about an hour's drive away from Cairns City.
On a drizzly, early morning, Ros was back to fetch us, and after a drive up winding roads to climb the sides of the plateau, we reached our first stop, the Kur-Cow Barnwell Farm back in Kuranda.
Co-owner Ken came greeting us in typical farmer's attire – cowboy hats, long-sleeved button-up shirt and denim pants. "Okay then, what would you guys like to do? We can put on a saddle and ride the horses."
Joyee and I looked at each other. "Erm, this is a cow farm, right? Will we get to see some?" she asked.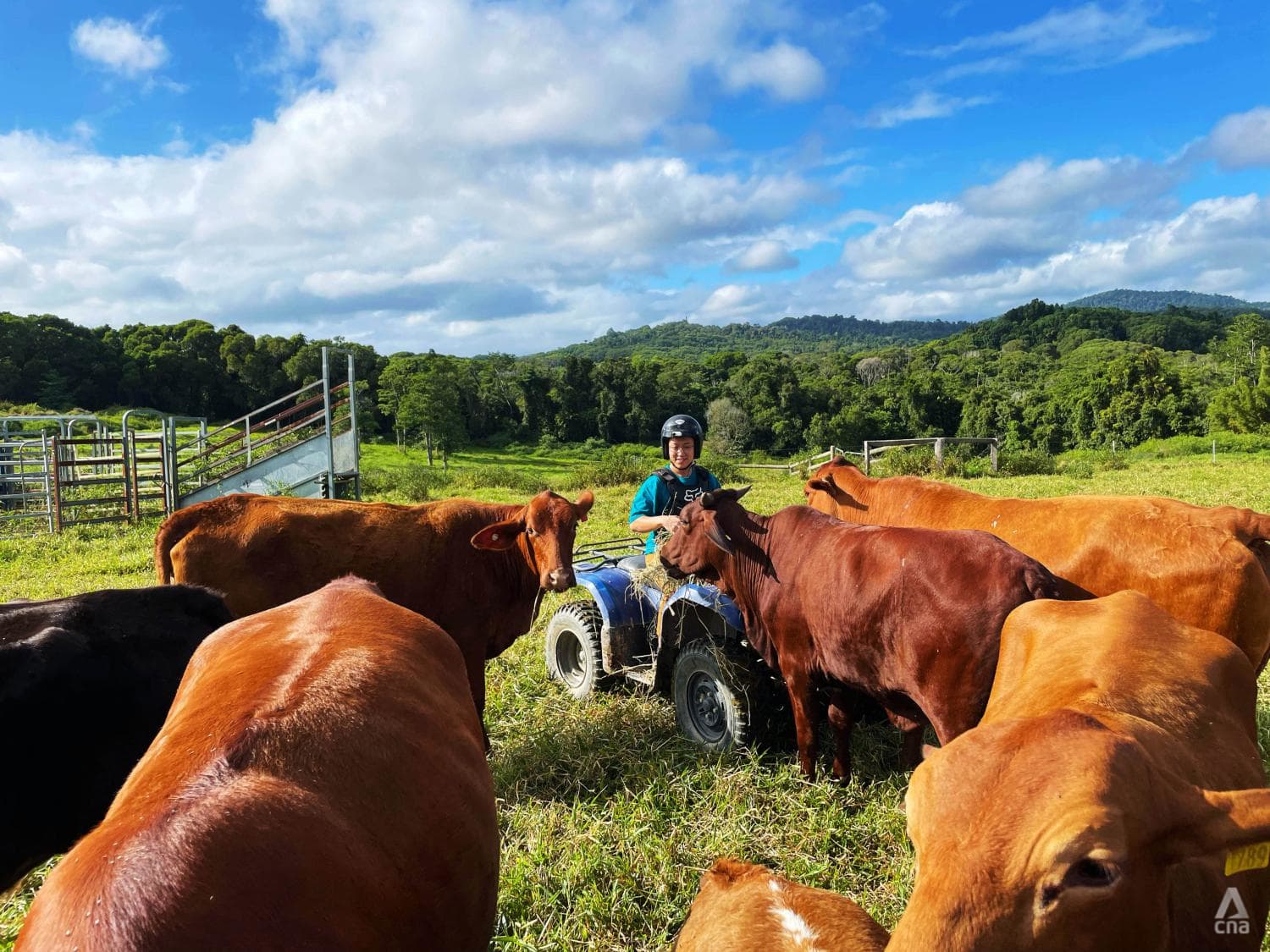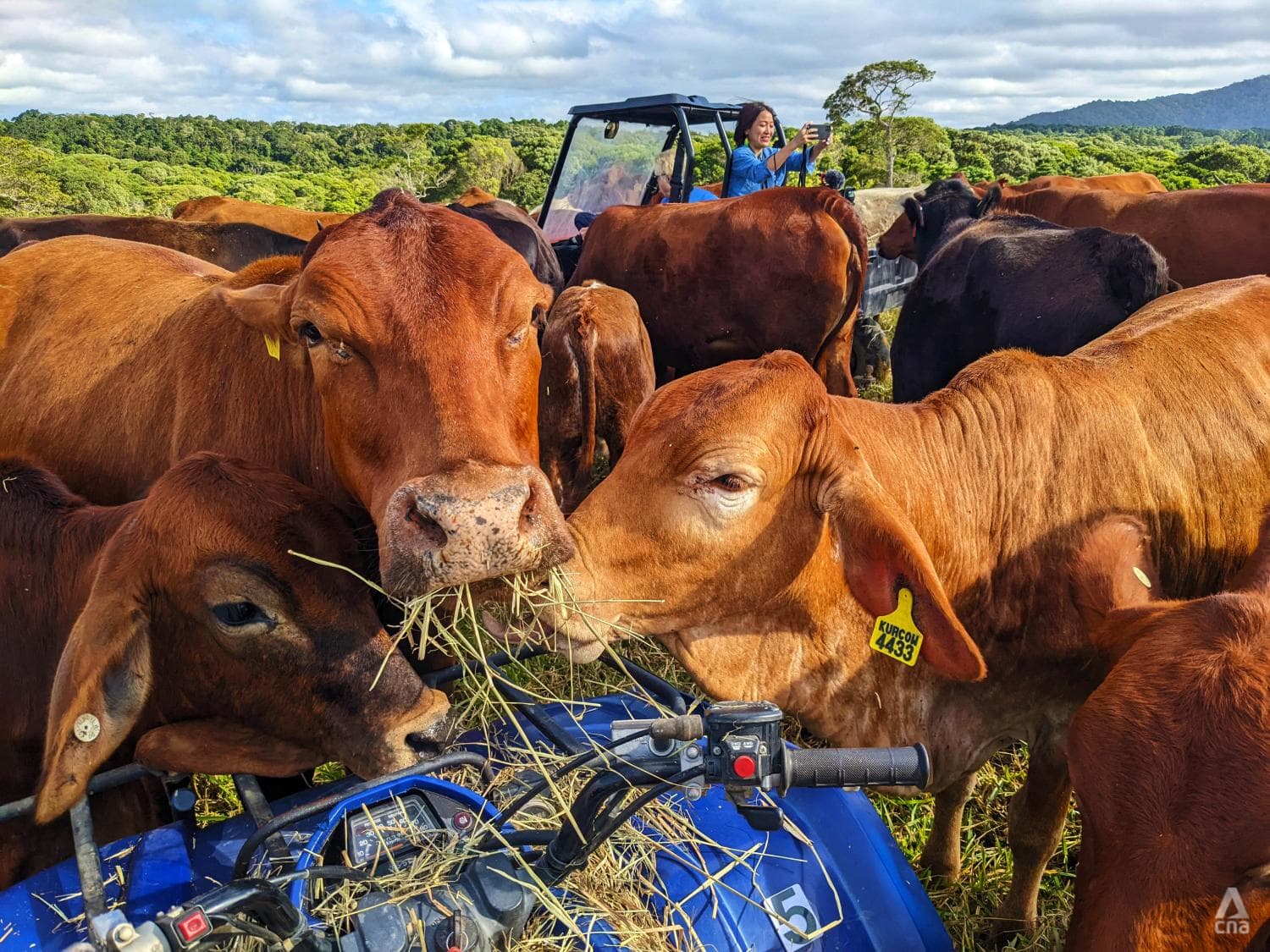 Which was how we found ourselves riding ATVs (all-terrain-vehicles) en route to the bovines the place was named after, where we would be doing some herding or "mustering", which involved a tractor full of hay and navigating through some pretty big, hungry cows.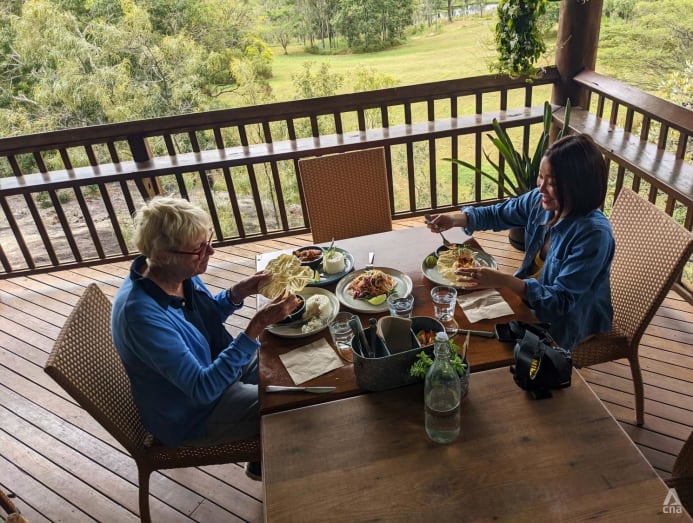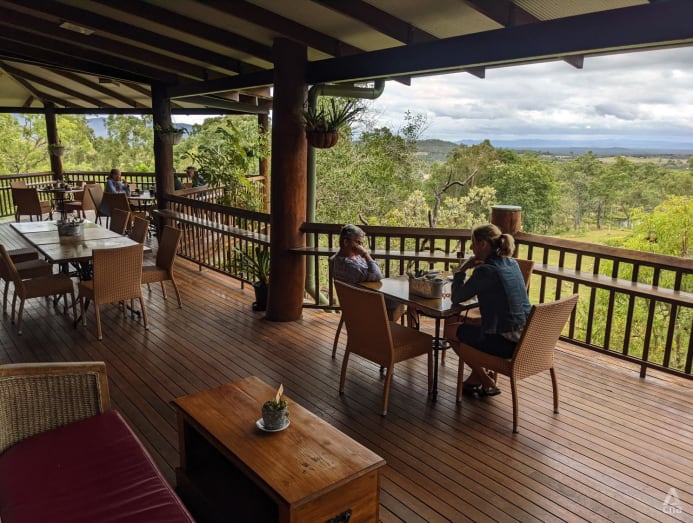 Our next rustic stop was decidedly less intense: Skybury Farms near the town, or shire, of Mareeba, an hour's drive from Kuranda, produces coffee and papaya, or as the locals call it, paw paw.
We were given an exclusive tour of the picking and sorting area for locally grown papaya. Workers first get the papayas to bathe in a solution before they are funnelled onto a conveyor belt which feeds into a section where workers sort and pack the fruits, ready for distribution.
Besides seeing how produce gets packed, it was also interesting to see the variety of people who worked there. There were labourers from Papua New Guinea but also backpackers and students from Asian countries. Ros shared how one can apply for working holiday visas in Australia and work in such farms.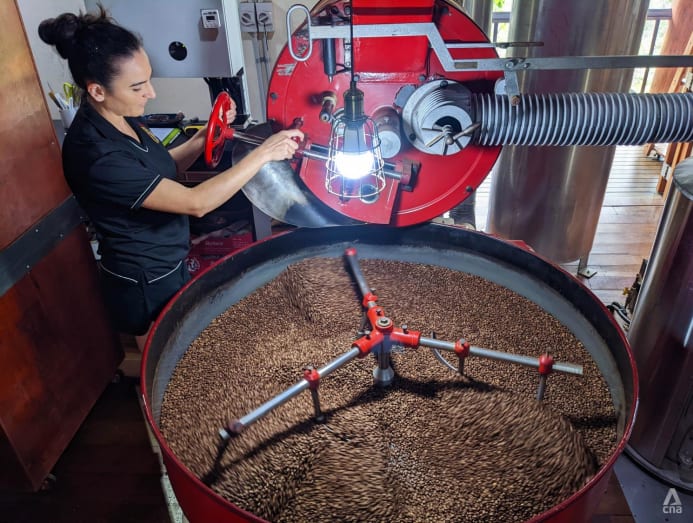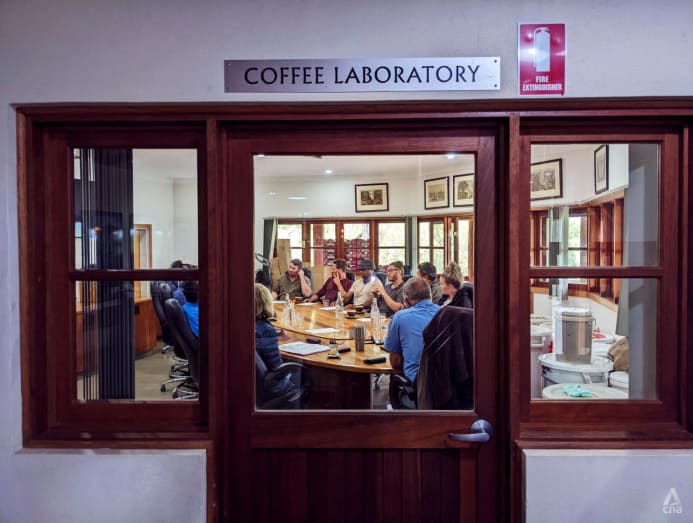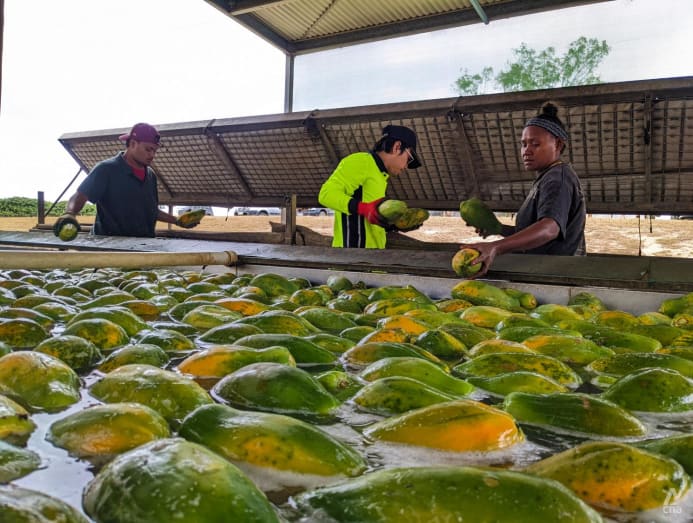 After enjoying a fresh cup of Skybury's house blend coffee and a warm plate of rice with papaya butter chicken, it was off to our final farm stop in the Tablelands. 
Crossing from Kuranda to Mareeba and then to Mungalli, we saw the landscape around us transform – from a more tropical rainforest-like biome to that of a endless grassland and farms and to the dryer savannah-like environment with tall termite mounds rising above the ground.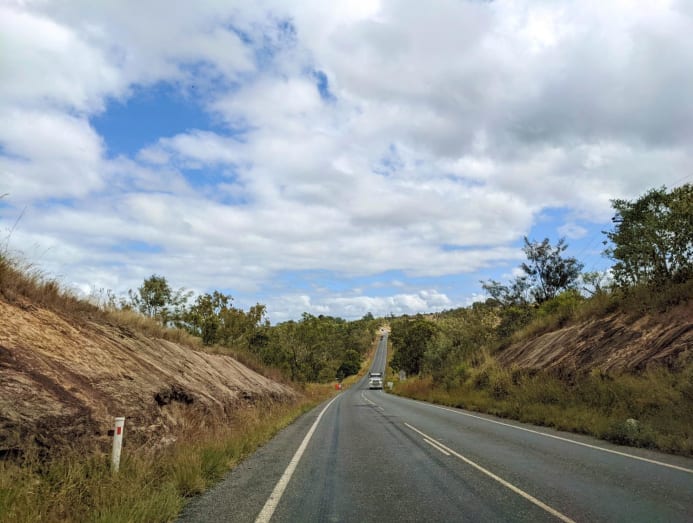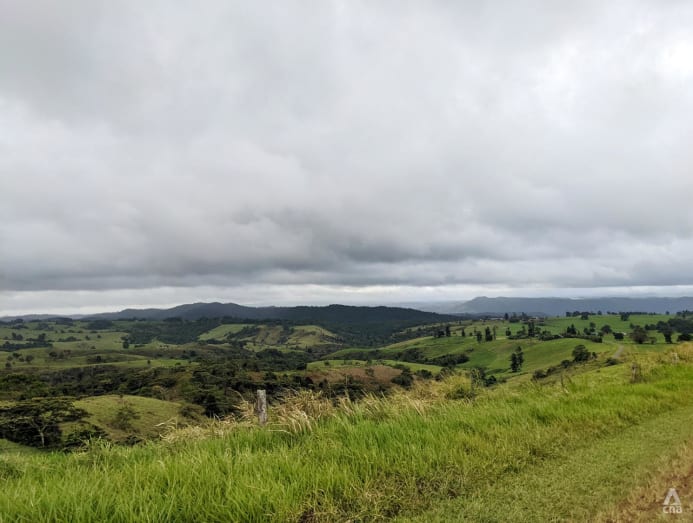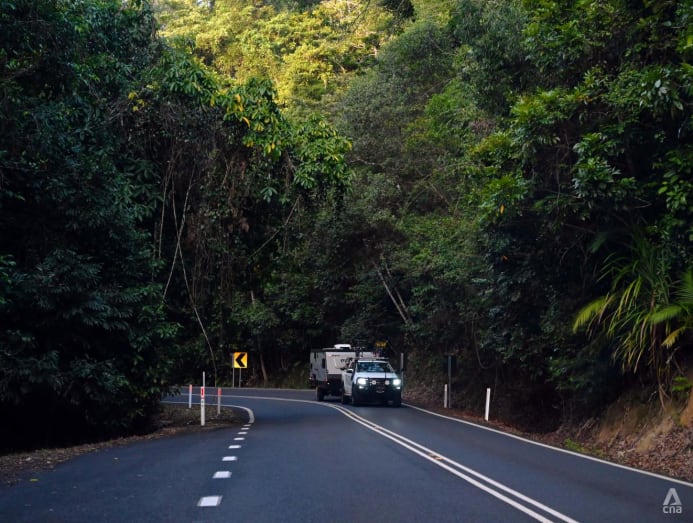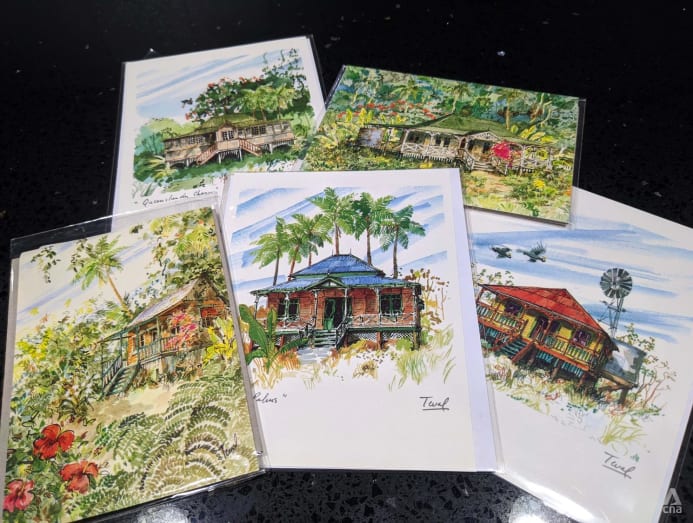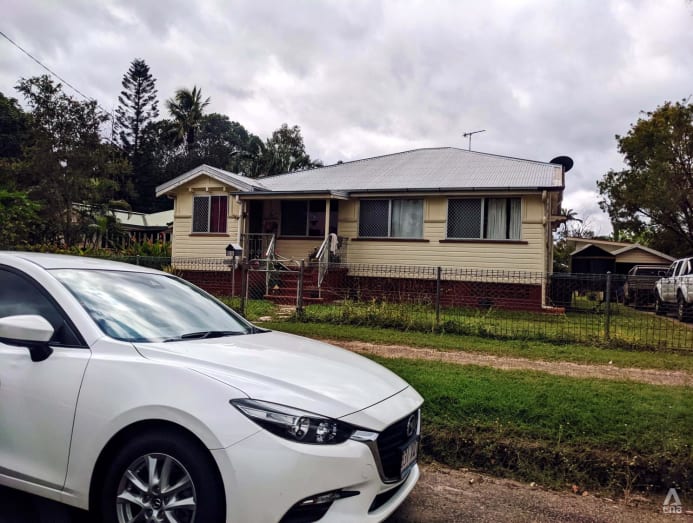 Driving through Mareeba Shire, we caught glimpses of houses built on what looked like stilts, somewhat reminiscent of stilt houses you'd find in Southeast Asia. Ros reminded us that we were, after all, in the "tropical" part of Queensland, which could explain the similarities.
After the long drive, we finally reached Mungalli Creek Dairy Farm. There's a quaint cafe in what was once the owner's family house and at the back, you could see the production area where yoghurt, cheese and milk were made.
Together with some tea and desserts, we were able to sample some of these cheese produced in the farm. One these, the mungallio, was their take on creamy romano cheese with a sharpness of cheddar.
From mustering cows to nibbling cheese, it was nice way to end a full day's tour of the Atherton Tablelands before heading back to the city to prep for what's arguably the biggest draw in Cairns.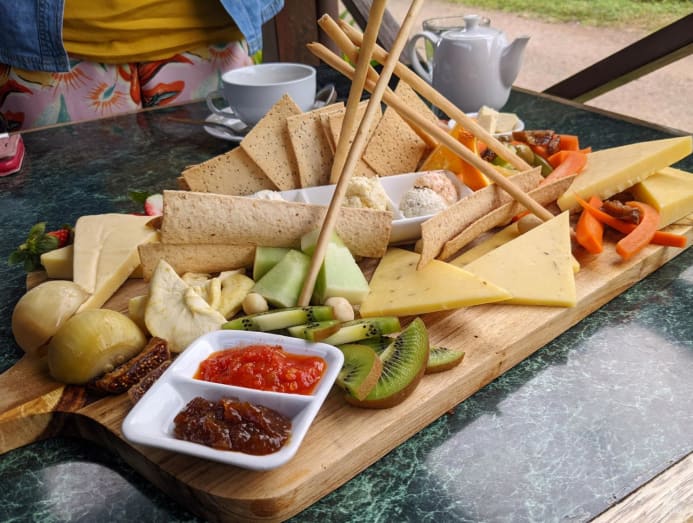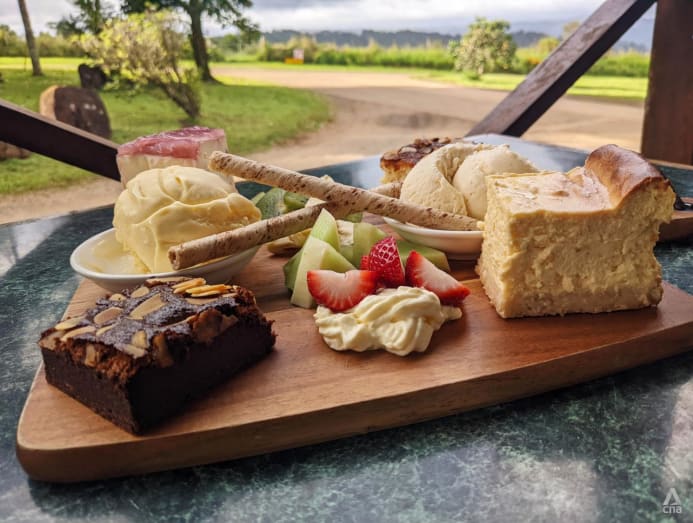 AUTHENTICITY AND THE GREAT BARRIER REEF
You can argue that no trip to Cairns is complete without a visit to the Great Barrier Reef. A selection of reef tour operators can be found both in Cairns and Port Douglas, which is an hour's drive to the north.
We were booked with Dreamtime Dive & Snorkel, an operator that prides itself on giving its passengers an Aboriginal cultural education on board. It also has Aboriginal crew and rangers working on the ship.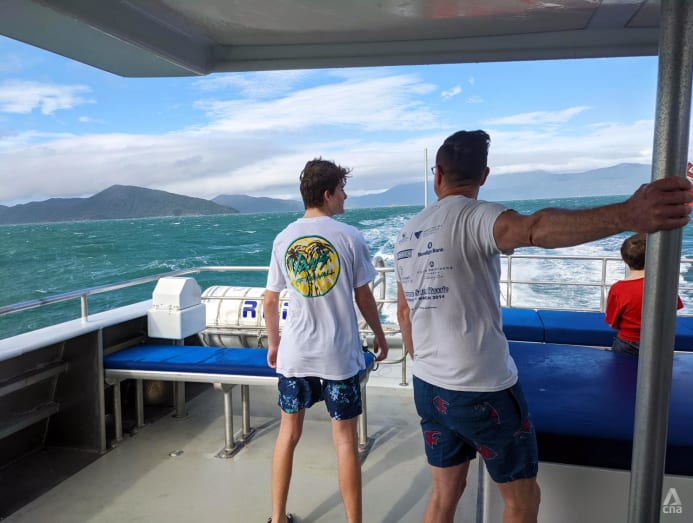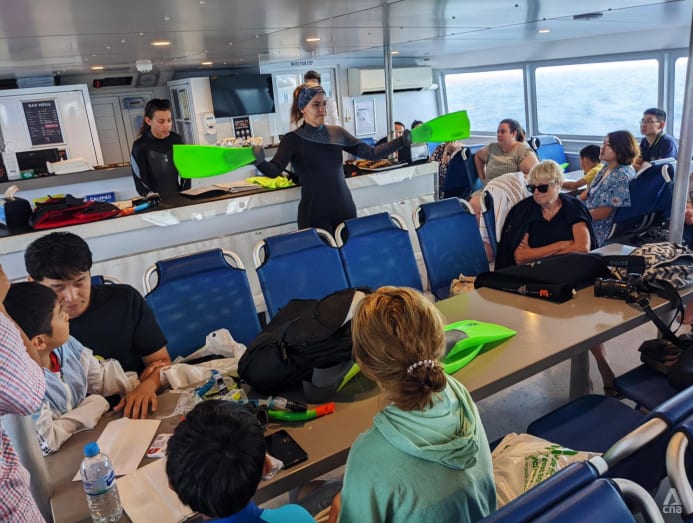 On the way there, one of the rangers, Brian, demonstrated Aboriginal techniques to light a fire, by drilling a long wooden stalk of a local coastal plant onto dry wood. But no thanks to the weather or the choppy seas, he had difficulty producing a flame. "Oh well, I guess I'm not as good as my ancestors are," he good-naturedly shrugged.

Rangers like Brian also accompanied passengers on snorkelling tours to provide commentary on indigenous uses for various sea creatures as well as their cultural relevance.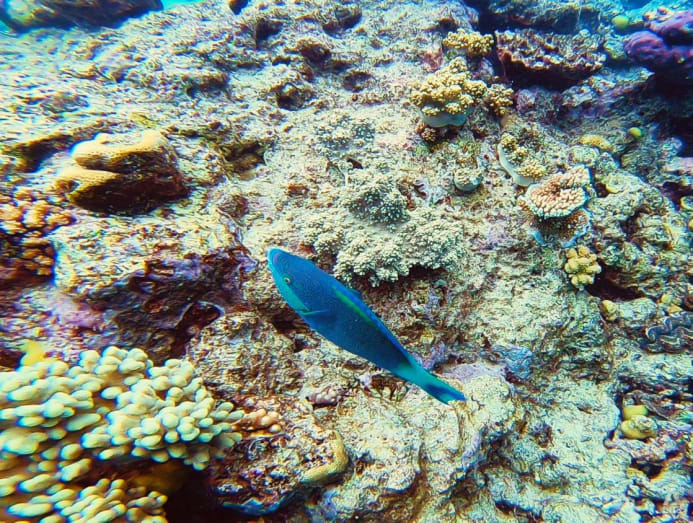 The cruise normally visits two spots along the reefs but due to bad weather, we only anchored at one spot. Not that I felt like I was missing out –  because of the choppy waves on our trip, it was quite hard to stay in one spot to observe the fishes. That said, the corals and fishes still looked vibrant despite being a cloudy day.

Having seen other reefs, I realised that up close, the Great Barrier Reef can look like any other reef one would encounter – at least to untrained eyes like mine. It offered the same kind of pleasure – watching fishes darting around, soft corals swaying in the currents, and simply being in the water. Perhaps what makes the Great Barrier Reef a really phenomenal experience is by seeing its colossal size from the air. Maybe next time.
On the way back to Cairns, Brian and the rest of the crew put on an Aboriginal dance performance for everyone on board. Despite not having traditional body paint on like the performers I witnessed early on during the trip, their dance somehow felt much more full of energy and excitement.
Dressed in their bermuda shorts, company T-shirts and sunglasses, Brian and crew demonstrated what it was like to have tradition as very much a part of one's everyday life and not just for ceremonial occasions – and it didn't matter if Brian wasn't as good at lighting a fire as his ancestors were.
SURPRISING FINDS NORTH OF CAIRNS
If one drives further up north, on the way to Port Douglas, more adventures await. A crocodile wildlife sanctuary – Hartley's Crocodile Adventures and river sledding through the Daintree National Park, another part of the Wet Tropics rainforest, just to name a few.
At Hartley's, one can hop on a large boat to explore crocodile territory. Despite these animals being being the star of the sanctuary, there are also cassowaries, wombats, bats and other creatures to spot.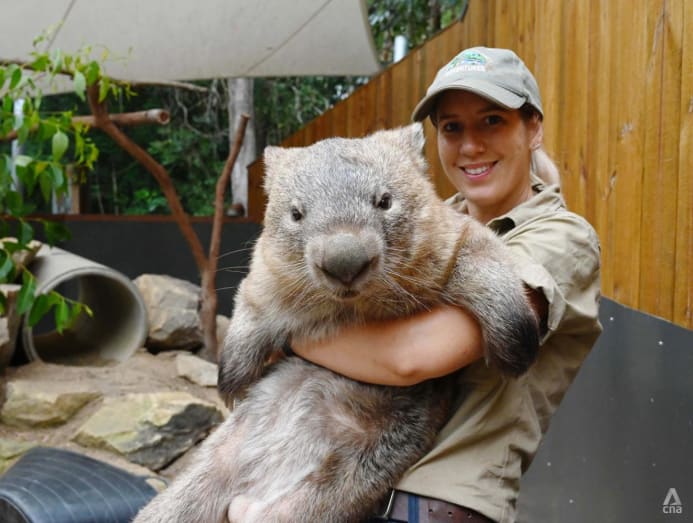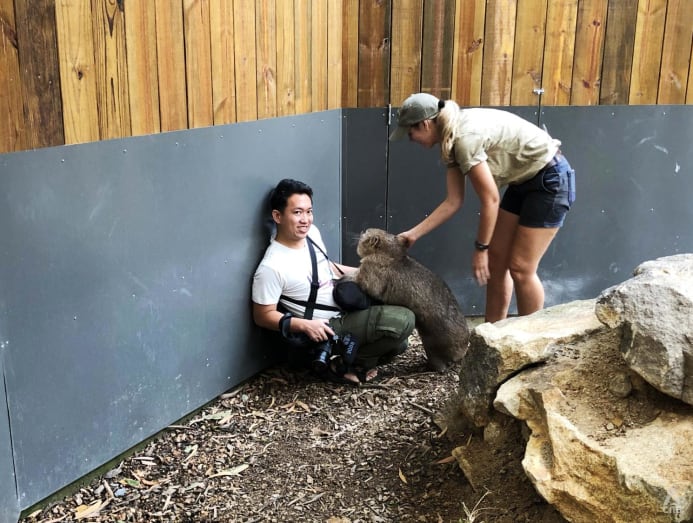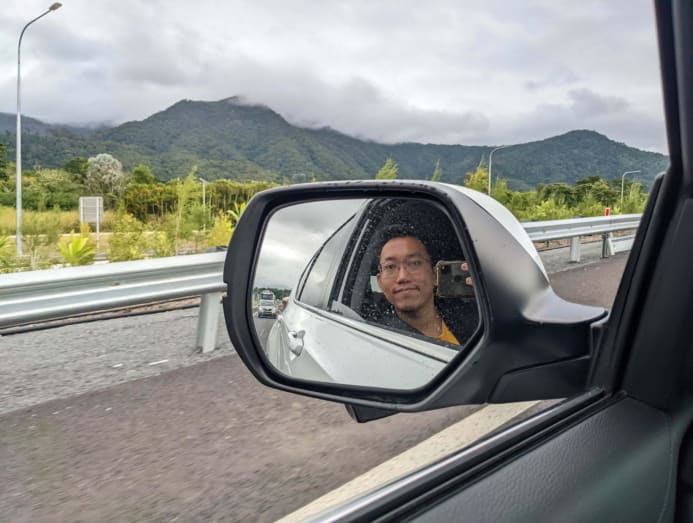 A 10-minute drive from Port Douglas was the town of Mossman. Its adjacent river runs through through the Daintree National Park. There, tour operator Back Country Bliss Adventures runs river sledding and snorkelling activities as well as a walking tour through the national park.
After taking on the Great Barrier Reef, I was eager for more wet adventures, and putting on a wetsuit, I felt like a frogman ready to take on rough terrain. Jason, the owner of the tour company, promised we would be doing some serious downriver drifting on Mossman River.
After a brief orientation and a short snorkelling session to look at fish, we were off. And, remembering the promising words of our driver when we first arrived in Cairns, I thought to myself: Finally, I could literally lie down.
Of course, there's always a catch and here, even lying down on a river sled takes skills. Otherwise, you'll end up floating aimlessly and getting getting stuck on the river's shallow portions. But I didn't mind. It was way better to look up at a forest canopy than look down from it.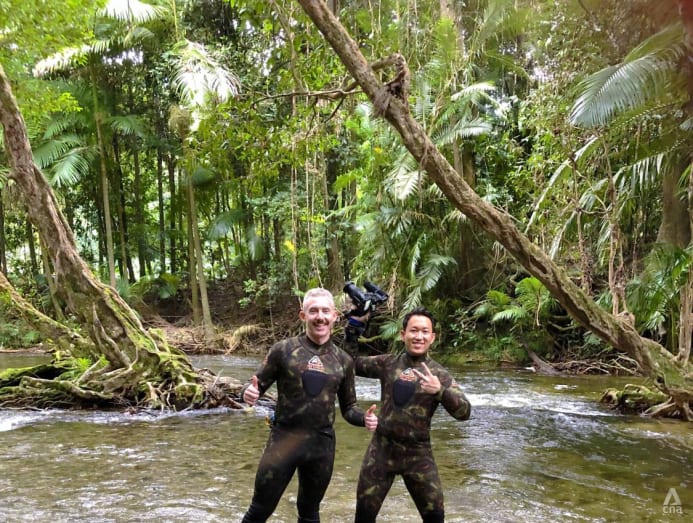 On our way back to Cairns, along the Captain Cook Highway, a serendipitous encounter on a beach capped off our time in Cairns.
We spotted actual piles of rocks on a rocky shore. These were called cairns and there were people walking through the maze of mini-towers of carefully balanced rocks. We couldn't resist making our own cairn.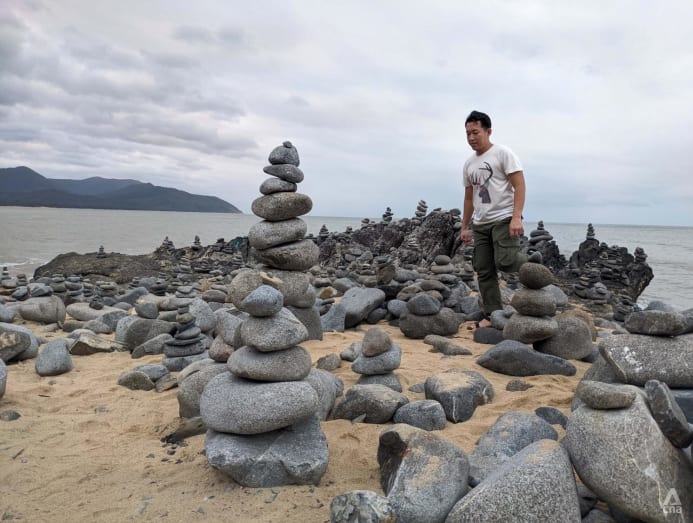 Compared to other major destinations in Australia, Cairns may not be on top of a lot of people's lists. And some might even consider it a bit of a backwater city.
But that could be its strength: A relatively unfamiliar place where you can best be surprised by what the country's people and nature had to offer. If you travel with an open mind and an observant eye, you might come across moments and places unique to your trip. Like the beach of balancing rocks, Cairns is like an open secret only visitors are in on.