Exploring Russia's riches on the cheap: How a 10-day trip for two cost S$5,000 all-in
Moscow's and St Petersburg's riches extend beyond the country's literary works, art, opulent churches and its tsars. Its magnificence also comes from the simple things in life.
My friend and I were in the Winter Palace in St Petersburg, one of Russia's most famous landmarks, when I found myself slightly overcome by delusions of grandeur.
We had just stepped into the palace's Armorial Hall, an enormous ceremonial chamber that nearly blinded us with its gold pillars, gold chandeliers and mirrors framed in – you guessed it – gold. I really could get used to living in such splendour, I thought to myself.
The Winter Palace used to be one of the Imperial Family's many residences in Russia. However, it's difficult to remember that human beings used to inhabit some of its 1,500 rooms – particularly now that it is part of the gargantuan Hermitage Museum, one of the largest art museums in the world that counts masterpieces the likes of Leonardo Da Vinci to Raphael, Rembrandt, Paul Gauguin and Pablo Picasso.
Even so, I found myself more intrigued by the palace and its stories untold than the treasures it held.

I walked through the palace, basking in the glory of its halls, each room more ornate and imposing than the last. As I navigated the marble stairways and gilded halls, I imagined myself as Catherine the Great, who reigned during Russia's golden age in the late 18th century, and whose numerous portraits still adorn the walls of the palace. 
I imagined how smug I would have been as the empress, watching foreign dignitaries cower before me, awed by the impressiveness of my home. The real Catherine II would certainly be delighted to observe how, some 200 years later, visitors from all over the world still feel the same – though perhaps less charmed to learn that her bathrooms are now used by millions every year.

LAND OF GOLD
It was my first time in Russia, and I hadn't quite known what to expect – certainly not so much gold, and not this many chandeliers. In my mind, Russia was the land of literary heroes, both enormously grand and utterly depressing like Leo Tolstoy and Fyodor Dostoevsky, of tsars both Great and Terrible, and (I am slightly embarrassed to say) of Hollywood villains with bad accents.

What I found instead was a country as captivating as it was splendid. While St Petersburg felt more familiar, with English-speaking service staff, and roads and waterways that reminded me of Paris and Amsterdam, I fell for Moscow's dazzling, dizzying spirit. 

There were the Cyrillic words I could not read, restaurant menus I could not decipher, and a history and culture so incredibly rich yet within grasp, they were in the old streets and architecture as much as they were in the faces of everyday Russians.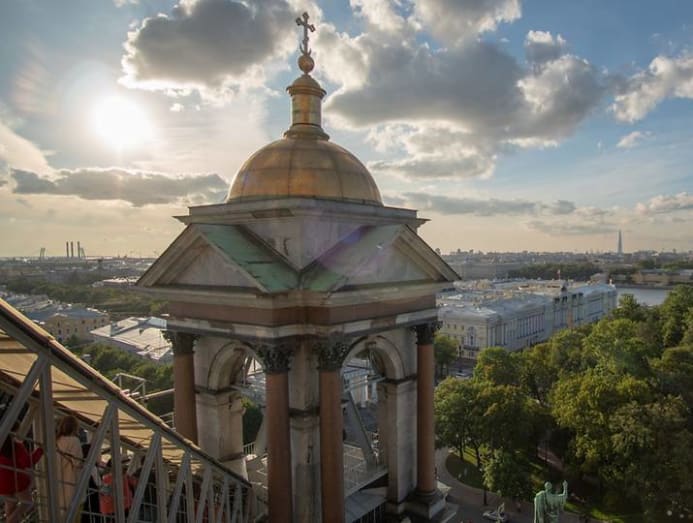 As I had none of Catherine's great fortune – both money and luck – I was very pleased to find that I didn't need a royal budget to explore Russia in style. As a gauge, my 10-day trip cost about S$5,000 for two, including flights from Singapore on Qatar Airways, stays in centrally located, three- and four-star hotels, and even souvenirs bought on impulse.

TAKE ME TO CHURCH
Some of my biggest highlights involved visiting Russia's stunningly beautiful churches and cathedrals, some of which were free to enter. One of my favourites was Moscow's Cathedral Of Christ The Saviour, the tallest Orthodox church in the world, well-known for its majestic, glittering interior. 
The miser in me was also thrilled to discover that, for just a few dollars, we could climb up to its observation deck for a spectacular, panoramic view of Moscow, where we observed the city's key landmarks, including the Moskva River flowing through central Moscow, and the magnificent Kremlin gleaming in the distance. (We did the same in St Petersburg at St Isaac's Cathedral.)

We also took a local train to the Trinity Lavra Of St Sergius, situated an hour away from Moscow in the quiet town of Sergiev Posad. We spent a full day walking around its sprawling monastery complex, which dates back to the 14th century and is still a popular pilgrimage site today, including the golden-domed Trinity Cathedral and the Assumption Cathedral, commissioned by Ivan The Terrible in the 16th century.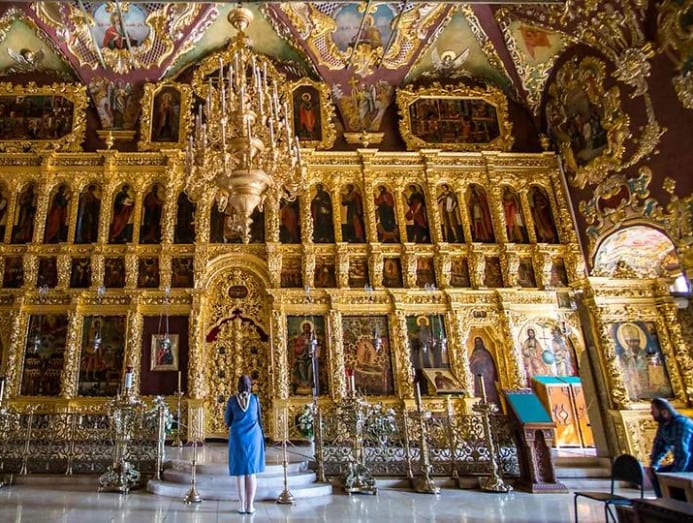 FIRST BITE OF MOSCOW
Like all first-time visitors to Moscow, we stopped by St Basil's Cathedral, arguably the capital city's most well-known building, also commissioned by Ivan The Terrible in the 16th century, and situated in the heart of the Red Square.
Rather than jostle for space with hundreds of tourists inside St Basil's, we decided to spend our time exploring the Kremlin instead.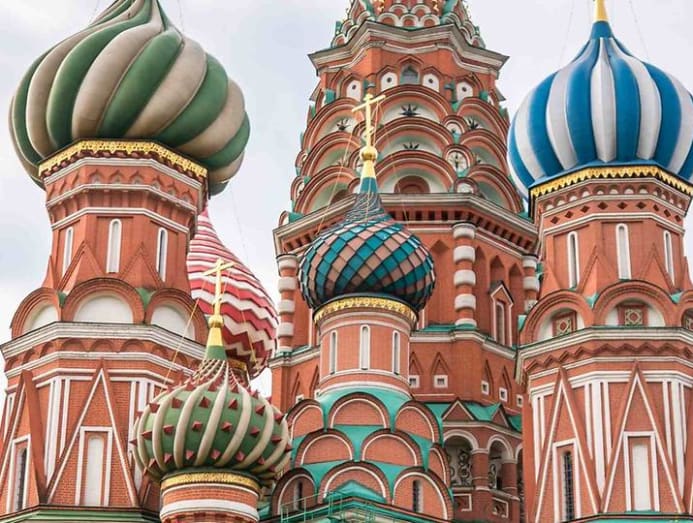 We'd gotten tickets well in advance to the Armoury Chamber, a spectacular treasure house of gold and silverware, of ornate Faberge eggs, thrones literally plastered with hundreds of diamonds and ancient state regalia, including the crowns of tsars from centuries past. 
As I walked past a row of Bibles covered in the largest precious stones I had ever seen, feeling quite fatigued from seeing enough gold for several lifetimes, I thought about how a few men and women controlled such untold wealth, and how little has really changed today.

Although I spent entire afternoons visiting Moscow's impressive art museums, such as the Pushkin Museum, which has an excellent Impressionist and post-Impressionist collection, and the Tretyakov Gallery, which is one of the best places to visit for a taste of Russian fine art, I discovered Russia's most delightful gems were sometimes hidden in places one would not expect.

We explored Russia exclusively on foot and by public transport, and I absolutely loved watching my fellow commuters – though most of them looked quite dour, particularly on the Moscow Metro. Our metro rides were comfortable, efficient and incredibly cheap, with each ride costing only 32 roubles (about S$0.75) with the contact-less, refillable Troika transport card. 
However, the best part about taking the metro was discovering that each station boasted its own, unique design. I loved Komsomolskaya Station, with its baroque design, gold-yellow ceilings and gilded chandeliers, as well as the lesser-known Fonvizinskaya Station, with futuristic arches decorated with light panels.
I also made a special stop at Dostoevskaya Station, which has several controversial art pieces depicting scenes and characters from Dostoevsky's most famous work on display.

Food was also surprisingly affordable – if you knew where to look. Locals directed us to buffet-style restaurants all over both cities, many of which served traditional Russian dishes like Borscht soup, Pelmeni or Russian dumplings, and potatoes with mushrooms, apart from the usual grilled chicken and beef options.
There were also chains like Teremok, which started out as a street kiosk, but is now known for serving Blinis, or Russian crepes, for a few dollars per serving. In fact, our meals rarely cost above S$10 per person, and even fancier restaurants charged no more than about S$12 to S$15 for a main.

On our last day in Russia, my friend and I sat in a small park called Aleksandrovskiy Garden in St Petersburg, munching on our Russian snacks and biscuits, which we bought from a supermarket for less than a dollar, before our visit to the opera at the famed Mariinsky Theatre nearby.

It was an unusually lovely day by St Petersburg's standards, and Russians and tourists alike were out enjoying the good weather. As the sun set and the light grew more intense, the city turned to different shades of gold, bounding off St Isaac's Cathedral's golden dome, glistening in the Bronze Horseman, and illuminating the faces of children and fat corgis playing nearby.

It was such a wonderful sight, and one of my best memories of Russia. And it didn't cost a cent.