What's it like to stay at the new container hotel at Downtown East's car park?
The recently opened SG Hotel on Wheels (SHOW) in Pasir Ris is the latest option for those looking for a quirky staycation. Here's what to expect.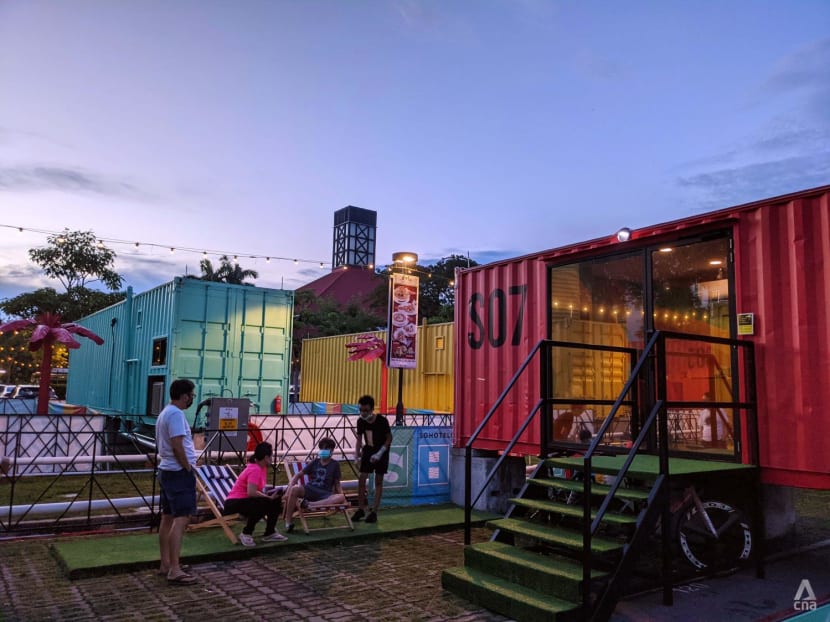 A new option for your next staycation has rolled up at a car park at Downtown East in Pasir Ris. And it takes the form of 10 shipping containers painted in pastel colours.
SG Hotel on Wheels (SHOW), which is being touted as Singapore's first roving container hotel, is a pop-up concept by local events company Ultimate Entertainment Singapore and LS Modular, a container customisation specialist. It will be docked at the Begonia car park until Mar 20, 2022. After that, it will move to a new venue that has yet to be announced.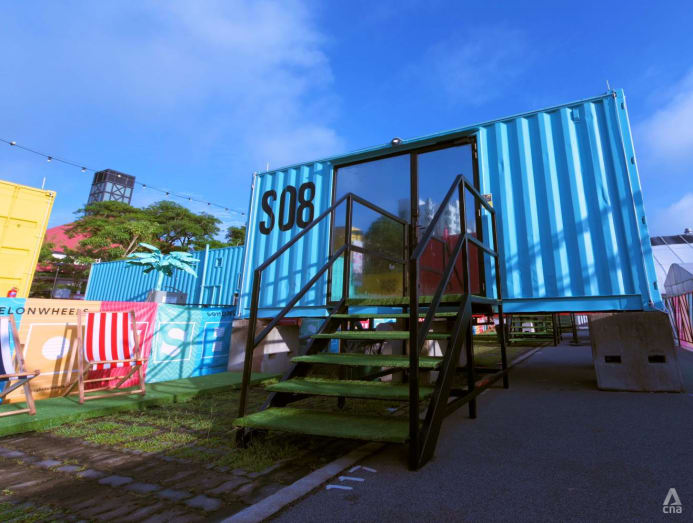 These rooms, or as the hotel calls it, SHOWRooms, come in two configurations: 20-footer rooms with a queen-sized bed and a bathroom, and 40-footer rooms which have a "living room" space, a kitchenette and an adjoining bedroom. No two rooms are the same – they have been designed differently based on themes like "industrial chic" and "safari paradise".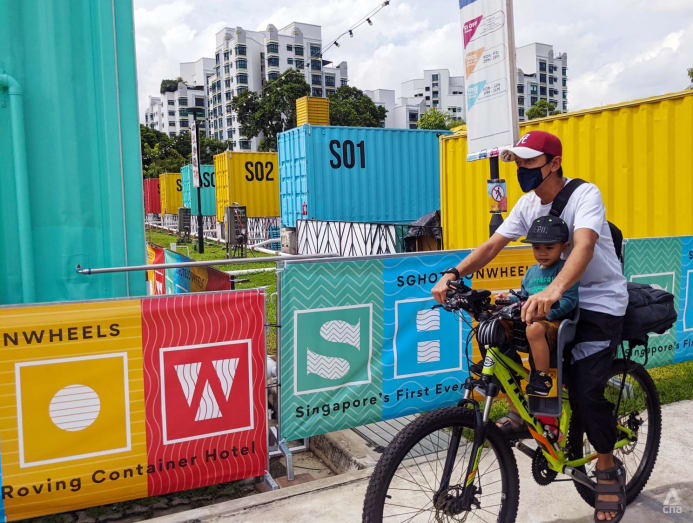 Located just along the main road, and within walking distance of Pasir Ris MRT station, SHOW has seen a strong response from couples and families with young children. The hotel said its 40-footer rooms are fully booked all the way until most of December, with the bulk of its guests being families treating their kids to a post-exam holiday.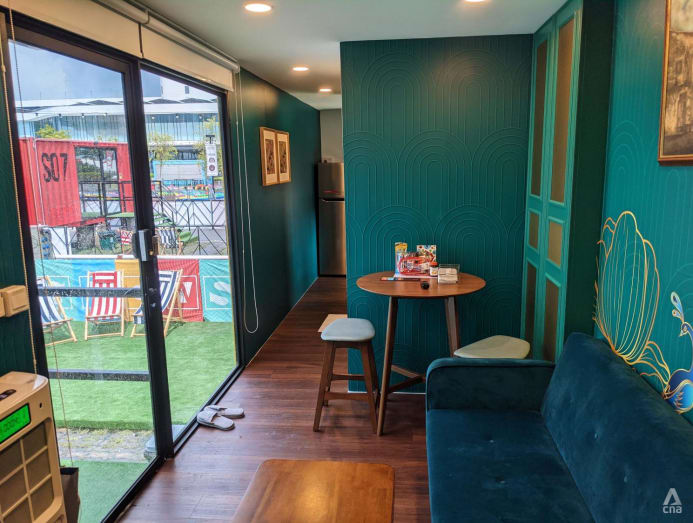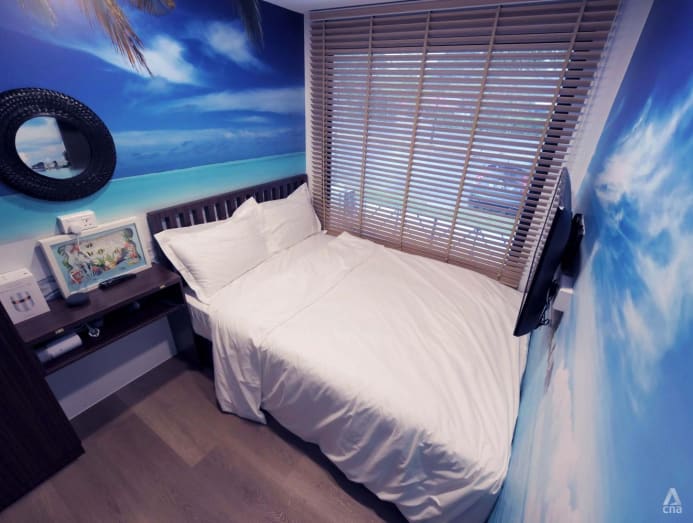 Prices start at S$239 per night for its 20-footer rooms and S$299 per night for the 40-footer rooms. The larger rooms can accommodate a maximum of 2 adults and 3 children while the smaller ones can take up to 2 adults and one child. Barbecue pits and bicycles are also available upon request with a deposit of S$50 and S$20, respectively.

Only fully vaccinated adults can book a stay. And each booking comes with a pair of complementary Wild Wild Wet tickets and discounts to experiential workshops conducted at the hotel's grounds.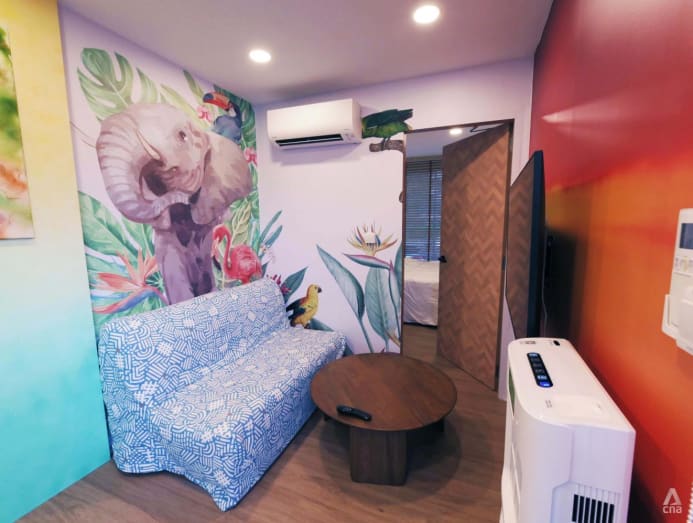 Despite the standardised look the containers take on from the outside, the respective rooms can be a world of difference on the inside – from the choice of tables, down to the faucets in the bathrooms.
It is almost hard to believe that all these rooms were the result of simply dolling up the insides of the same kind of containers. If anything, it goes to show SHOW's designers are able to see versatility within the confines of a blocky shipping container.  
COMFORTABLE BED WITH A CONTAINER VIEW

But what was it actually like staying in one of these rooms? I got invited to stay in a 20-footer container room and this is what an overnight stay at the "retro mambo" room was like.
Check in started at 3pm at a reception counter, which was also located in a container near one corner of the car park. As the staff took me to my room, I couldn't help but be reminded of a trailer park – the containers were arranged in a staggered row, each of which sat on four large concrete blocks supporting its weight. 
What's it like sleeping in a shipping container turned hotel? Visual journalist Try Sutrisno Foo on what the staycation experience was like at Singapore's first roving container hotel. The SG Hotel on Wheels (SHOW) is made up of 10 shipping containers done up as cheery hotel rooms, and is currently at Downtown East in Pasir Ris.
If you're worried about privacy, you shouldn't: The reflective glass door and window of the containers mean no one can see inside (at least during the day), although it later did take some getting used to knowing there were people sauntering just outside.
Inside, I was greeted with a queen-sized bed, some complementary gifts on the table, a cupboard and a bathroom. 
And it was much roomier than I expected, with more than enough space to throw down a yoga mat. I could lower the shades to block out the light, but keeping it up just made the room feel like less of a squeeze – even if the view was just of other containers.
In terms of security, each room has an electronic lock; you can set the password at the reception.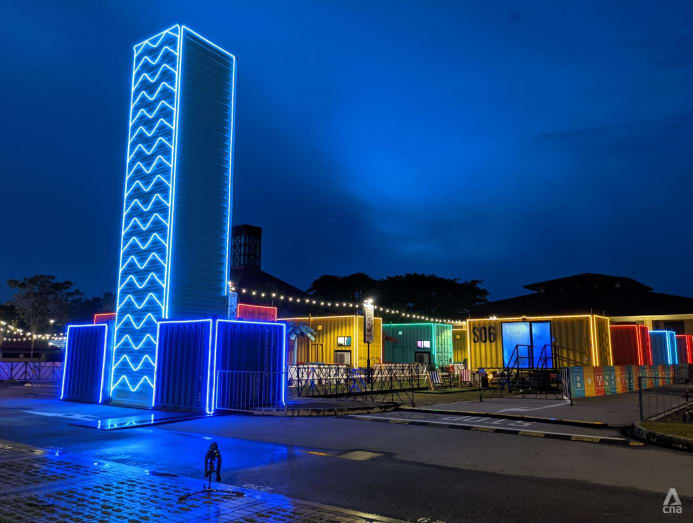 I was also told that at night, neon-coloured LED lights illuminated the site. And indeed, it was quite the sight at dusk, when the entire compound transformed into a kind of light exhibition bathing the containers in a fluorescent glow.
But what else was there aside from the instant light show? I saw some families heading out for dinner, some on bicycles. I planned on chilling out under the stars on the lounge chairs outside the room but it rained earlier in the day so it was off to get dinner instead.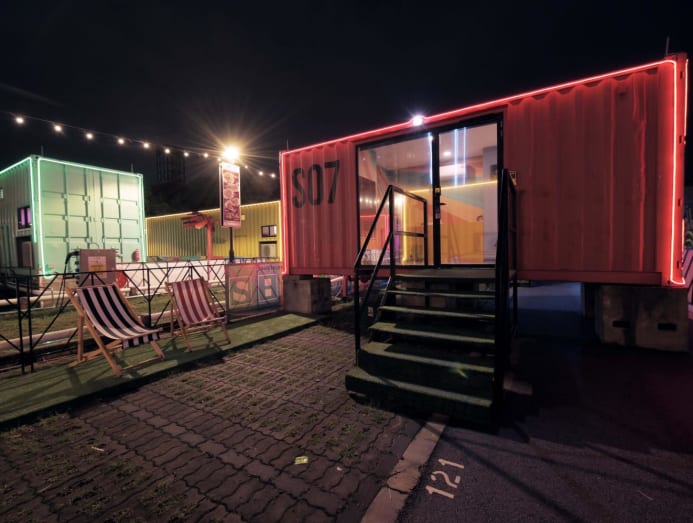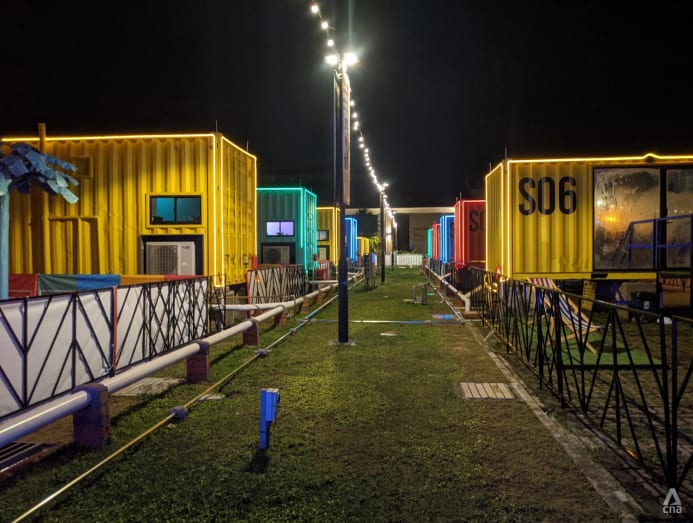 Before it was time to hit the sack, I thought indulging in some TV wouldn't hurt. Mounted on the wall at the foot of the bed, the room's smart TV comes with Netflix and Amazon Prime. Alternatively, you could just switch the lights off and gaze at the outlines of neighbouring container rooms. Thanks to the rainy weather, the LED lights coming through the foggy window gave the room a slight, sultry glow.
In terms of sleeping comfort, the bed's nice enough, the air-con works, the duvet's cosy but pillows were too soft for my liking. It's basically pretty much like sleeping in a regular hotel – except for that small detail that you're actually inside a container in the middle of a car park.
CARNIVAL RIDES NEXT DOOR
The next day, I took a walk around the site and spotted some Uncle Ringo carnival rides sitting in the sun. The hotel staff told me that they just got their license to operate the rides and set up inflatable structures for children but have yet to firm up plans amid the fluid COVID-19 situation.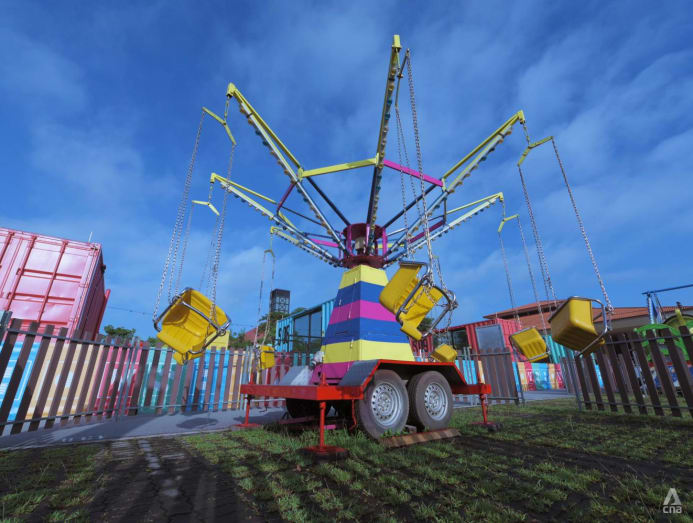 Hopefully, things will be up and running soon. One guest, Mohd Rudyman, told me he decided to book a stay with his wife and three kids, since the nearby D'Resort@Downtown East was still closed to the public and operating as a community care facility.
"We came here to survey the area and we saw that there was going to be some carnival area but we did not expect that the carnival was not going to open yet," said Mr Rudyman.
That said, he was also pretty impressed by the concept. "It's something new (even though) the layout (of the room) is pretty similar to other places we've been to, with the beds and the kitchen."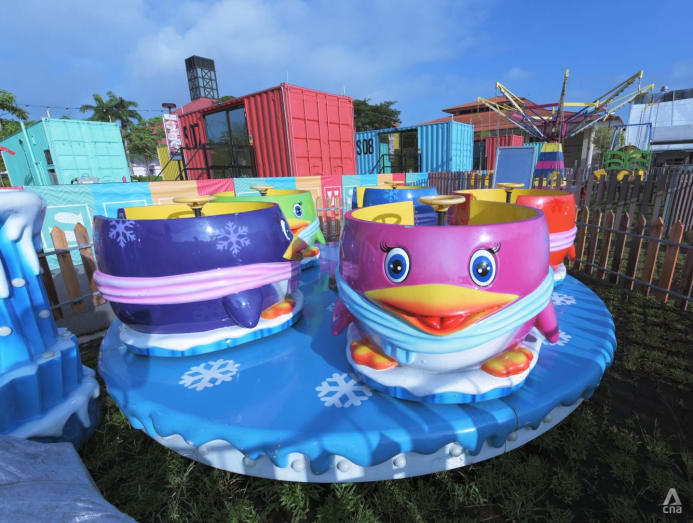 He wasn't the only guest impressed. For Sofinah Yusope, who stayed with her family including husband Hisyam Muztafa and three children, the kitchenette at their 40-footer room was a nice feature.
"The kids loved it because there was Youtube (on the TV) and Netflix, which is hard to get in other hotels. And having cooking utensils, it made it convenient for us to cook," said Mdm Sofinah.
Mr Hisyam added that rooms being located outdoors at a car park was also an added perk, "because we cycled from our home (in Tampines), it was very convenient to park just outside our room."
Their family had booked their stay in October to treat their kids to a staycation while school was out during the PSLE marking days and to avoid the peak-period price rates during school holidays in December.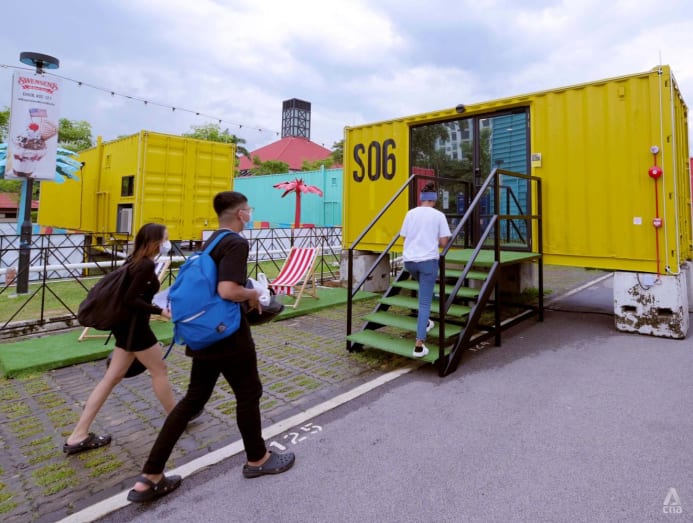 Given the price, location, and concept, can a night in one of SG Hotel on Wheels' SHOWRooms be the ideal staycation for you?
The SHOWRoom per se can be a challenge for restless types prone to cabin fever if you choose to just be in your room throughout your stay and order in food.
But why would you? If you're up for an adventure, you can stroll through the nearby mangrove boardwalk, cycle at Pasir Ris Park or walk at the beach. And while I didn't get the chance to during my invited stay, you should take advantage of nearby Wild Wild Wet and the experiential workshops on offer.
Without the trappings of regular hotels such as room service, hotel breakfast, a gym or a swimming pool, booking a stay at a SHOWRoom is really more of a novelty experience.
But if you're running out of staycation options and willing to pay for something unique, spending a night in a container pop-up in a car park is certainly different. 
CNA Lifestyle stayed at SG Hotel on Wheels at the invitation of Ultimate Entertainment Singapore. Guests can book a stay at https://sghotelonwheels.com/