Travel a lot for work? Stay healthy, keep fit and eat well with these tips
Thanks to limited options (hotel food) and tight schedules (lots of meetings), business travellers often have a hard time keeping to their diets and workout regimes. But there are ways around one's busy schedule.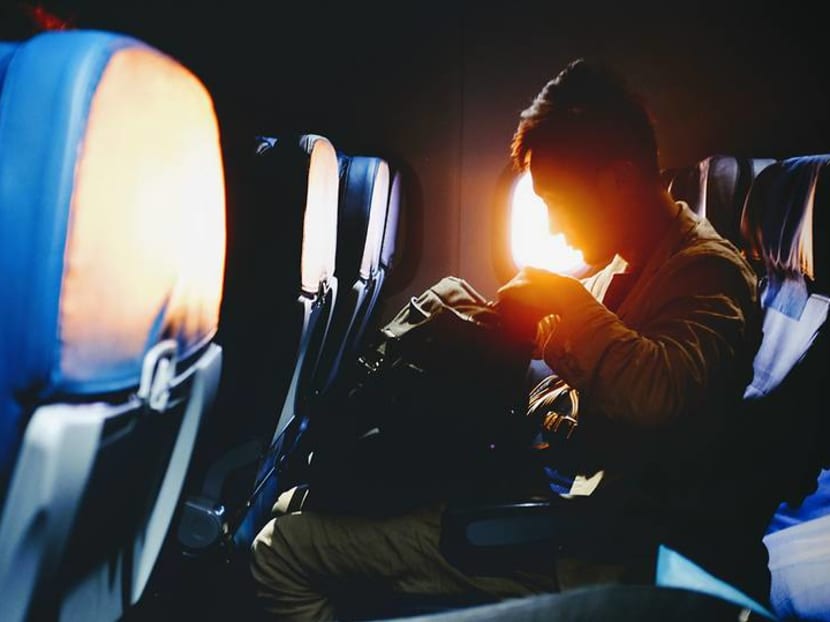 For business travellers who often fly halfway around the world for work, dealing with jet lag, stress and fatigue is bad enough. But there's also another hurdle they often have to overcome – eating healthy and keeping fit.
"Sticking to regular routines on business trips can be challenging for various reasons, such as limited options or tight schedules," said Bindu Bhatia, Asia Pacific's managing director of CWT, a travel management platform. 
"You're focused on your work and trying to make the most of your trip, so you don't have time to search for a gym or affordable healthy eating options if they're not easily accessible. You may be stuck having to eat whatever is available at the hotel restaurant."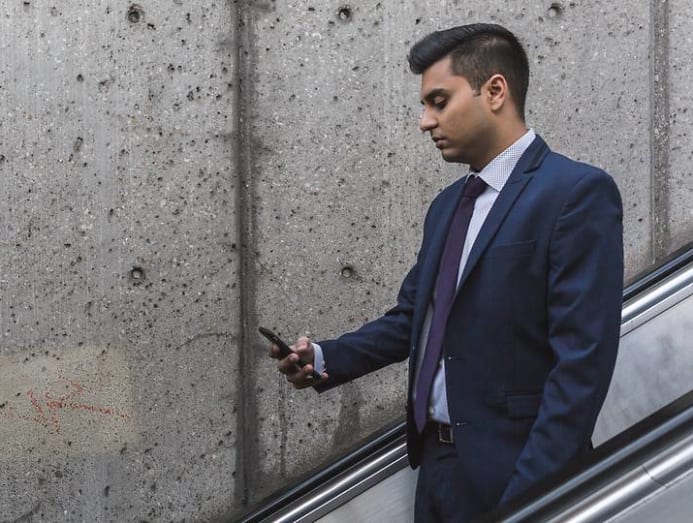 It's no better for those who make short trips around Southeast Asia, often flying back on the same day, said Bindu. This could mean having a very tight schedule that's often at the expense of proper meals and sleep.
And it seems Singaporean business travellers are the worst of the lot. A survey by CWT on 2,700 business travellers around the world found that they fare badly at staying healthy on the go compared to their regional counterparts. Only 35 per cent of respondents keep to their wellness routines when travelling (no, going to the spa doesn't count). In comparison, 52 per cent in Asia Pacific work hard at maintaining their routines. 
What's more, 42 per cent of business travellers from Singapore eat less healthily when on the go, which is way higher than the average of 27 per cent in the Asia Pacific region.
Only 35 per cent [of Singaporean business travellers] keep to their wellness routines when travelling. In comparison, 52 per cent in Asia Pacific work hard at maintaining their routines. 
But you can still minimise disrupting your sleep, wellness routine and diet. CNA Lifestyle spoke to business travellers and a fitness expert for their tips.

FLY IN THE DAY AND ARRIVE AT NIGHT IF YOU CAN
If your company lets you choose your flight, opt to fly in the day and arrive at night, so you can head straight to bed upon landing – something that Nicholas Lim does on long-haul flights. "This always work for me as the body system adjusts naturally to fight off jet lag," said the 45-year-old managing director of The Travel Corporation, Asia.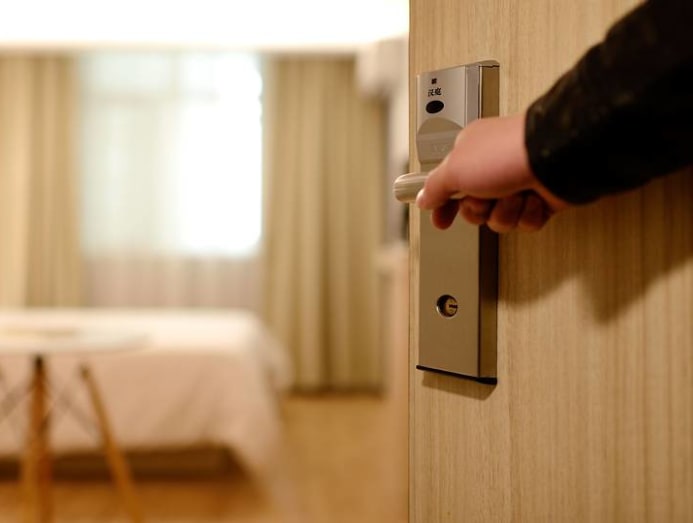 EAT DURING THE MEAL TIMES OF YOUR DESTINATION
Other than updating your PowerPoint presentation once you've settled down in your seat, set your watch to the local time of your destination, said Dzul Dinie Ng, Fitness First Singapore's fitness manager. "Then, eat your meals according to the meal times of your destination. Diet plays a significant role in resetting our body clocks. This is especially useful when travelling to faraway countries with a wide time difference," he said.
PLAN WHAT TO EAT
Nicholas plans his meals for each of his business trips. "Keep in mind that there's going to be some dining and entertaining to do, so balance your dinner with a healthy breakfast or lunch. If all else fails, excuse yourself from that second glass of wine during dinner," he said.
Ensure that you have one scoop or a minimum of 20g of protein powder per day. This will also help cover the gaps in your protein intake should you be in a country where the food is high in sugar and carbohydrates.

Another way to avoid over-eating at dinner is to have a shake made of protein powder beforehand, said Dzul. It not only fulfills your post-workout protein needs, it'll also fill you up so you're less likely to over-eat at dinner. 
"Ensure that you have one scoop or a minimum of 20g of protein powder per day. This will also help cover the gaps in your protein intake should you be in a country where the food is high in sugar and carbohydrates," he said.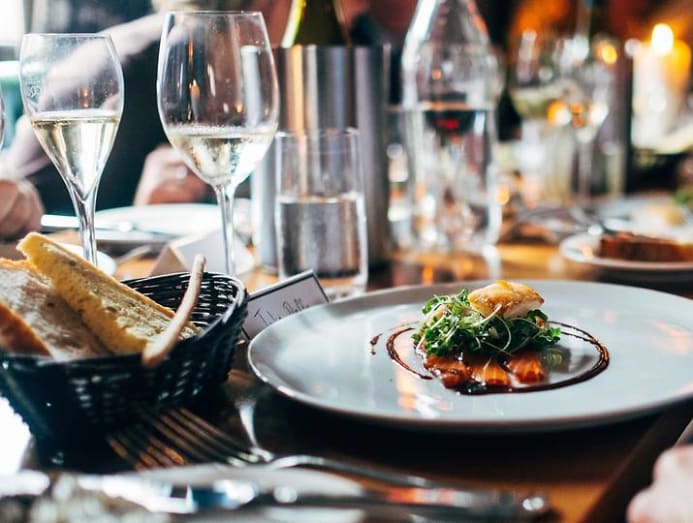 No time to join your business associates for dinner? Don't order the greasy burger and fries through room service either. "Increasingly, more hotels have started to offer a wider range of vegetarian-friendly dishes," said Nicholas. Also, "room service menus usually have soups, salads and fruits, and you could always order a combination of these."
KEEP TO YOUR WORKOUT TIMINGS
The last thing on your mind after getting off a flight is to exercise. But if it's 7am where you are, even though it's 10pm in Singapore, head for a jog if that's your usual morning routine. "I try to squeeze in a workout to stay energised and keep my mood elevated," said 50-year-old Anthony Lim, managing director of Insight Vacations & Luxury Gold.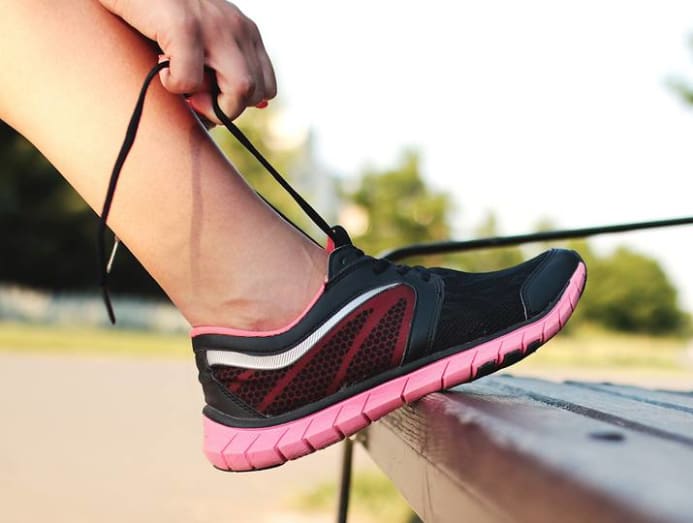 "I typically jog and I especially enjoy a morning run outdoors around the neighbourhood, or sometimes further out to a route with views. Alternatively, I will do a 10- to 15-minute energy-boosting workout in the hotel room without gym equipment," he said.

MAKE USE OF THE HOTEL GYM
Most business travellers stay in big-chain hotels with well-equipped gyms, and if you're in one of them, take advantage of the equipment. For basic exercises, Dzul recommends doing a series of squats and deadlifts. To rev things up, grab a pair of 4kg dumbbells (or the usual weight you use) and perform shoulder presses with squats, he said. "To balance this out, do four sets of lateral pull-downs (with a minimum of 4kg on the machine) to keep your muscles engaged."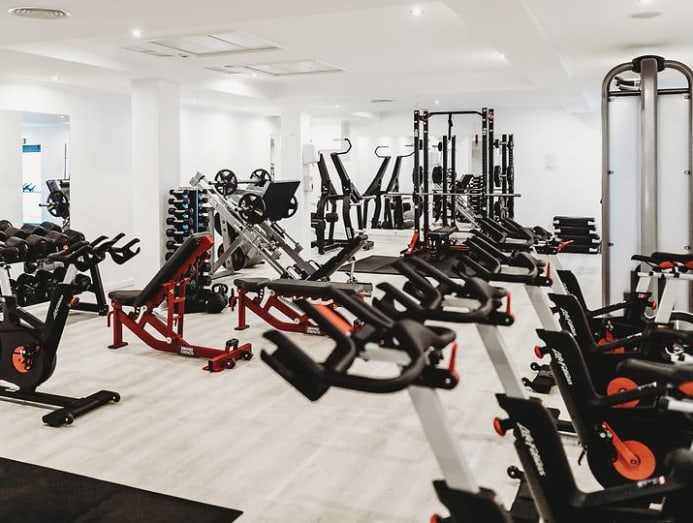 NO TIME? WORK OUT IN YOUR ROOM
This works, too, if the gym isn't well equipped. "Lie down on the floor in a spot where there's enough space to swing your arms and implement the Tabata routine (a form of high-intensity interval training; see video below)," said Dzul.
He recommends these exercises (only the first eight for beginners; and all 10 for advanced exercisers): Planks, mountain climbers, CrossFit burpees, roll back jumps, jumping jacks, ice skaters, reverse snow angels, tabletop toe-touches, tug jumps and bomber push-ups. Perform each for 20 seconds with a 10-second rest in between for a total of eight rounds. "You'll have a four-minute workout that should see you through your day and give you the right energy levels," said Dzul.
If morning is too rushed for you to squeeze in a workout, do what Nicholas does: Exercise just before dinner. The oxygen you get from your exercise helps you think and feel better even towards the end of the day when you're starting to feel tired, he said.
CAN'T EXERCISE FOR TWO WEEKS? IT'S OKAY
On the upside, a break from your gym routine isn't always detrimental to your fitness goals, said Dzul. "There is a study that found that you can actually not train for two weeks while maintaining the strength level that you are at. So, if you're in a location or circumstance that's just impossible to fit in your exercise routine, when you come back and do your gym workouts, you should be seeing the same strength you left with."