'Hinoyojin!' In Tokyo, a fire patrol tradition from the Edo era is alive and well
Made up of local volunteers, the hinoyojin fire patrol fosters a sense of community spirit by reminding residents about fire risks and keeping an eye on the neighbourhood.
During my trip to Tokyo last December, I was invited to a friend's apartment for dinner. She lives in Kiyosumi-Shirakawa, a neighbourhood known as a shitamachi or "lower city", an old district with retro vibes spilling out of its mom-and-pop shops and narrow alleyways.
Midway through our dinner, we were distracted by the distinct sound of wooden objects being hit twice by someone on the street, followed by a theatrical cry of "Hinoyojin!". This ritualistic performance repeated itself, creating an almost musical pattern of percussion and chant.
I was told by my friend that our unseen interrupter is a watchman of the hinoyojin no saimatsu keikai (year-end fire patrol) that takes place in winter. He walks around the neighbourhood in the evenings, knocking a pair of wooden clappers to remind residents to be wary of fires. His call of "Hinoyojin" translates to "Beware of fires".
The act – particularly the rustic wooden sounds – felt like an anachronism in a city whose soundtrack is a largely electronic one, a world in which ticket machines communicate in bleeps and bloops, and train stations play melodies for departing trains.
"Is this the Edo era?" I joked to my friend (my quip turned out to be accurate; more on this later). I stepped out of the apartment only to catch a glimpse of the watchman turning into a dark alley, his wooden clappers and chant echoing lightly into the night. The journalist in me wanted to run and catch up with this fleeting figure – whom I imagined to be dressed in some traditional garb – but I reined in this impulse, not wanting to keep my host (and her tasty hotpot) waiting.  
It turns out the hinoyojin watchmen are ordinary folks dressed, well, ordinarily: I spotted a group of them, mostly elderly, on another evening, this time from a restaurant window in Ogibashi, another shitamachi district. Some of them wore reflective safety vests, others held LED light batons. A few in the group would perform the wooden clapper routine, prompting the rest to chant in unison.
Intrigued by this practice that is little known to foreigners, I decided to find out more.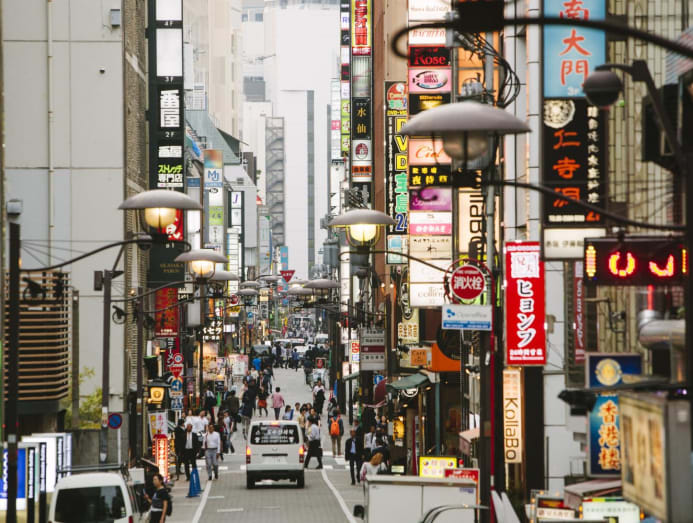 AN OLD TRADITION
The origins of the hinoyojin patrol can be traced to the Edo period (1603 to 1867) when fires were a common occurrence in towns as buildings were made of wood. The earliest recorded fire patrol by town officials date back to 1648. In 1718, during the reign of Tokugawa Yoshimune, the eighth shogun of the Tokugawa shogunate, town firefighting teams comprising samurai and townsfolk were established.
Today, the hinoyojin patrols are organised by the chokai (town councils) and jichikai (resident associations) of each ku (ward) in a city. Big cities like Tokyo and Osaka, with their high urban densities, can have chokai numbering up to hundreds in a single ward. For example, Tokyo's Koto Ward, which encompasses Kiyosumi-Shirakawa, has 280 chokai and jichikai under its administration, even though the ward is considered one of the smaller wards by density in the city.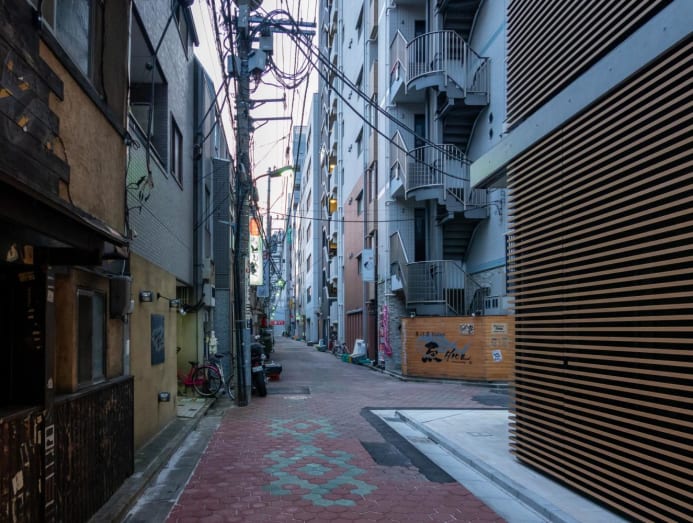 Working with the local fire brigades, the chokai recruit local residents as volunteer watchmen for the hinoyojin patrols. The walks are conducted during winter when the air is dry and the chance of fire increases among heating appliances, stoves, and unattended lit cigarettes.
Fires have been on a decline, though. According to the Tokyo Fire Department, the number of fire incidents in the city has dropped over the past decade because of improved fireproofing in buildings and better firefighting equipment: There were 5,089 fires in 2011, which decreased to 4,205 in 2016, and 3,939 in 2021.
"In Japan, the fire season is generally from December to March, although this may depend on the region," said Kiyotaka Takeuchi, who oversees the fire safety and disaster prevention department at Koto Ward City Hall. "(The hinoyojin patrols) are usually held at the end of the year from December 25 to 30."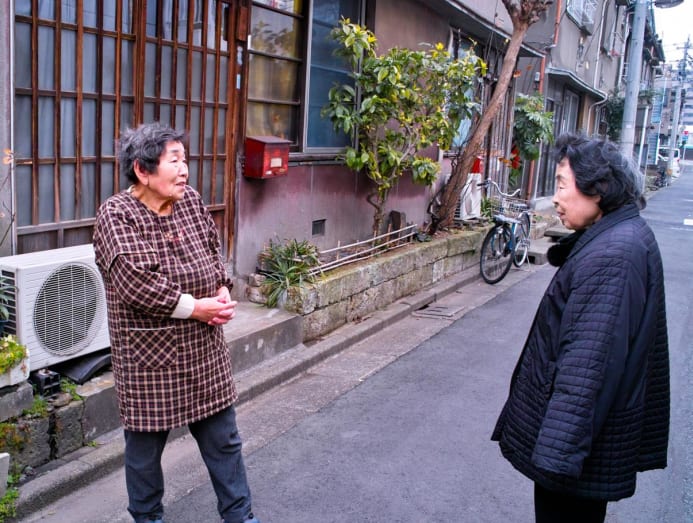 The demographics of the volunteers differ according to each ward and neighbourhood. (Sometimes, children participate as well.) In Akasaka, a residential and commercial district, most of the volunteers are elderly residents but office workers also take part in the community activities, said Hidenori Nagasawa, a spokesperson for Akasaka-Higashi (East Akasaka) 1 and 2 Chome (District) Chokai. The oldest participant they've had for the fire patrol was 95 years old, while the youngest was 20. Each patrol gathers about 30 volunteers.
BEYOND FIRE SAFETY
The wooden clappers or hyoshigi, which are hung around the neck, can also be found in other traditional events in Japan: In kabuki, a traditional form of theatre, the hyoshigi are struck to signal the start of a performance. Similarly, in sumo wrestling, the sound of the clappers indicates the beginning of a match.
Takeuchi said that for many Japanese, the sharp sound of the hyoshigi has become synonymous with fire safety in winter.
As for the chants, they can vary, depending on the region and the ward. Nagasawa noted that there are chants that call attention to crime and personal safety, though they are less commonly used these days. One such chant is "Sugu ni mo! Tojimari yojin, hinoyojin!" ("Do it right away! Lock your doors, beware of fires!"), while another goes "Ki wo tsukero! Anzen daiichi, hinoyojin!" ("Be careful! Safety first, beware of fires!").
The most frequently used chant today is "Hinoyojin, matchi ippon kaji no moto!" ("Beware of fires, a single match can start a fire!") or simply the truncated "Hinoyojin!".
Because of the singsong nature of the chant and its familiarity among locals, it has lent itself to various iterations in other mediums like television commercials.
One such commercial sponsored by the Japan Shipbuilding Industry Foundation in the early 1980s is now a nostalgic relic for Japanese who grew up in that era: Targeted at a young audience, it featured children – and a pair of chimpanzees – promoting a different message for each day of the week (it aired a different version daily), from picking up litter to saving water, alongside its fire caution.
"The chant of the hinoyojin is easy to remember and remains in people's minds," said Nagasawa. "It is also a seasonal activity that reminds you that the year-end is here."
But in a country that has learned to use apps and social media to send emergency alerts like earthquake and typhoon warnings to its citizens, is there still any relevance for a traditional patrol group like the hinoyojin no saimatsu keikai?
Takeuchi said if the purpose is to only call attention to fire safety, then social media and apps would be "more efficient in terms of information transmission". "But the (hinoyojin) patrol brings other benefits apart from fire cautions," he said. "It lets us interact with the locals, prevent crime, and look out for anything unusual in the neighbourhood.
"It's a meaningful event that brings the residents together."