Honeymoon like Priyanka and Nick: The majesty and opulence of Rajasthan
Long before celebrities chose to get married here, Rajasthan was already a land of royalty and dignitaries. This is couple-vacationing at its most indulgent.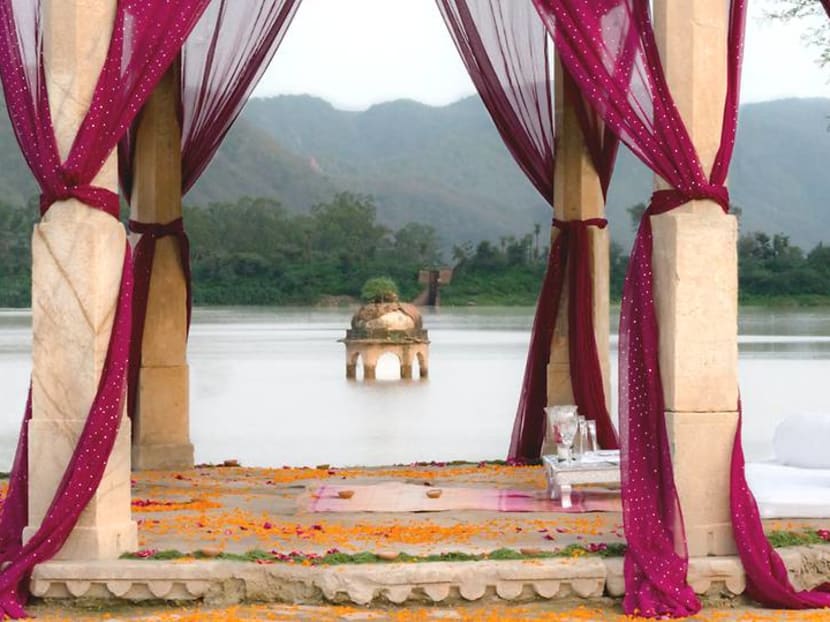 News that Priyanka Chopra tied the knot with Nick Jonas in Jodhpur in Rajasthan might have had a number of  fans scratching their heads and calling up their online atlases. But globetrotting insiders have long cherished this corner in north-west India, particularly for the high-octane calibre of its royal connections.

No less than 21 kingdoms – some dating back two millennia – claim Rajasthan as their ancestral home, and indeed, the state is peppered with countless forts and palaces, some in better condition than others, but all a remarkable architectural record of royal Indian history.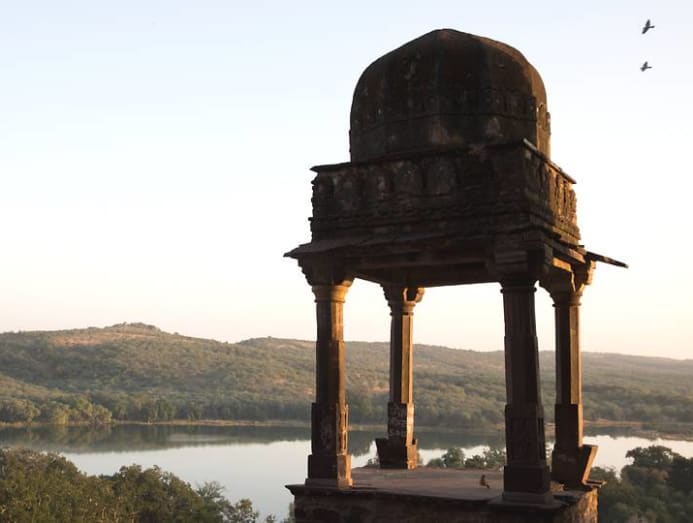 And while the Rajasthani nobility, along with the rest of their crowned relations in India, all lost their titles in 1947, the good news is that the Aman group of luxury resorts has re-imagined, in a sleekly opulent and contemporary way, their by-gone lifestyles in two sumptuous and very different settings. 
Meaning, it is entirely possible, even if for only a few sepia-toned days, to holiday or honeymoon, like your middle name is Maharaja. Or Jonas-Chopra.

THE RAJASTHANI 'FORBIDDEN CITY'

A four-hour drive south from dusty, chaotic New Delhi, Amanbagh more than lives up to its Hindi moniker of "peaceful garden". Opened in 2005, this Ed Tuttle-designed resort is laid out like a pasha's pleasure dome with grand spaces opening up, one after the other, in a series of stone- and marble-clad pavilions and gardens.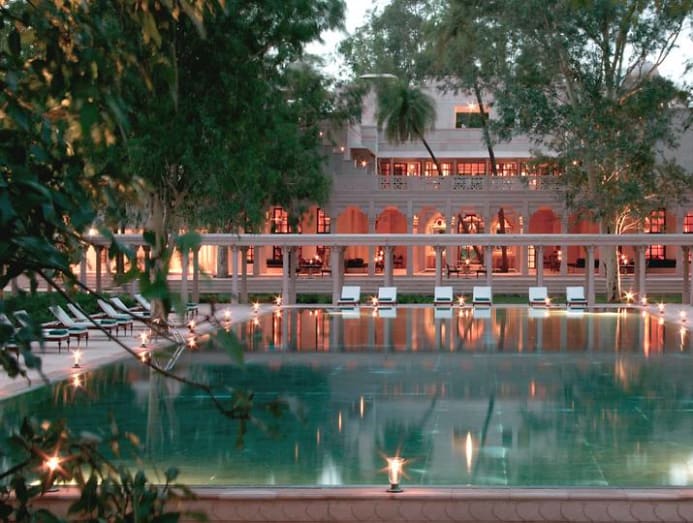 Framed by wooded hills, the resort's grounds were once the staging area for the royal hunt, though today, possibly the greatest adrenaline rush you're likely to get is making it halfway down the 33m blue-tiled lap pool.

Remarkably, the architecture feels as if it's always been here, its long, elegant silhouette unfurling in gently sloping Mughal domes, scalloped fountains, and long colonnades and walkways that, along with the towering eucalyptus trees, provide shade from the monsoon rains and the high heat of summer.

There are 16 pool pavilions and 24 haveli suites, the latter styled after the graciously proportioned homes of noblemen with intricate hand-carved mashrabiya screens, balconies and lampshades, and fine brocades.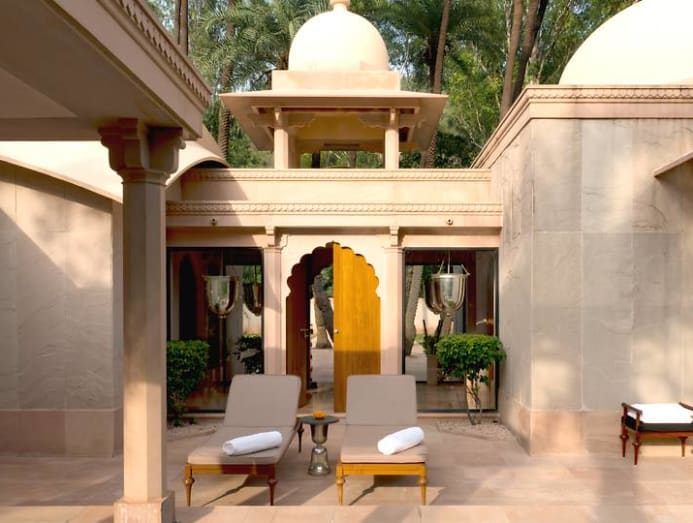 Though visits to Bhangarh, a medieval fort abandoned overnight after it was cursed by a holy man, a safari through Sariska Tiger Reserve, and an evening aarti ritual at Barakhambi Temple are on the menu of nearby diversions, once checked-in, there is very little incentive to venture outside what is really the Rajasthani equivalent of the Forbidden City.

After all, there are late-morning yoga sessions and leisurely walks to be had through the lushly landscaped grounds, including a wonderful organic garden that keeps the kitchen happily supplied with fresh seasonal produce and herbs. Long afternoon naps are de rigueur on the daybed, as are an afternoon tea of masala chai and cakes by the pool.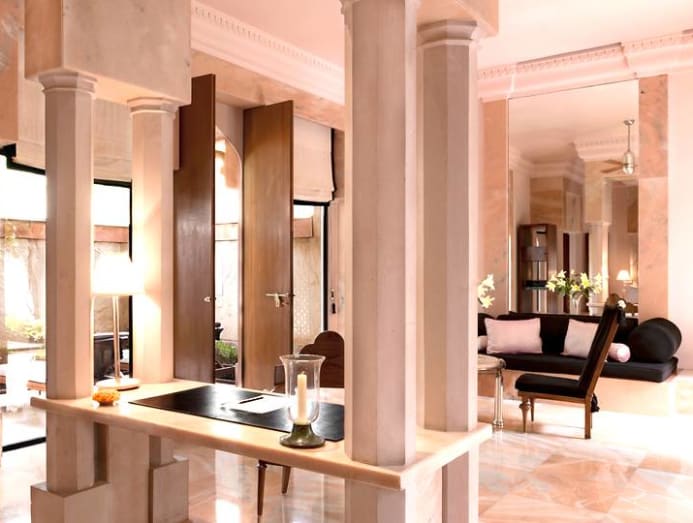 And if a long soak in the bathtub – cut from a single piece of emerald green marble – doesn't tempt, then perhaps a series of Ayurvedic therapies in the spa, followed by perfectly spiced curries and wispy puffs of poori might.

It's impossible to know for sure, of course, but it's a pretty safe bet that the maharajahs and their court would have felt pretty much at home here.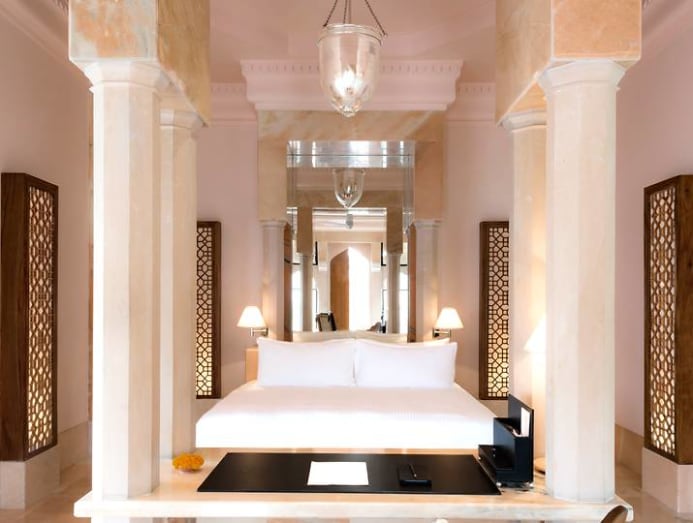 GLAMPING WITH BENGAL TIGERS

If Amanbagh is the royal residence, then Aman-i-Khas in Ranthambhore, a two-and-a-half hour drive away, would be the princely hunting camp, though the Jaipur monarchs who once ruled this part of Rajasthan would have been astonished by its level of sheer luxury and attentive service.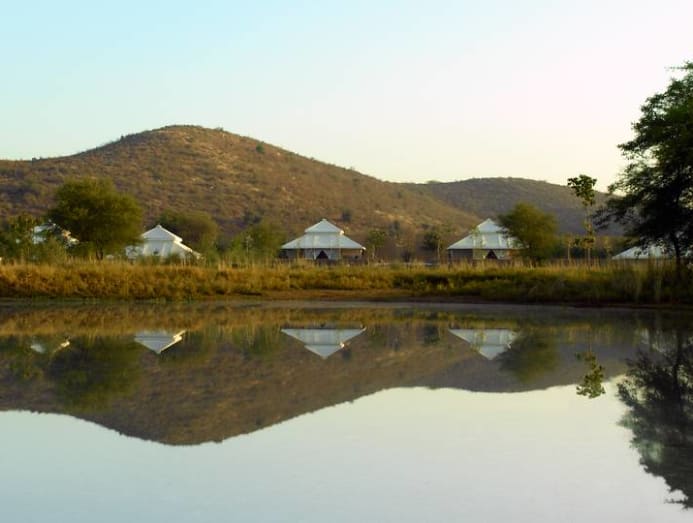 Of all the Amans in the world, this is probably the smallest, though its architect, Jean-Michel Gathy (who's also working on the new Aman in New York) has manipulated space in a way that can only be described as miraculous.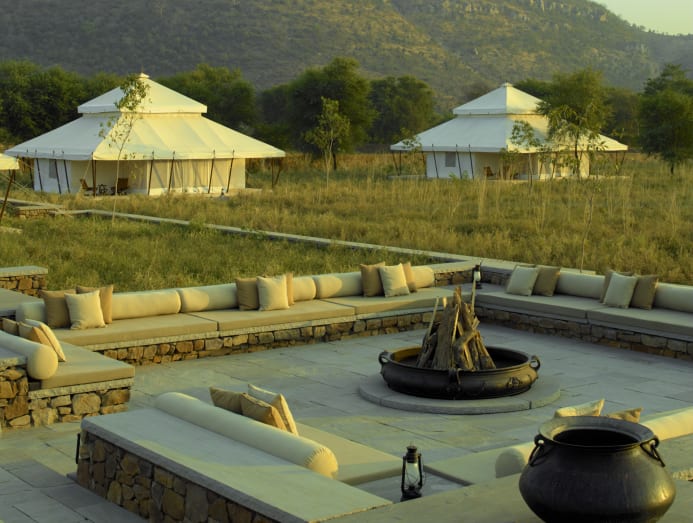 Surrounding a huge al fresco fire-pit, alongside a sprawling natural piazza of trees and high grasses – in which peacocks, shy deer and a multitude of forest birds hide – are 10 tents, each identical in its white cotton canvas profile and spiked to the ground with arrow-straight tent poles.

The exterior gives little away about the interiors – but stepping through the zippered flaps is a little like entering Dr Who's TARDIS. A foyer, lined with tufted straw mats, is essentially the foyer, a handy "room" in which to have breakfast, read a book or just to pull off your boots. Push through the 6m-high drapes though, and the tent reveals itself as a vast 85 sqm pleasure dome.

Framed on both sides by tall wardrobes of Indian teak, a huge leather daybed takes centrestage. To its left are double sinks and dressing area, and to the right, is a bathroom which includes a concrete bathtub and shower. Another set of dramatic creamy curtains pulls apart to reveal, very aptly, the king bed. As glamping goes, Aman-i-Khas is in a league of its own.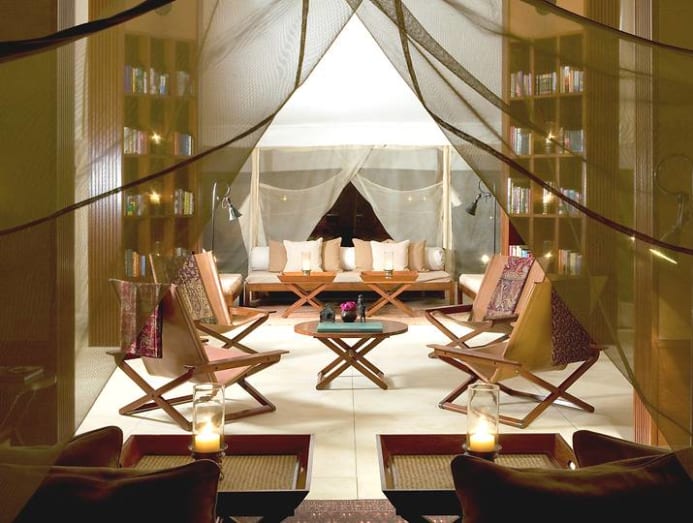 And if you stir from this royal retreat just once, make sure it's for a jeep safari, accompanied by your batman (or personal butler, if you're common), through Ranthambhore's tiger reserve, a 10-minute drive away. Here, in a sanctuary of wooded glens, lakes, and wild savannahs live around 80 Bengal tigers, a whisper of the 34,000 that once roamed India's wild foothills.

For the rest of your stay, may we suggest channelling your inner maharani on her honeymoon with indolent lounging around the camp's sandstone pool, its concentric steps styled after the baudi, or classic step-well?

Because somebody's got to do it.

Rates at Amanbagh start from US$1,197 per night before taxes; and Aman-i-Khas from US$1,690. www.aman.com