Hong Kong's culinary gems: 9 dining and drinking spots you shouldn't miss
From the traditional Cantonese "yum cha" experience to modern cocktails inspired by Hong Kong's staple ingredients, here's a specially curated list of eateries and bars worth checking out in Hong Kong. 
With Hong Kong finally back on our travel lists, it was time to pay the city a visit and satisfy this Singaporean's authentic "yum cha" cravings.
Because, of course, there are certain cravings that you must indulge in when visiting Hong Kong. The only problem is that, with its ever-evolving food and drink scene, the list of must-try options just keeps getting longer. So it can be a challenge to narrow down your choices, especially during a short visit.
To help you find your bearings, I've done the hard work of dining and drinking my way through the city, and have identified the best nine spots that will satisfy most, if not all, of your cravings. You're welcome.
WHERE TO DINE 
1. Waso Cafe 
Known for: Hong Kong-style breakfast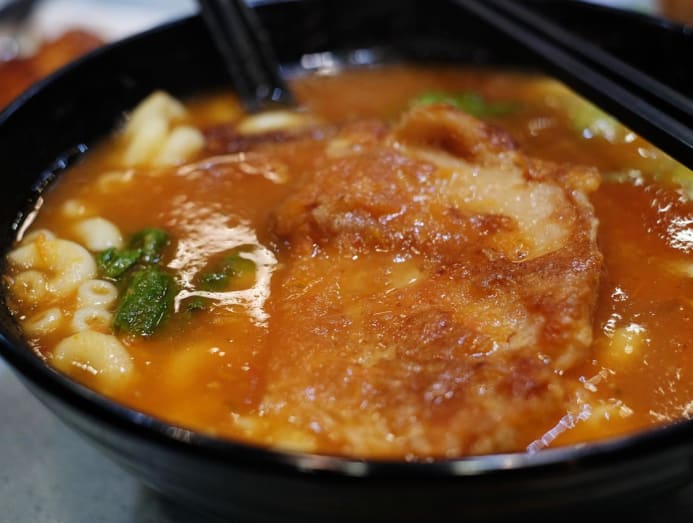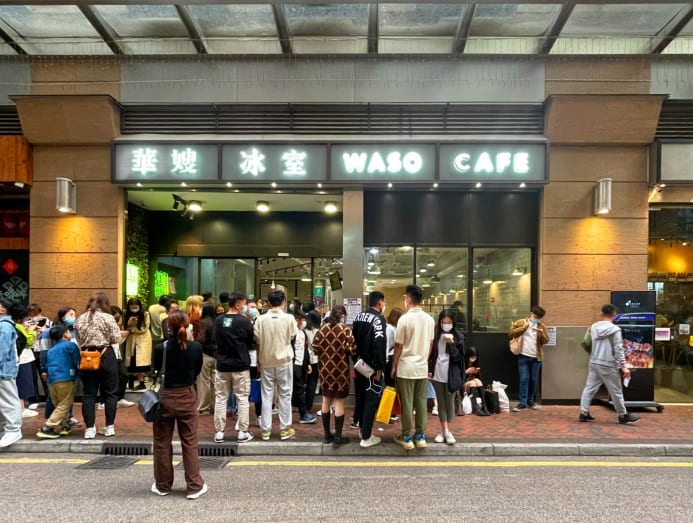 Cha chaan teng, which translates to "tea restaurant," is Hong Kong's version of an American diner. It offers a wide range of classic and affordable dishes that can be enjoyed from morning to night.
Waso Cafe is a popular cha chaan teng chain among locals, particularly known for their pineapple bun. Sweet and flaky on the outside, light and fluffy on the inside, the pineapple bun (also known as a bolo bun) is a classic local breakfast dish traditionally served with a generous slab of chilled butter. While you can enjoy it the traditional way here, you can also elevate it by adding their signature pork chop or egg and tomato.
Another popular dish is the pork chop with macaroni in tomato soup. The pork chop is tender and juicy, while the hearty bowl of tomato soup has the right balance of acidity and sweetness. Don't be surprised if you see a long queue outside the cafe!
No 8 Minden Avenue, Tsim Sha Tsui Shop G7-G8; 272 Jaffe Road, Wan Chai; and King Palace Plaza, G/F, One Kowloon, Hong Kong. 
2. Lan Fong Yuen
Known for: Traditional milk tea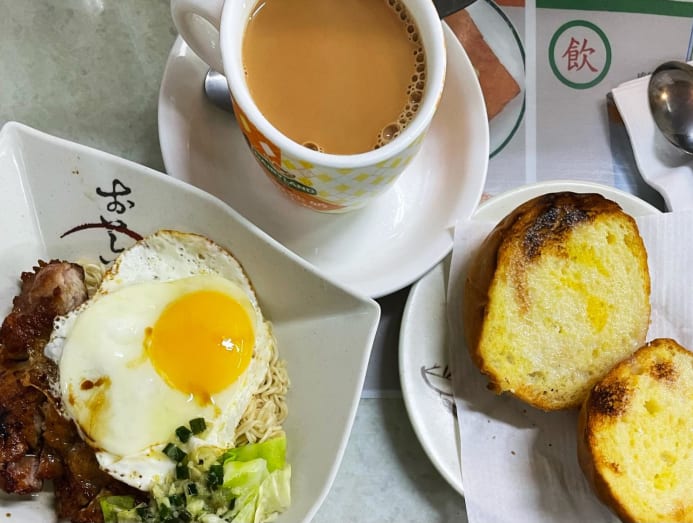 Milk tea is a staple in Hong Kong, but this cha chaan teng chain is said to be the "inventor of Hong Kong milk tea."
Lan Fong Yuen is one of the pioneers who used sackcloth bags (that look like pantyhose) to prepare milk tea. The black tea is brewed and then strained through a sackcloth bag before adding evaporated milk (and sugar if preferred).
In fact, their milk tea is so famous that you can find it at NTUC and 7-Eleven in Singapore. However, there's nothing quite like sipping a cup of hot, thick milk tea in a bustling cha chaan teng while sharing a table with strangers.
Aside from milk tea, they are also known for their lo ting or braised instant noodles. As a big instant noodle fan, the chicken cutlet version was a winner for me.
44 Nathan Road, Tsim Sha Tsui, and 2 Gage Street, Central, Hong Kong. Details here.
3. Maxim's Palace
Known for: The quintessential "yum cha" experience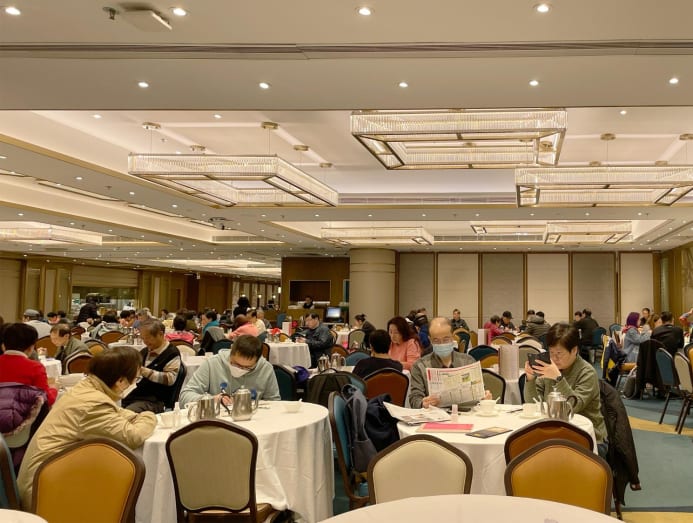 You can't visit Hong Kong without going for "yum cha," or a morning or afternoon meal of dim sum in a classic Hong Kong restaurant.
Growing up with Hong Kong movies, it felt almost nostalgic when I stepped into this lively massive banquet room with chandeliers and white tablecloths, where locals were reading newspapers while sipping on tea and eating dim sum.
Maxim's Palace has a couple of outlets in Hong Kong, and the branch at City Hall is one of the last restaurants in the city that still serves dim sum on carts. This popular spot for both locals and tourists is known for its atmosphere and quality of food.
In addition to the usual dim sum dishes such as siew mai, har gao, and char siew pao, they also offer an extensive menu of Cantonese dishes such as barbecued suckling pig, roasted goose, sweet and sour pork ribs, and more.
Hong Kong City Hall, 2/F Low Block, Central; and 168-200 Connaught Road Central, Shun Tak Centre, B13-B18, B/F, Sheung Wan, Hong Kong. Details here.
4. Duddell's
Known for: A boozy dim sum brunch
If you're looking to add some sparkles to your "yum cha" experience, Duddell's offers all-you-can-eat Cantonese dishes with free-flow champagne on weekends.
This artsy two-storey space is a Michelin-starred restaurant that combines Cantonese traditional flavours with contemporary presentations. The weekend brunch offers unlimited servings of world-class dim sum. All dishes are served fresh in small portions so you can try more dishes from the extensive menu – from appetisers, mains to desserts.
Aside from food, you can opt for the non-alcoholic or alcoholic package, which includes Espresso Martini, Bloody Mary, Mimosa and of course, bubbles. They also have an outdoor garden terrace – a perfect spot to relax on a sunny weekend, with dim sums and mimosas. 
1 Duddell Street, Central, Hong Kong. Details here.
5. Hutong
Known for: Dining with epic views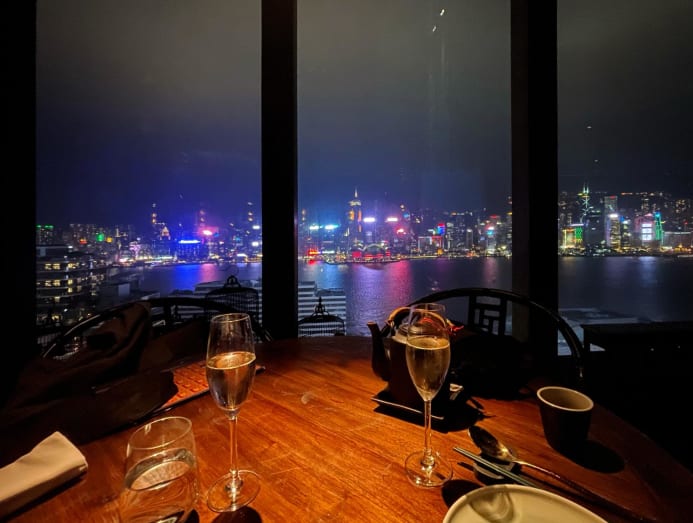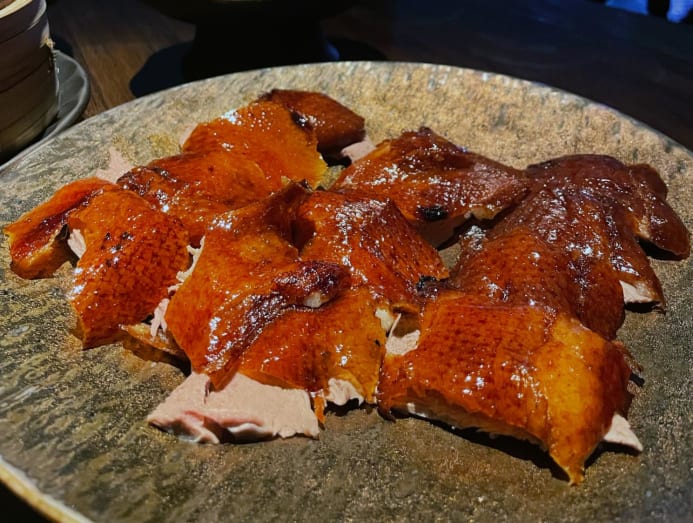 Perched stylishly on the 18th floor of H Zentre in Tsim Sha Tsui, Hutong is a Northern Chinese restaurant that boasts the best view of Hong Kong.
Upon entering the restaurant, you walk through a dark and atmospheric corridor before arriving at the main dining area, where your eyes are immediately drawn to the floor-to-ceiling windows that showcase the breathtaking Hong Kong skyline.
The Flaming Peking Duck takes center stage on the menu. It's literally a flaming Peking duck, as they flame the roasted duck tableside to bring an extra level of crispiness to the skin before delicately carving it right in front of diners. This mouthwatering moment is definitely worth capturing on camera.

H Zentre, 18/F, 15 Middle Road, Tsim Sha Tsui, Hong Kong. Details here.
WHERE TO DRINK
1. Argo
Known for: Hong Kong-inspired cocktails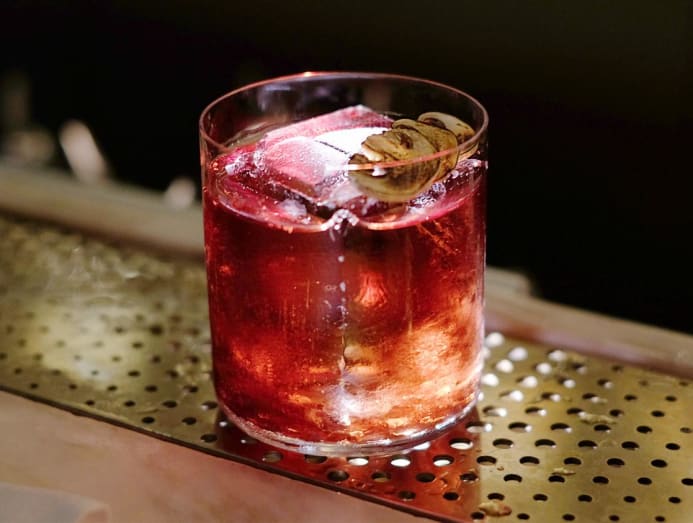 Hong Kong is world-famous for its culinary traditions, and this bar wants to celebrate that with cocktails inspired by 12 iconic ingredients most commonly used in local dishes: soybean, apricot kernel, XO sauce, vegan char siu, black vinegar, and aged tea.
Argo's latest menu concept combines culinary techniques from the kitchen and mixology magic from the bar. For example, the team deconstructed the ingredients and techniques involved in making XO sauce, transforming the flavor profile into a fortified wine to create their very own XO vermouth. One of the cocktails that features this vermouth is the XO Negroni, which offers hints of smokiness, umami, and sweetness. Who doesn't love a twist on a classic Negroni?

Four Seasons Hong Kong, 8 Finance Street, Central, Hong Kong. Details here.
2. COA
Known for: Taking the city's cocktail scene up a notch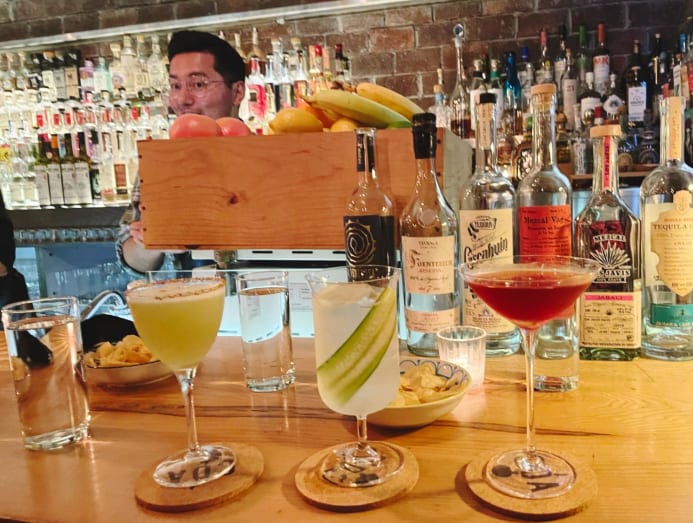 For cocktail enthusiasts, this spot needs no introduction. Not only was it recognized as the best bar in Hong Kong in 2022, but it also secured the top spot for the second year in a row in the Asia's 50 Best Bars 2022 list.
Named after the machete-like tool used for harvesting agave (the plant from which mezcal and tequila are distilled), Coa specializes in all things agave. Grab a seat by the bar to admire the city's largest collection of agave, and ask one of the bartenders to tell you all about them. The menu features cocktails that celebrate the flavors of Mexico, so expect ingredients like guava, pineapple, coconut, tamarind, and more.
6-10 Shin Hing Street, Shop A, LG/F Wah Shin House, Central, Hong Kong. Details here.
3. Penicillin
Known for: Saving the city, one drink at a time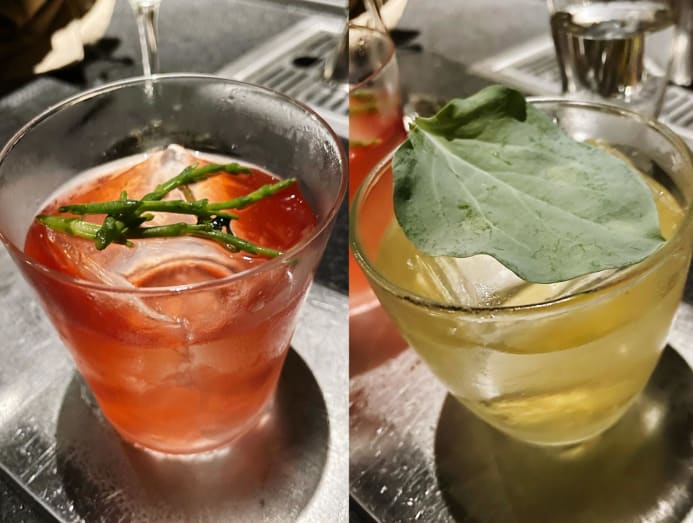 This bar holds the title of being Hong Kong's first sustainable bar, and they take it very seriously (but in a fun way).
Penicillin's (named after a classic cocktail) philosophy is to minimize the carbon footprint in food and beverage production while using locally sourced or upcycled ingredients. They have a Fermentation Chamber where they experiment with creative methods to achieve zero wastage, such as fermenting remaining lemon pulp, skin, and seeds to brew into sparkling lemon "wine."
The team even goes one step further. The furniture is made with trees that were uprooted in 2018 when Typhoon Mangkhut came to town, while the LED wall lights are rescued tubes from the city's iconic neon street signs. Who says you can't drink and save the city at the same time?

23 Hollywood Road, Amber Lodge, L/G, Central, Hong Kong. Details here.
4. Darkside
Known for: Drinking with a view and jazzy tunes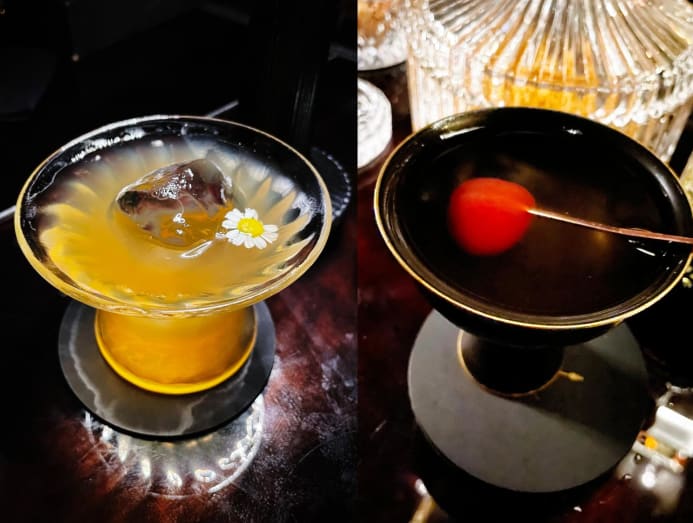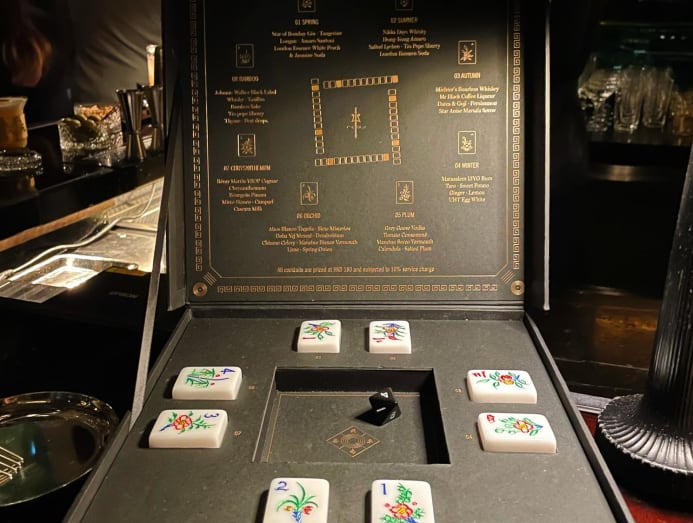 Kowloon, where this bar is located at, has a colloquial moniker: The dark side. It's called that for simply not being Hong Kong island!
Which is how this bar got its cheeky name. Located in the Rosewood Hong Kong, DarkSide offers a stunning backdrop and sultry jazz music for your nightcap. The outdoor seating area overlooks the Victoria Harbour and Avenue of Stars, while the indoor decor is sophisticated yet playful.
DarkSide's newest menu features eight drinks, which are inspired by the bonus tiles in mahjong: Plum blossom, orchid, bamboo and chrysanthemum, and spring, summer, autumn and winter. And if you're unsure of what to get, just roll the dice and let the mahjong box decide for you! 

Rosewood Hong Kong, 18 Salisbury Road, Tsim Sha Tsui, Hong Kong. Details here.