How the pandemic will change travel in 2021, from vaccinations to global nomadism
When will we travel in earnest again – and what about our frequent flyer miles?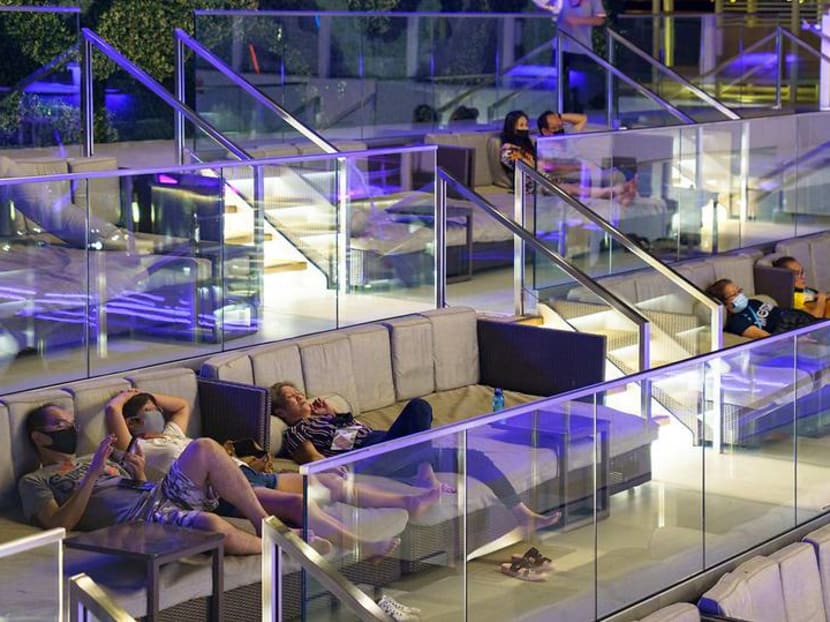 The travel world has been on a roller coaster in 2020. Even as vaccination campaigns started in the United States and Europe, countries slammed shut their borders to visitors from the United Kingdom, because of a new strain of the coronavirus. And while the number of people flying in the United States is again on the rise – topping 1 million a day on the weekend before Christmas – a patchwork of quarantine and testing regulations remains in place in many parts of the country.
Worldwide, COVID-19 has killed more than 1.5 million people, sickened millions more and short-circuited economies. Of all the industries reeling from its destructive impact, the travel industry was upended like no other.
Travel has been changed by past calamities. Safety measures instituted after the 9/11 attacks are now just part of the travel experience. It's unclear just which changes to the travel landscape will be in place a year from now – or 10 years on – but some answers are starting to come into focus.
On the brink of the new year, we looked at nine of the most pressing queries facing the travel industry and individual travellers. Here are the answers.
WILL I NEED TO PROVE I'VE BEEN VACCINATED TO TRAVEL?
In November, Qantas Airways announced that once a coronavirus vaccine was available, passengers hoping to fly on the airline would need to prove that they had taken it. Alan Joyce, the airline's chief executive, described the need for proof of vaccination as "a necessity."
"I think that's going to be a common thing talking to my colleagues in other airlines around the globe," he said.
Indeed, many airlines are currently testing technology to streamline the health documentation process, including mobile health apps like CommonPass, ICC AOKpass and VeriFLY to ensure travelers can present their health data in a secure, verifiable way.
It's not known yet whether some kind of universal health form or certificate will be required to travel because that would require participation from various countries and organisations, but that's happened before. The International Certificate of Vaccination or Prophylaxis, known to many as the carte jaune or yellow card, was originally created in the mid 1930s by the World Health Organization. Versions were used as proof for vaccination against diseases including yellow fever, typhus and smallpox, and many countries still require proof of certain vaccinations when travelling. For those travellers who have relocated to foreign countries over the years, the possibility of sharing personal health information isn't unusual, as many visa and residency applications call for medical exams.
Today's apps have to address a host of issues around carrying health data, including privacy and standardisation. For one, nobody wants to carry around a printed health record that could contain sensitive information in addition to proof of testing or vaccination. For another, such records could be forged with image-editing tools. And in this increasingly global world, a traveller's health documents could be written in a language that is unfamiliar to an airport official.
The Commons Project, the nonprofit that is developing the CommonPass, said its app connects with websites for medical facilities, and those sites then load verification of completed test or vaccine record inside the app, limiting the amount of private information that is shared. Others are taking a similar approach.
A common request from people across the industry is for governments to work together to standardise testing and vaccination requirements. For example, travellers who are vaccinated in the United States should know that their vaccination and documentation is valid in Thailand and vice versa.
–Brian Chen and Tariro Mzezewa
HOW LONG MUST I WAIT UNTIL TRAVEL PICKS UP?
With approved vaccines being administered in Britain, Canada, the United States and elsewhere, industry insiders are hopeful that people will transition from searching for trips online to booking them.
"A safe, effective and well-distributed coronavirus vaccine is the linchpin for a return to travel normalcy," Scott Keyes, founder of Scott's Cheap Flights, an online booking platform, wrote in a recent email. "Great news on the vaccine front is great news on the travel front."
But the initial distribution of the vaccine may not equal a swift return to mass travel. While some experts believe that pent-up demand will have people rushing in large numbers to book "vaxications," others, including Anthony Fauci, the nation's top infectious disease expert, think the return to travel will be gradual, with people easing their way back.
"I think it's going to be gradual," Fauci told The Times this month. "There is no black and white, light switch on, light switch off."
Until the vaccine is widely distributed, rigorous testing will remain a key part of the travel experience – before and after travelling. (Expect testing to be offered as an amenity at a growing number of hotels.) Still, for many in the industry, the vaccines provide a reason to be hopeful.
"After months of a 'cautiously optimistic' tone, we now look to this vaccine as a means to bring back some travel demand," said Mike Deitemeyer, chief executive-elect and president of Aimbridge Hospitality, whose portfolio includes more than 1,500 branded and independent properties in 49 states and 20 countries.
Road trips, which won 2020, are expected to remain popular as they guarantee comfort and control for travellers. Cruise lines are reporting strong bookings for summer 2021 and airline travel is expected to pick up in the second quarter of the year, with international travel outpacing domestic travel, according to the travel marketing firm MMGY Global, a significant change from bookings for 2020.
–Tariro Mzezewa
WHEN WILL I BE TRAVELLING FOR BUSINESS AGAIN? AND WHAT ABOUT MY FREQUENT FLYER MILES?
This was the year business travel flatlined, taking with it airline, hotel and convention hall profitability. For a time, it also jeopardised those loyalty-point balances coveted as freebie currency by frequent business travellers and many others, as miles and credit-card points seemed less valuable when no one was travelling.
But points programs are far from dead, experts say, citing better booking terms, the growing value of loyal customers to travel companies and the advent of creative programs that may allow you to spend points like cash more easily on things other than airline tickets or magazine subscriptions. In these largely stationary times, programmes are keen to retain existing members.
"Most airlines have increased the value of their points by getting rid of fees," said Brian Kelly, the founder of The Points Guy, a travel site devoted to rewards. He noted also that fees to change itineraries or refund miles on cancelled trips have been dropped. "It makes it more valuable to redeem using miles because they're fully refundable, whereas cash tickets are changeable."
The bank of points – still somewhat growing thanks to travel-rewards credit cards that expanded to offer bonuses on things like groceries during the pandemic – and increasing opportunities to travel with the widespread distribution of vaccines suggest competition to redeem for seats is coming, leading to an eventual devaluation of points. But not soon, say experts, in part because many airlines used their loyalty programmes as collateral when they borrowed money during the pandemic.
"Airlines will be careful not to jeopardise value and the loyalty of customers once this crisis abates," said Vik Krishnan, a partner in the travel practice at McKinsey & Co., the business consultants.
Most analysts expect any near-term travel recovery to be driven by leisure travellers desperate for a vacation or to see family, not by business flyers.
Apart from health concerns and corporate travel freezes, "business travellers need a place to go to and currently office occupancies are very, very low so there is no real reason to travel to a city," said Jan D Freitag, the national director of hospitality market analytics at Costar Group, a commercial real estate firm, pointing to data that shows office occupancy averaging around 24 per cent nationally.
He expects business travel to pick up in the third quarter of 2021. McKinsey & Co. pins the full recovery to 2023 or beyond.
Before business travellers can resume accumulating points in earnest, expect more ways to use them. "From a redemption perspective, we can see the need for a lot more emphasis on 'micro rewards,'" Krishnan said, referring to everyday items like a Starbucks latte rather than saving the entire bank for a family trip to Hawaii.
Still, the next year might be that time to book a big trip with points, when it's safe to do so, as devaluation is inevitable.
"I think what's likely to happen is an increase in value in how points can be used in the first few quarters of 2021," said Alex Miller, the chief executive and founder of UpgradedPoints.com, a website devoted to maximising points. Thereafter, he expects "a slow devaluation of those points toward the back end of 2021 and into 2022."
–Elaine Glusac
IF I NEED TO CANCEL, WILL FLEXIBLE POLICIES STILL BE AROUND?
As the coronavirus crisis crushed travel, flexibility swept the industry, from airlines to cruises to RV rentals and hotels, as operators aimed to assure potential travellers they had little to lose – financially, anyway – in booking.
Airlines came a long way in bending to consumer sentiment, offering fee-free changes even on nonrefundable tickets as passenger volumes plummeted; they remain down nearly 70 per cent compared to a year ago.
"The flexible booking policies for basic economy persist because right now the people who are travelling are lowest-fare leisure travellers," said Gary Leff, who writes the air travel blog View From the Wing. "Those tickets need to have flexibility to get customers to buy."
Airlines have talked about making flexibility permanent for other fares, a promise that may hold out until the industry recovers to 2019 levels, which the industry group Airlines for America doesn't expect before 2023 or 2024.
While hotels have long had flexible cancellation conditions, usually allowing penalty-free cancellations a day before arrival, consumers in 2020 discovered – often the hard way – the variable terms of vacation rental homes, which can range from refundable 24 hours out to refundable only within 48 hours of booking.
"Cancellation policies in the vacation rental market have not changed," said Clark Twiddy, president of Twiddy & Co., which manages more than 1,000 vacation home rentals on the Outer Banks in North Carolina. "But we've seen a significant uptake in travel insurance," he added, noting increases up to 40 per cent. (Airbnb has announced it is working on securing a travel insurance partner to make it easy to insure bookings).
According to the US Tour Operators Association, the most frequently asked question by travellers who made new bookings this fall was on the cancellation or refund policy, ahead of health protocol questions.
"The future of travel is more flexible. Period," said Jon Gray, the chief executive of RVshare, a marketplace for recreational vehicle rentals, noting that travellers remain cautious and tend to book close to their travel dates.
–Elaine Glusac
I'D LIKE TO TRAVEL WITH MY FAMILY. WHAT'S THE OUTLOOK?
According to an October survey from Vrbo, the home-rental company, 82 per cent of American families already have travel plans for 2021. Sixty-five percent plan on travelling more than they did before COVID-19; 61 per cent will likely choose outdoorsy destinations over urban ones.
Most notable this year for families, though, was the loss – or pause – of multigenerational trips.
"Intergenerational travel – going someplace with grandparents – is kind of off the books for a while," said Marianne Perez de Fransius, the co-founder and chief executive of Bebe Voyage, a family-travel website and online community of globe-trotting parents. "What people are talking about is going to visit grandparents because they haven't been able to do that."
Other patterns that cropped up this year will likely continue to define family travel in 2021, including "schoolcations" that have transported middle-school Zoom classes to the beach and multifamily "pod" trips that have allowed for inter-household socialising somewhere – anywhere – besides home.
"We're witnessing this over and over again: Families seeing this time as a rare opportunity to uproot for a short stint as they home-school, and live in a place that they had always wanted to try out," said Caitlin Ramsdale, managing director at Kid & Coe, a vacation-rentals site geared toward families.
If Kid & Coe's recent browsing patterns are any indication, families are starting to think about what vacations in the "After Times" might look like.
"We are seeing a lot of people starting to imagine what a trip to the South of France would look like this summer," Ramsdale said. "The conviction is still not there, but the sentiment is."
But there is one big, unanswered question: Vaccinations for children. None of the vaccines have been tested on kids, and while inoculations are being rolled out for older people first, it's unclear when they will reach children.
"If kids can't get the vaccine, one concern I've heard is about what happens with tourists," said Perez de Fransius. "Are countries going to say, 'You can't come in unless everyone is vaccinated?'"
As for the quintessential family rite of passage – Disney – the parks' expansive COVID-19 health and safety measures, which range from strict capacity limits to virtual queues, have so far been successful in creating a carefully controlled "bubble," of sorts.
"Before the pandemic, safety was not usually top of people's minds," said Lou Mongello, the host of WDW Radio, a podcast about all things Disney. "Now the first thing we think about is, 'Where's the safest place that I can go to get my kids out of the house?'"
Walt Disney World Resort, in Orlando, was booked close to its capacity limit over Thanksgiving and is already 77 per cent booked for the first quarter of 2021. Although kids can't hug Cinderella, the health measures may play another role next year: "Anyone who visits next year will see that the park experience has become so much more efficient," Mongello said.
–Sarah Firshein
WHAT NEW TRAVEL TRENDS CAN I EXPECT TO CONTINUE IN 2021?
Call them "workcations," "flexcations," "bleisure," whatever: By any name, the longer trips that remote working facilitated in 2020 show no signs of slowing.
"Global nomadism is going to be a huge theme in 2021," Jack Ezon, the founder of Embark Beyond, a luxury travel agency. "People are going to a destination for a month because they can work and play at the same time."
Stays of seven or more nights currently account for 17.5 per cent of the January bookings at The Betsy Hotel in Miami Beach, which reopened in mid-December for the first time since March. Last January, stays of that length totaled 8.3 per cent.
Jonathan Plutzik, The Betsy's owner, said interest in new extended-stay packages cut across the generational spectrum.
"Families with young children are looking for space: Outdoor spaces to be with their kids and space to work remotely," Plutzik said. "Fifty- and 60-somethings are looking for those things, plus a full-service staff and places to dine and relax outside."
Until vaccinations are widespread, other patterns will also persist. Ever-changing state and county travel restrictions and international travel will continue to make staycations and local travel among the few options for those looking to get away.
That tracks with what most consumers say they feel ready to do next year. In an October survey from Airbnb, 61 per cent of respondents said they're interested in trips within driving distance of home. Top 2021 destinations on Airbnb include Tennessee's Smoky Mountains and Palm Springs, California.
"2020 was definitely the year the world went local," Ezon said. "People were forced to explore their own backyards, which was incredibly rewarding. But by May or June, with more vaccines, borders will probably start to open."
–Sarah Firshein
WILL I EVER FEEL SAFE TRAVELLING?
Among the many things the pandemic revealed about the travel industry is that almost every sector – from airlines and cruises to travel agencies and hotels – was ill-prepared to handle a crisis of this magnitude, as were governments. The crush to keep customers happy (or at least loyal), provide refunds where possible and even bring citizens home at the start of the pandemic, showed that no matter how many contingency plans were in place, there are some things no one can prepare for.
In the months since the pandemic took hold, people across the industry have been working to create policies and procedures that can apply in times of future crisis – even if that future crisis isn't a health crisis. Many companies will use these changes, particularly in health and safety measures, to woo travellers back in 2021.
For hotels and home-sharing, perhaps the most visible change is the emphasis on cleanliness. People have learned to deeply care about the hygiene of heavily trafficked spaces, like hotels, planes and trains, and will demand a stepped-up focus on health measures.
This approach is largely meant to put travellers at ease. Designations and ranking systems that take cleanliness and safety into account could become the norm in the hospitality industry.
Partnerships with trusted cleaning-supply brands or hospitals will continue to evolve and be marketed to would-be travellers. Amtrak touts its relationship with RB, the makers of Lysol, while a partnership between Pendry Hotels and the health service One Medical gives hotel guests access to One Medical's app even after they've checked out. In the Dominican Republic, guests of the Casa de Campo Resort & Villas now receive government-sponsored medical coverage and have VIP access to the resort's on site hospital, Central Romana Medical Center, which sits within the walls of the property.
Beyond cleanliness and health measures, travellers' fears could be assuaged by clearer communication, flexible cancellation and rescheduling policies, and better use of technology during every aspect of the travel experience.
Hussein Fazal and Henry Shi, the founders of SnapTravel, an app that uses artificial intelligence to help customers book hotels with messaging apps like Facebook Messenger and iMessage, have said that to adapt to the "new world," they made tweaks to focus more on spontaneous bookings and encourage hesitant customers to chat with a live agent. They added COVID-19 messaging and notifications throughout the process. This allowed SnapTravel to see growth throughout the year, while also easing traveller fears, and these changes would work in the event of other unprecedented crises.
–Tariro Mzezewa